Coastal Power Systems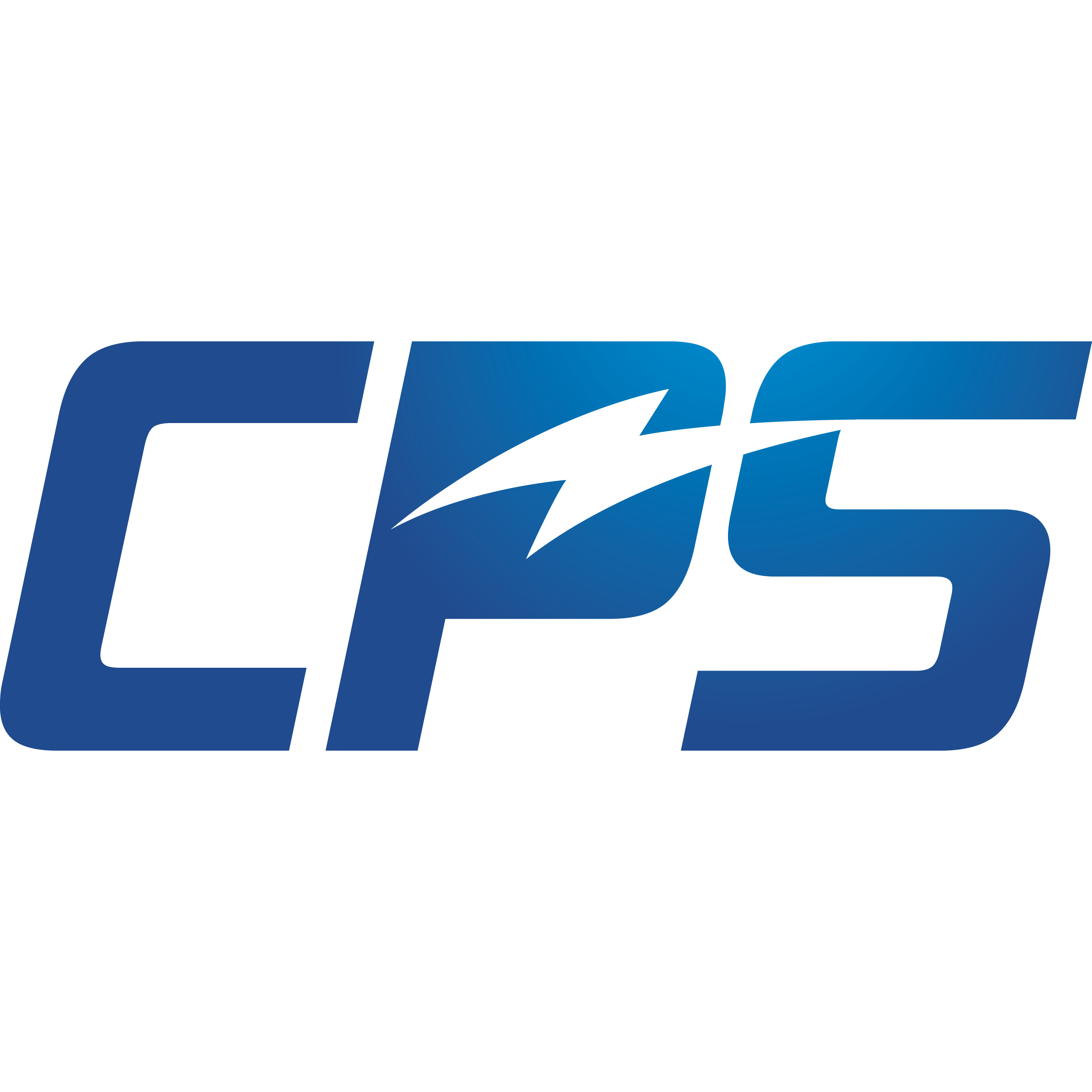 Coastal Power Systems
Tomball
Texas
77375
United States
Business type:


Business Information
We specialize in Circuit Breaker Sales, Retrofits/Retrofills, Motor Control Centers, Circuit Breaker Repair Services,Circuit Breaker Certification, Custom Wiring Projects, Switchgear Lineups, Contactors, Panelboards, Junction boxes, Switchboards and Enclosures, On-site Electrical Testing and Maintenance, On-site Troubleshooting and SCR Drive Bays for additional Mud Pumps and Top Drives.

CPS stocks all major brands of Low Voltage and Medium Voltage Circuit Breakers, Contactors and Switchgear. With many ready to ship items we can provide quick turnaround times to get our customers back online. We carry GE, Cutler Hammer, Westinghouse, ITE, Siemens and Square D Circuit Breakers. We offer product replacements and upgrades that will prolong the life span of your gear and offer increased safety features.

We offer Repair, Reconditioning and Testing on most Insulated Case, Molded Case and Air Circuit Breakers. Normal turn around for a reconditioned breaker is 5 to 7 business days. We also carry replacement breakers and parts for emergency situations and immediate needs. Our Field Technicians are available for installs, testing, and field repairs to minimize the end users downtime.

Coastal Power Systems also manufactures Custom Electrical Control Panels. Including Pump Panels, Motor Saver Panels, Automatic Throw Over Switches, Single SCR Drive Bays for additional Mud Pumps or Top Drive systems. We can provide Drilling Contractors and other industries Custom Panels built to their design specifications.

CPS has a wide variety of Motor Control Buckets and DC Contactors. We are experts in the reconditioning of MCC and DC Contactors including General Electric, Cutler Hammer and Westinghouse. Stocking most MCC components and complete buckets we can provide a quick turn around. We are also your source for replacement Contact Kits and renewal parts for your Contactor needs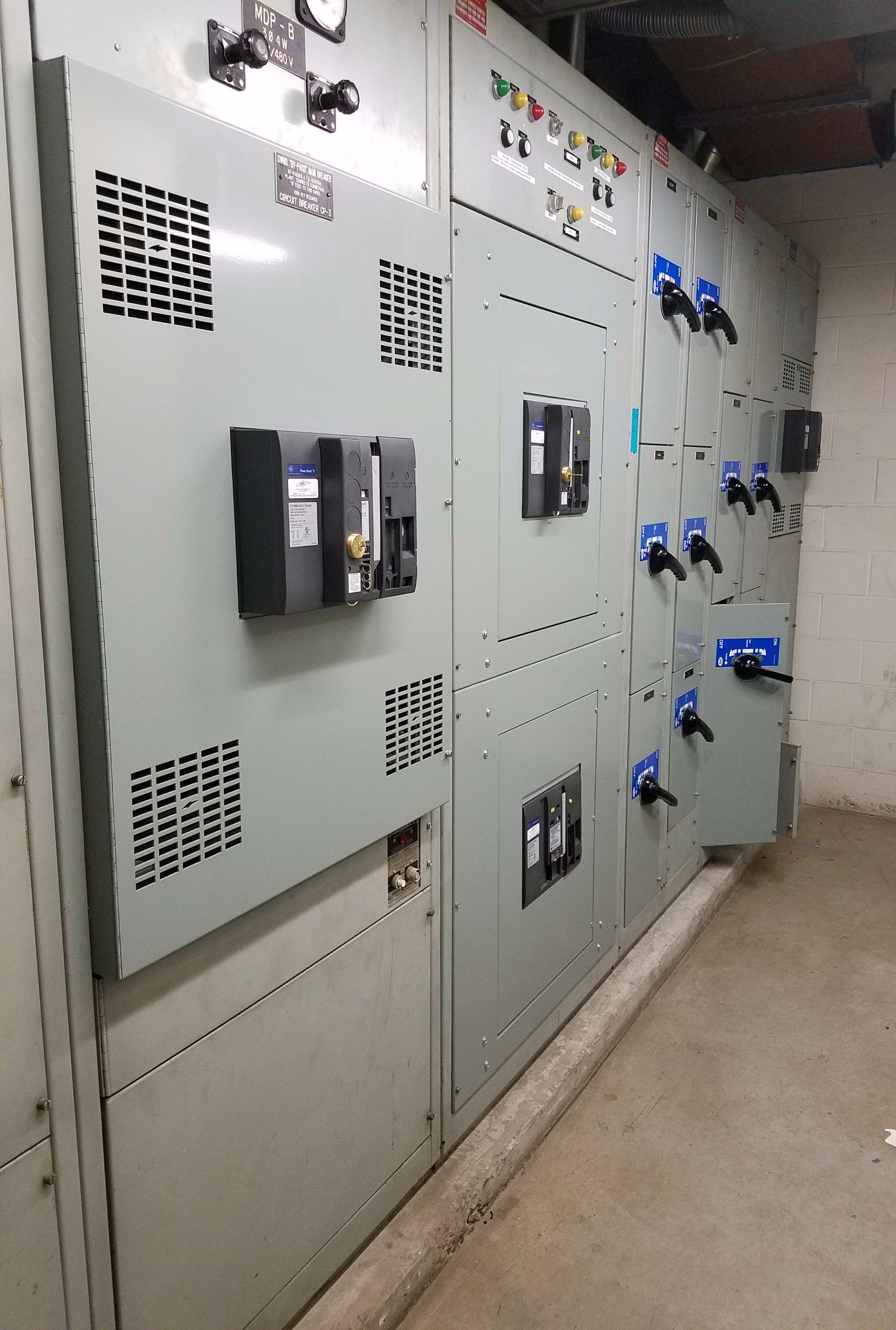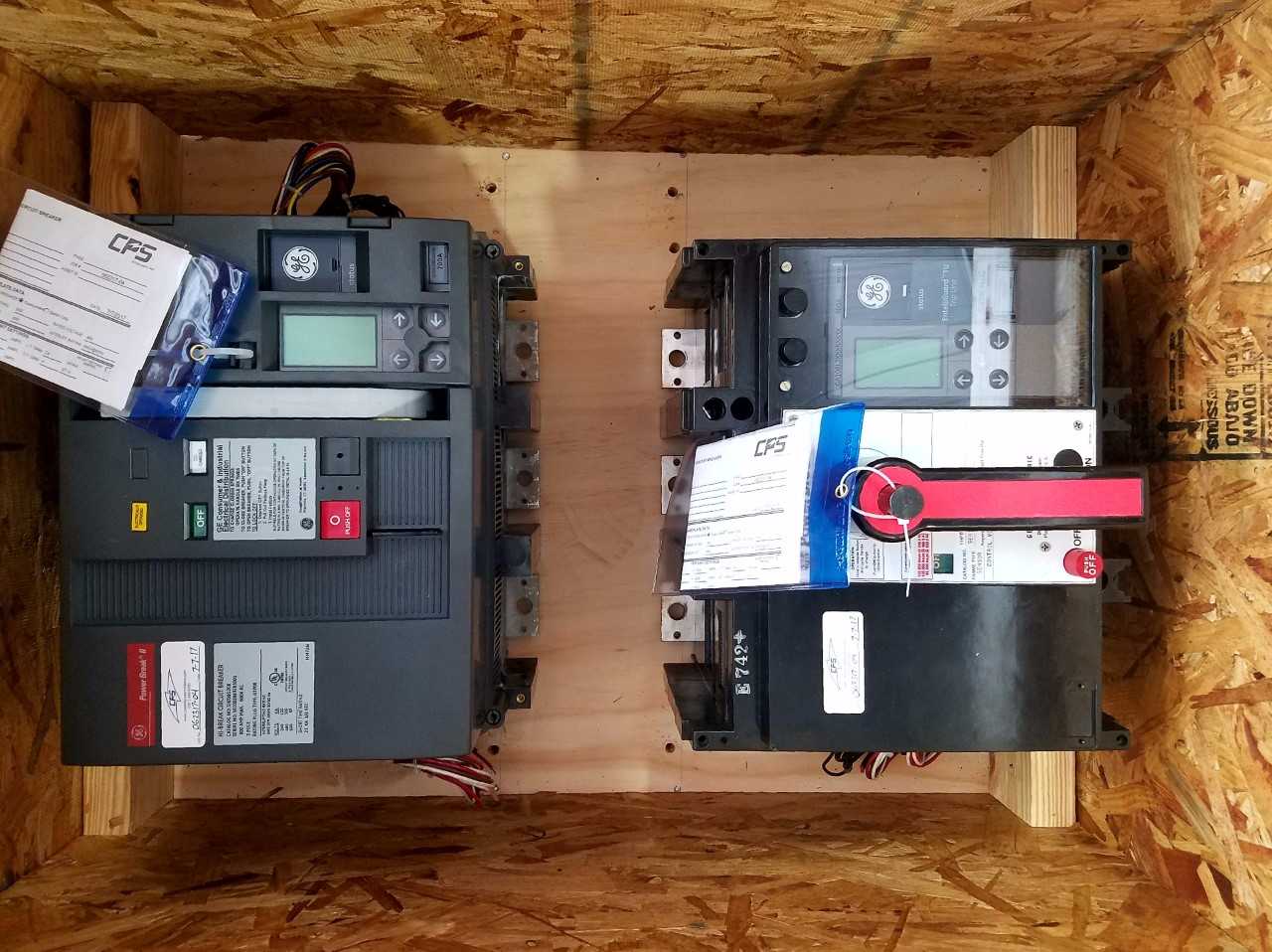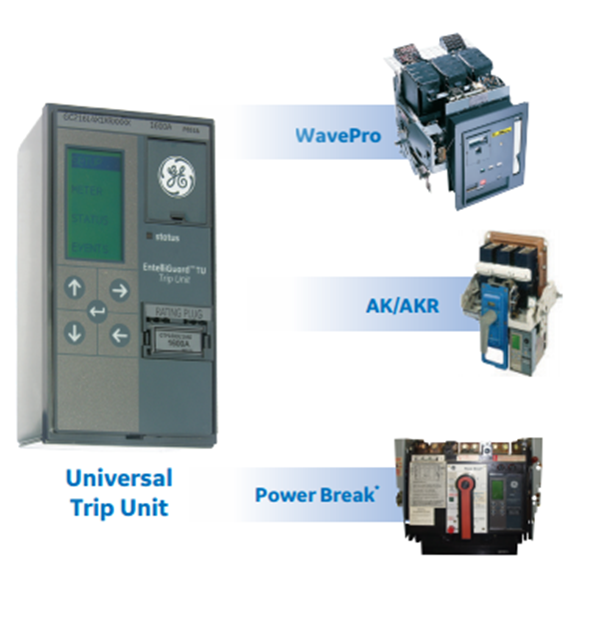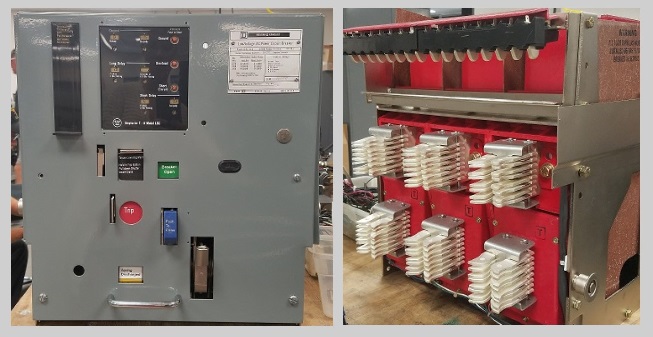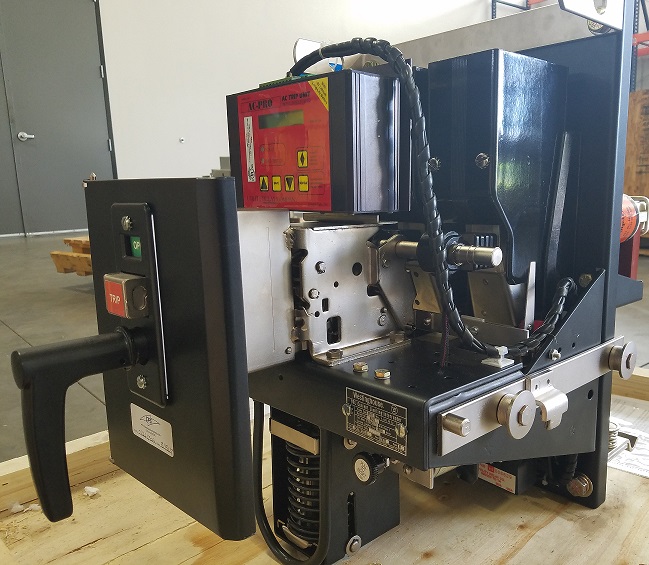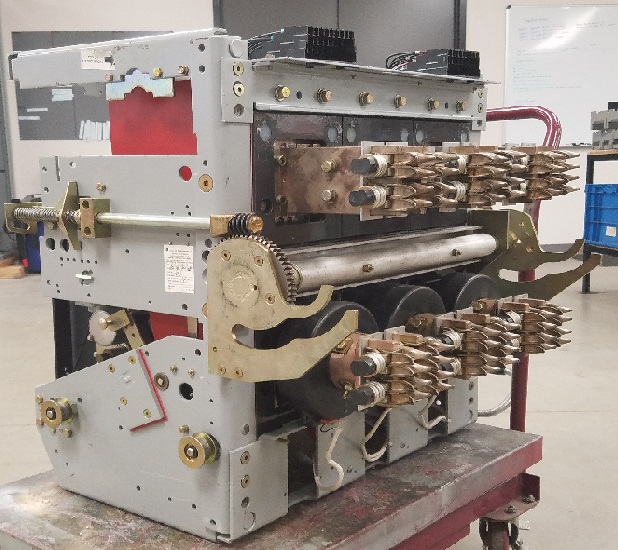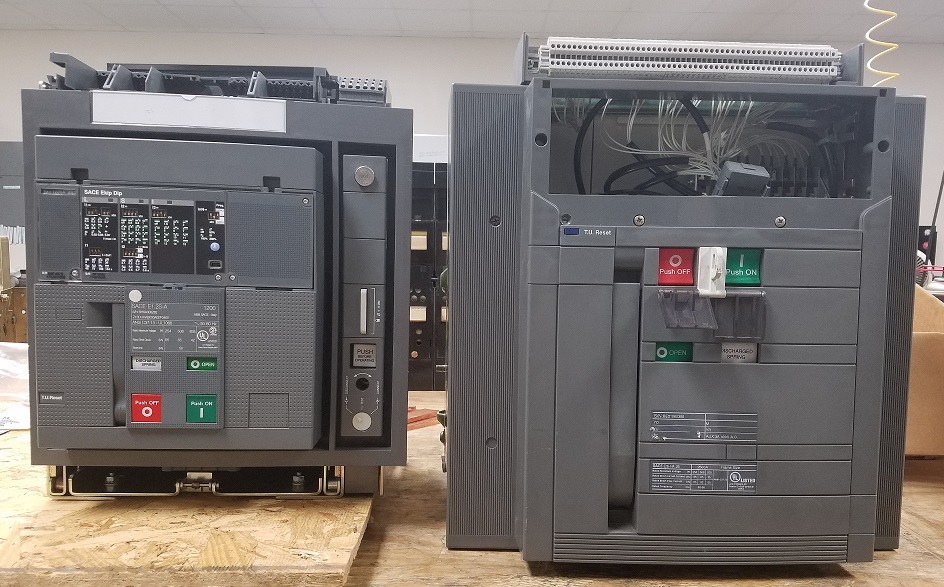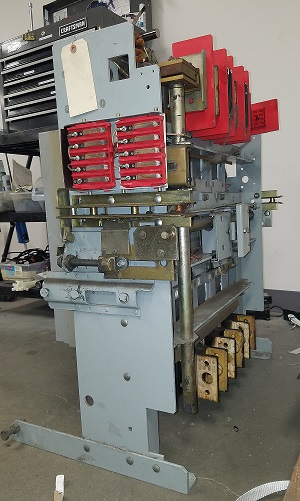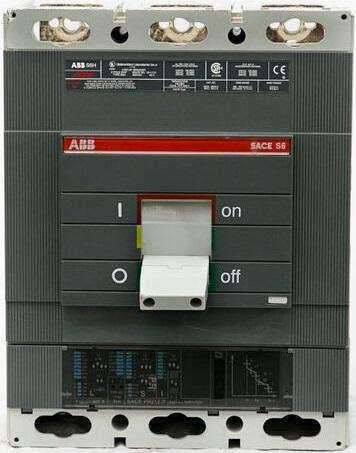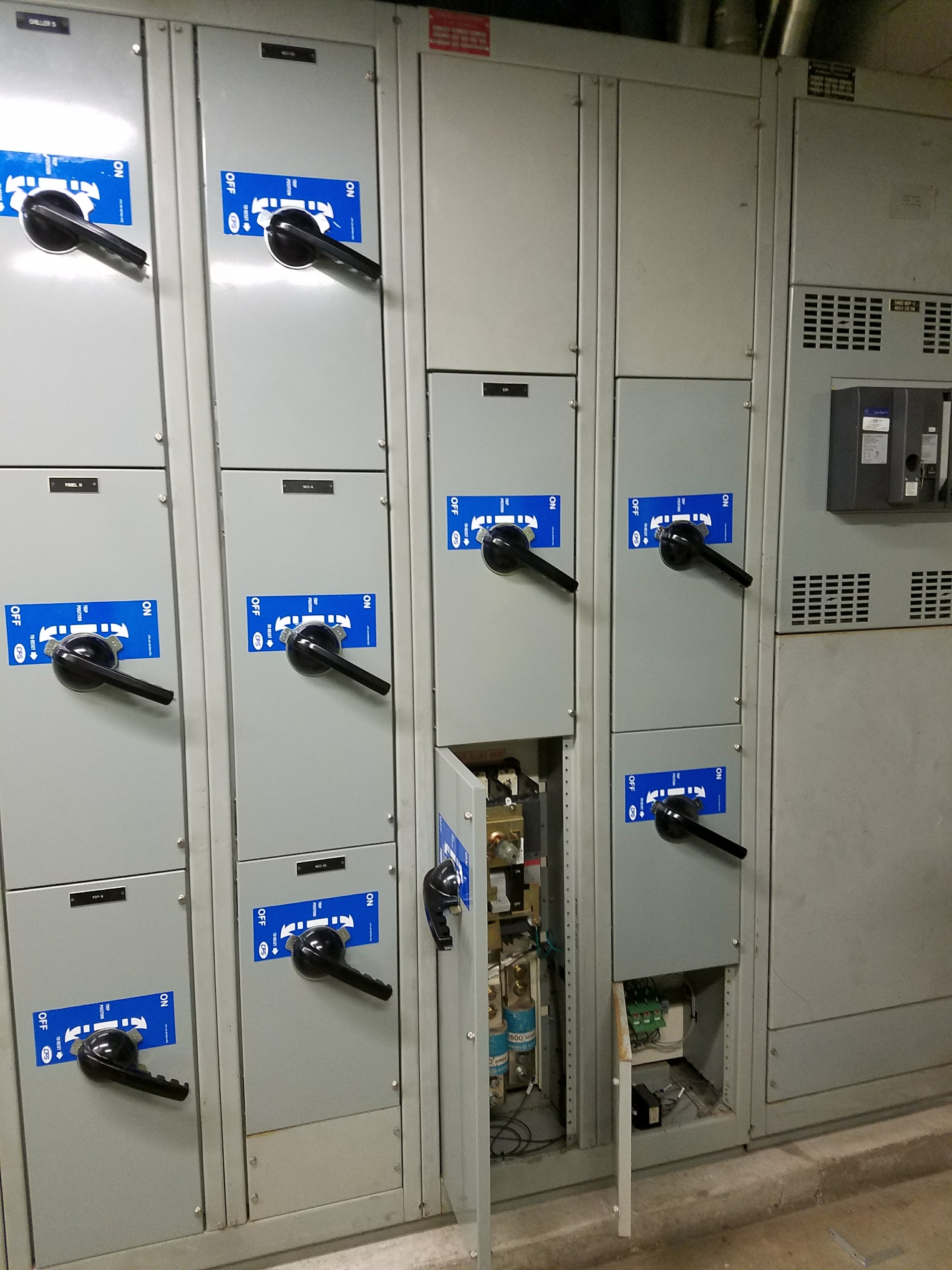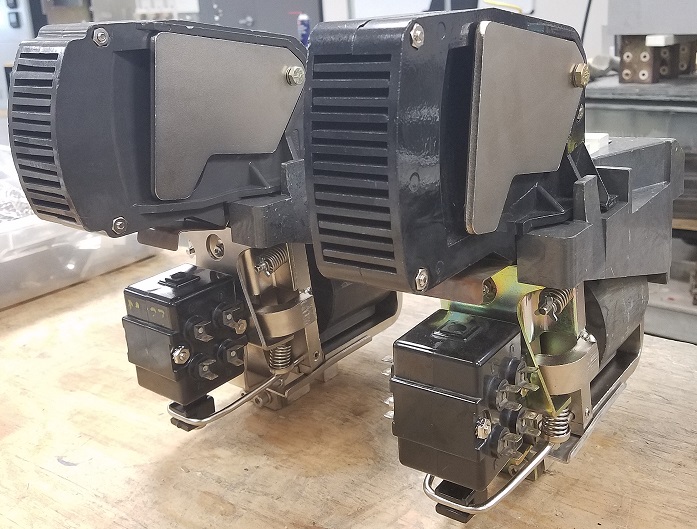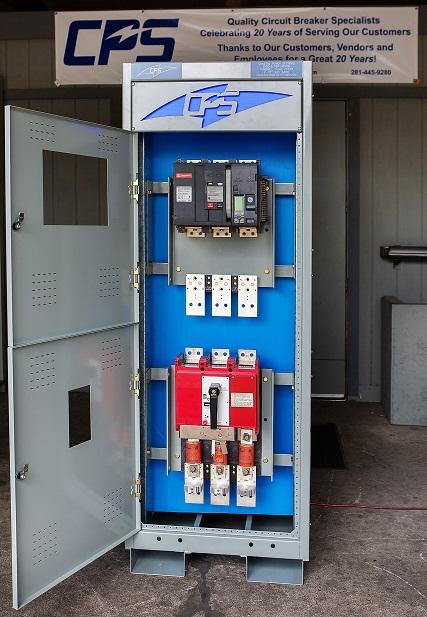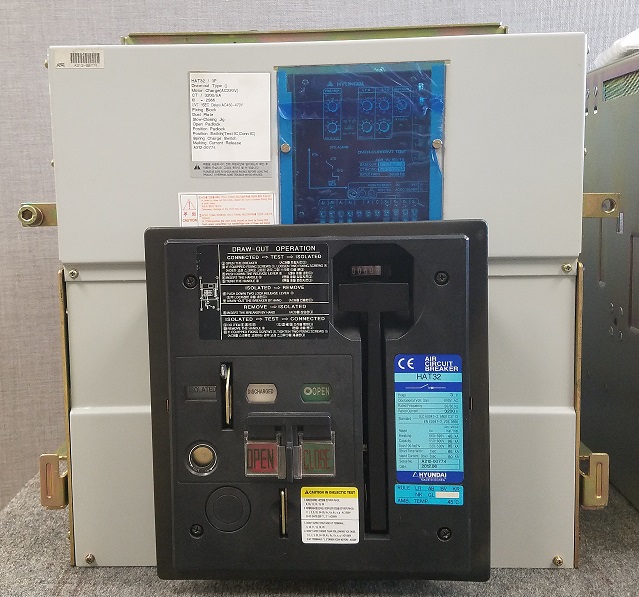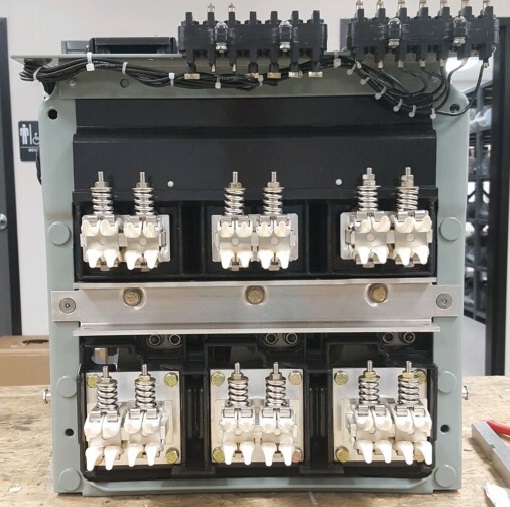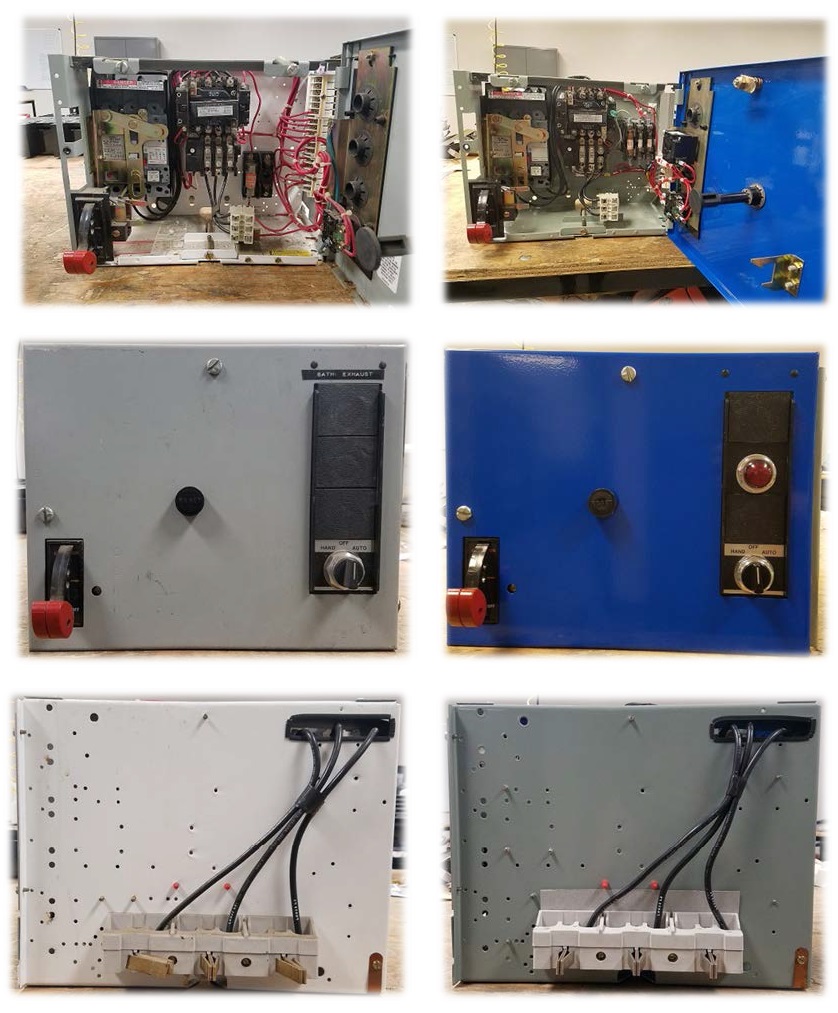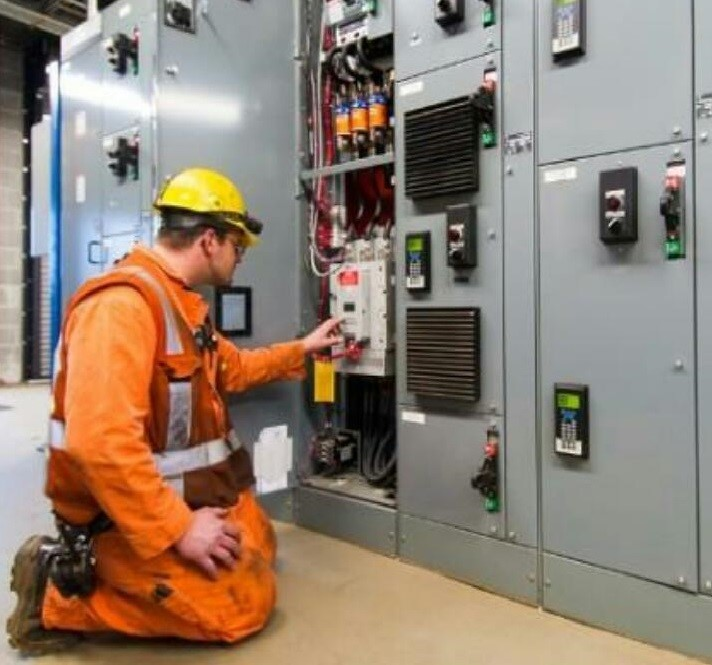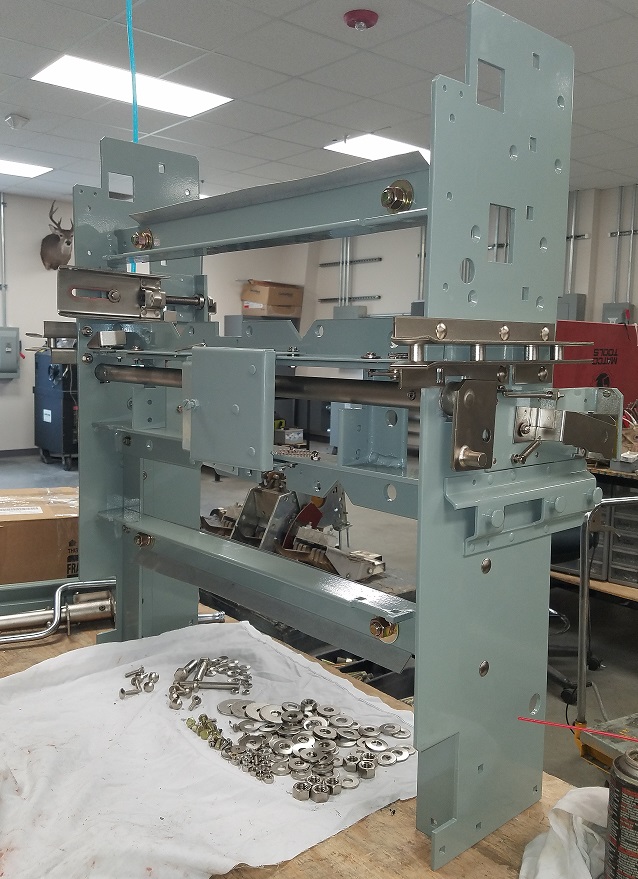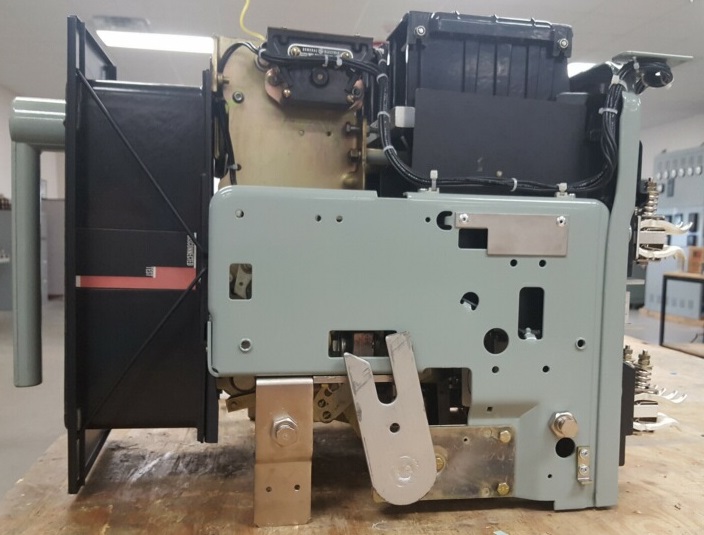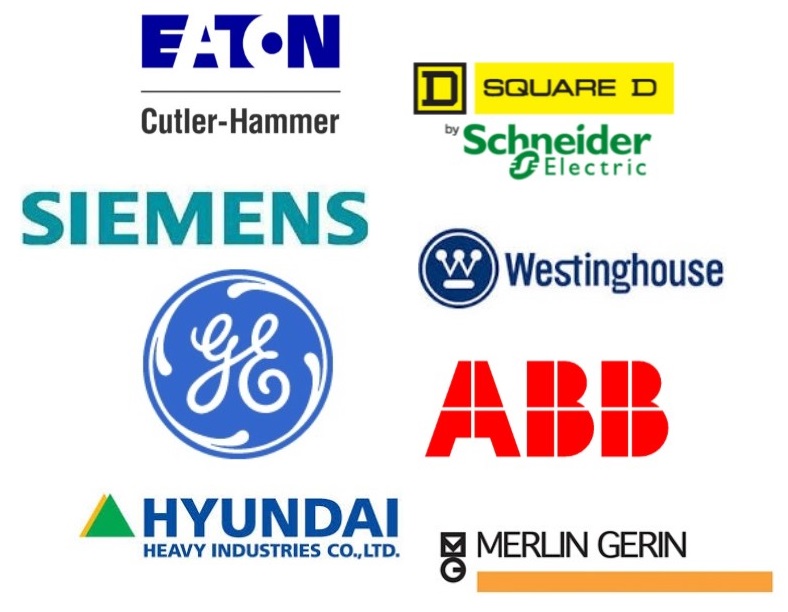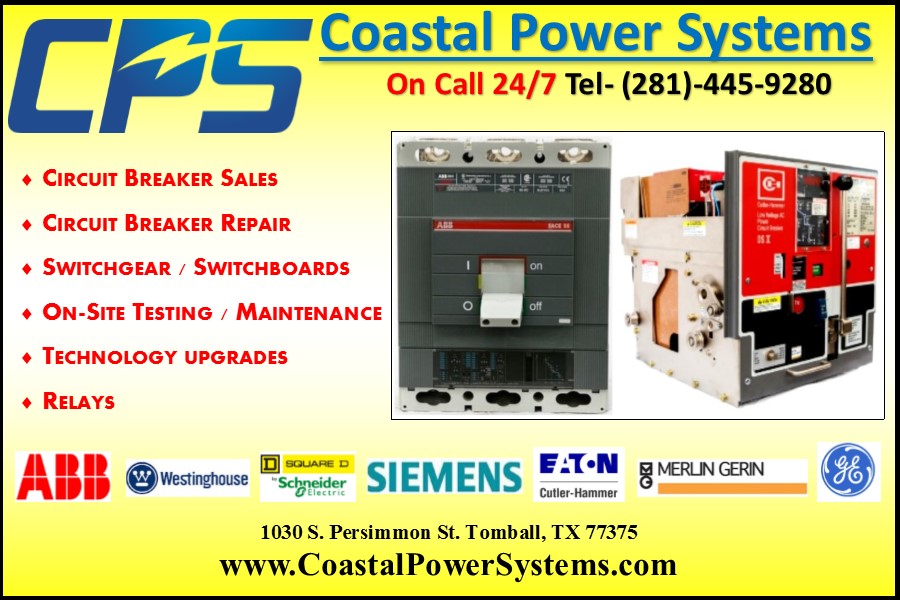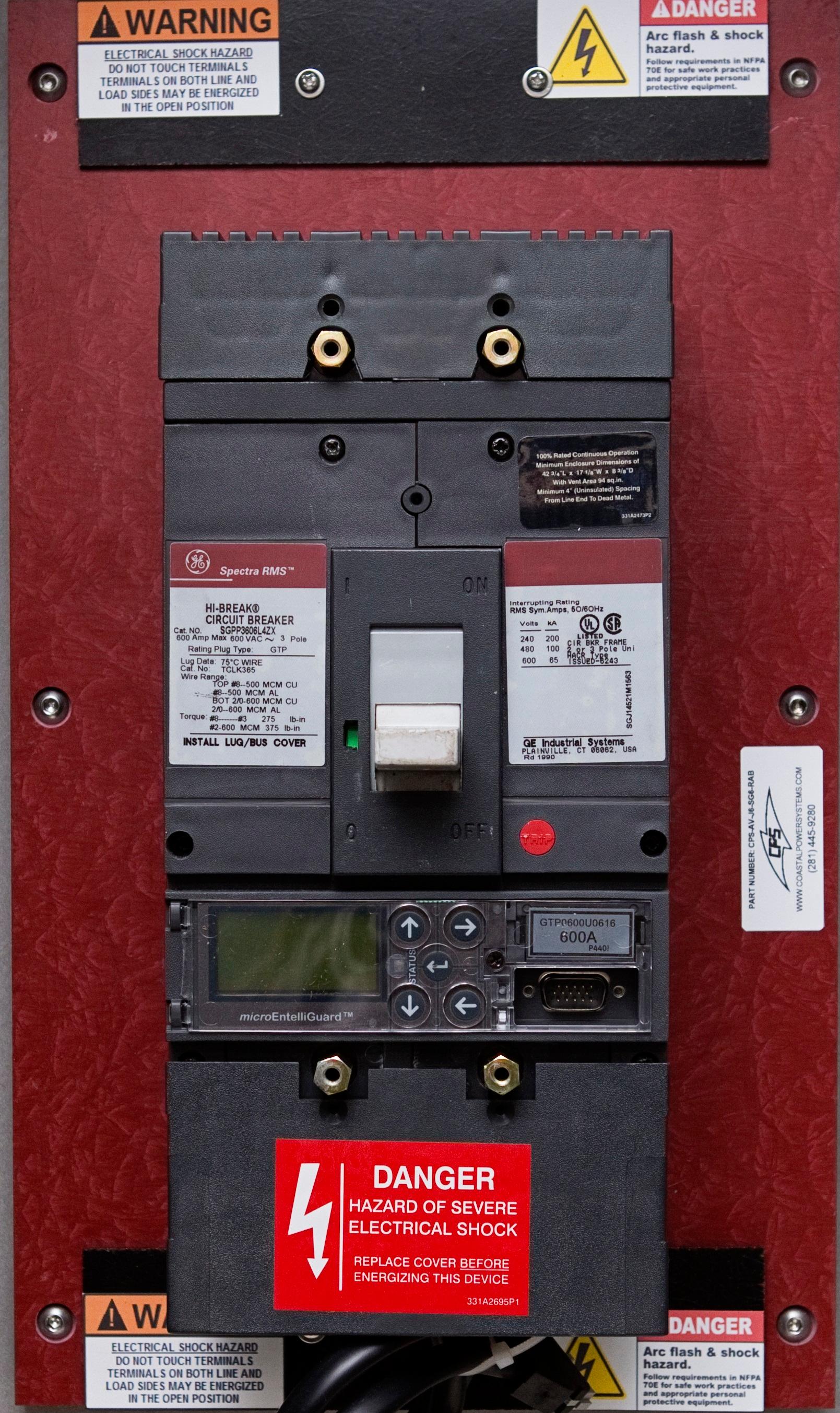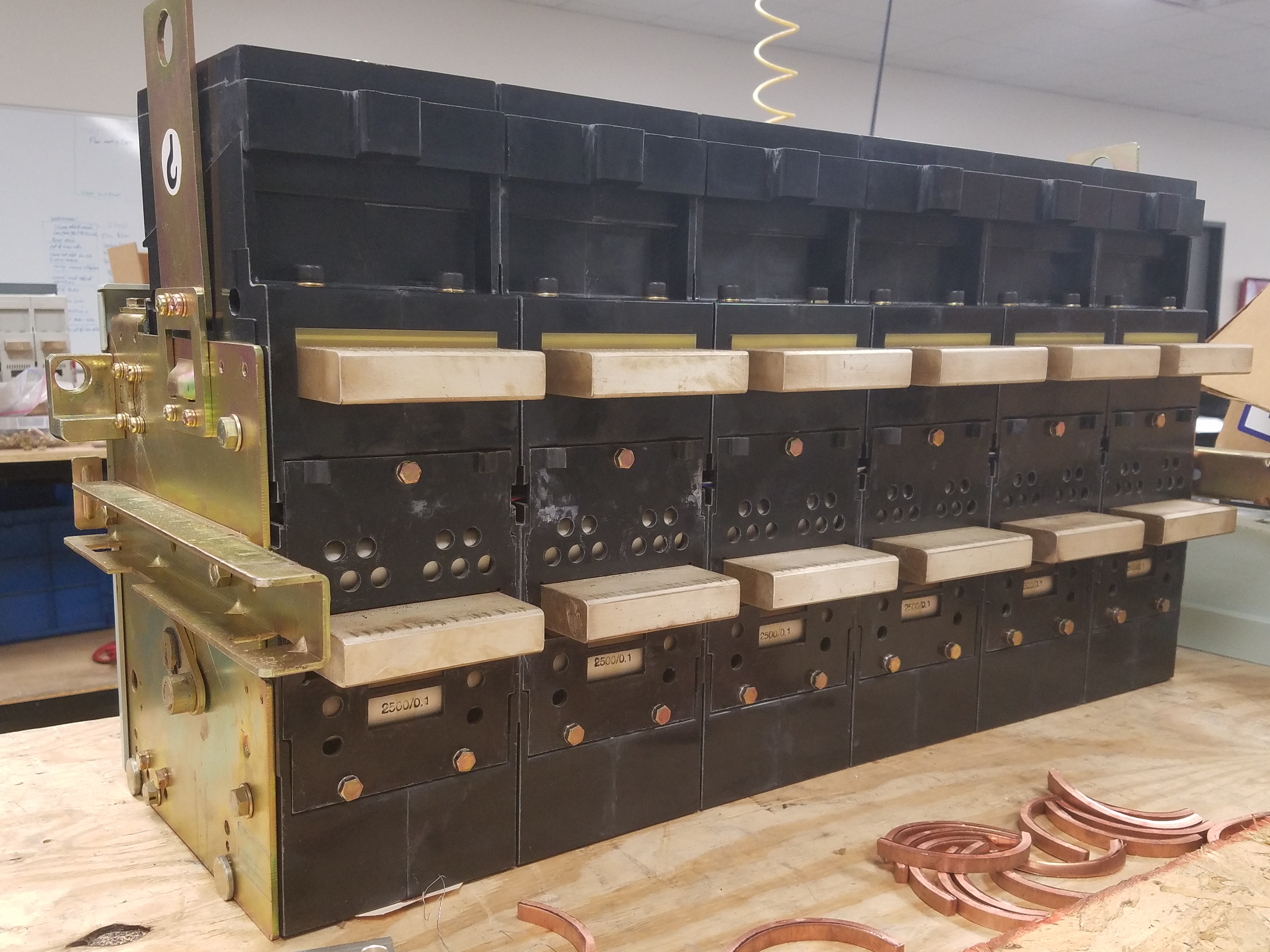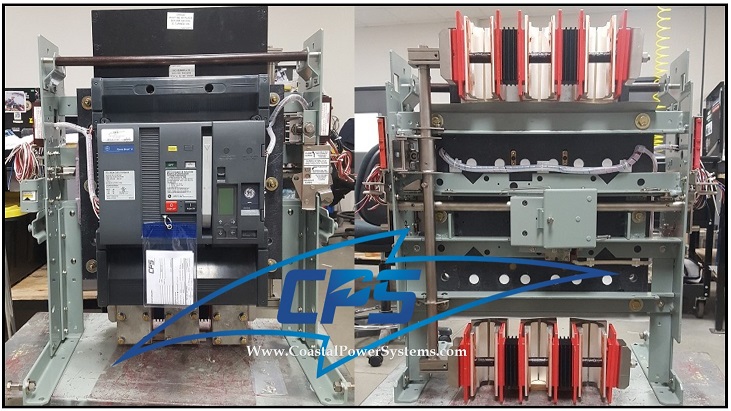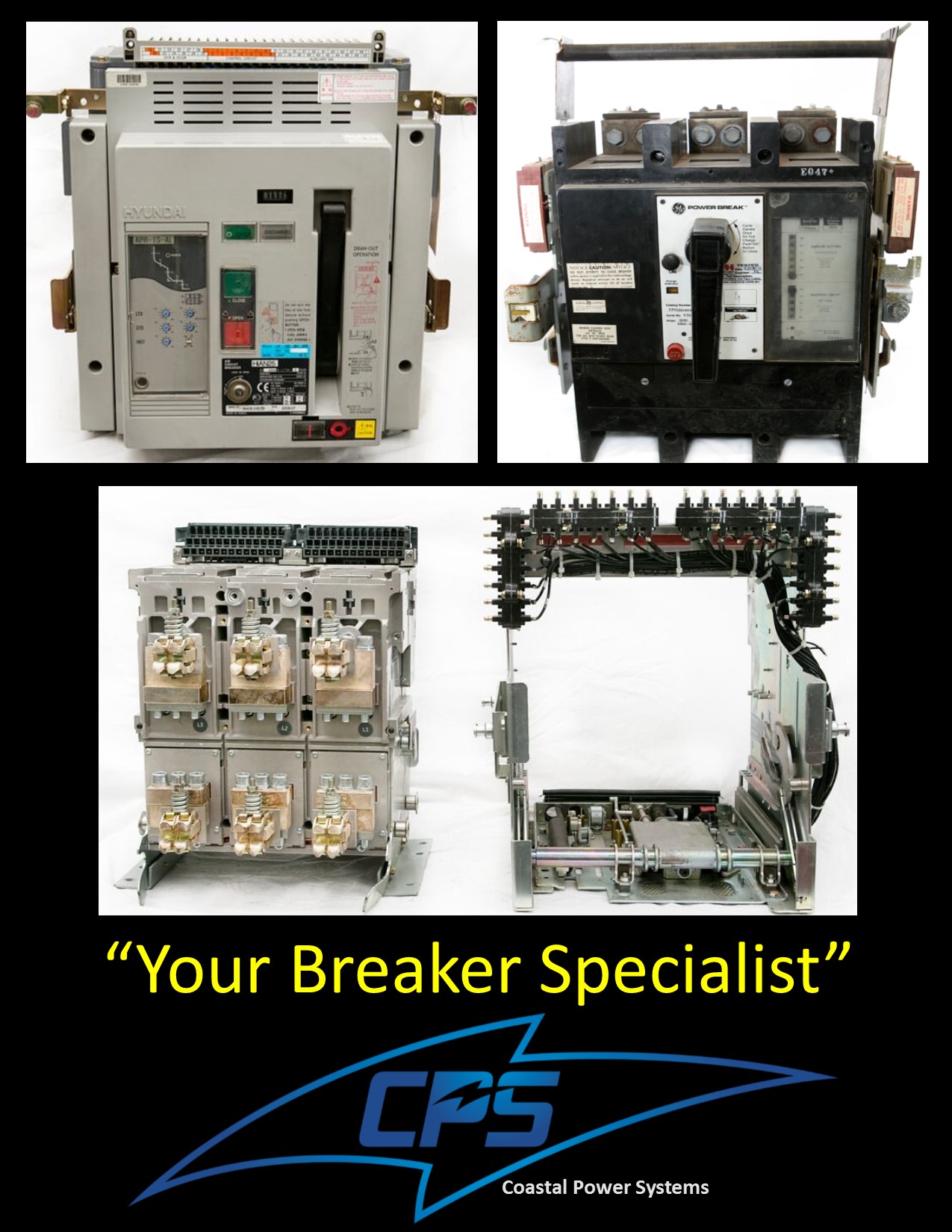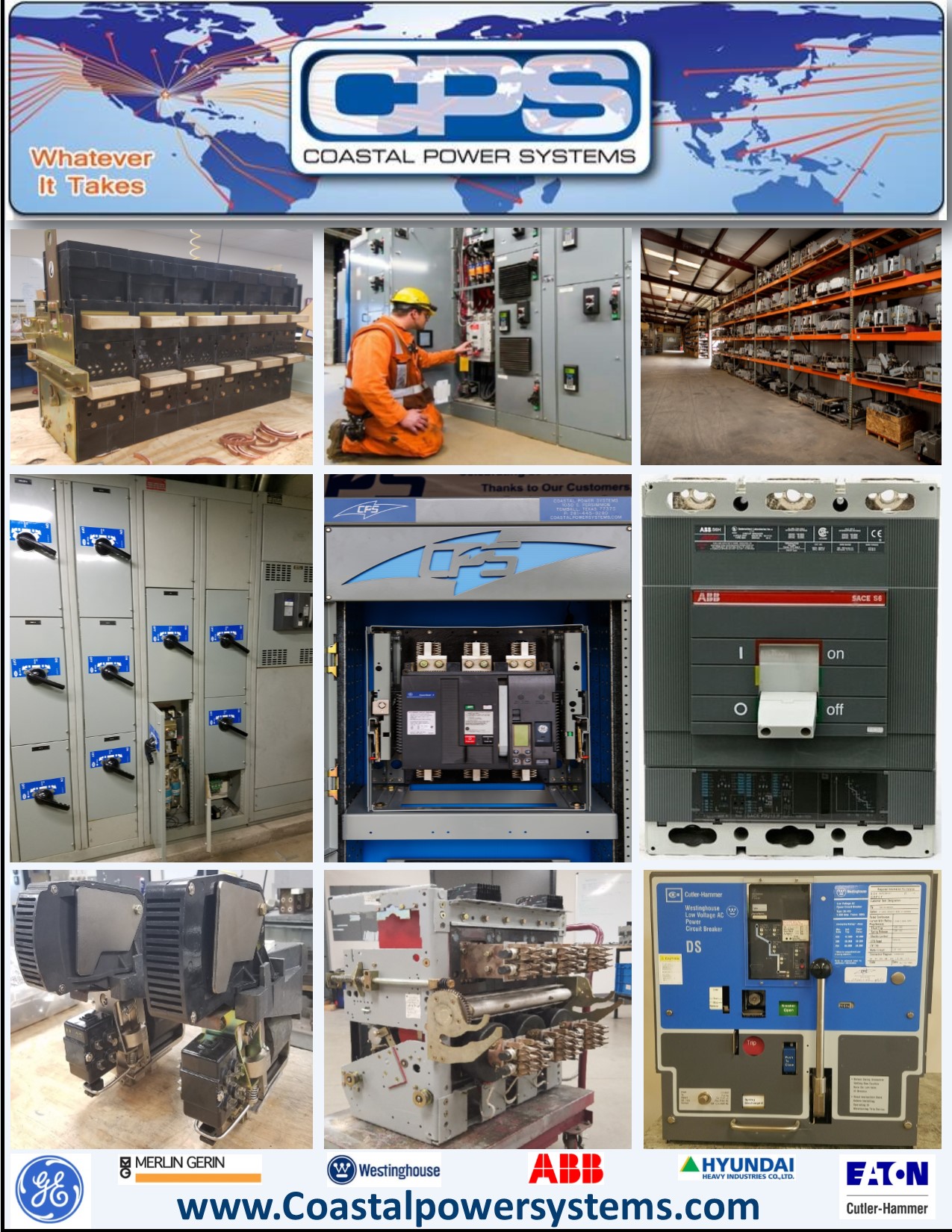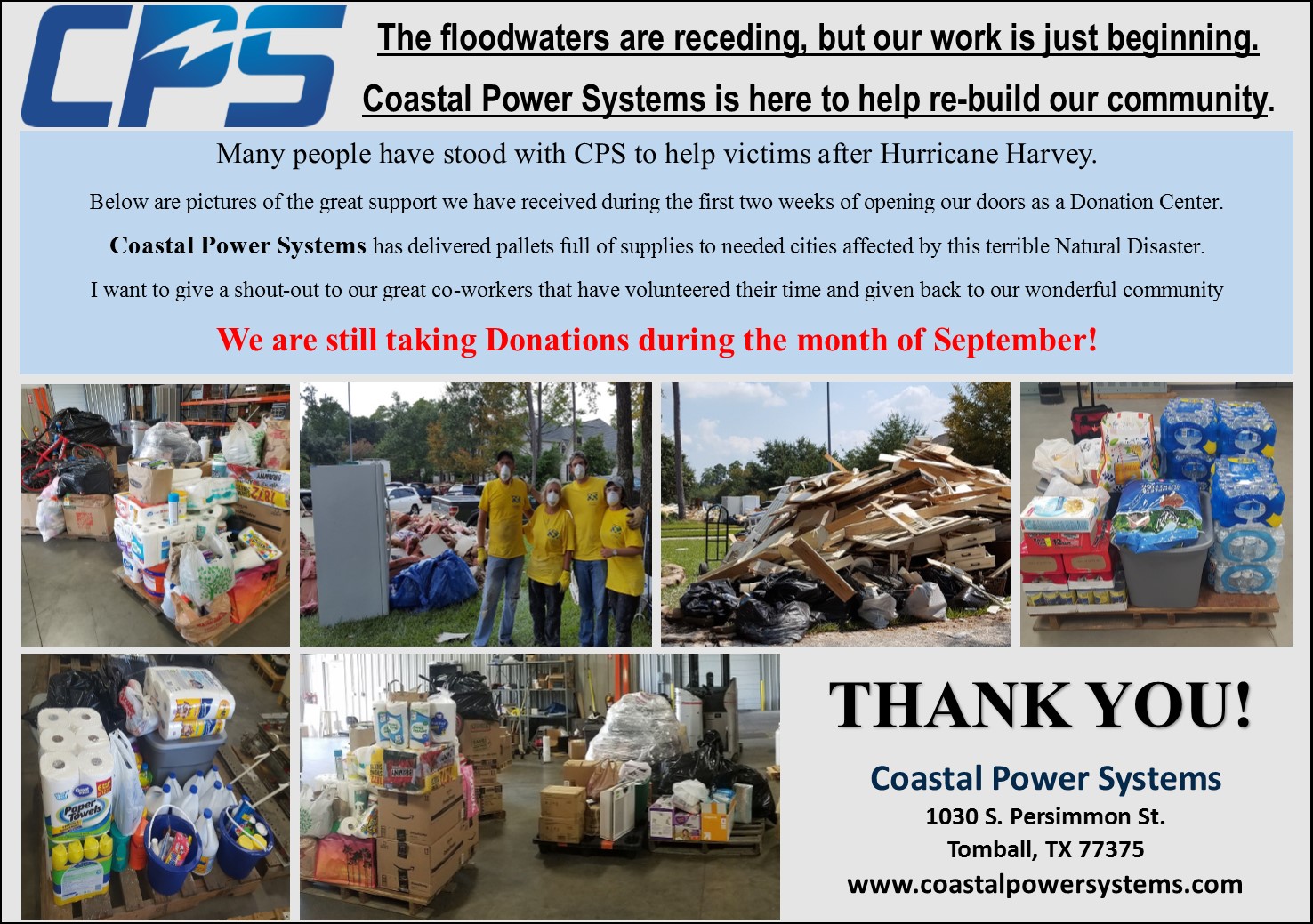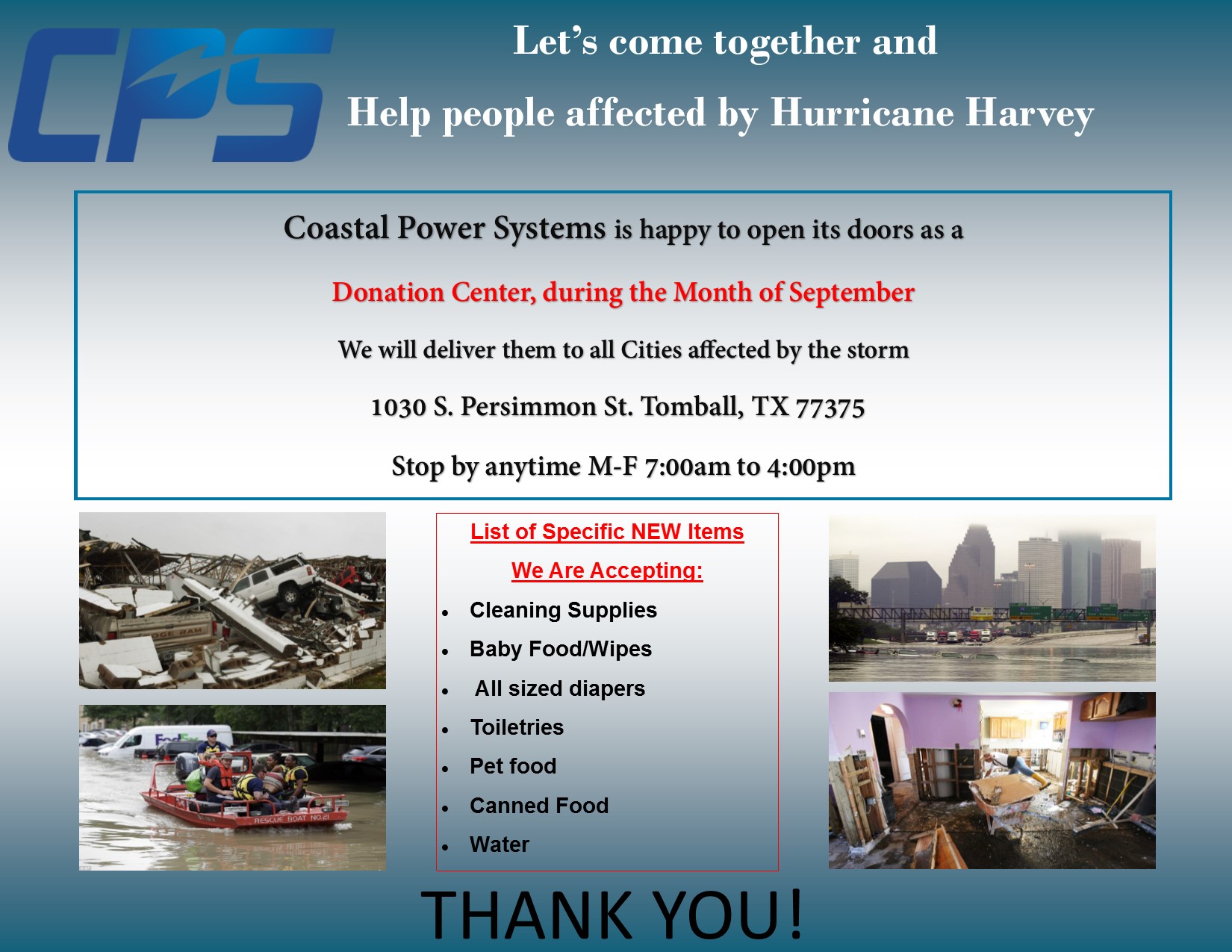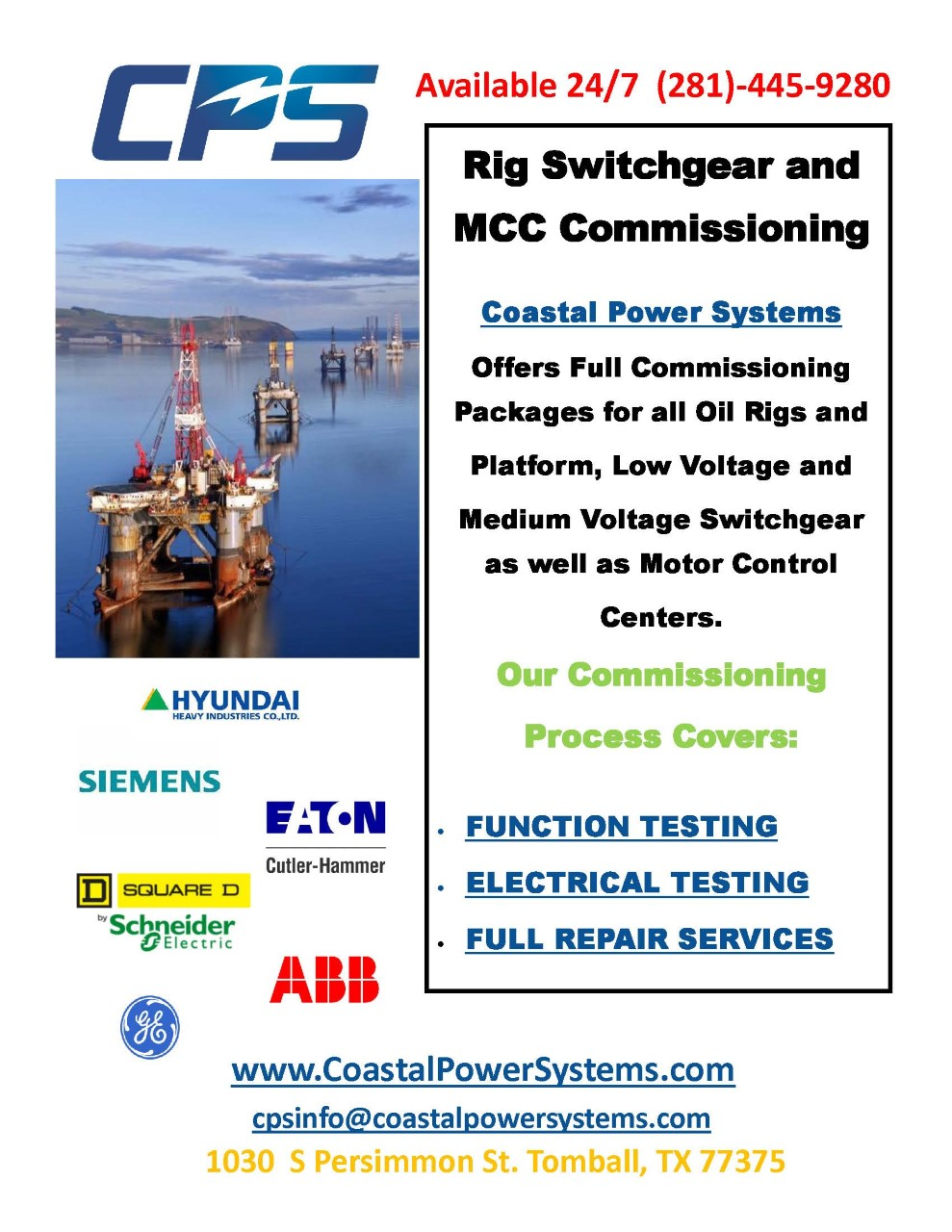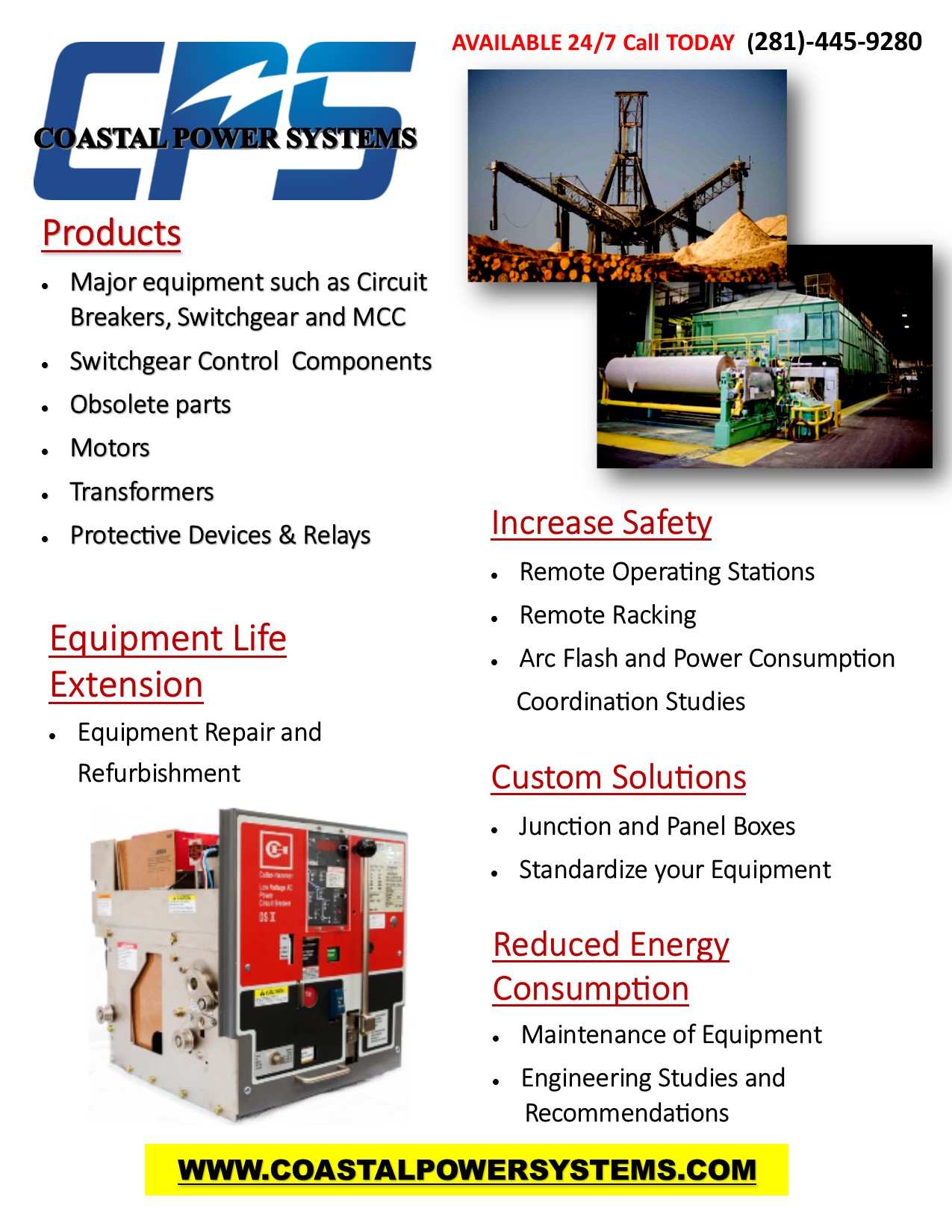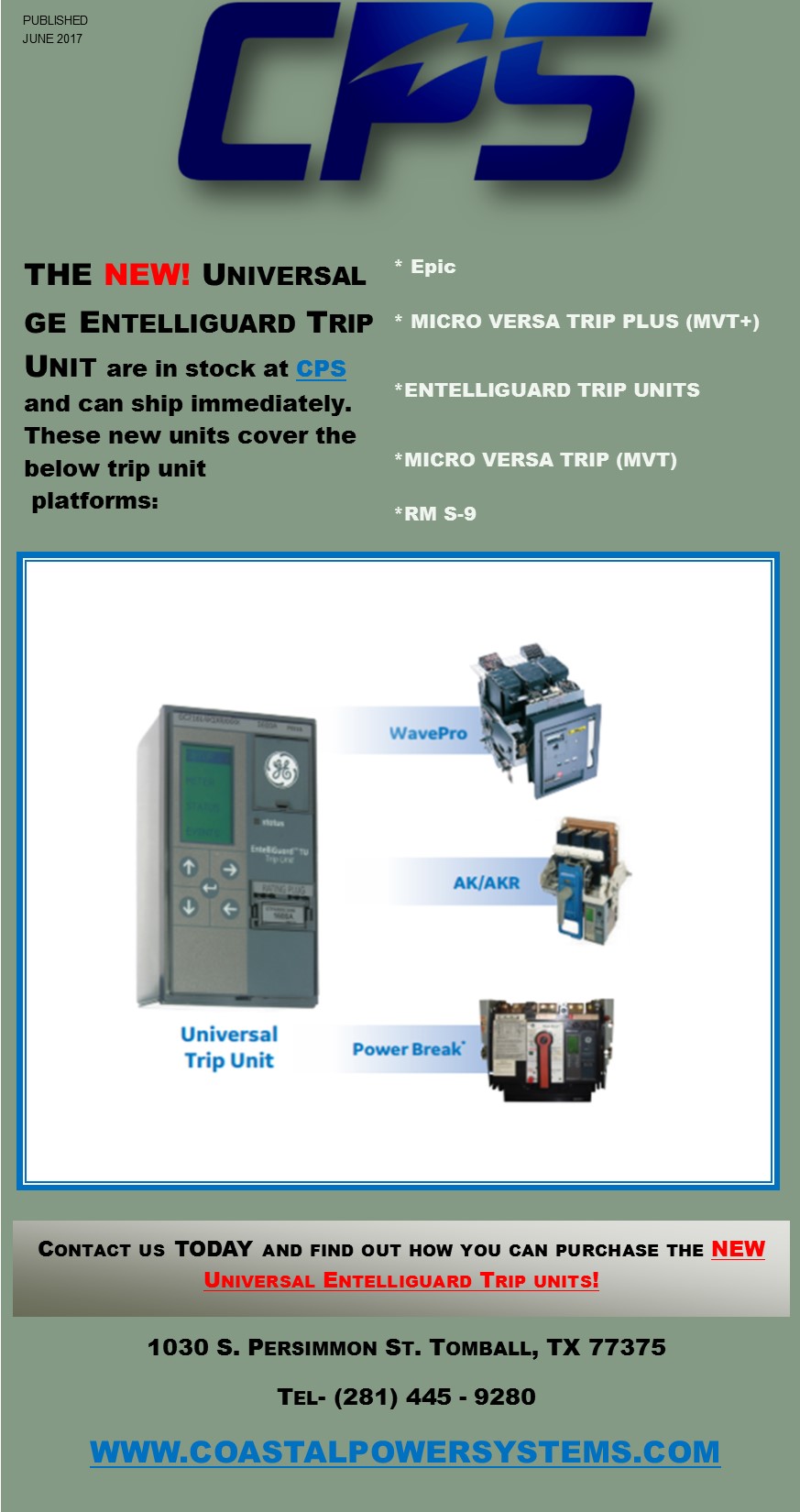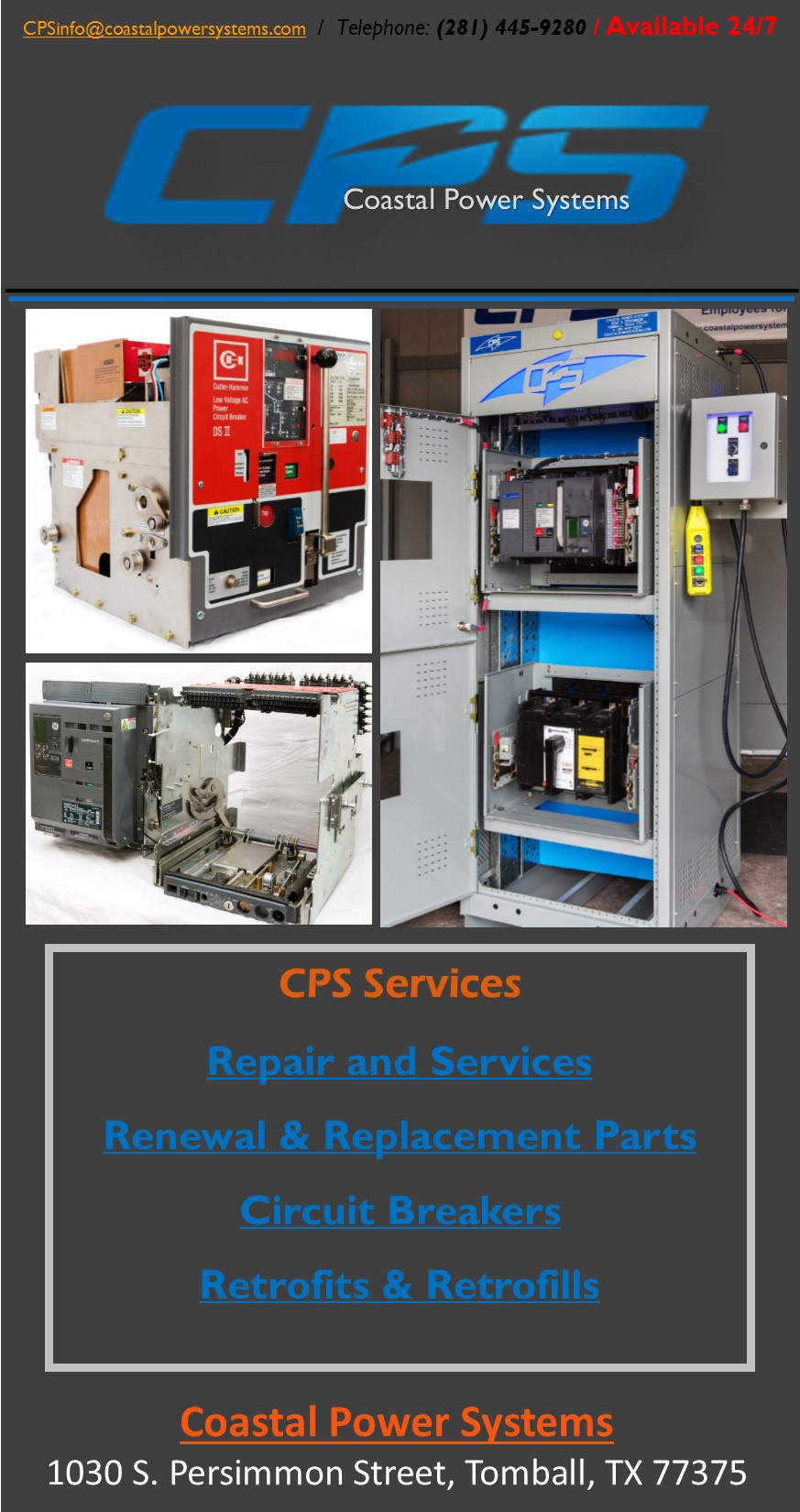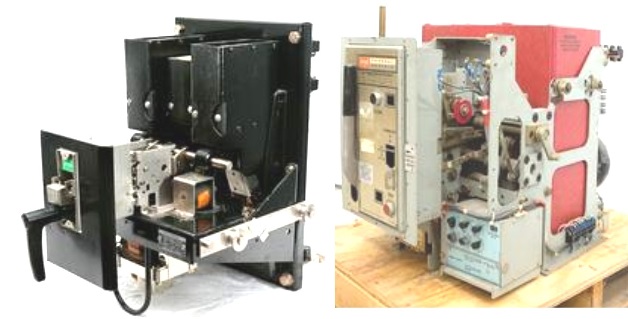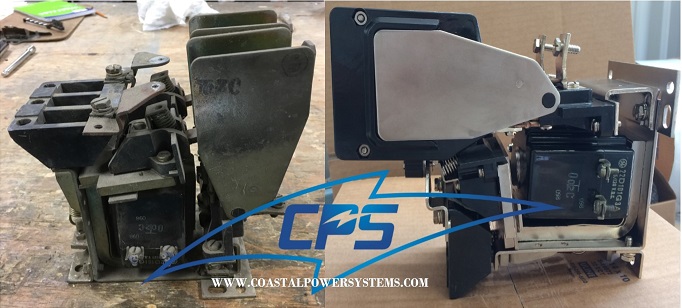 Before and After pics of a long obsolete 2 pole DC, 50 Amp contactor. Reconditioned and Tested. All of the steel was Nickel Plated and all of the conductive surfaces were Silver Plated. Contactor was broken down to component level and all of the non-metallic parts were cleaned and Sprayed with an Insulating Varnish. Aux Contact was re-built and configured to customer needs.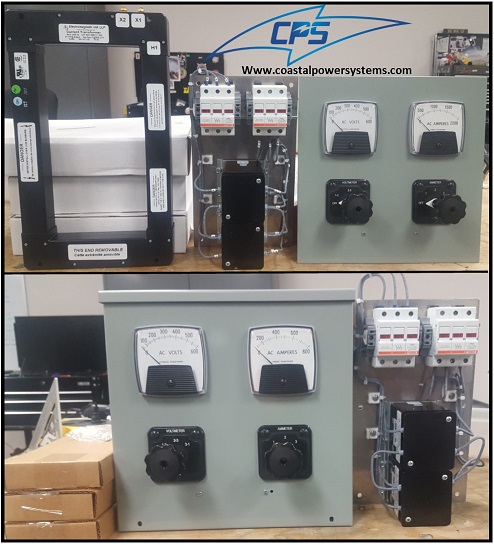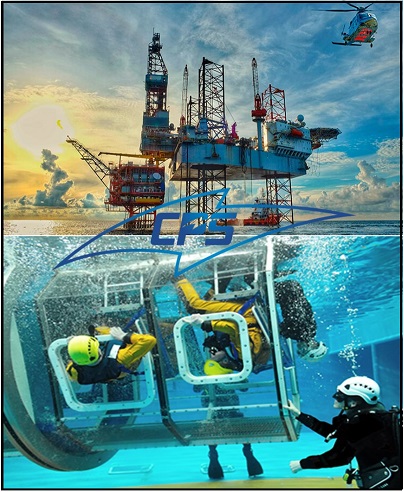 CPS's reputation in the Electrical industry is that of Expertise, Quality and Durability! But to be able to serve these areas we must maintain a level of Standards and Certifications. These allow us to reach our customers across the globe. http://www.coastalpowersystems.com/certifications/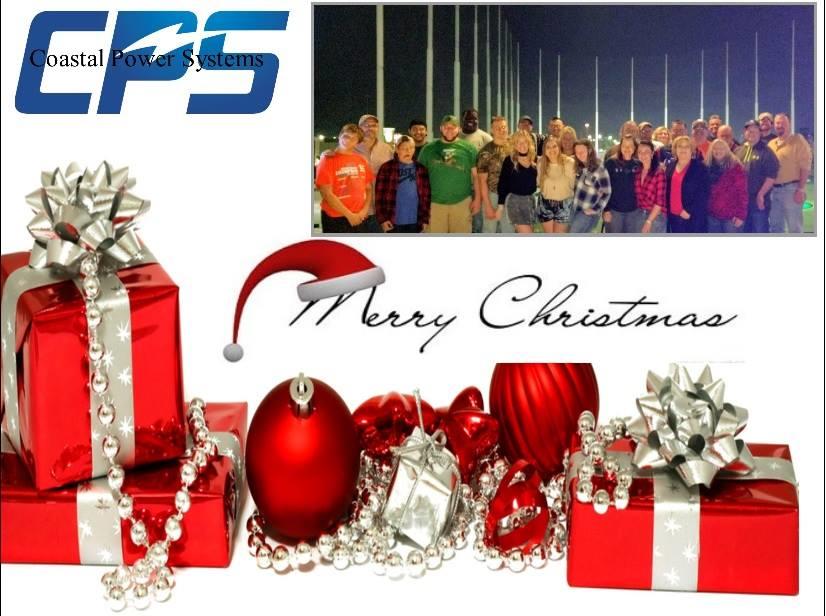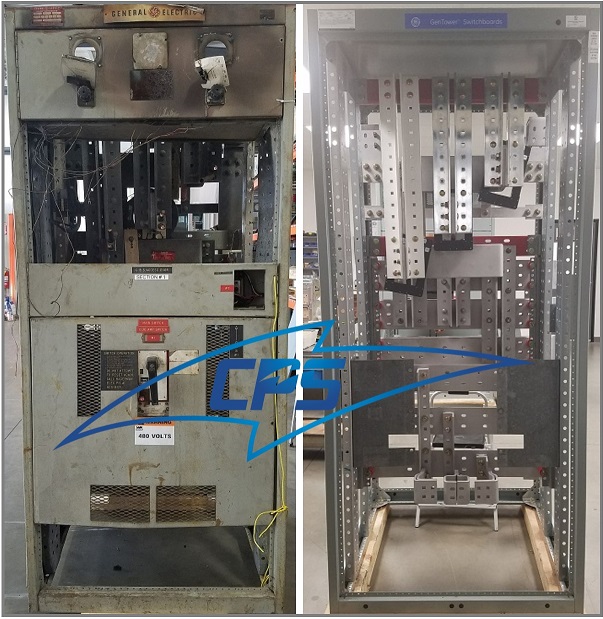 This is a Tear Down and Rebuild of an Obsolete GE HPC Switch. We are rebuilding the cabinet from a flash, and upgrading the unit to the new HPCII while maintaining their Ground Break Relay scheme. CPS was contracted to complete the work not only for a quick turn around time, but also for the upgrade to newer style switch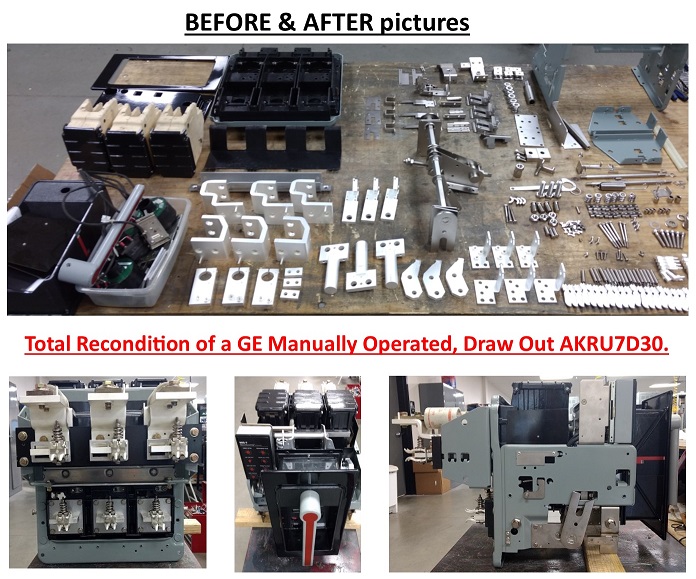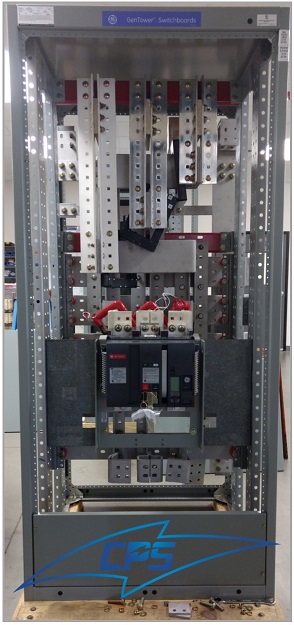 This is a reconstructed 4000 amp main section with a 1600 amp High Pressure Contact Switch that was damaged in an arc flash. The original GE HPC Switch was replaced with a new HPC2 switch. CPS replaced all damaged bus and reconditioned the bus that was not damaged in the fire. The original cabinet was scrapped and all interior components were thoroughly cleaned and transferred to a new enclosure. The old analog meter and Phase Protection relay were replaced with newer digital replacements.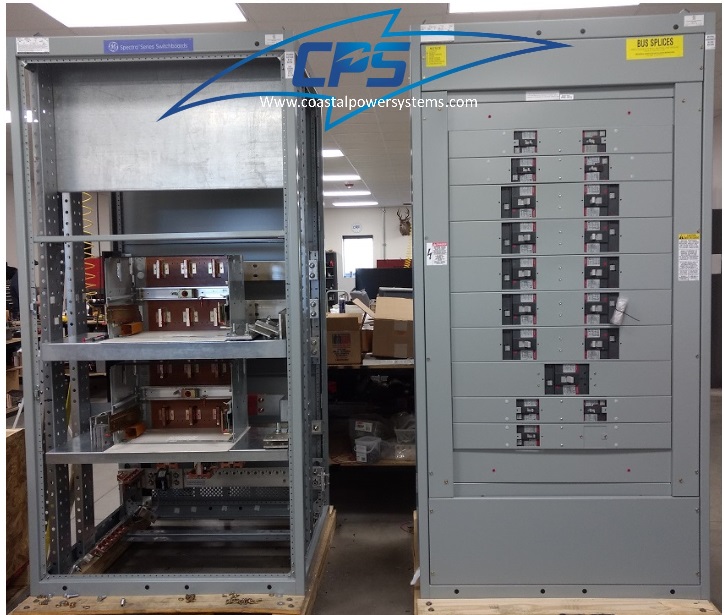 CPS custom 2000 amp, Auto Transfer Main, with Distribution. Client has two separate Power Sources that can provide power to the distribution section, depending on their need. If the main power goes out, the system will automatically transfer over to the secondary power source. When it is time to transfer back, the client will manually transfer back to normal power.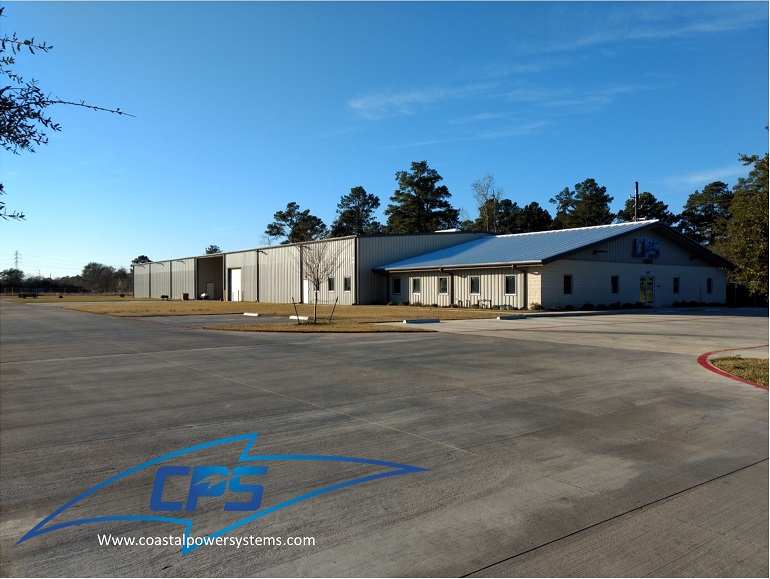 1030 S. Persimmon st. Tomball, TX 77375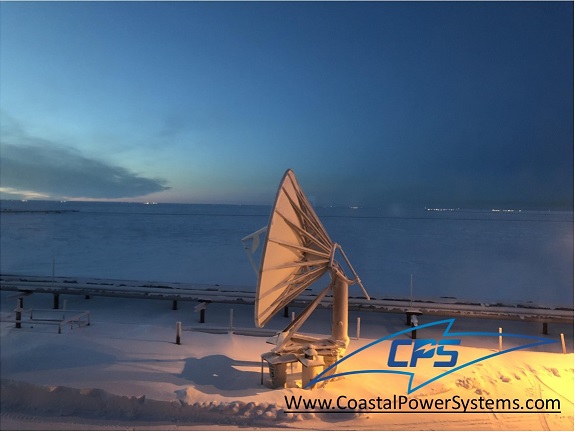 Coastal Power Systems will travel to the ends of the earth to Support our Clients and their Electrical objectives . https://lnkd.in/eEXCitZ One of our Expert Technicians currently in Prudhoe Bay, Alaska. **Picture taken at 11 AM from the Western portion of the Oilfield**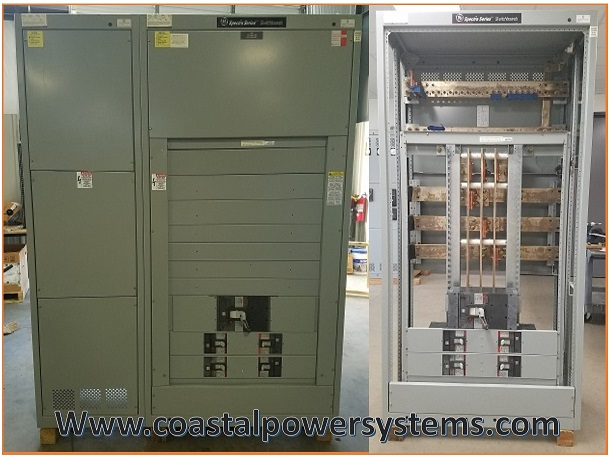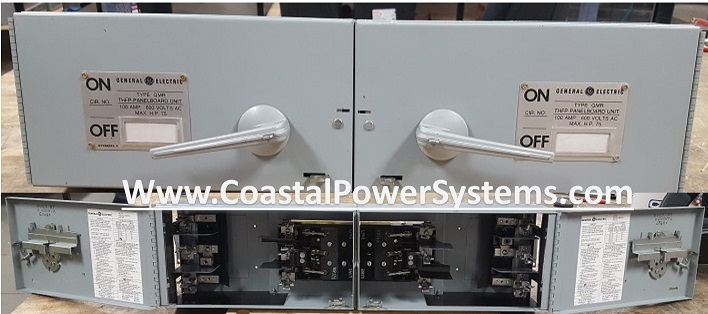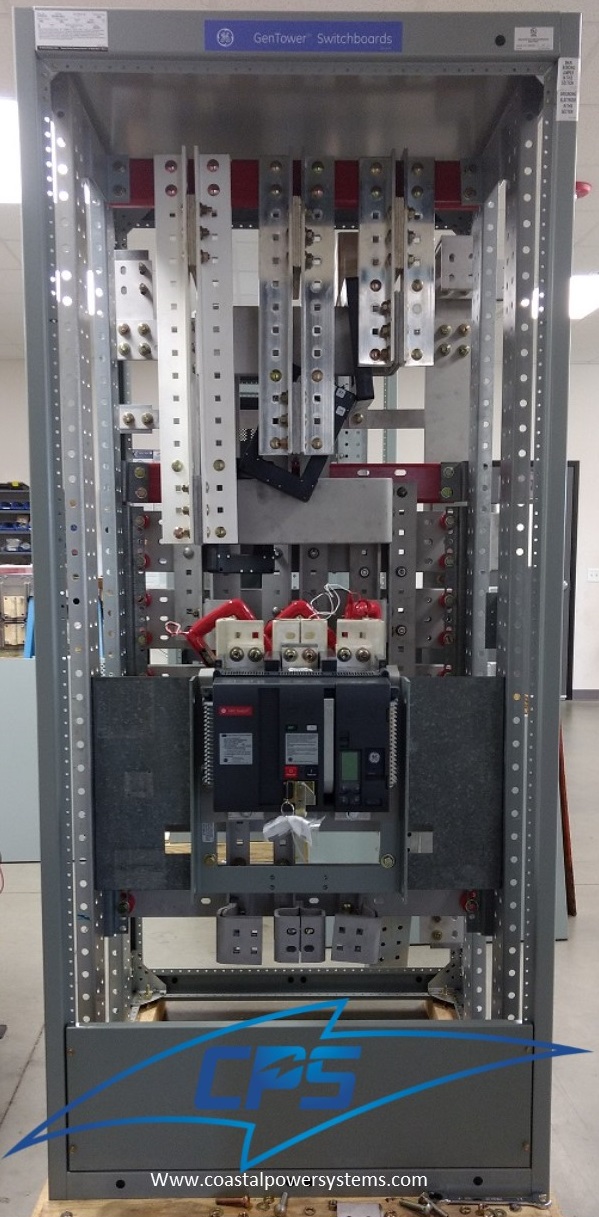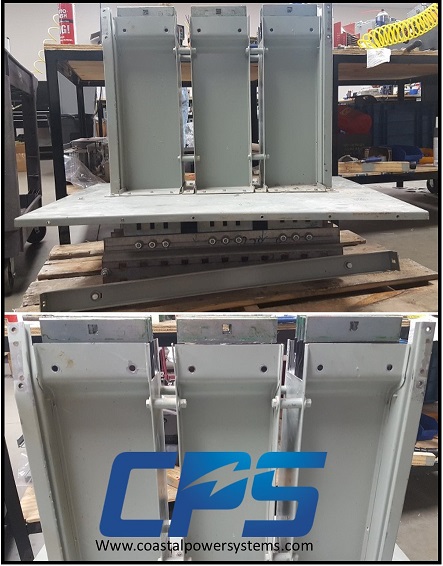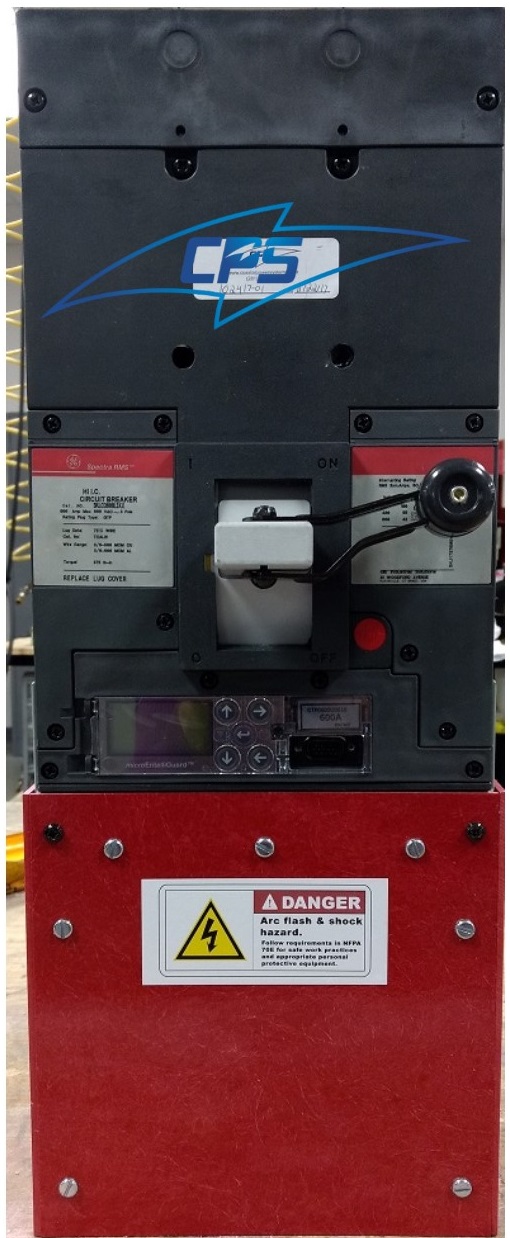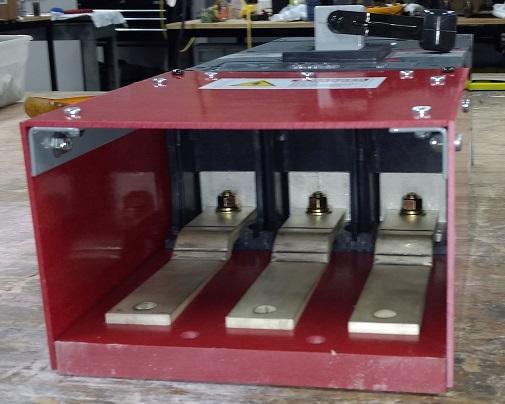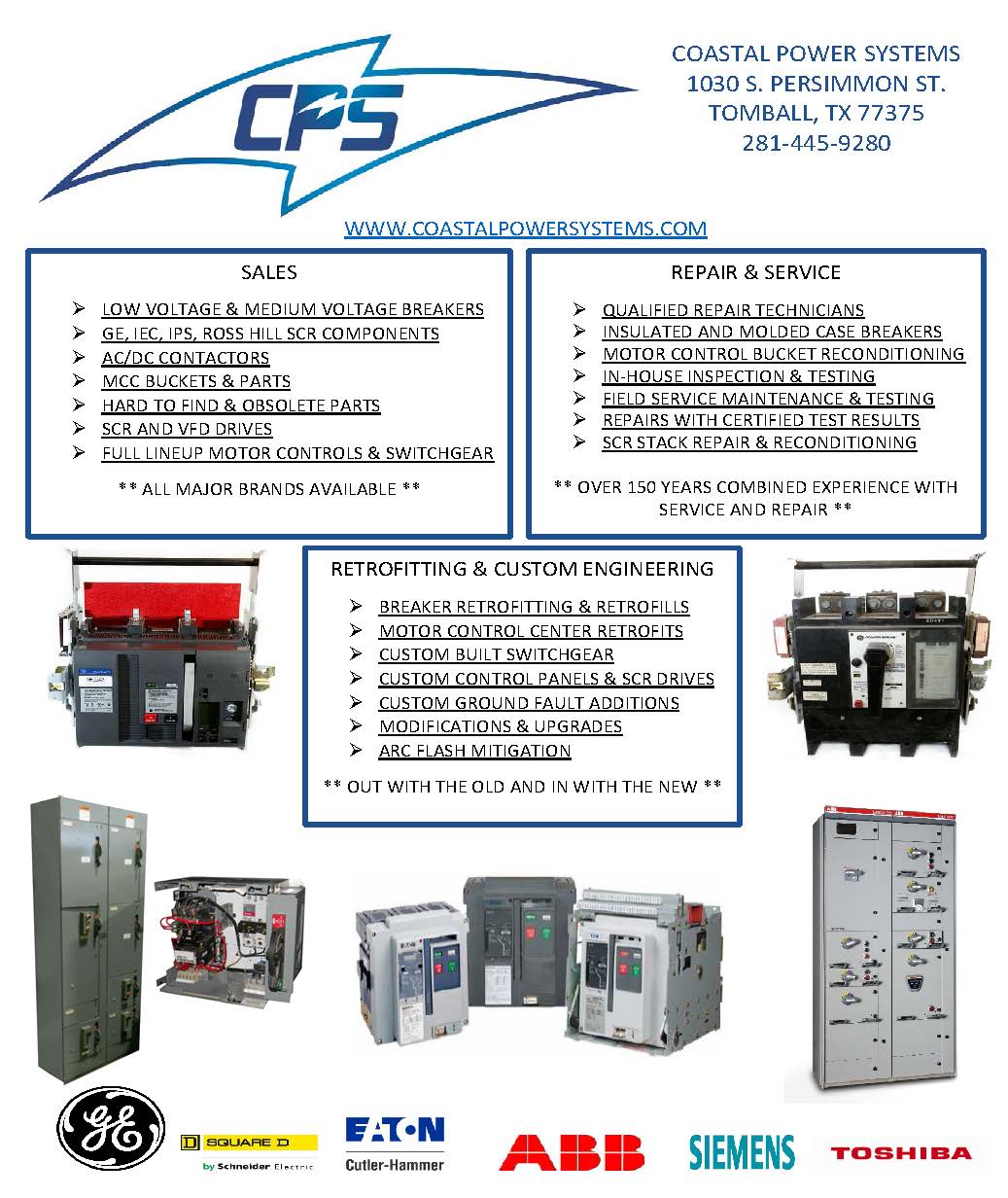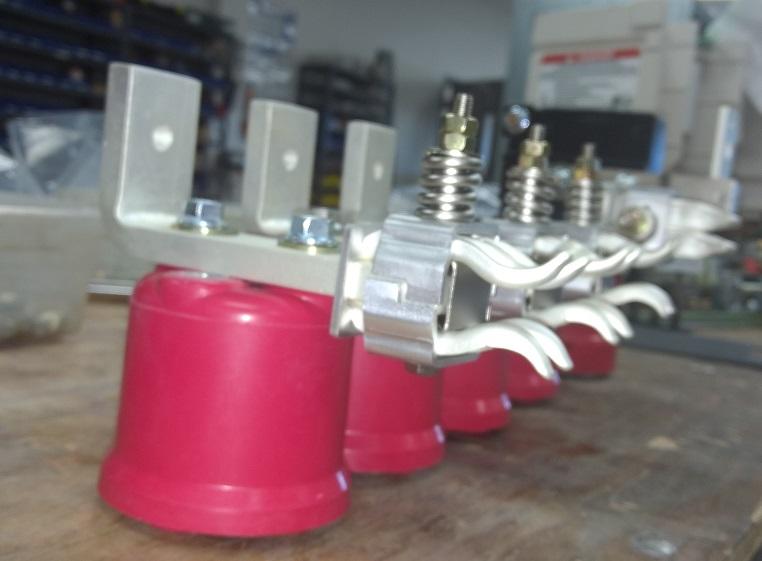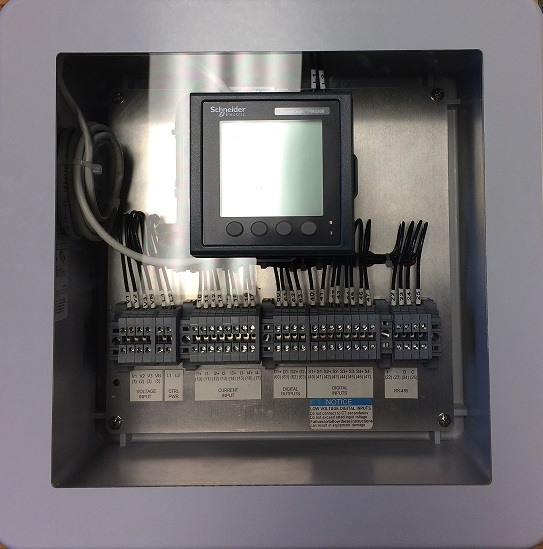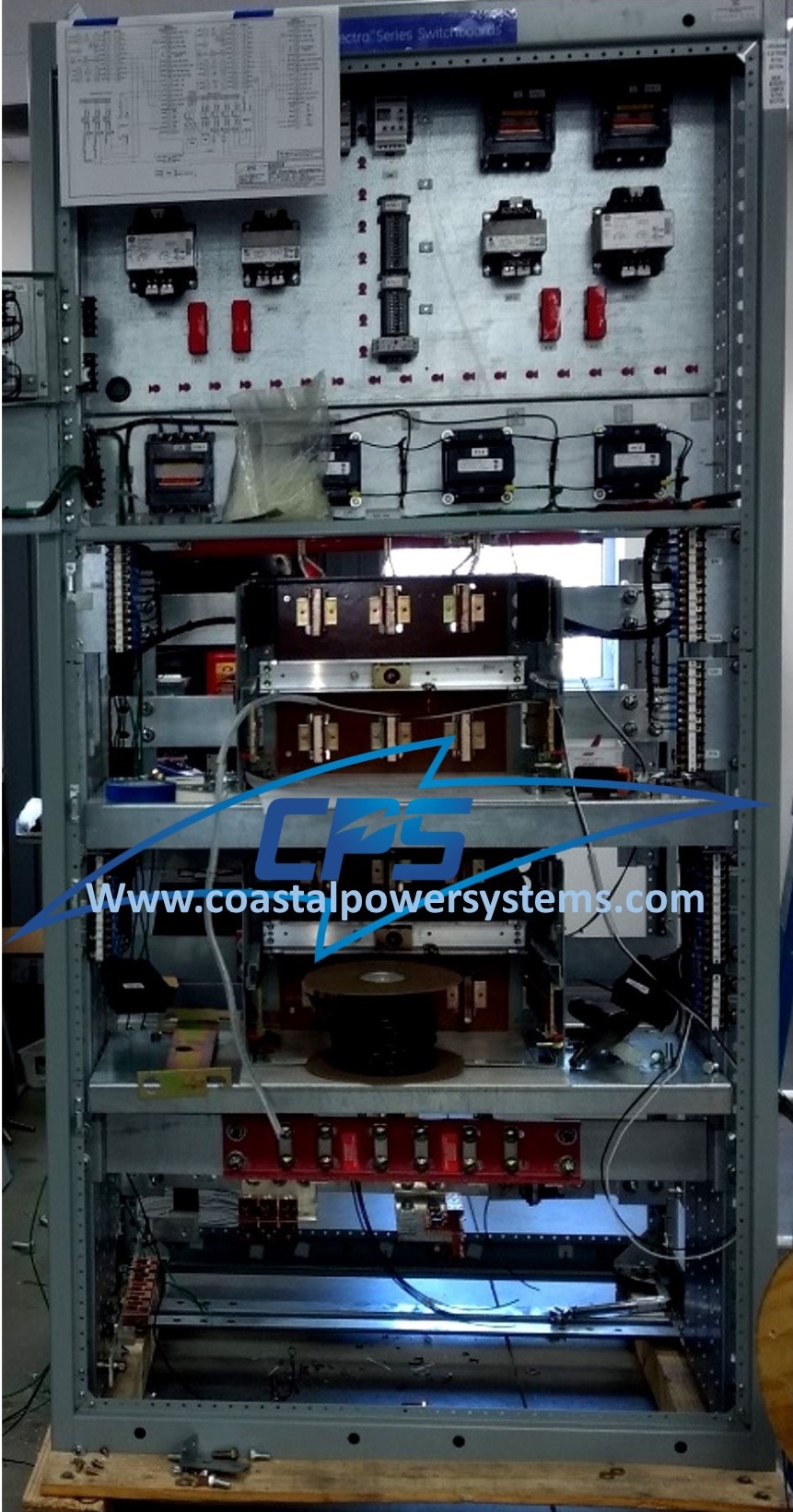 CPS design – This Automatic Throw-over Manual Return Main Circuit Breaker is attached to a distribution section and provides an alternate source of power in case the main source goes out!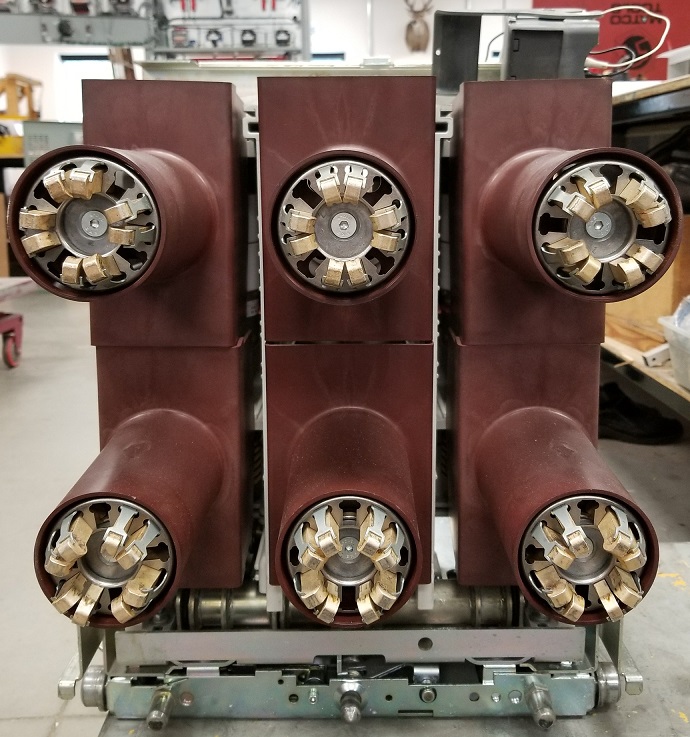 ABB Medium Voltage V-max in for Repair. Breaker will be Refurbished and Repaired back to factory specifications. CPS is capable of working on all ABB Circuit Breakers.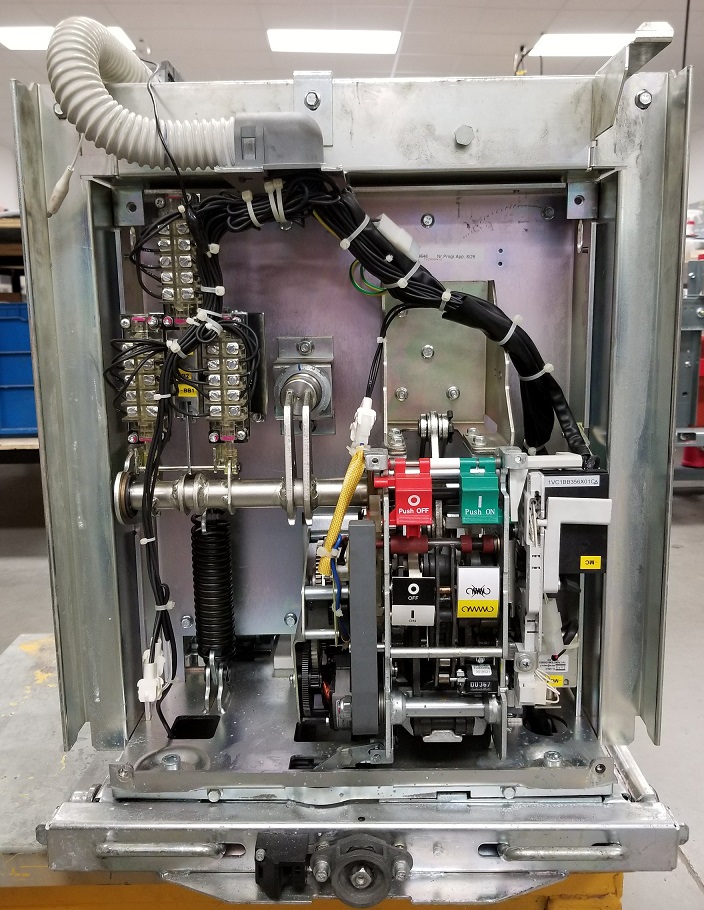 ABB Medium Voltage V-max in for Repair. Breaker will be Refurbished and Repaired back to factory specifications. CPS is capable of working on all ABB Circuit Breakers.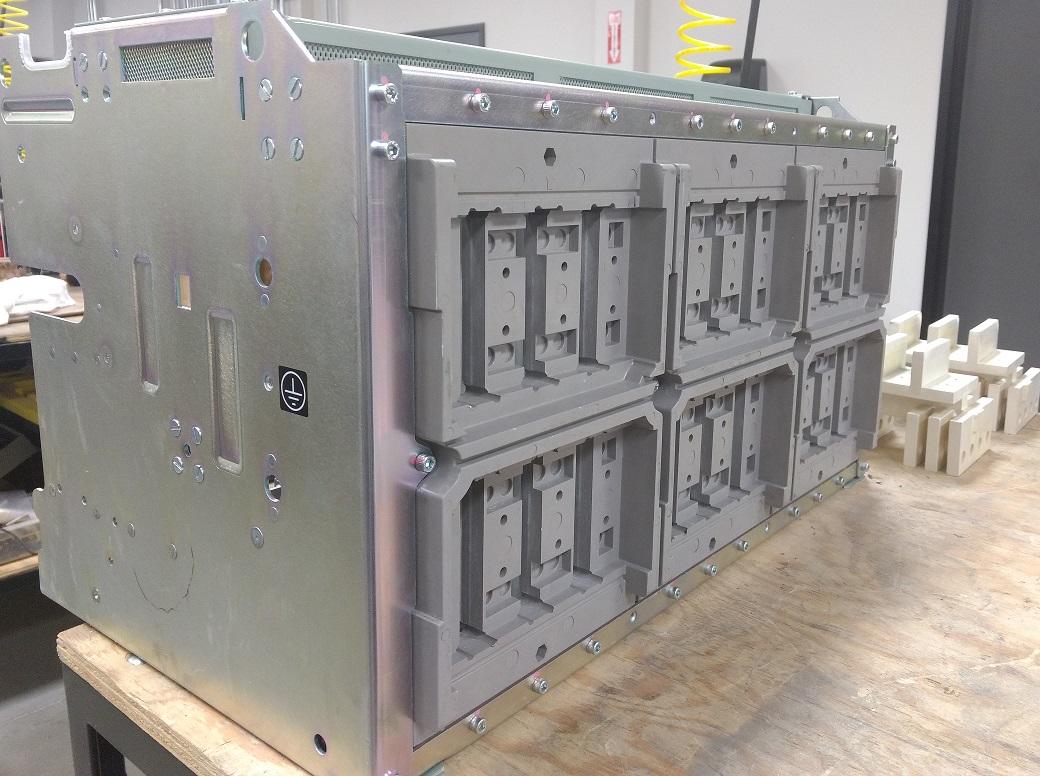 CPS- GE Entelliguard 5000A Retrofill Circuit Breaker and Substructure to replace the obsolete Hyundai HiAN50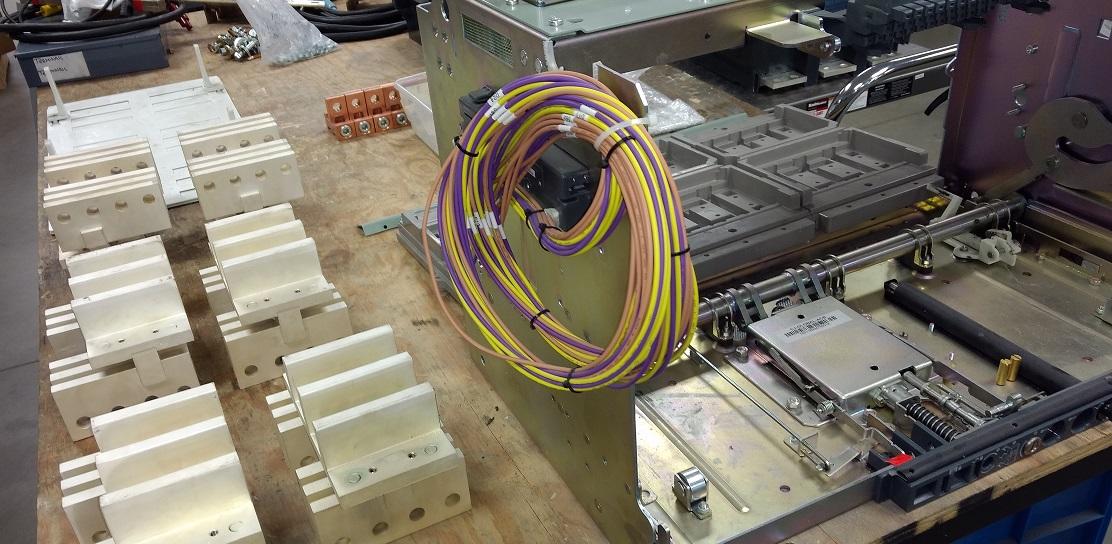 CPS- GE Entelliguard 5000A Retrofill Circuit Breaker and Substructure to replace the obsolete Hyundai HiAN50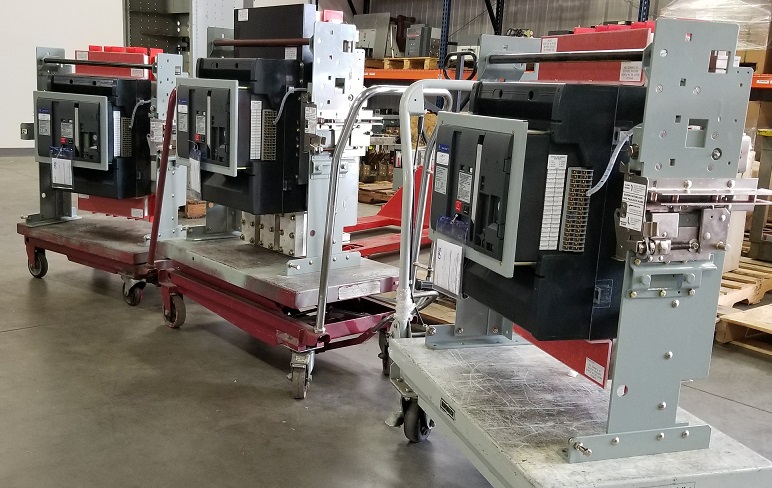 3000A and 4000A Power Break I to Power Break II Retrofits. These are a rack in and rack Houston Style Design. CPS also equipped these Breakers with Entelliguard Trip Units with advanced metering and RELT capabilities for added protection.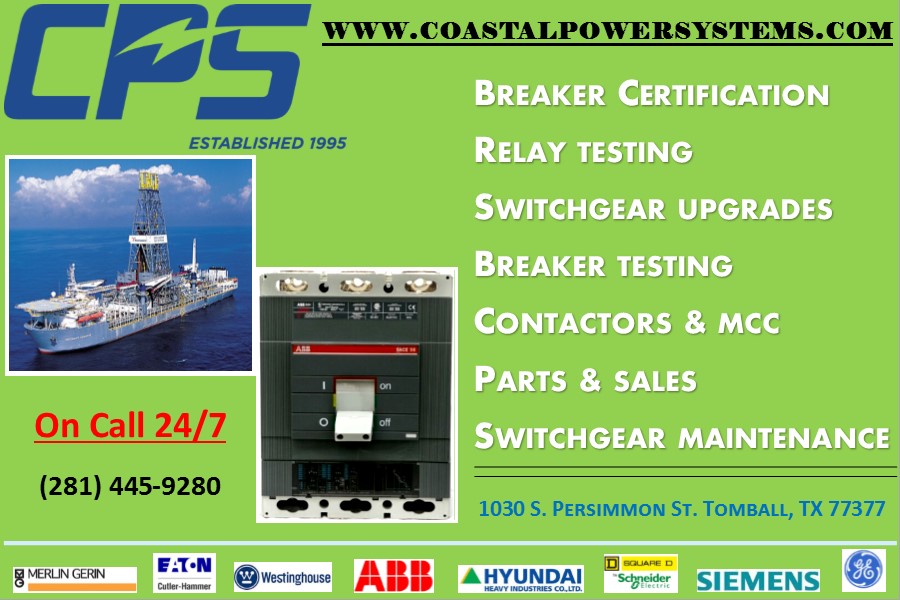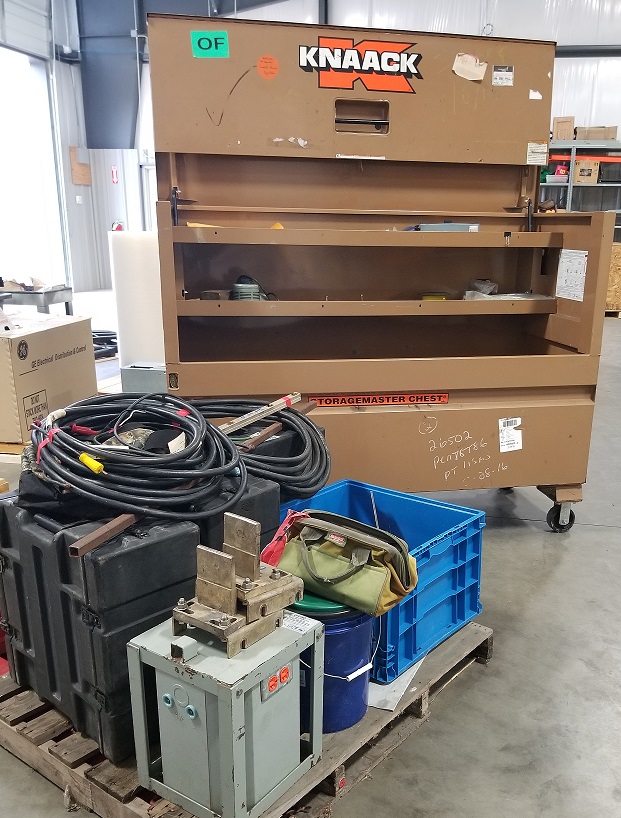 CPS technicians are getting ready to go to a Customers site in Trinidad and Tobago. Coastal Power Systems will be performing 5 year Testing there. Part of this package includes: Primary Injection of Circuit Breakers and basic PM of Breakers and Switchgear. Learn more: http://www.coastalpowersystems.com/on-site-testing/ We are always on call 24/7 and prepared to exceed all of our customers' expectations!!!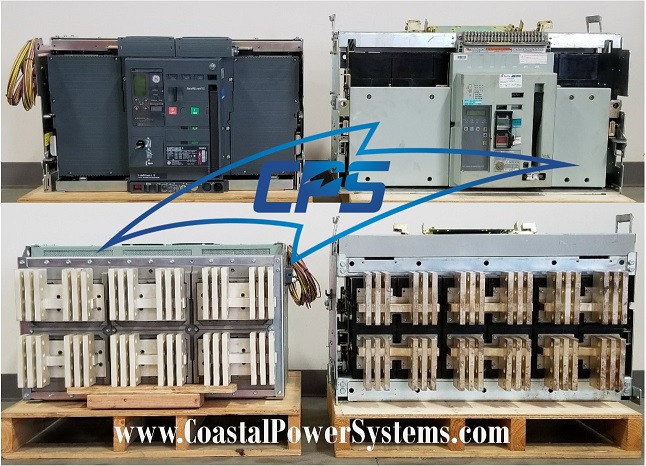 Hyundai HiAN 50 to Entelliguard E4 Frame. 5000A Rating direct replacement for the obsoleted Hyundai Cradle. www.coastalpowersystems.com The Entelliguard substructure was modified to bolt into the place of the end users existing substructure with minimal downtime and easy installation. The New Entelliguard secondary wiring has also been modified to adjust to the customers application specific control scheme.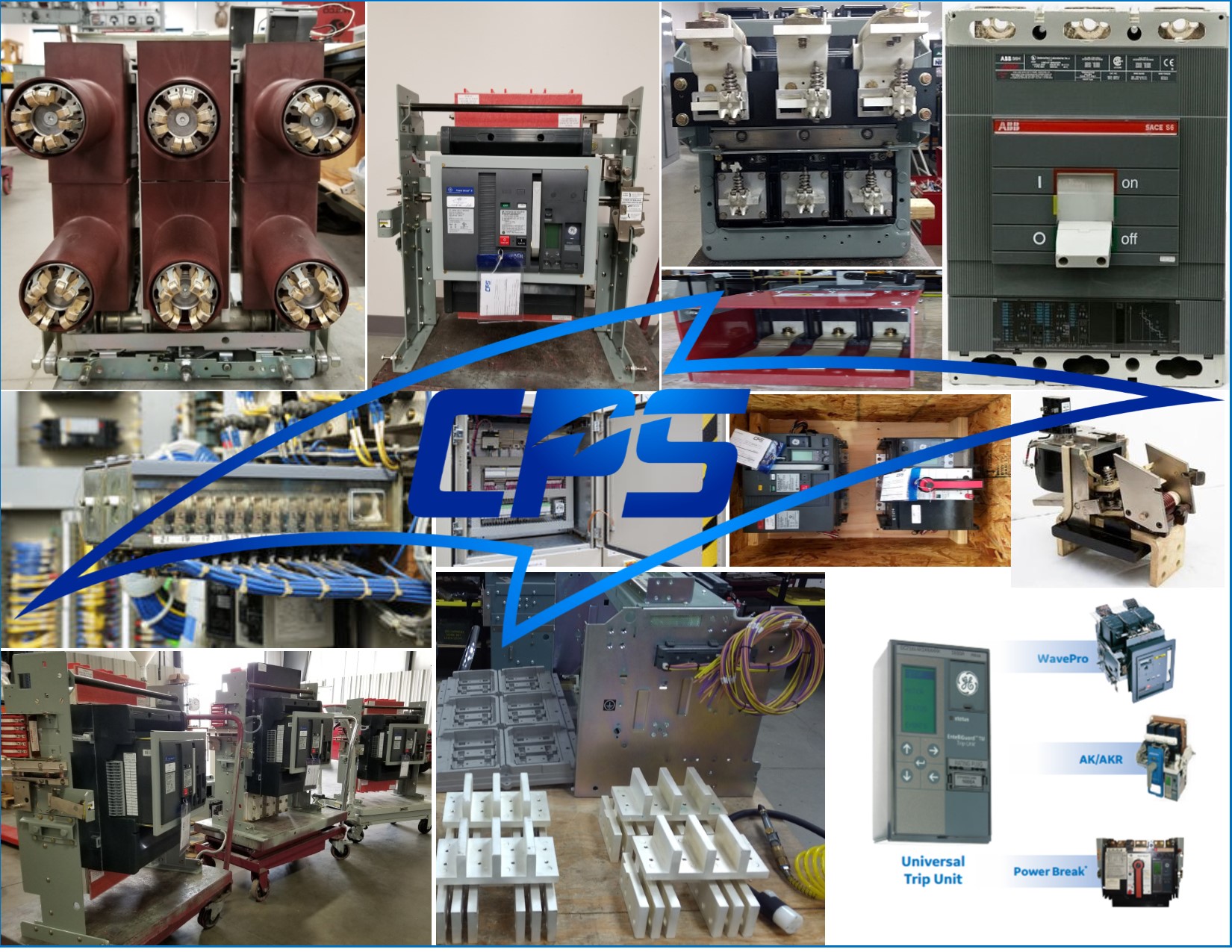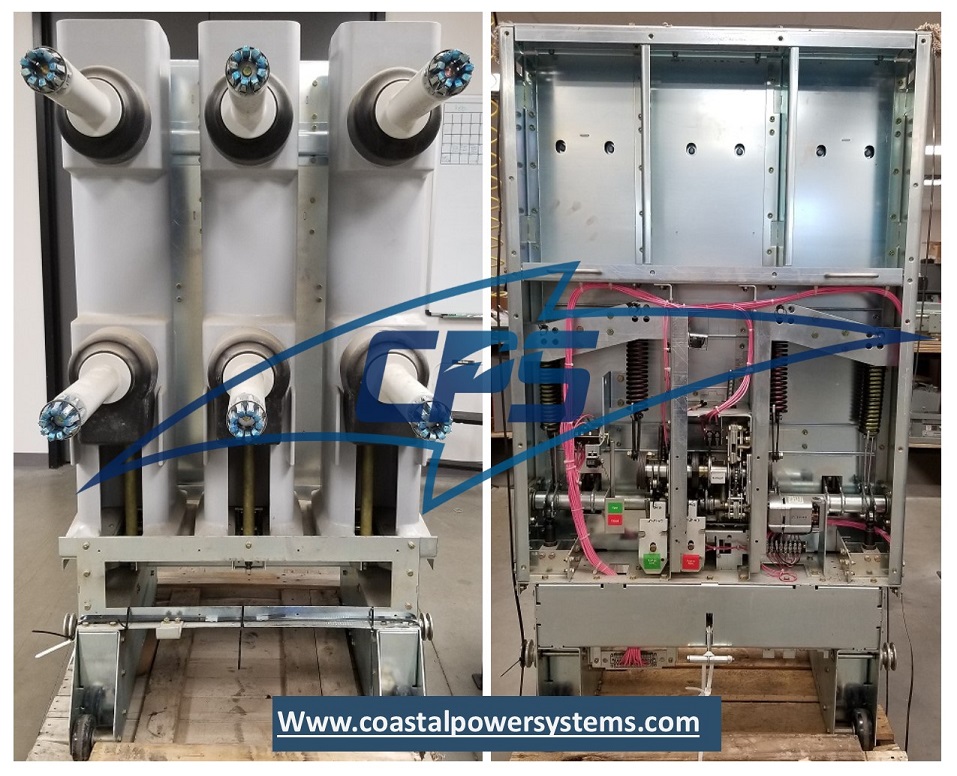 Two 38kv Cuttler Hummer VCPW Vacuum Breakers in for Lubrication and Cleaning, Meggar and Highpot Testing. CPS typical turnaround for testing and certification is 1-2 business days.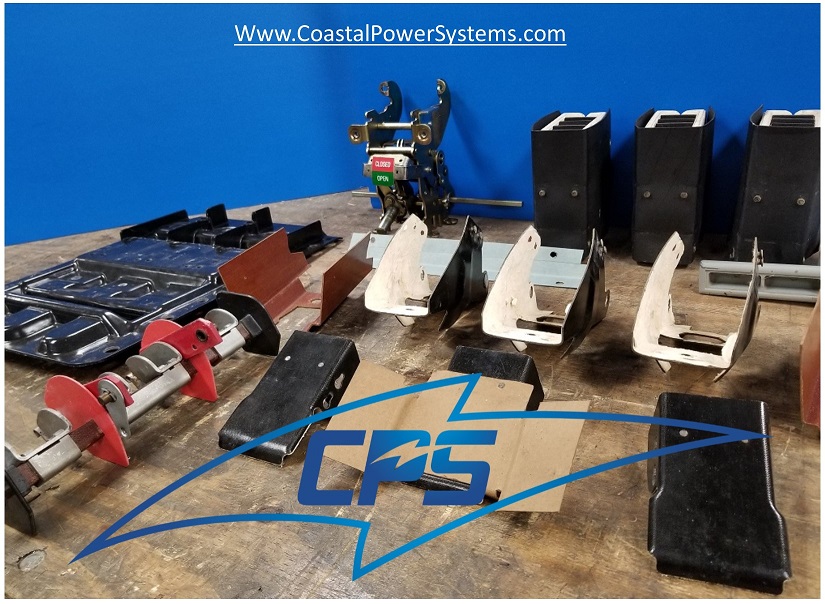 Deconstructed AK-2-25 going through CPS's Restoration Process. This Breaker is prepared to start going back together by Certified Technicians. Normal restoration time frame for this type of Breaker is 3-5 business days, complete with Primary Injection Test Certificate. www.coastalpowersystems.com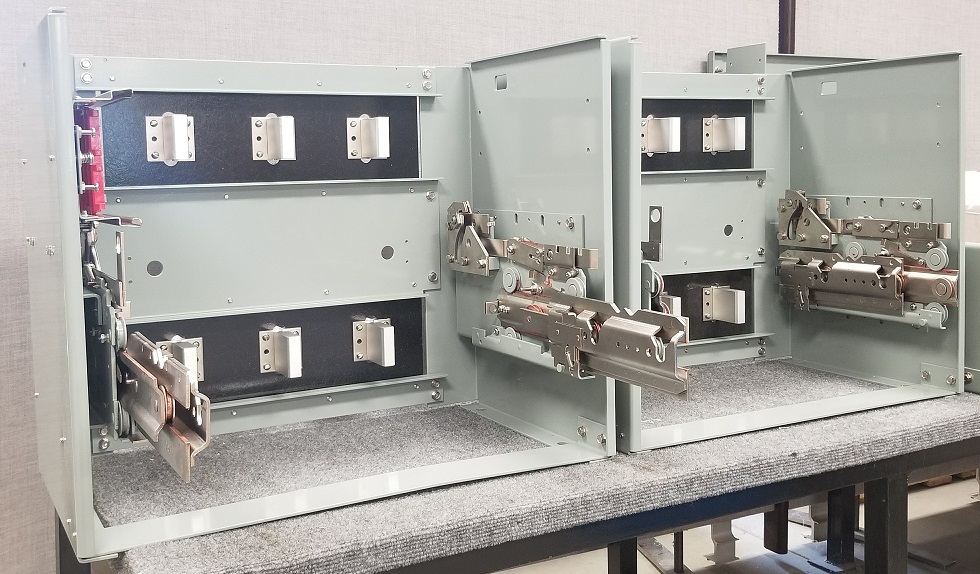 CPS 800Amp Houston Style Drawout Substructures. Completely Recondition with Electroless Nickle Plating and Power coating. These are being Installed in a Customers existing board to accept Retrofit Houston style Power Break II Circuit Breakers.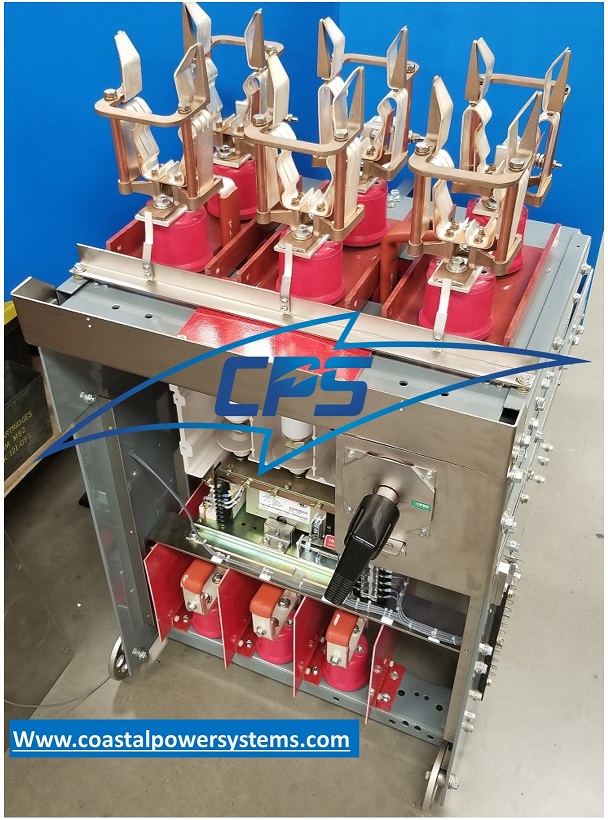 GE Medium Voltage Contactor Retrofit. Going from an old obsolete and discontinued contactor to a factory new Toshiba contactor using the same roll in carriage style of the original. We are using all new parts and pieces. New insulators, connectors, fuses, fuse blocks, and relays. It will be install in the same place as the old contactor.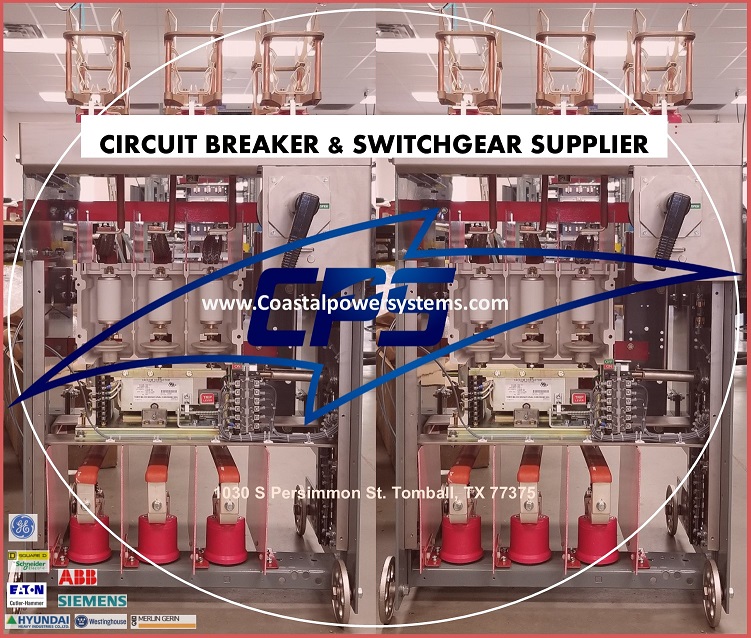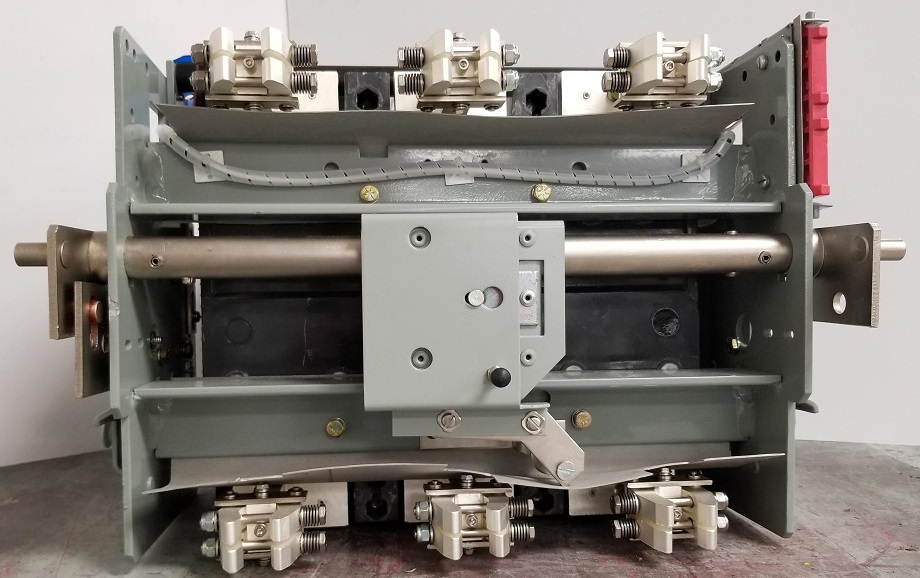 CPS Retrofit PBII Circuit Breaker for GE Houston Style Drawout 800A Frame,Entelliguard Programmer, LSIG Trip Functions, 800a Rating Plug. Breaker is a rack in replacement for the obsoleted Houston style drawout 800A frame Circuit Breaker. This Retrofit provides quick installation and no cubical modification necessary to install. CPS is capable of Retrofitting any frame and amperage Houston Drawout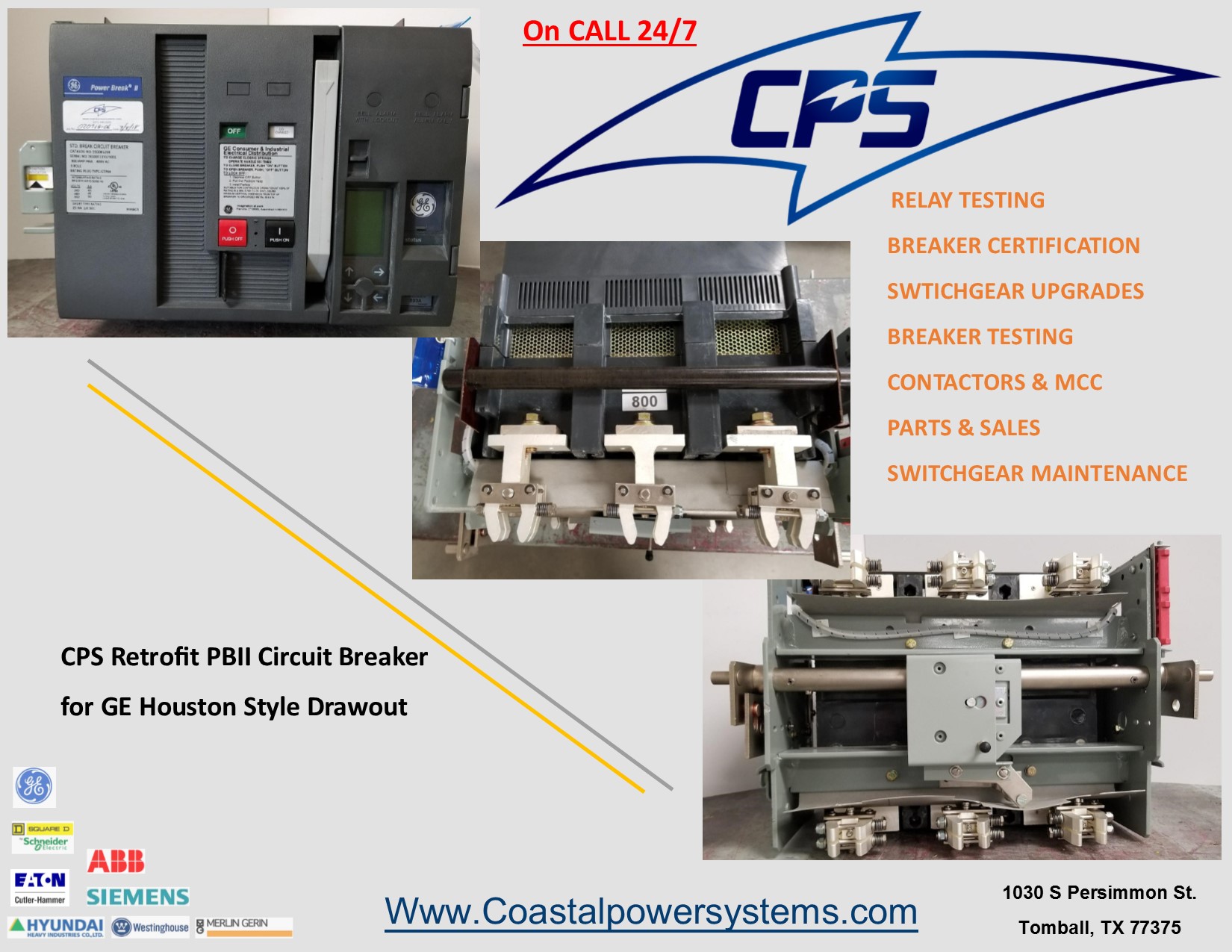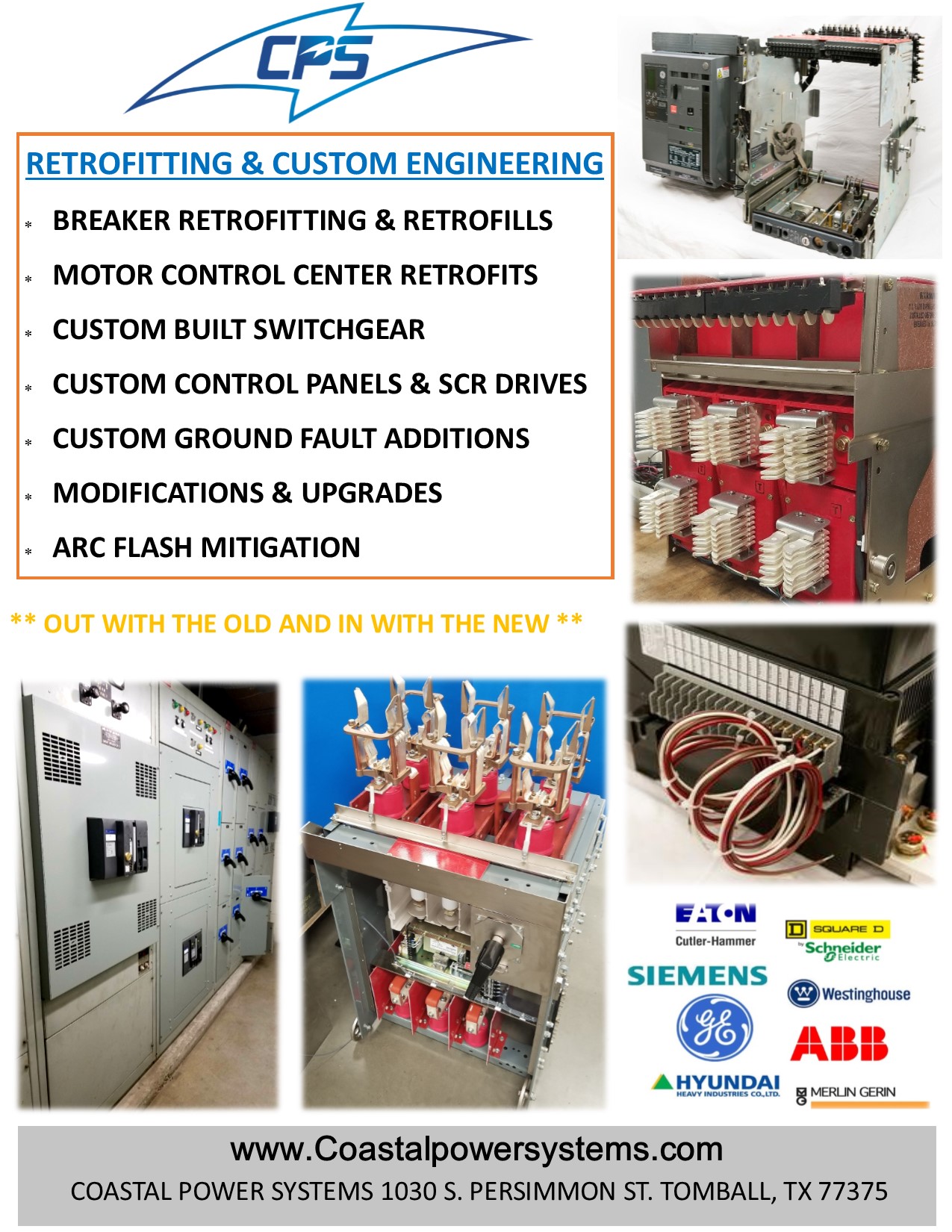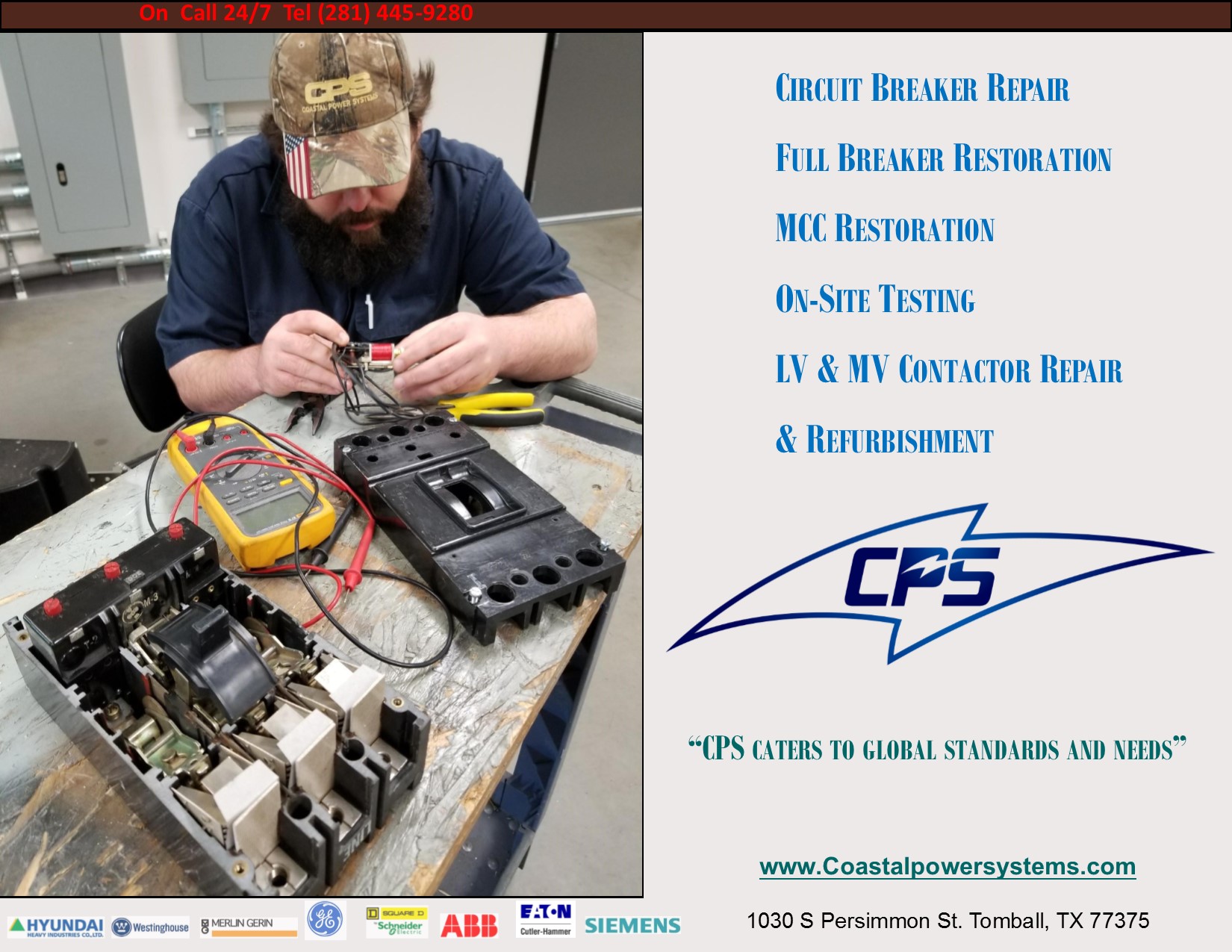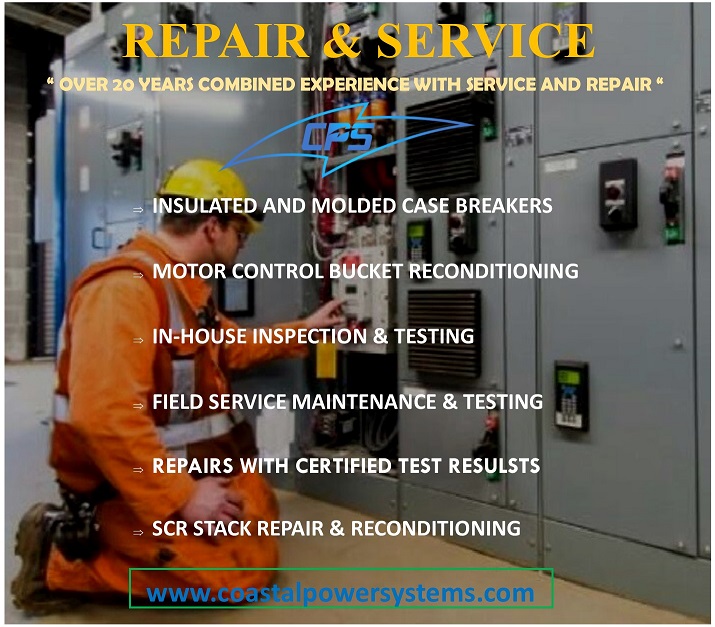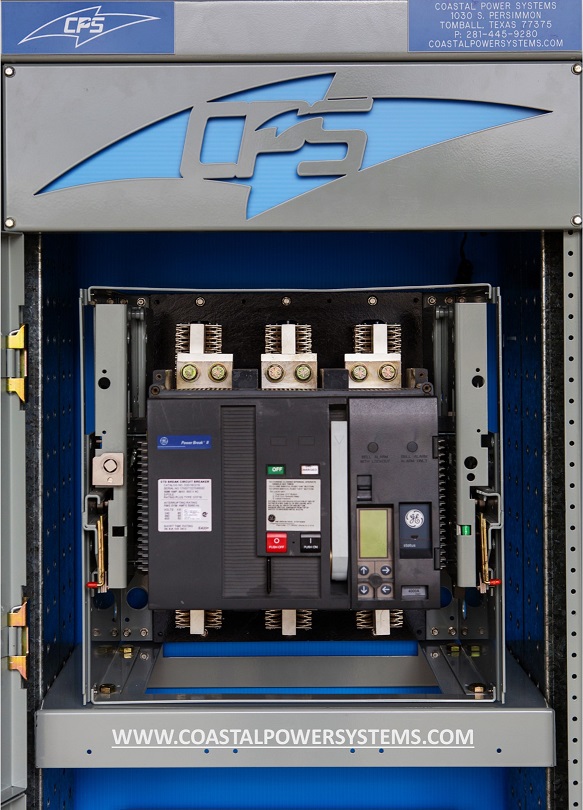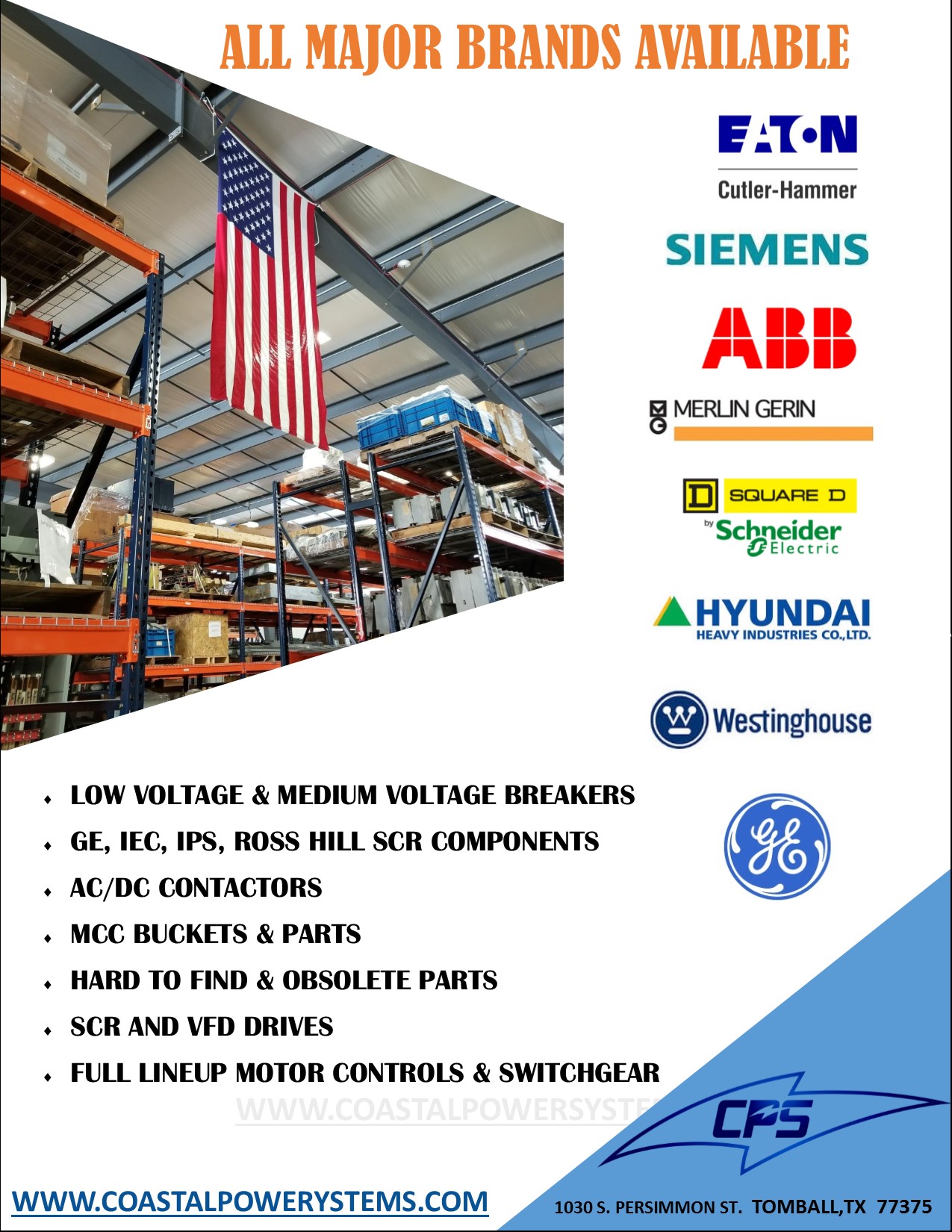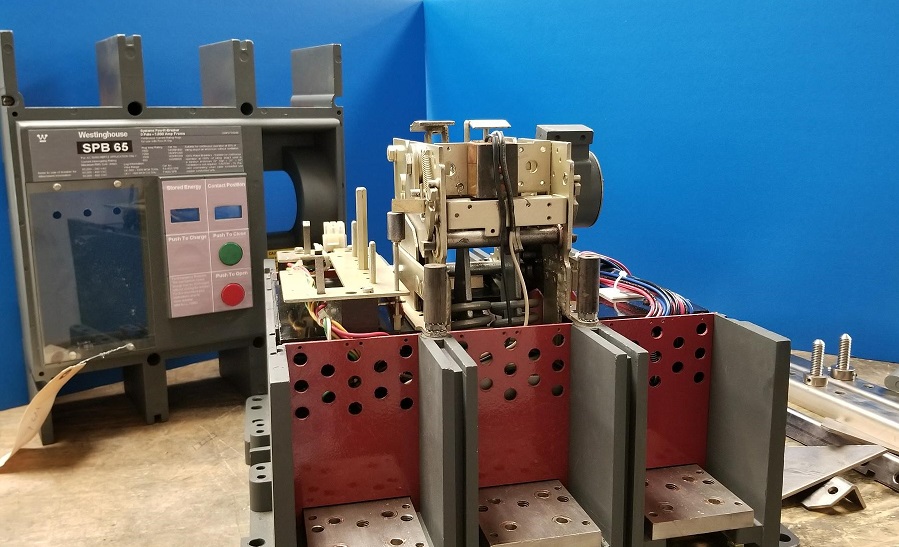 Compact frame SPB 65 Breaker undergoing Reconditioning. This particular Breaker is being configured for an IPS Drawout piece of gear. CPS carries all varieties of SPB breakers including Behind the door, Through the door and IPS drawout.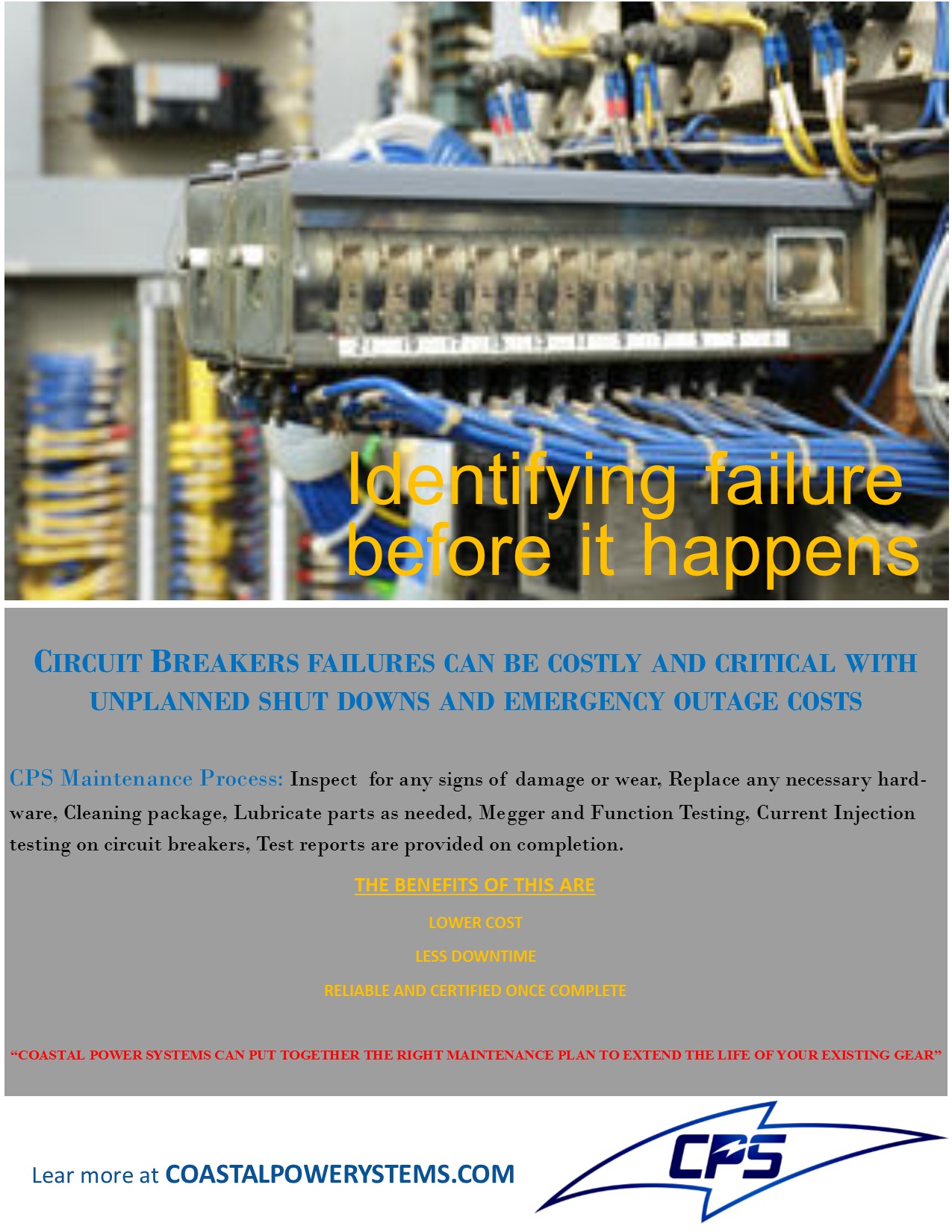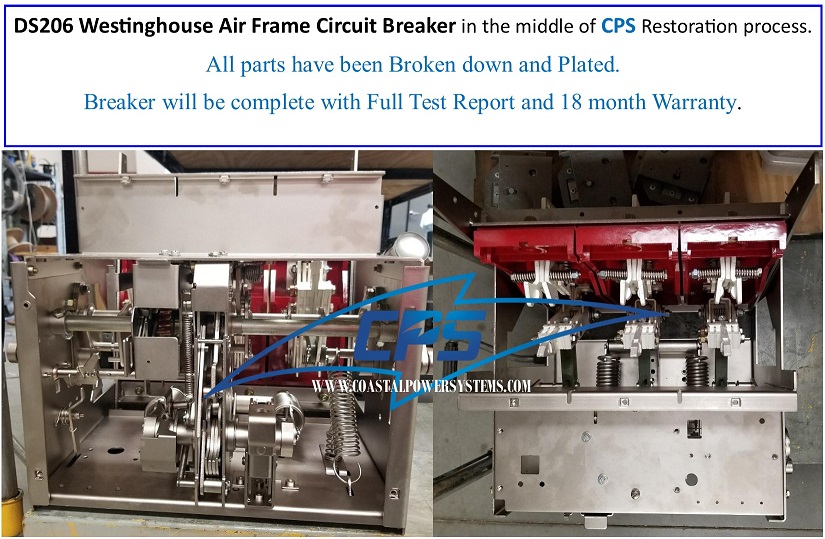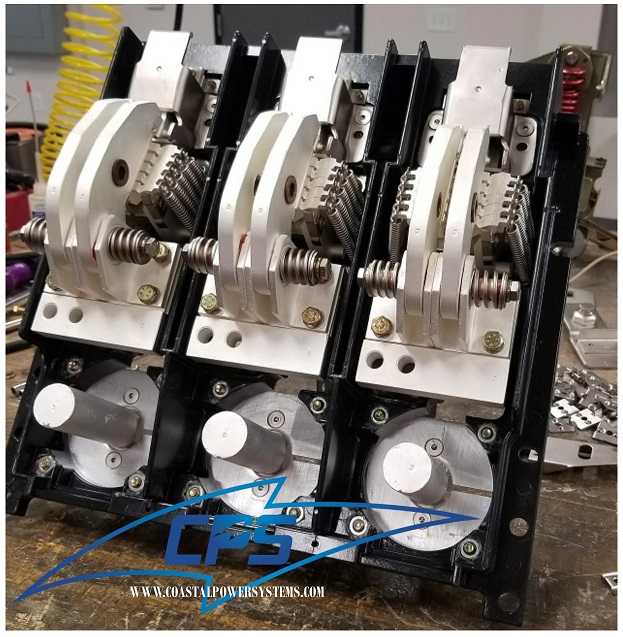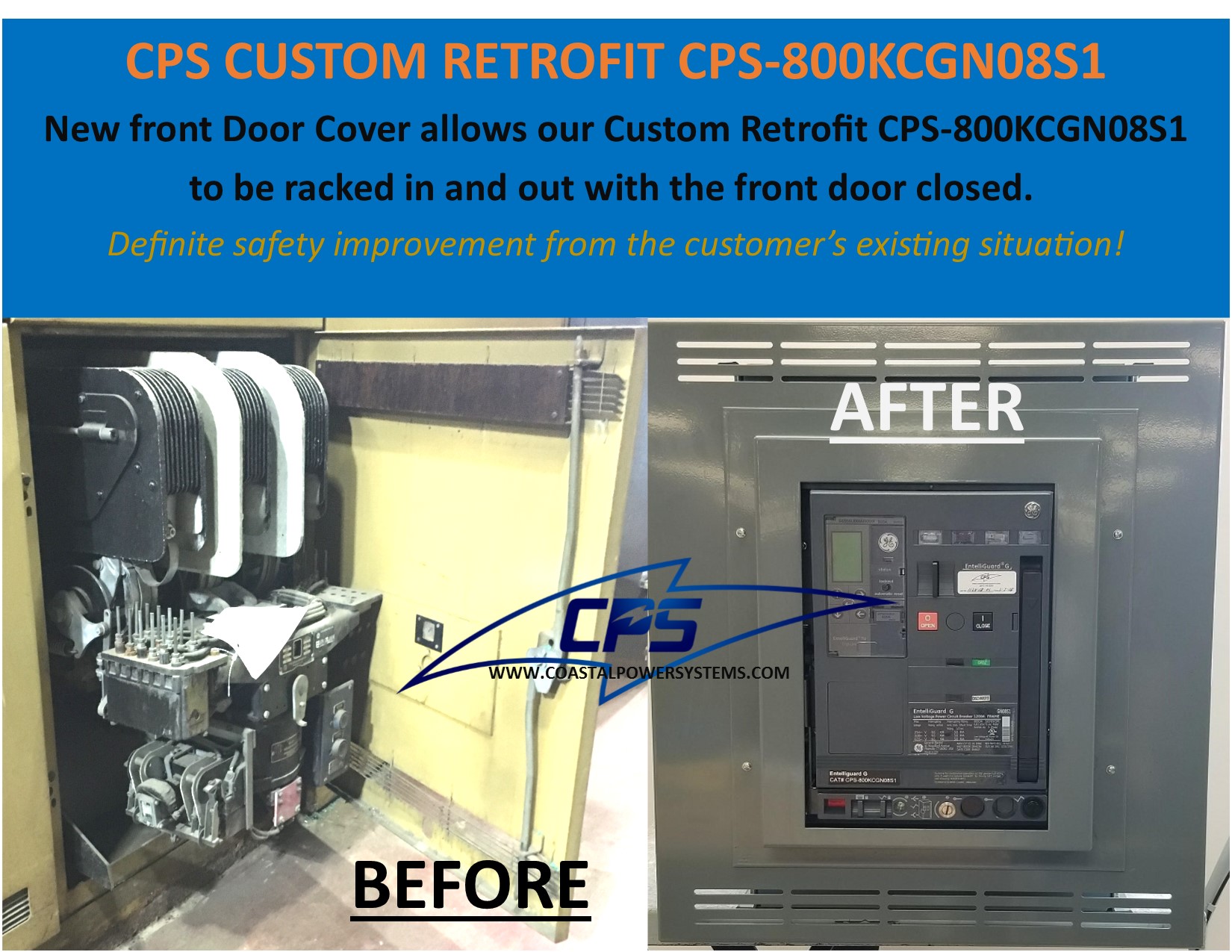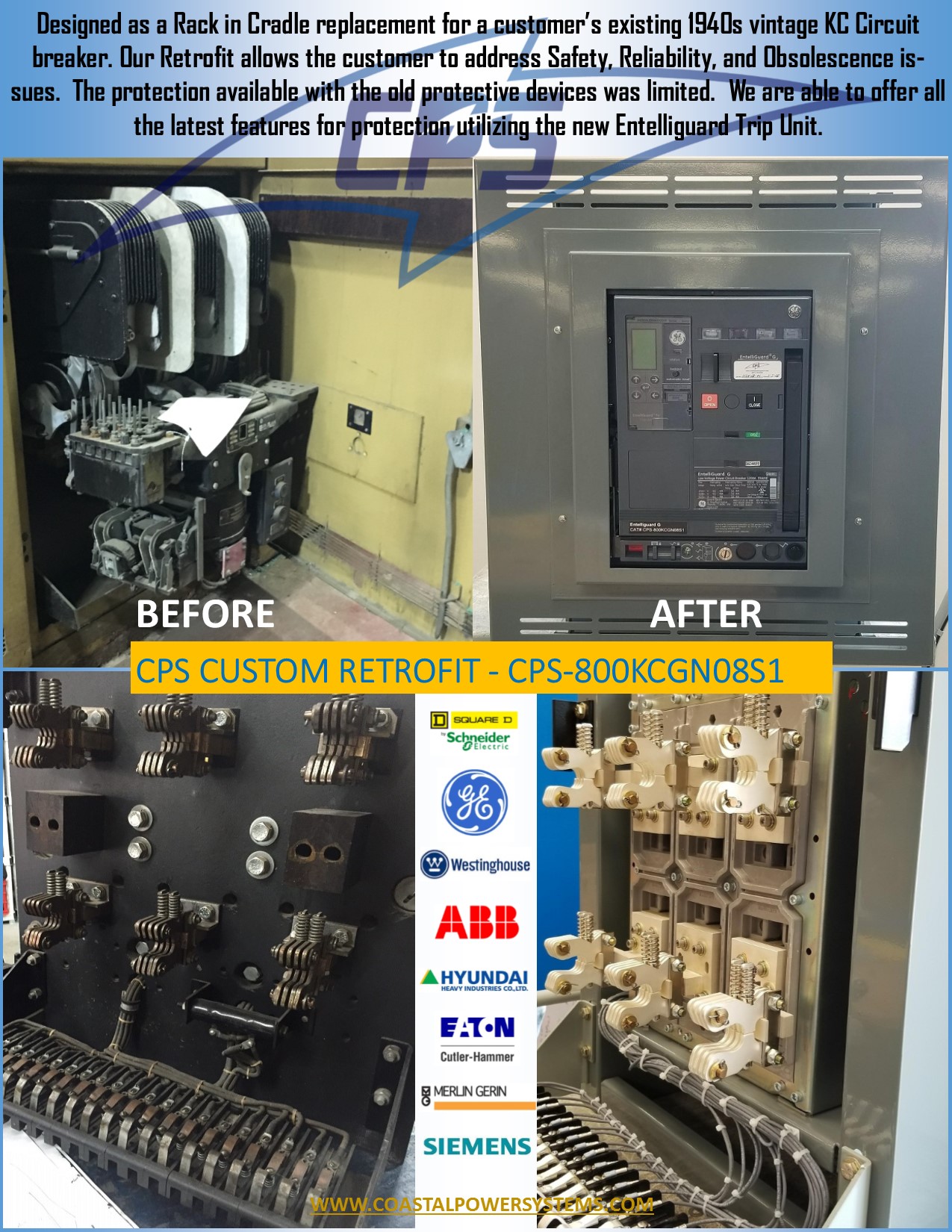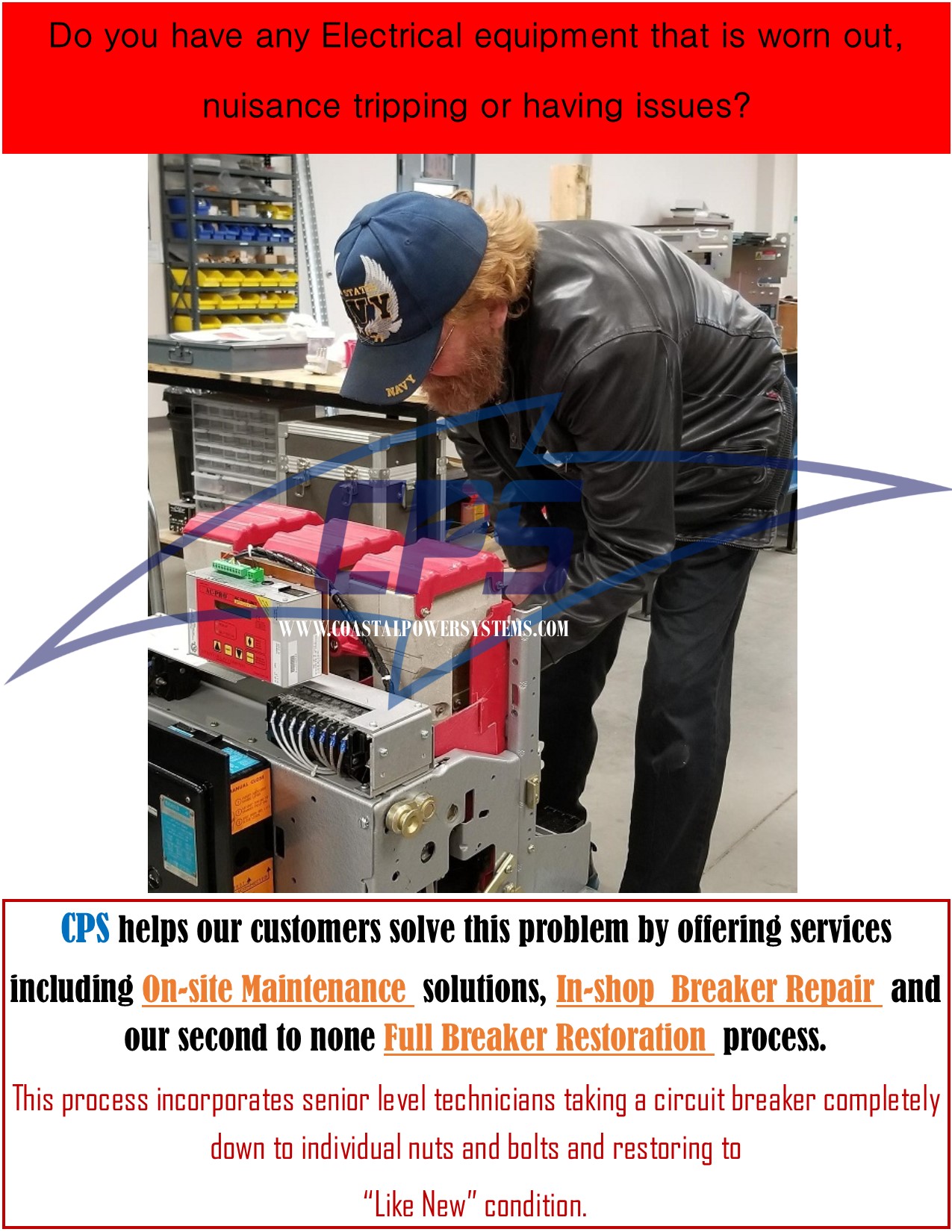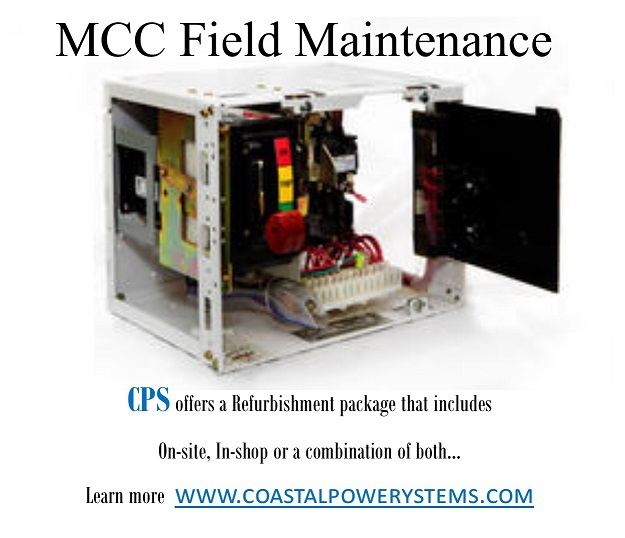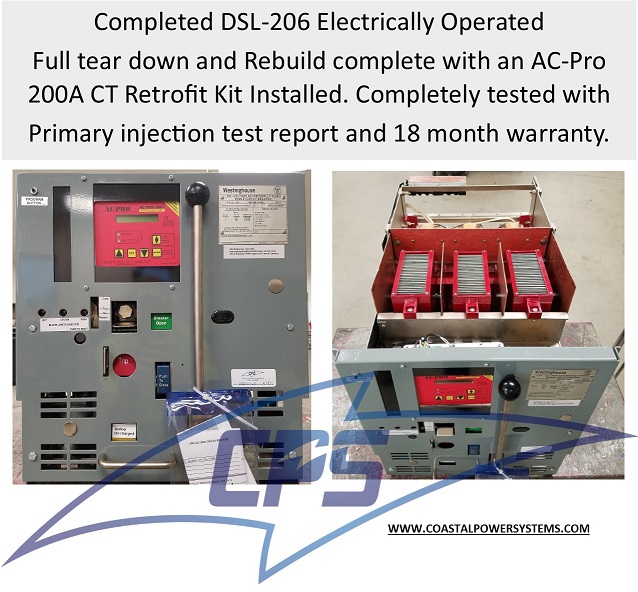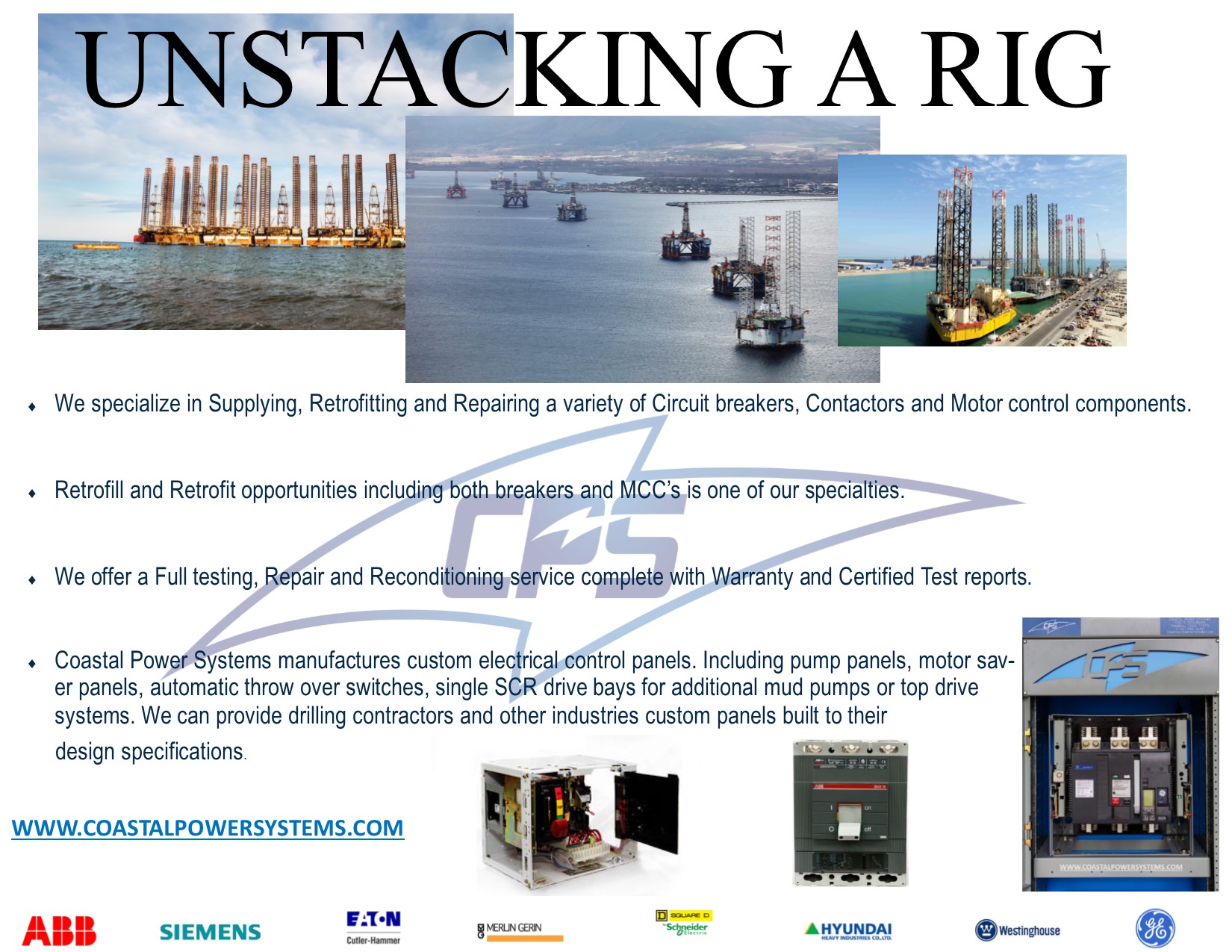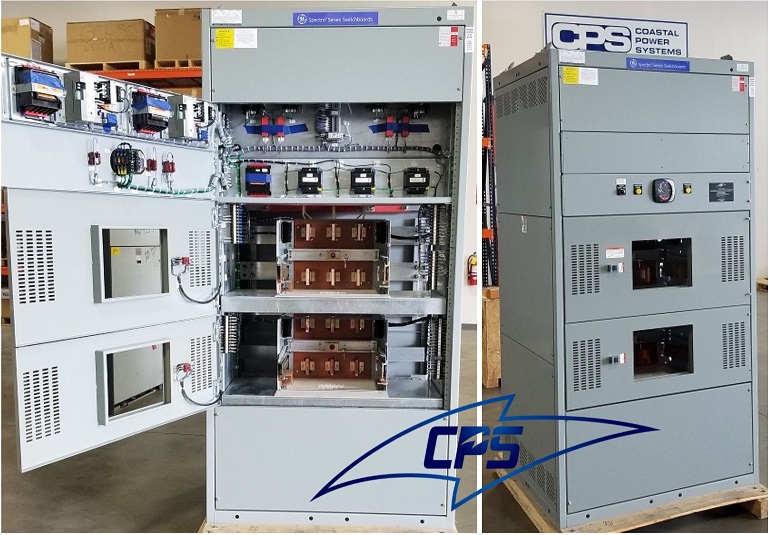 CPS Custom designed 2000 amp automatic throw-over with manual return to normal power.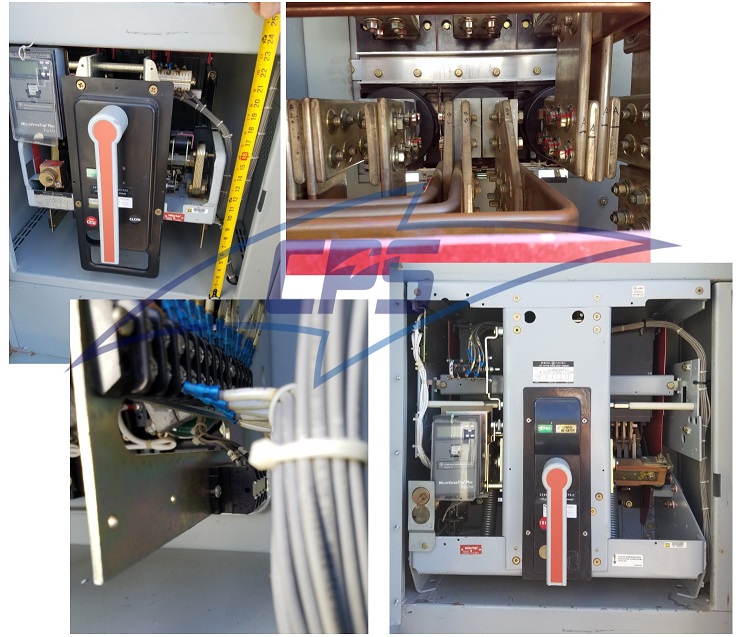 Current CPS project at a Power Station in Georgia involves replacing multiple AKR Bolt On air frame circuit breakers, to an Entelliguard Drawout Type Breaker. This Retrofill involves removing the existing AKR circuit breakers and installing modified Entelliguard G breaker substructures to bolt into the same spot as the original AKR bolt on pads.Secondary wiring is being matched to existing, along with a new door to make this Retrofill project a complete install with no cubical modifications necessary.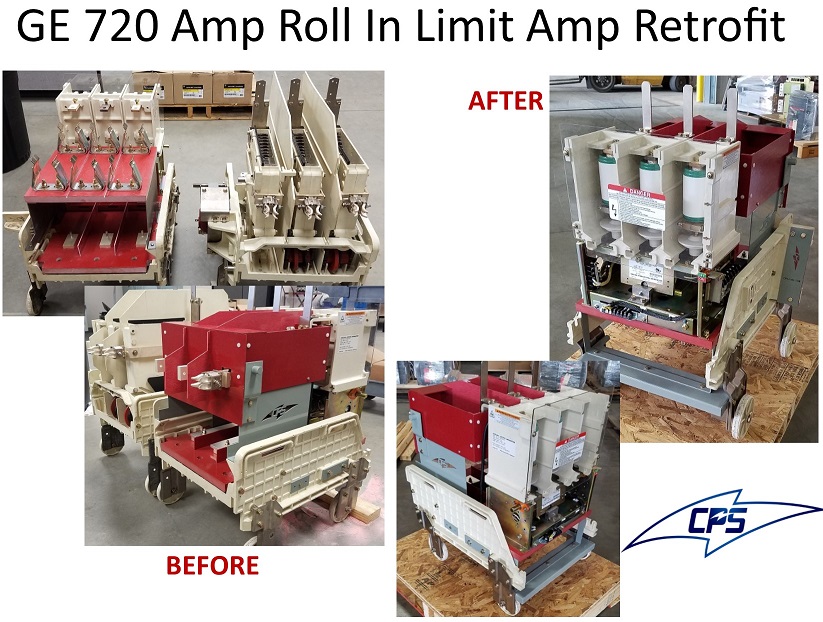 GE 720 Amp Roll In Limit Amp Retrofit CPS is building a Roll in replacement for a GE 720A Limit Amp Contactor. CPS's design utilizes a Toshiba Vacuum Contactor and can be implemented with fuses, shunts or any typical GE configuration. This Retrofit rolls into your existing cubical with no modifications necessary. Contact us today for more information on how we can upgrade your existing Limit Amp.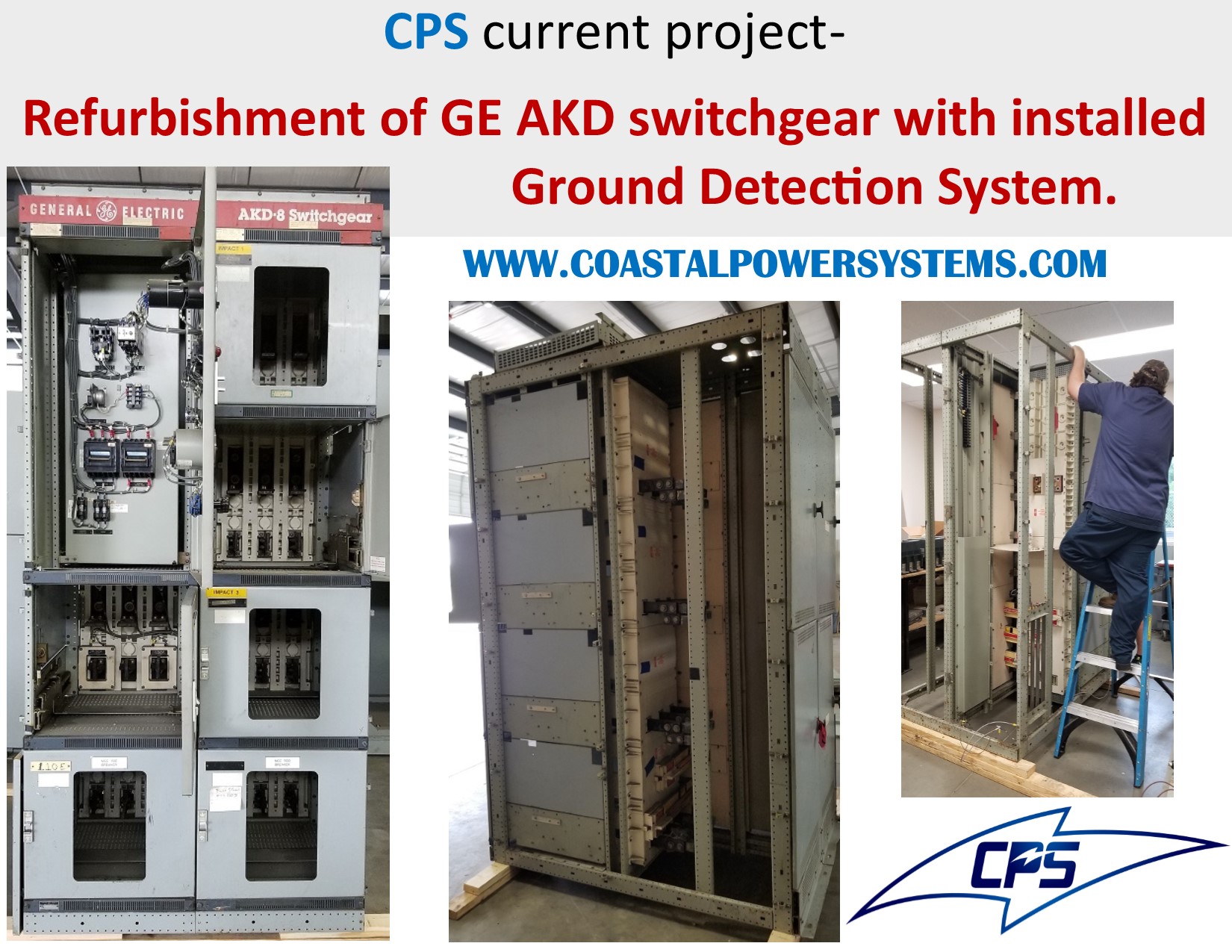 Refurbishment of GE AKD Switchgear with installed Ground Detection System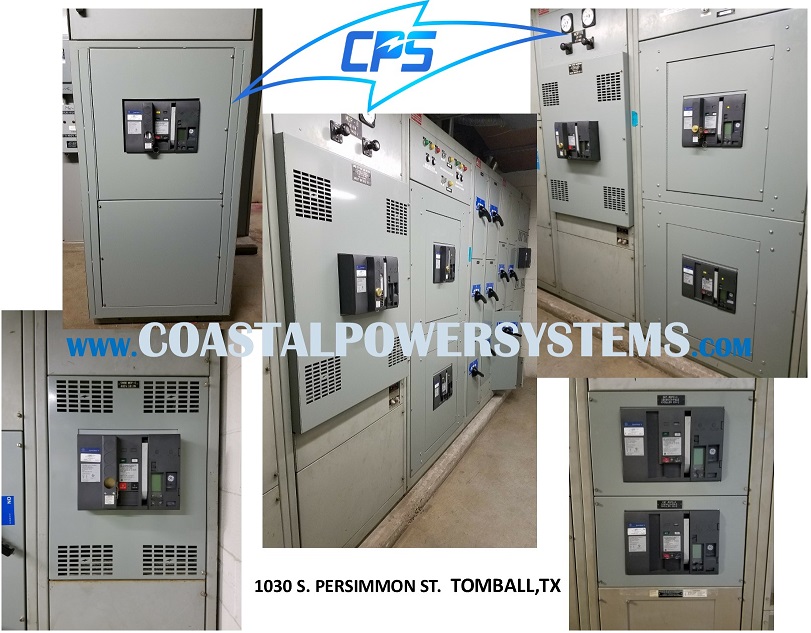 Numerous CPS Retrofills including: Houston Style Drawout 4000A and 2500A to NEW Power Break II AK 4000A and 3000A Retrofill to NEW Power Break II SPB-100 1600A to NEW Power Break II AV Line Molded Case Breakers to NEW Spectra Series This project took place in Houston,TX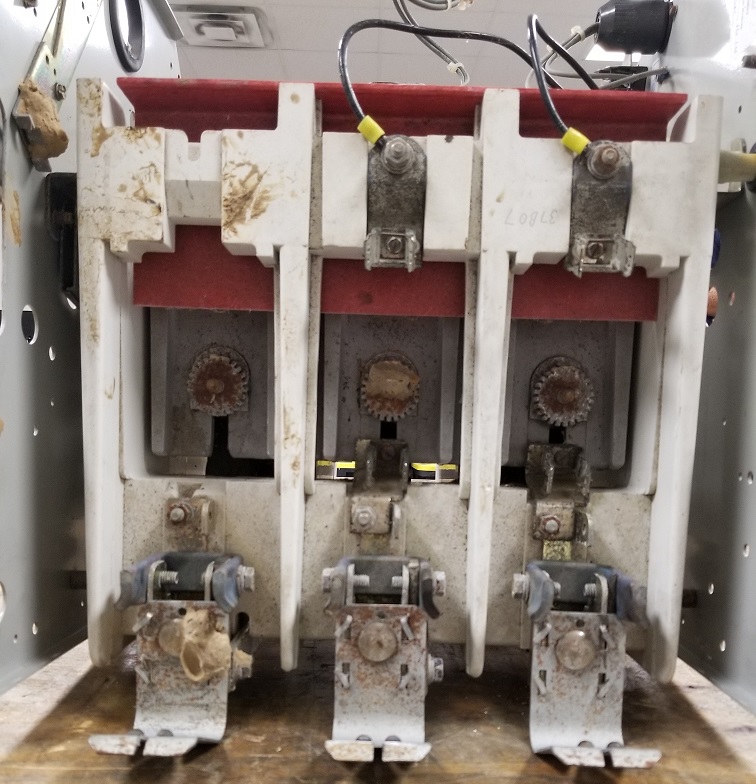 If your Breaker looks like this.... Sent it to CPS, for a FREE breaker Inspection This Medium Voltage Contactor after inspection, will now be repaired and fully refurbished. Have a question? Give us a call today 281-445-9280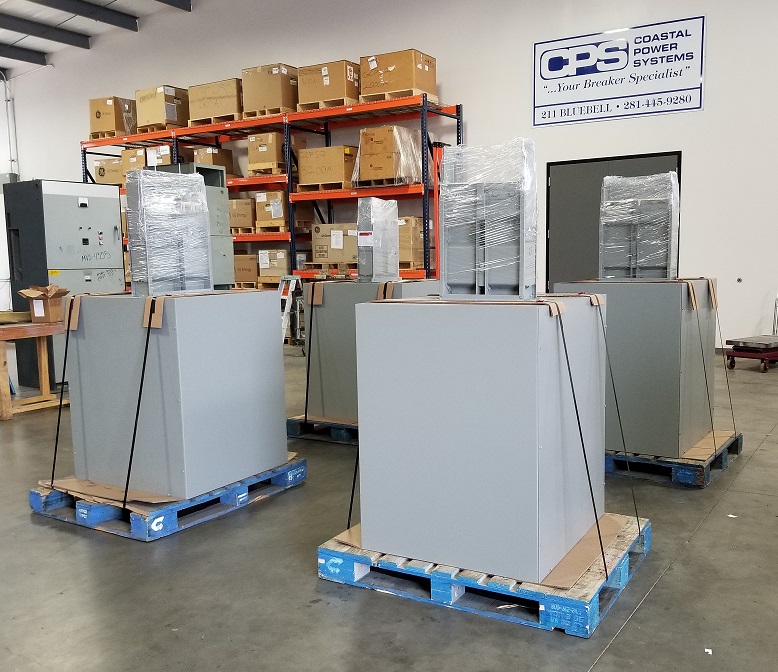 CPS can help with all switchgear needs from breakers to busduct! **** Westinghouse Pow-R-Way Busway **** 2500A rated, 480/277V, 3 phase 4 wire, to be installed by our certified technicians. One of the four is being modified to have a smaller footprint for a custom application. CPS will Test and Recondition to ensure a long life span. We also offer inspection, testing and replacement busway.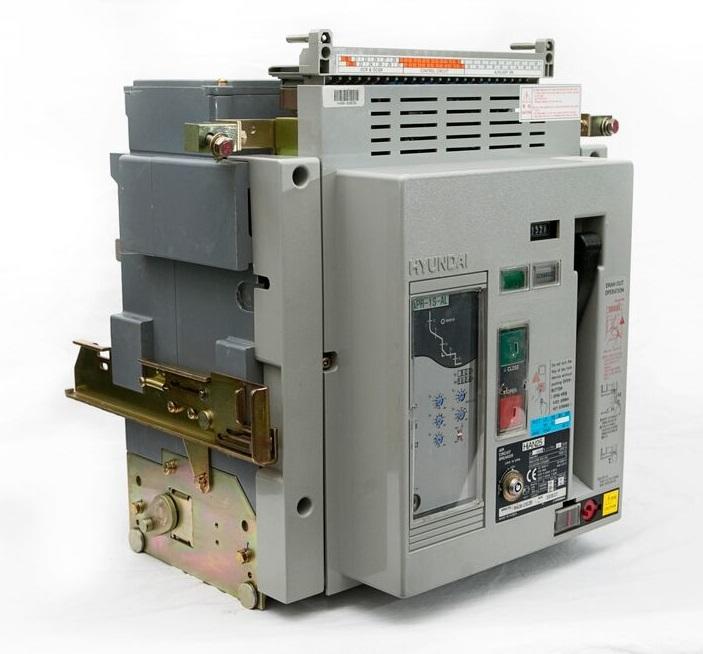 CPS Retrofit and Retrofill Series incorporates the now Obsoleted Hyundai HiAN and HiAS circuit breaker. We currently offer a Retrofill solution that allows the customer to unbolt the existing substructure and introduce a New modified GE Entelliguard G Substructure. http://www.coastalpowersystems.com/hyundai-hian-and-hias-retrofill/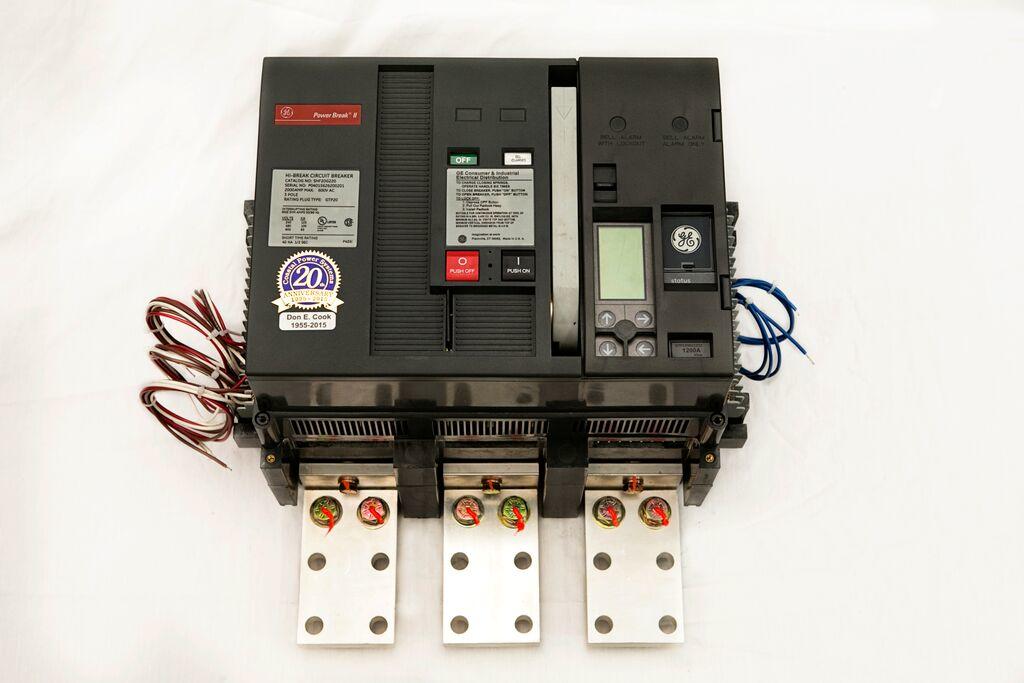 Why Retrofit? CPS is an expert in all GE Power Break Retrofits. We encompass all vintage and styles of PBI's in our PBII Retrofit Solutions. These Retrofit include upgrades for: Bolt In TC Drawout Houston Style Drawout Plainville Style Drawout Learn more: http://www.coastalpowersystems.com/ge-pb-1-to-pb-2/
****HUGE INVENTORY**** Coastal Power Systems maintains one of the largest inventories of New and Reconditioned circuit breakers. We are a ABB/GE OEM and work closely with all manufacturers to ensure our customers will have the best options and products available to them. Our inventory includes: https://lnkd.in/e9S_apy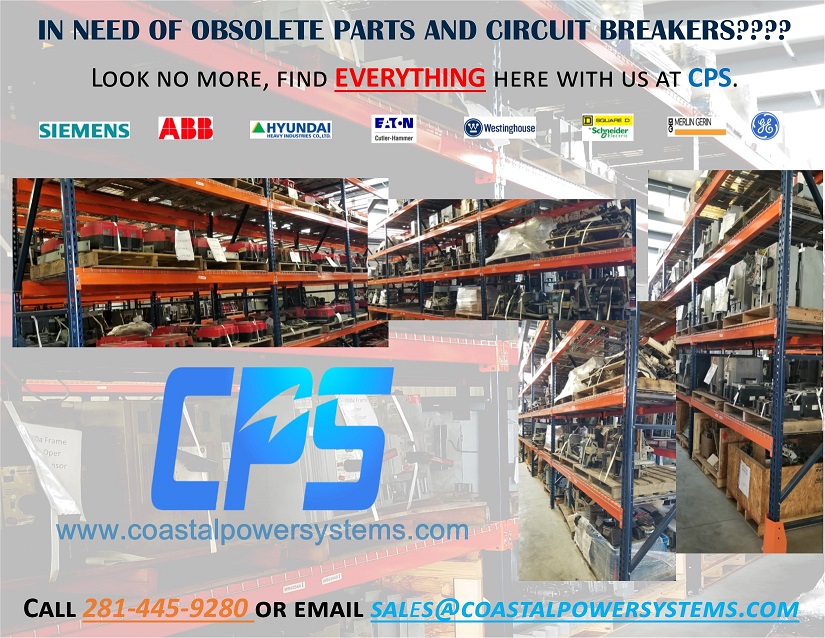 If you are looking for Obsolete equipment CPS can help!!!! We carry all major manufacturers! Email sales@coastalpowersystems.com or call 281-445-9280 with your request today. #obsolete #email #cps #manufactures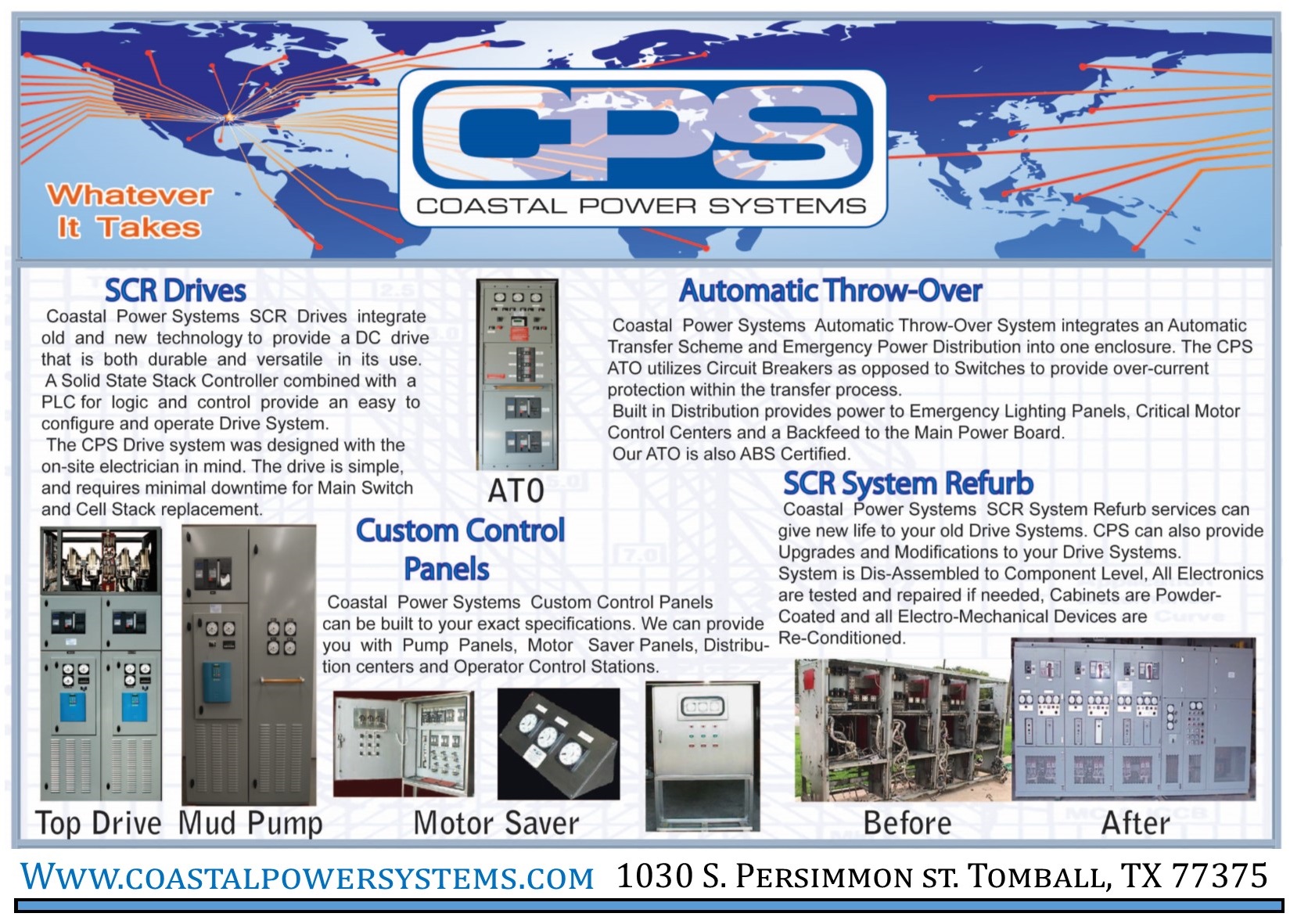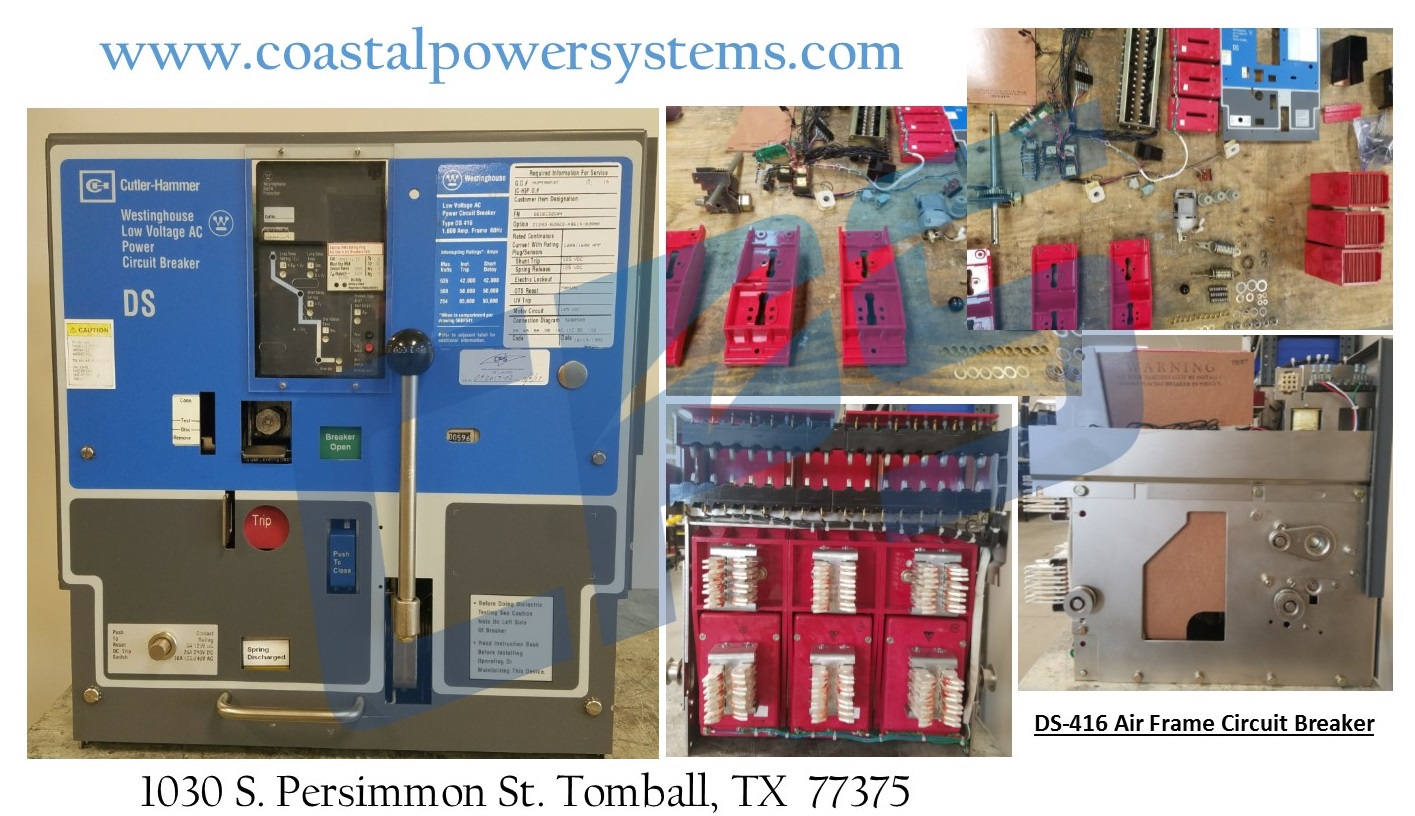 Complete Teardown and Rebuild of a Cutler Hammer / Westinghouse DS-416 Air Frame Circuit Breaker. https://lnkd.in/eiGZ6bb All parts will be powder coated or plated with Electro-less Nickle or Silver. The typical turnaround for this type of Restoration is 1-2 weeks.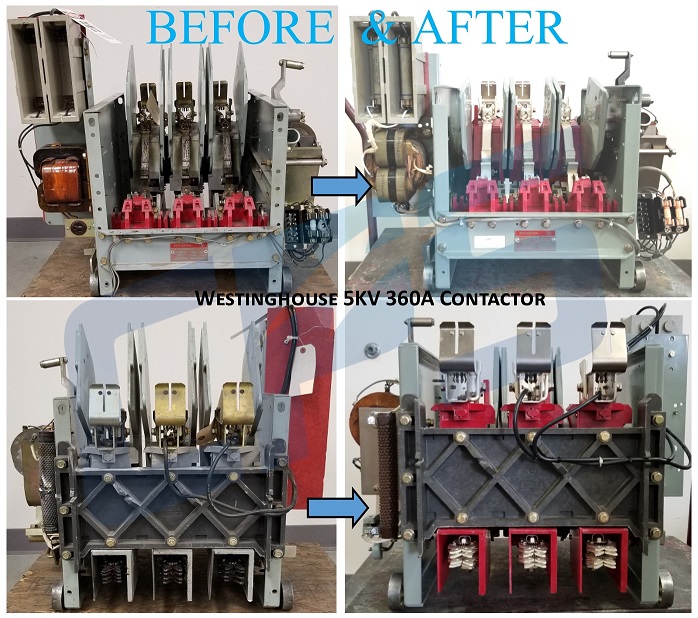 ***BEFORE & AFTER PICTURES*** Repaired and completely Rebuilt Westinghouse 5KV 360A Contactor. Including Powder coating and Metal plating. https://lnkd.in/e9S_apy http://www.coastalpowersystems.com/circuit-breakers/ CPS always goes the extra mile to ensure our customers have a safe and reliable product that will last for years. Each restored item comes with a minimum 12 month warranty and test report. This entire process typically has a turn around of less than 2 weeks.
Opening Times
Mon-Sun 24hr
Payment Methods Accepted
American Express, Cash, Check, Financing, MasterCard, PayPal, Visa
Products:
Circuit Breakers, Switchgear, Panelboards, Switchboards and Enclosures, MCC's
Services:
Circuit Breaker Repair, Circuit Breaker Certification, On-site Electrical Testing, On-site Electrical Maintenance, On-site Troubleshooting and SCR Drive Bays for additional Mud Pumps and Top Drives
Specialties:
Circuit Breaker Retrofills/Retrofits, Motor Control Center, Contactors, Circuit Breaker sales, Custom Wiring Projects, Switchgear Lineups, Panelboards, Juction Boxes, Switchboards and Enclosures
Languages:
English, Spanish
Established:
1995

Editing or updating this listing
Update your details here
if you are unaware of any log-in information for this listing.
Disclaimer
Opinions expressed within reviews are those of the individual author and are not the views or opinions of Lowi Ltd, My Local Services or any of its employees.
If you have an issue with any review comments then please fill in the
review issue form
and include as much detail as possible.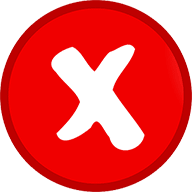 Incorrect data:
If you want to report incorrect information on this web page, then please
contact us
and outline the issue. We aim to resolve most problems within one business day.