Budget Blinds of Duluth, Peachtree Corners, Snellville and Loganville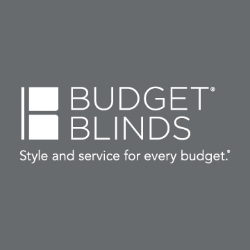 Budget Blinds of Duluth, Peachtree Corners, Snellville and Loganville
575 Old Norcross Road
,
Suite M
Lawrenceville
Georgia
30046
United States
Business type:

Business Information
If you've been thinking about transforming your home's interior into something truly special, Budget Blinds of Duluth and Peachtree Corners, Snellville and Loganville is here to help. Our expert design team, paired with an array of stunning blinds, shades, shutters, drapery, and more creates the ideal home interior that complements any room, or an entire home. From the latest styles and innovative fabrics to a host of on-trend colors, we'll show you how fun and affordable it can be to upgrade your décor with the power of the #1 provider of custom window coverings in North America.

Our consultative process is designed around caring about you and your home. We make the entire experience easy and convenient as we bring the showroom to you with our FREE in-home design consultation.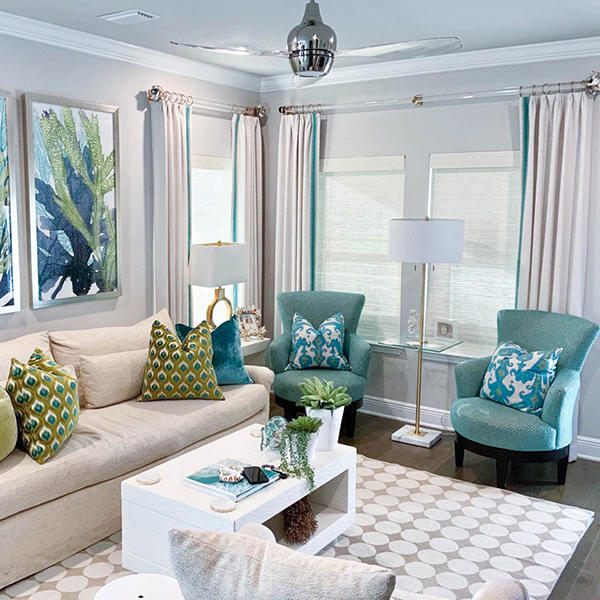 With so many color options, you can add our woven wood shades anywhere to match even the most unique home designs. For example, these beautiful all-natural woven wood shades match the furniture and artwork in this tropical-themed living room.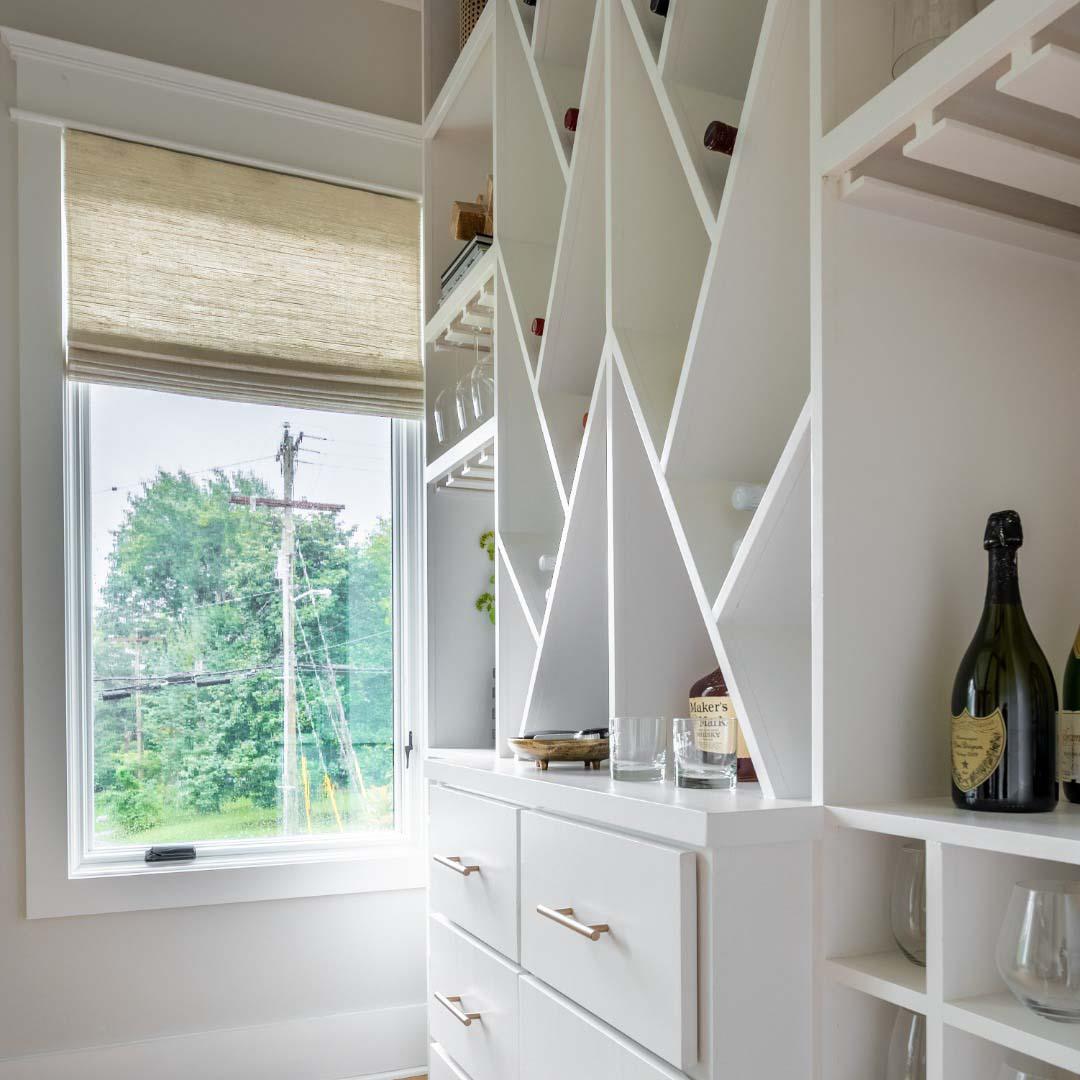 These woven wood shades add the right amount of texture to this cubist-inspired bar.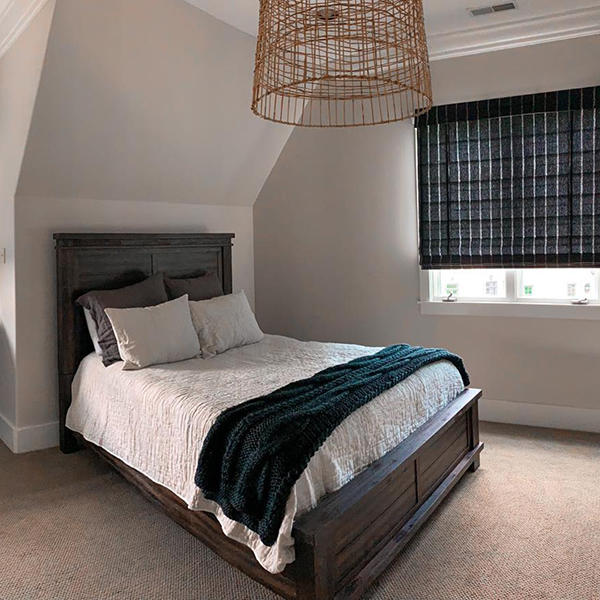 Roman shades are the ultimate mix of style, function and versatility. Our catalog has a wide range of materials, styles and colors to choose from so you can match any existing decor or style in your home.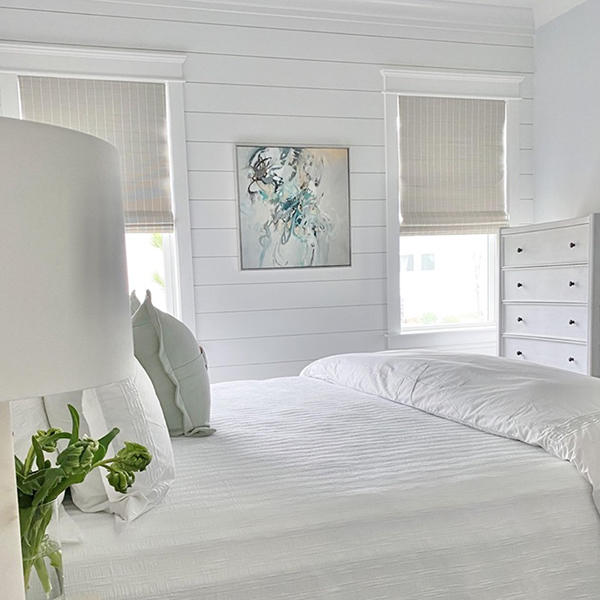 A simple white design offers clean and inviting vibes, but too much light can make them look overly bright. With enhanced light-filtering and room-darkening features, Roman shades can offer superior light control while maintaining the view outside when raised.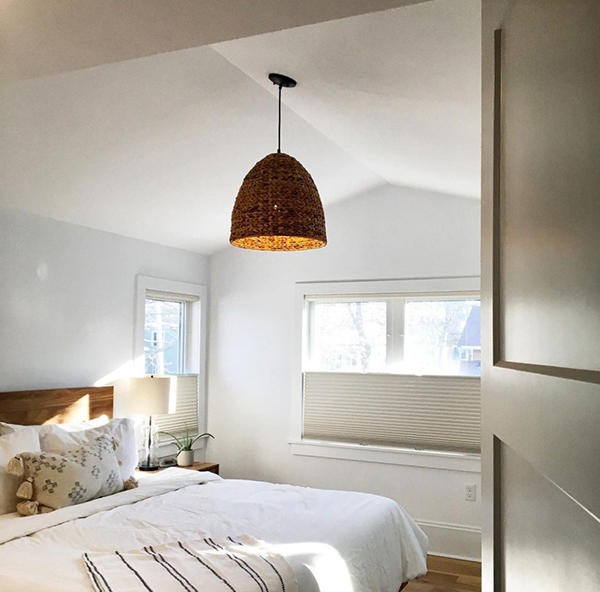 The perfect solution to help keep your home cool this summer? Cellular shades. Here, you can see them in a top-down/bottom-up setup, which allows the natural light to enter the room keeping this bedroom bright while maintaining just the right amount of privacy below.
Roller shades come in a wide range of options to allow just the right amount of light for your room.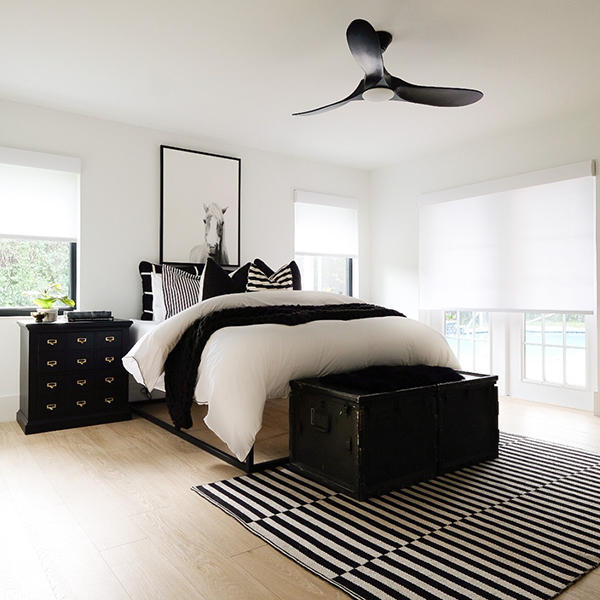 Roller shades help to provide maximum privacy while still allowing warm, natural light to flow through your home.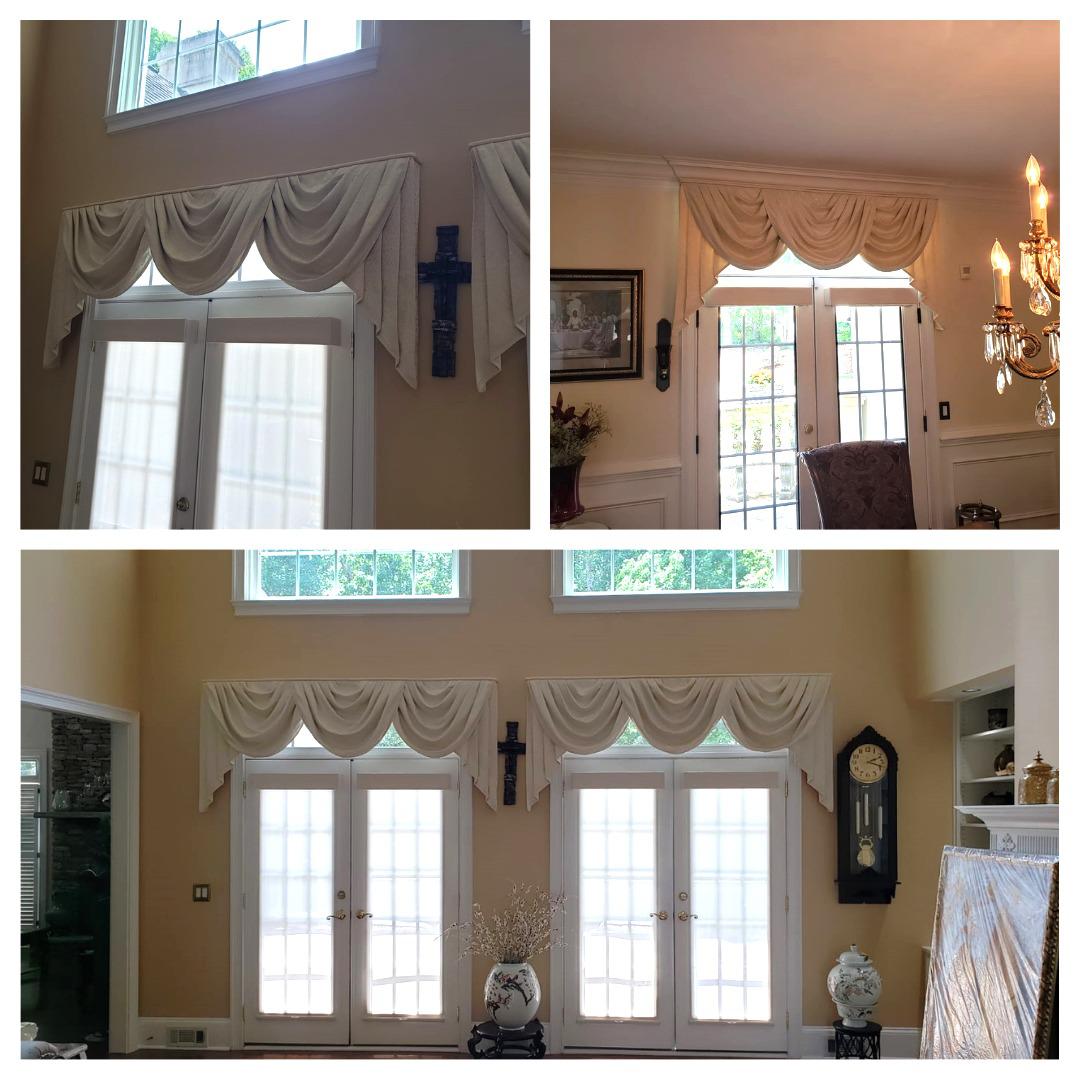 Our installer Jake did a fantastic job installing these beautiful soft treatment cornice boards in Snellville.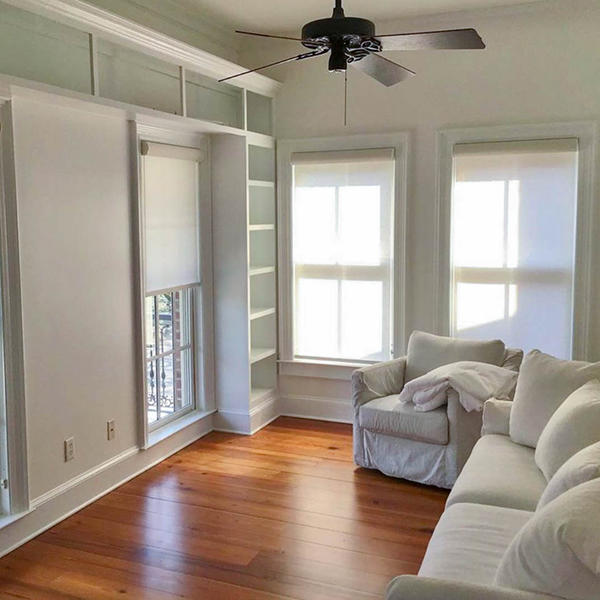 Light-blocking roller shades are a must for rooms with several windows. Easily adjust the amount of light that enters your space at any time of day with our child-safe cordless or motorized options.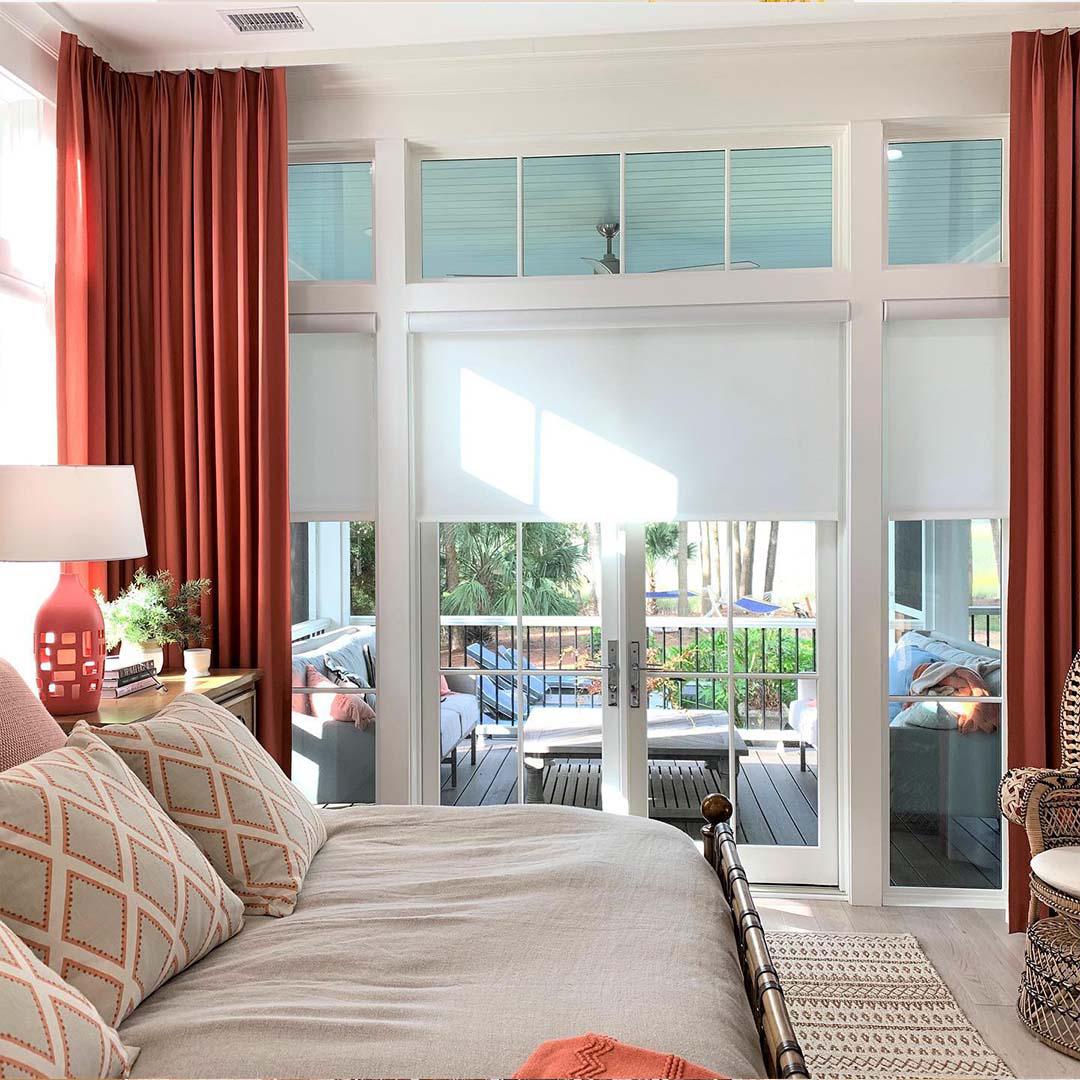 You'll create the ultimate combination of design and functionality by layering your window treatments. Here, these motorized roller shades provide light control, while these rust-colored drapes match the red details throughout this bedroom design.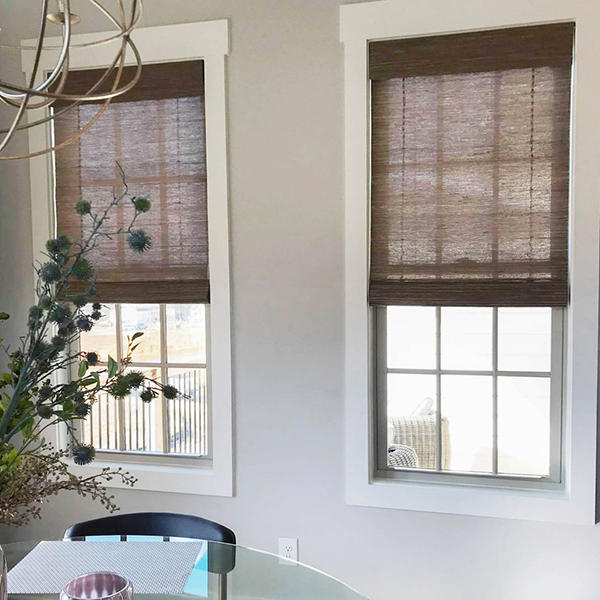 Woven wood shades offer texture and contrast to your home design. Here they help to provide variety to this neutral sitting room while matching the darker tones of the furniture.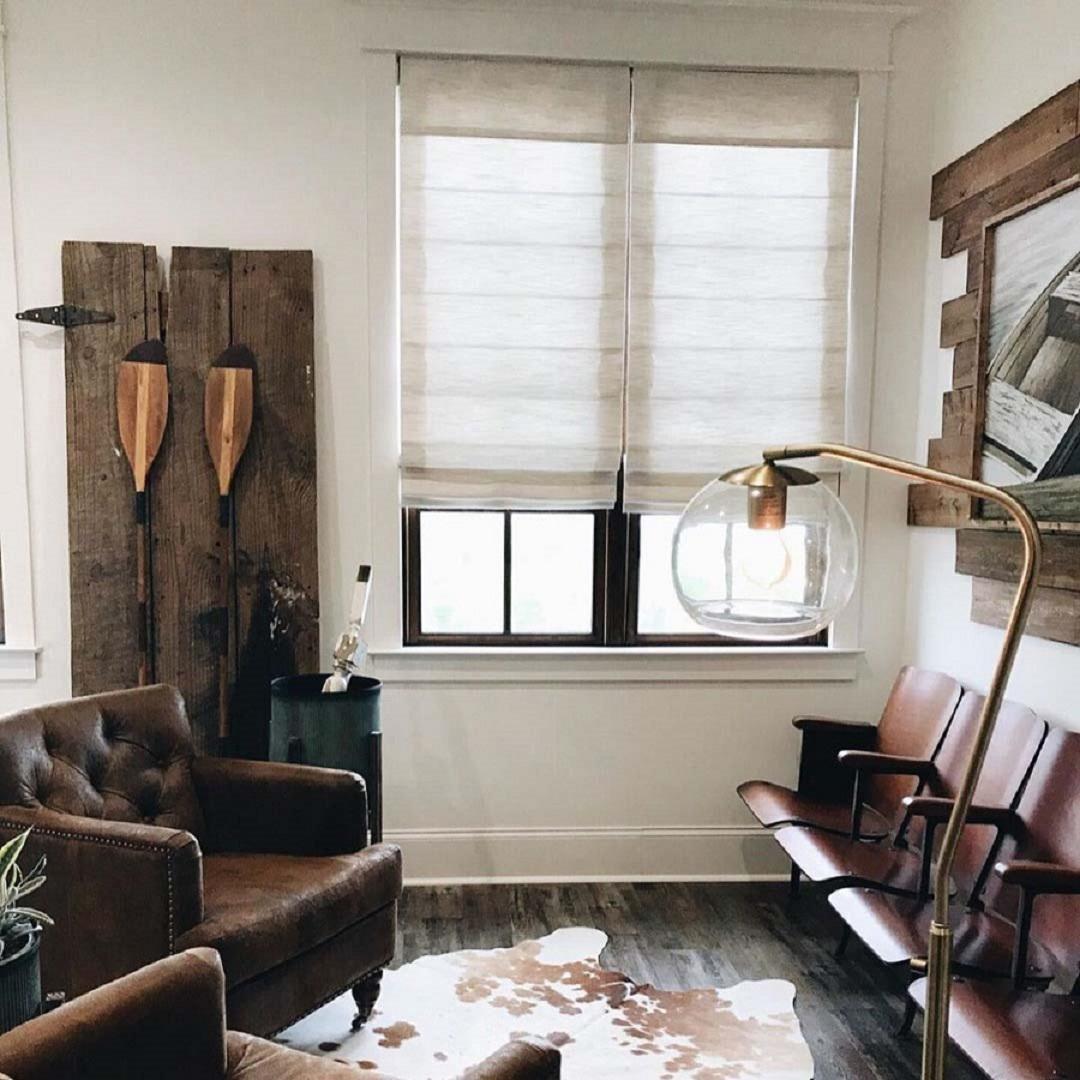 Roman shades made of textured fabrics are a great way to accentuate the look of rustic rooms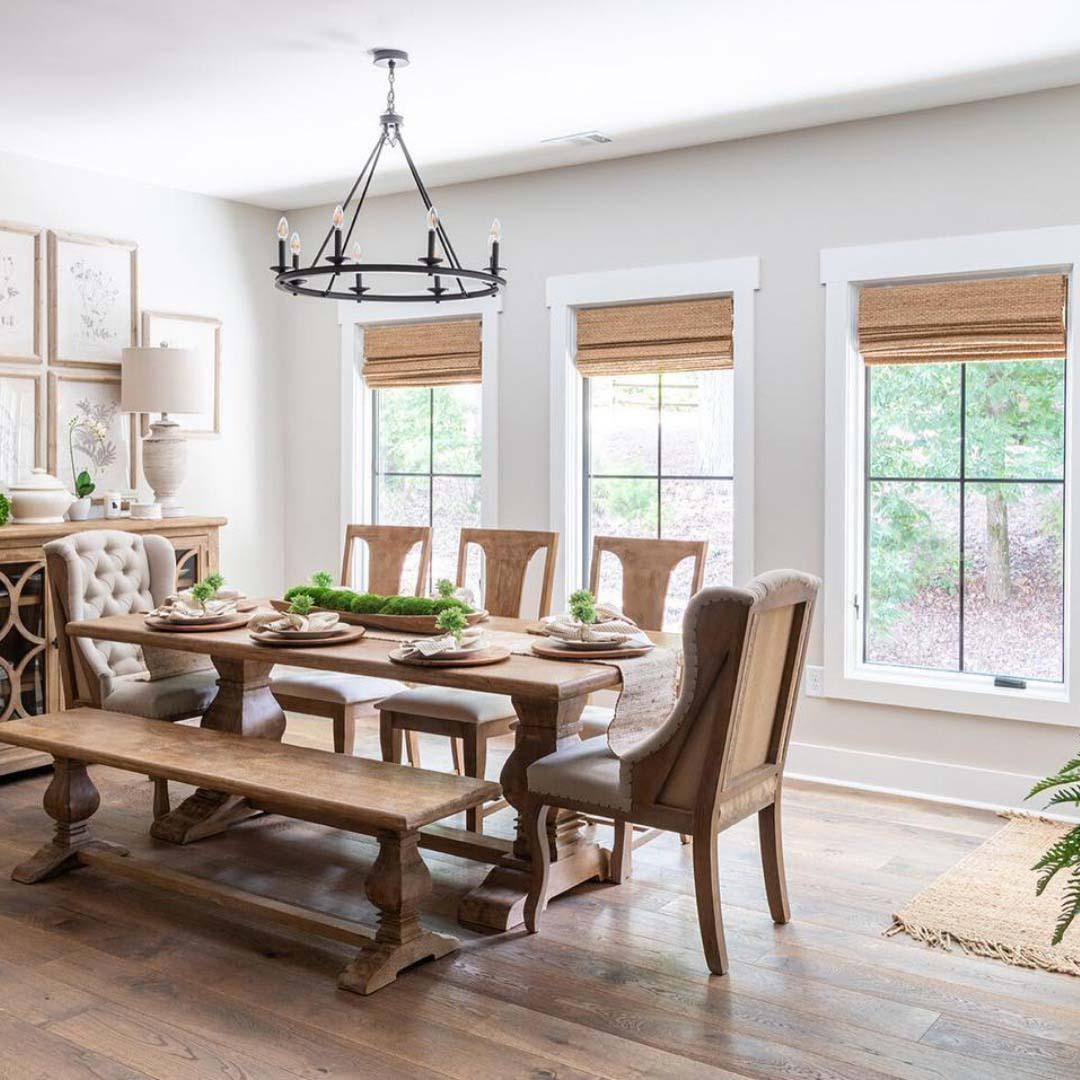 For the wooden elements displayed in this dining room design, this customer went with woven wood shades to maintain that natural look. Get this look by contacting us today to schedule your complimentary design consultation.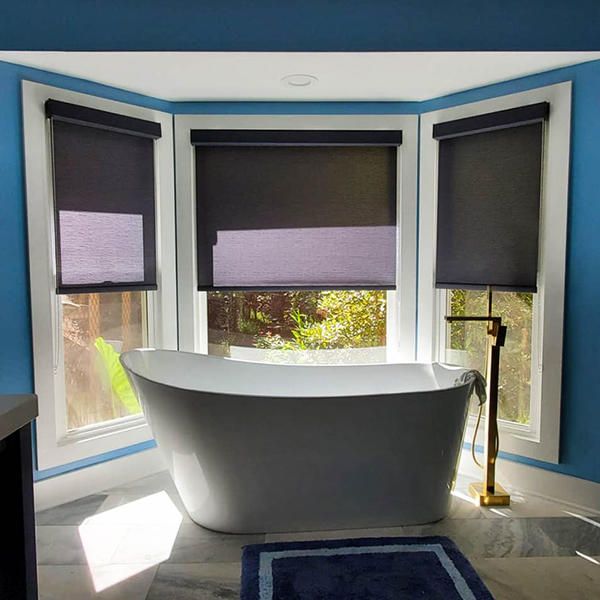 With roller shades, you can ensure your privacy when needed or maintain your relaxing views of nature when you want. With our wide selection of colors and patterns, you can even match them to your bath mat for additional contrast!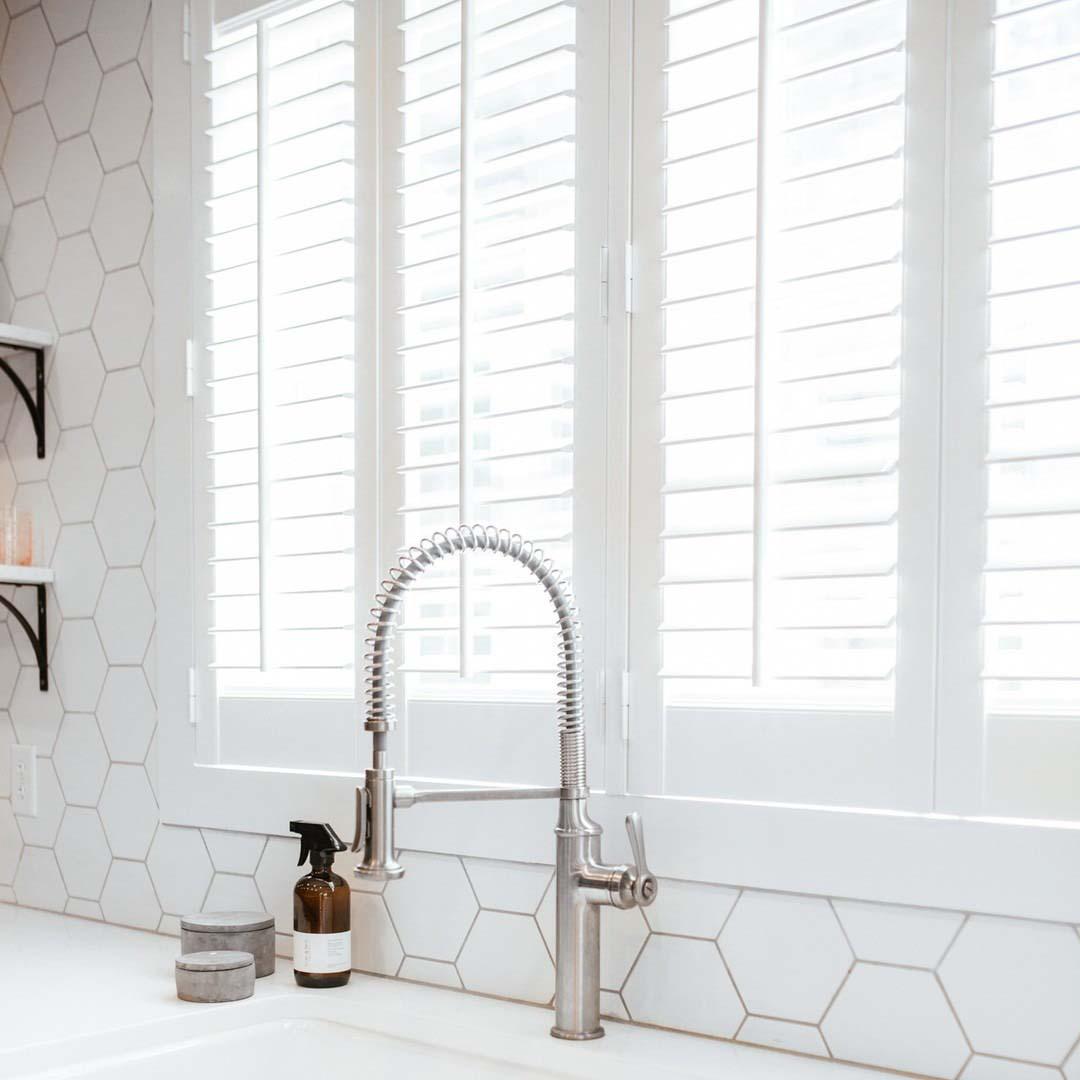 For a classic yet modern look, shutters have stood the test of time! The clean lines and functionality lend well to utilitarian designs that feature open shelving, geometric tile, and modern hardware.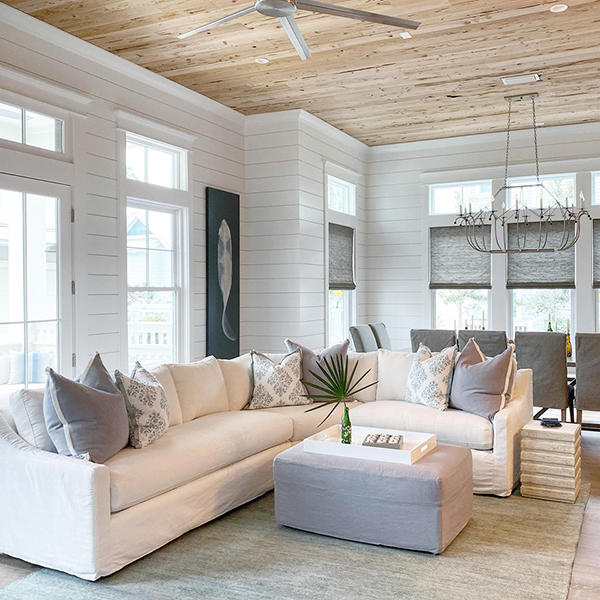 The right window treatment can bring a touch of contrast to your home decor. This customer chose these light gray woven wood shades to match several furniture pieces in this design. The added texture also brings the feeling of a beachside bungalow.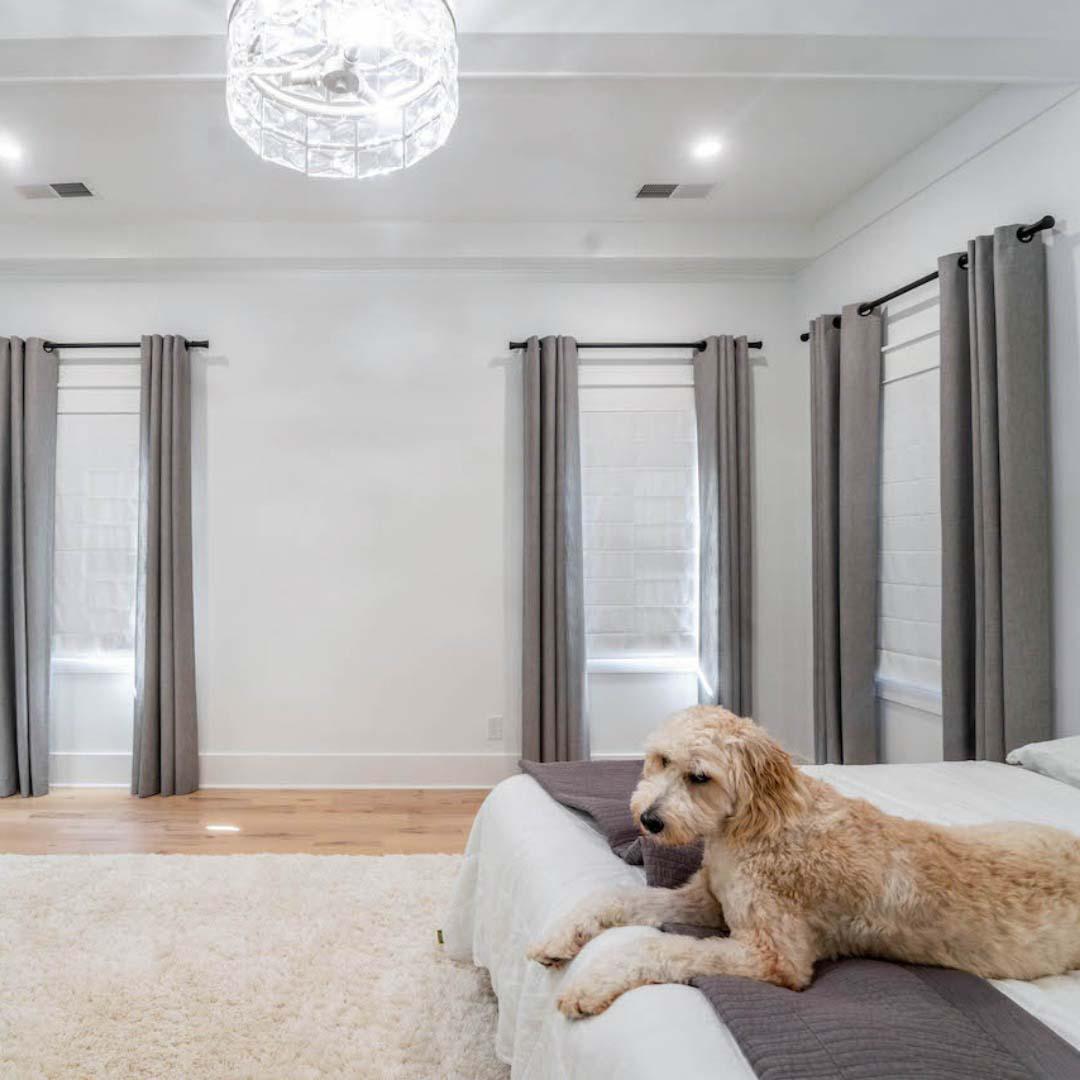 Layered Roman shades for light control and gray drapes to match this dog's favorite throw blanket are the perfect combination.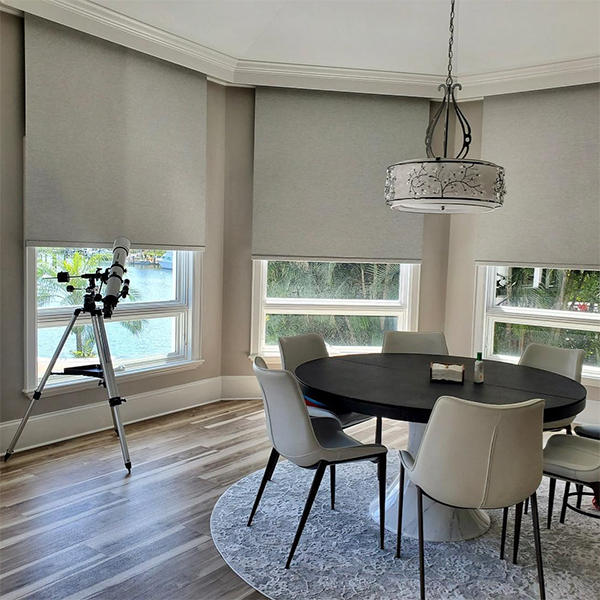 Automated roller shades offer a stylish and simple solution for light control and privacy throughout the day. Plus the option to add a custom built-in pocket effectively hides the cassette roller for a seamless look when the shades are fully rolled up.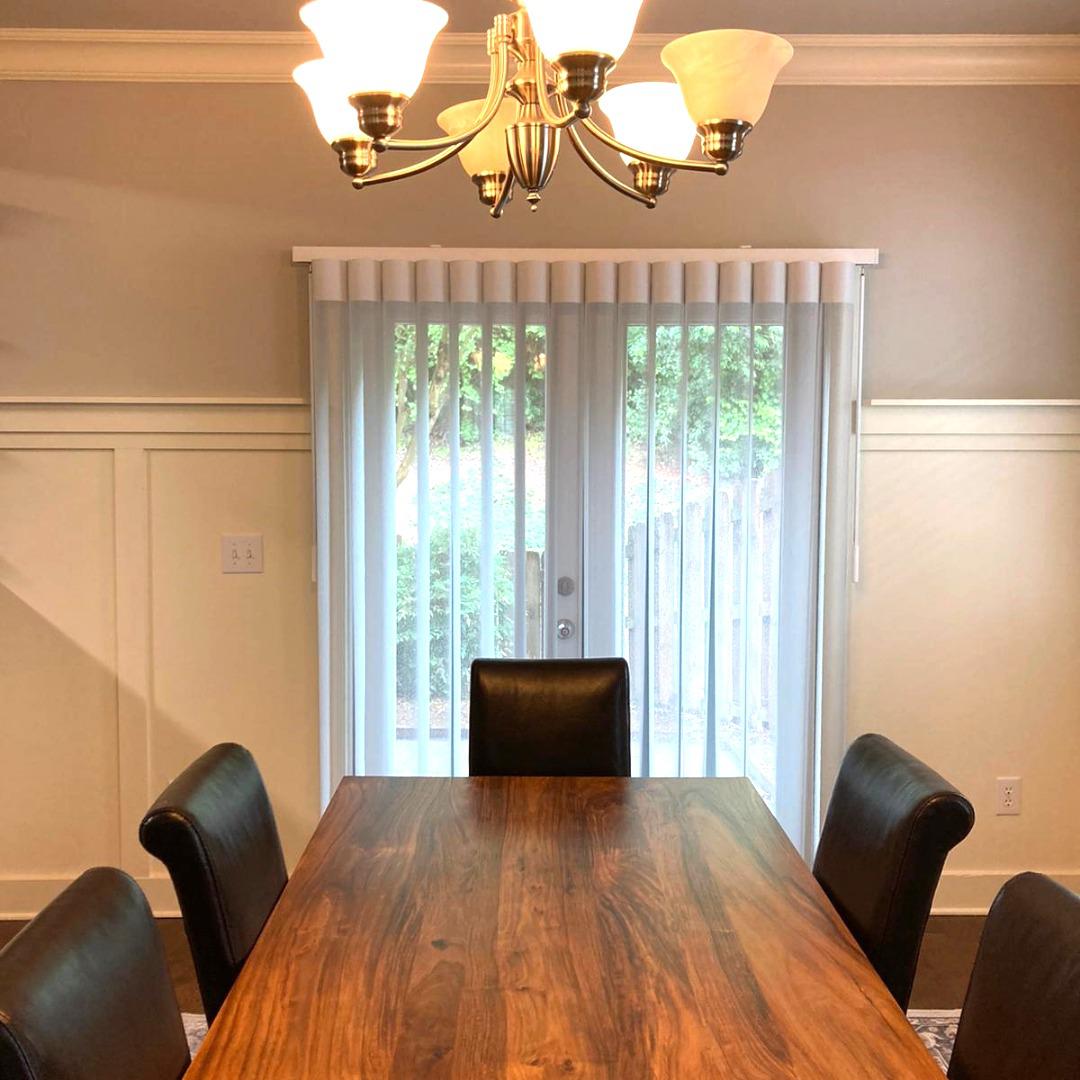 SmartDrapes are soft like drapery and delicately architectural. Made with undulating sheer and fabric vane construction, it's specially made to bring you style, and versatility- Experience the Space.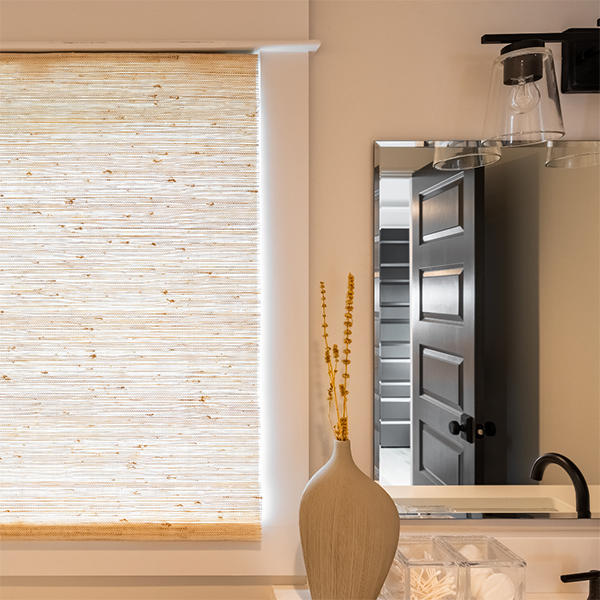 Cast a warm hue throughout your space by installing light-filtering window treatments with similar materials used in your design. These woven wood shades enhance the natural sandstone colors throughout this bathroom.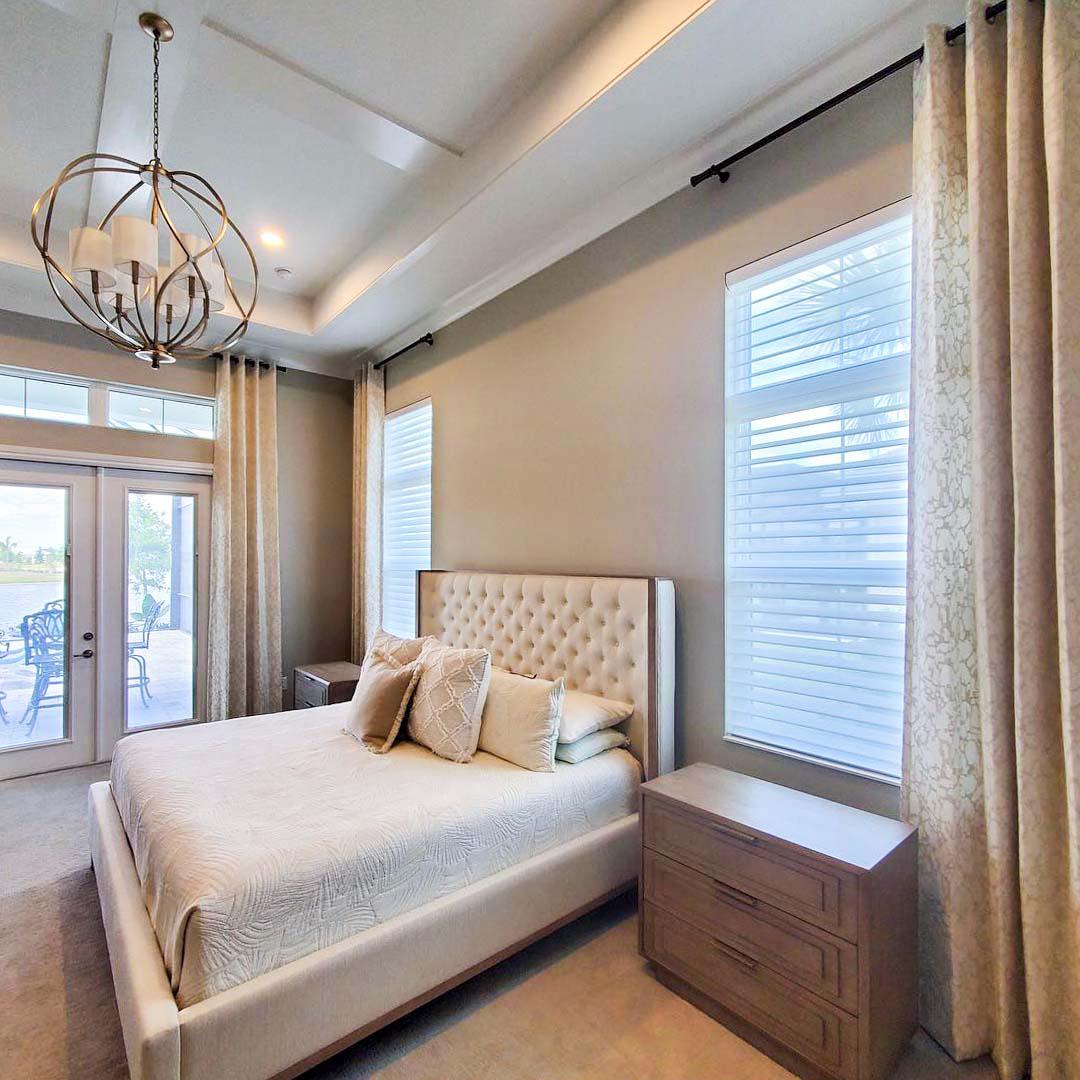 By layering drapes with other window treatments, like these sheer shades shown here, you can allow natural light to enter while blocking out harmful UV rays and glare.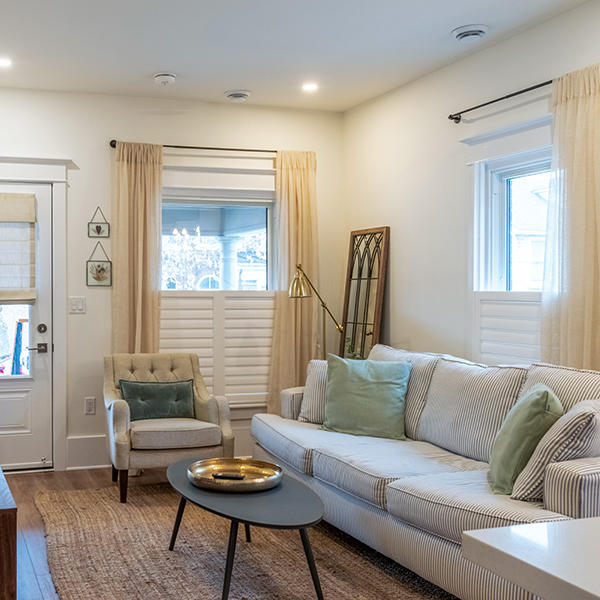 These cafe shutters are a great way to add a bit of privacy while letting light fill this living room. The layered sheer drapes are a nice extra touch that adds elegance and style.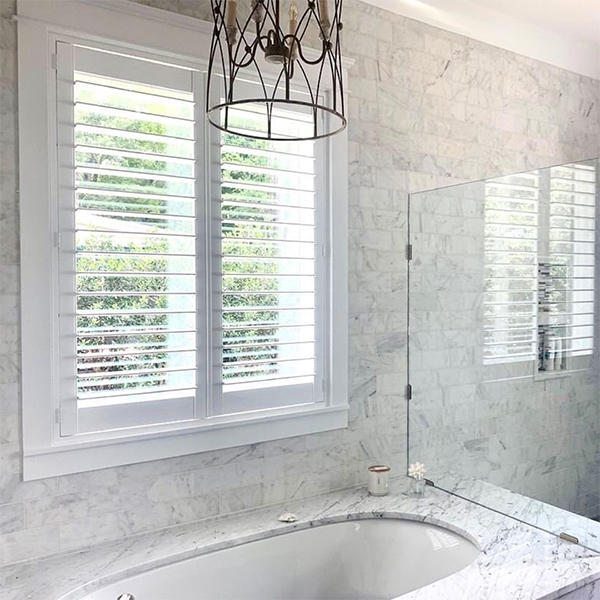 Shutters are a versatile way to control the direction of light while maintaining your privacy.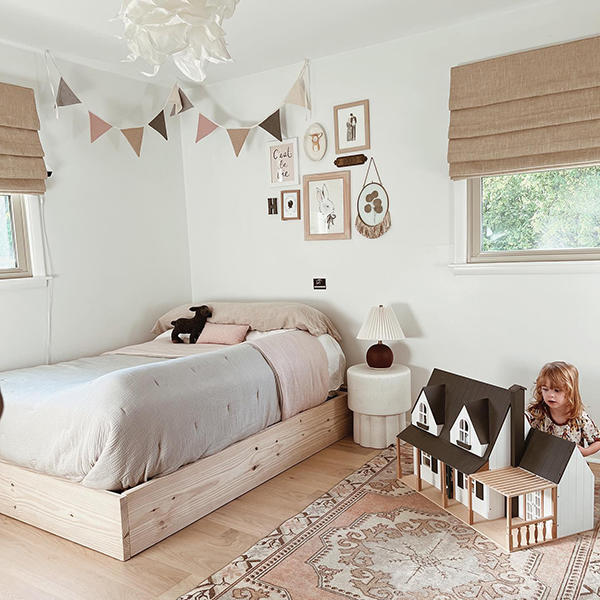 Add color and privacy to your child's room with highly-versatile Roman shades. These shades expertly accentuate the wood grain elements in this bedroom.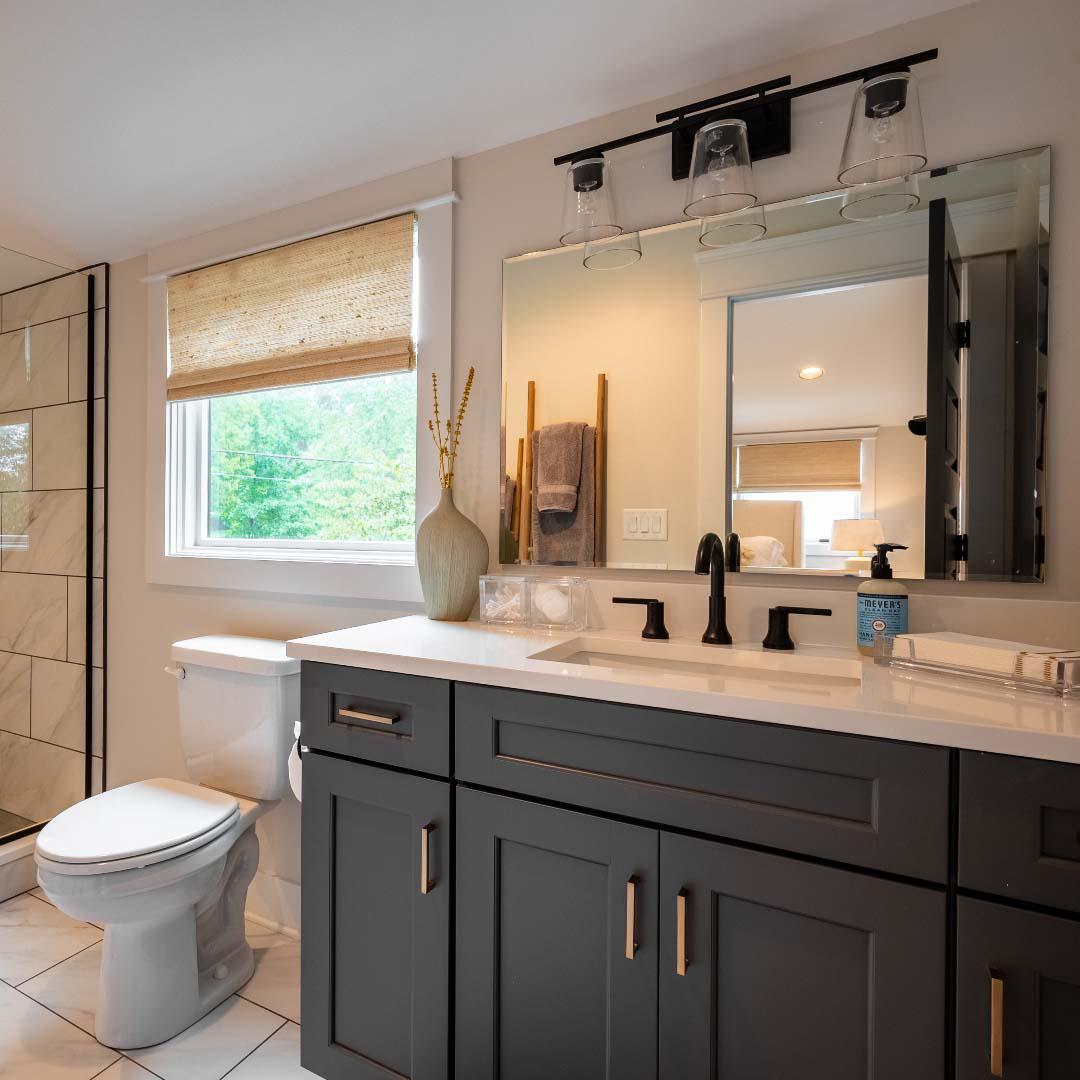 This bathroom demonstrates how window treatments can be used to accentuate other elements in your design. Here, these woven wood shades match the other all-natural materials throughout this bathroom.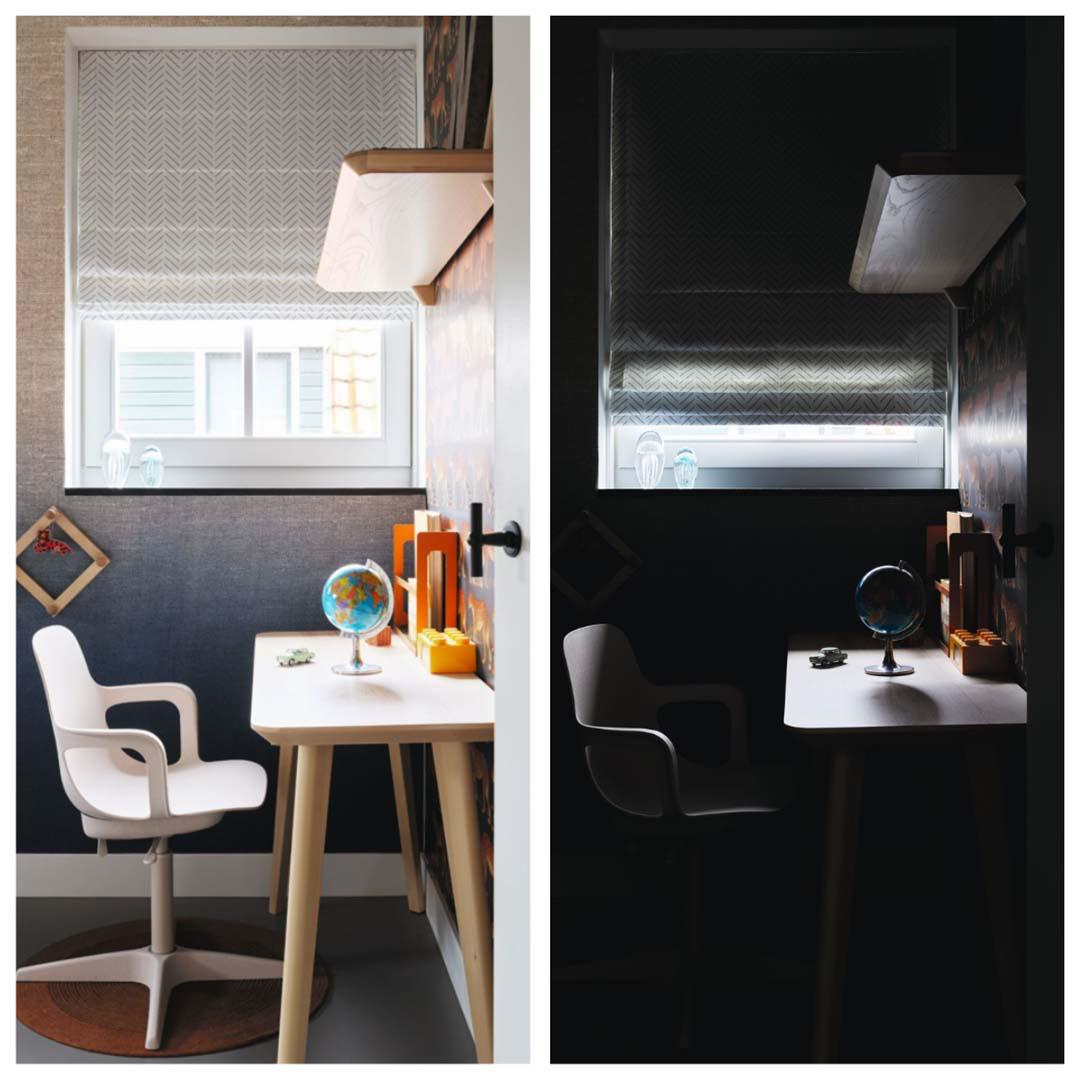 At the touch of a button go from day to night with our blackout Roman shade option.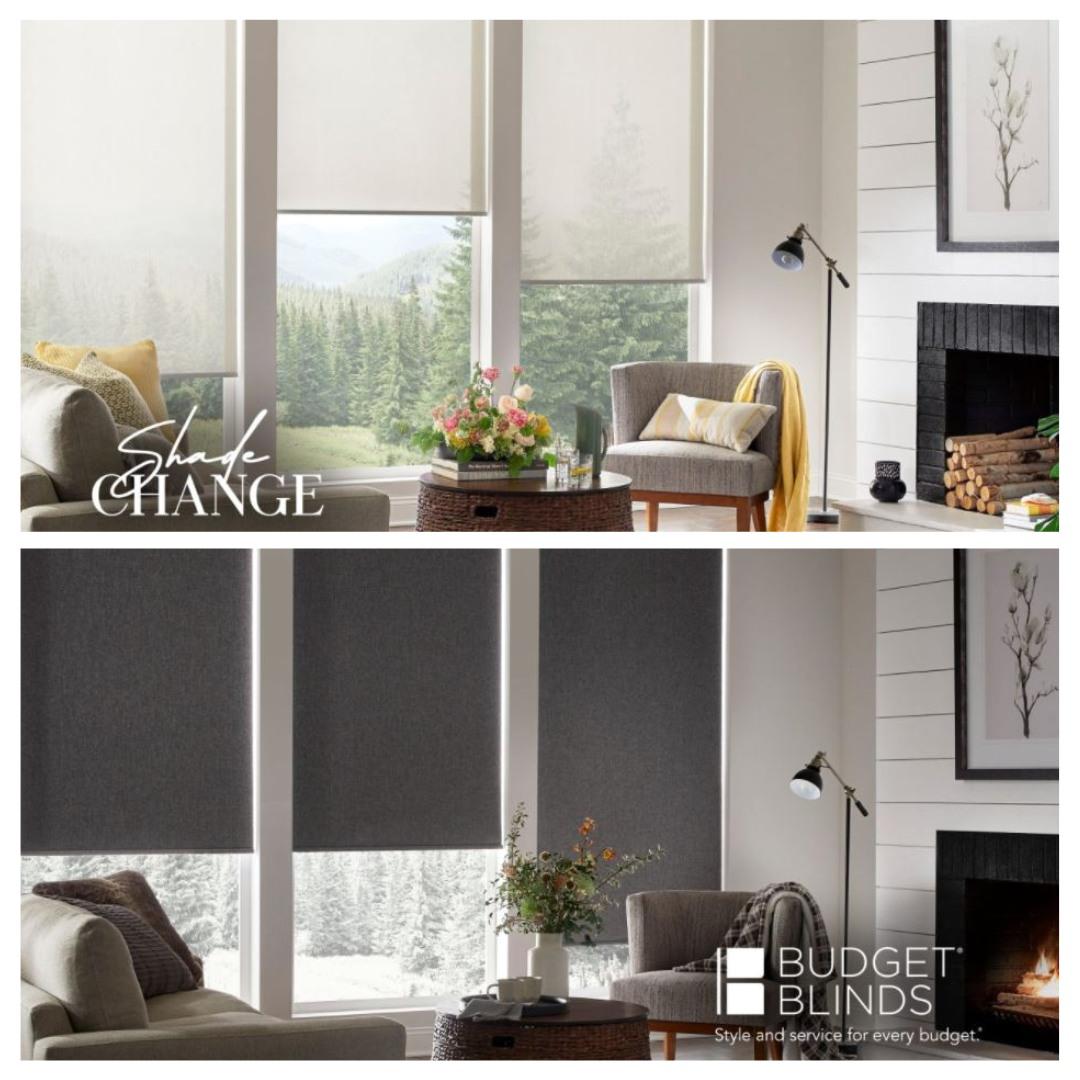 With the innovative new Shade Change, offered exclusively by Budget Blinds, it's easier than ever to switch up your roller shades in minutes. Just pop, swap, and roll your way to a whole new look. Lots of looks. Little effort.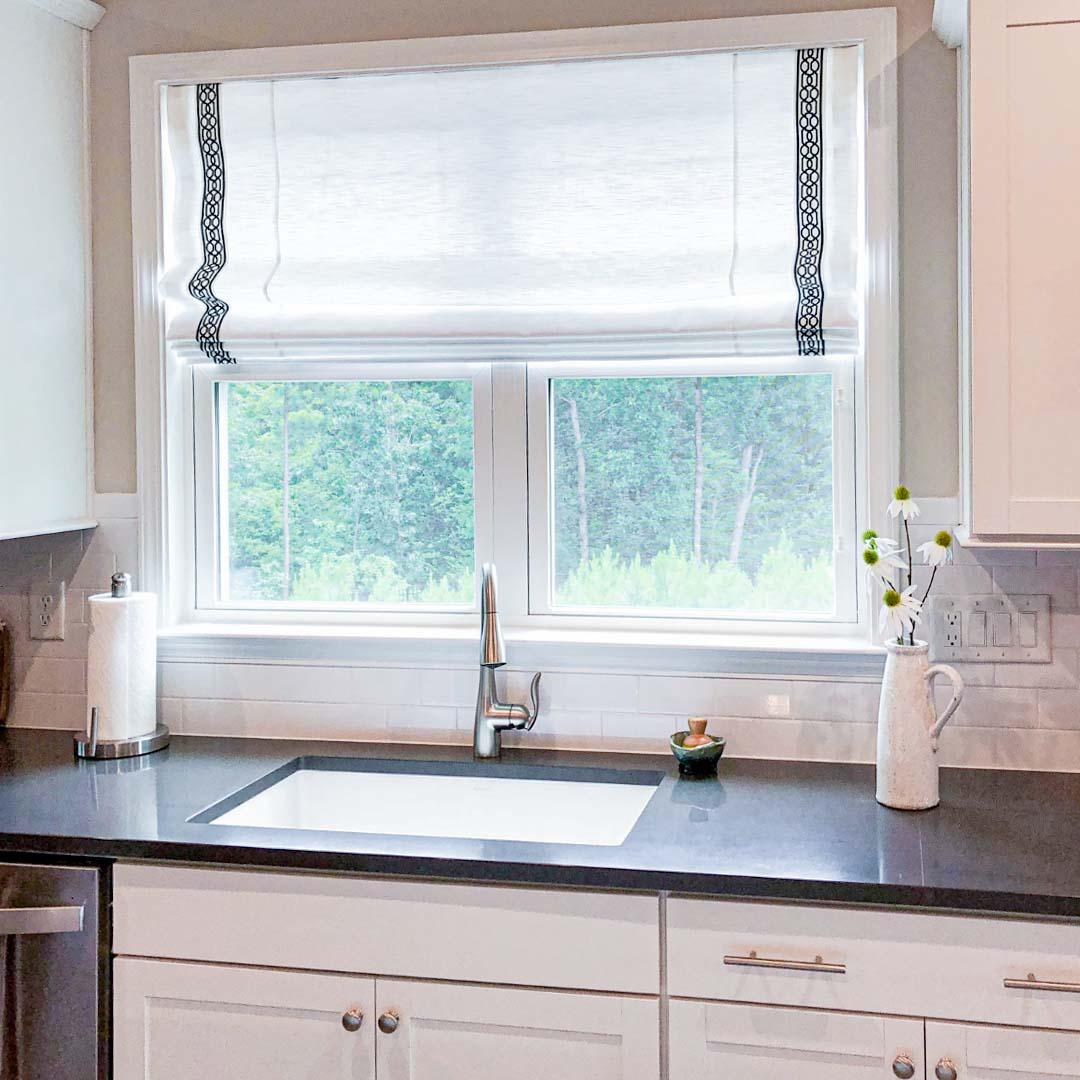 Roman shades provide softness and customizable options to create a cozy and unique look in your home. We love how this customer matched their countertops with these custom-banded Roman shades.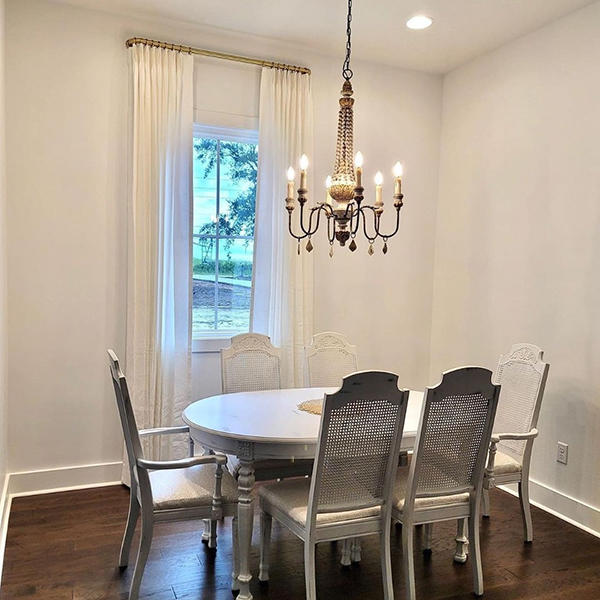 This drapery & shade combination, two words: elegant and inviting.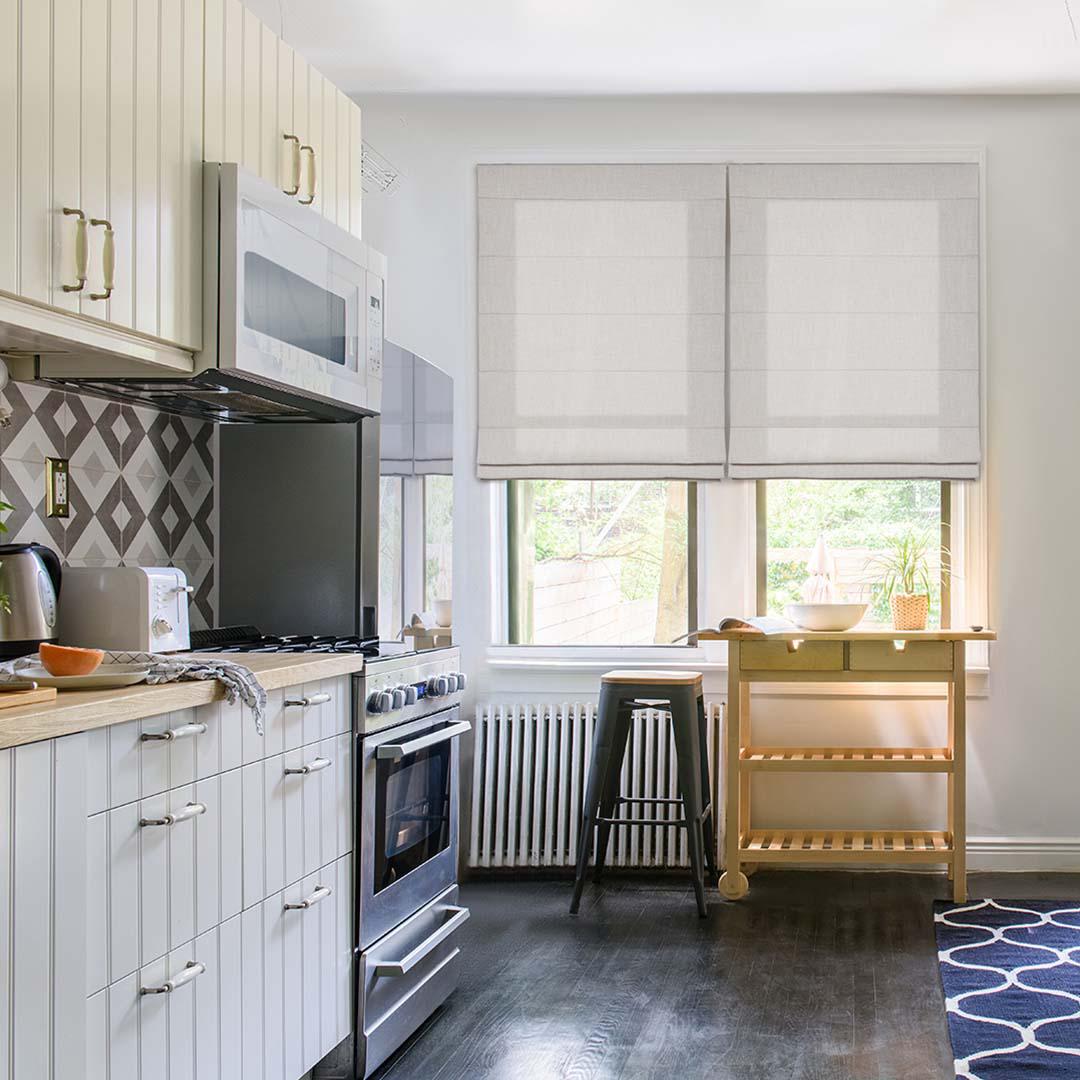 Add a touch of softness to your space with Roman shades. These light grey Roman shades perfectly accent the neutral tones in this kitchen making for a cohesive, superb design.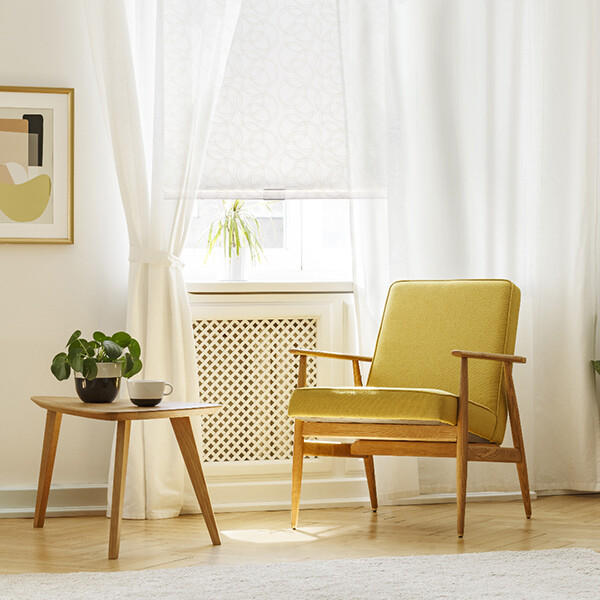 Brighten up your day in the most elegant way possible with layered window treatments. For this reading nook, the sheer drapery and cordless patterned roller shade allow warm light to pour in, providing plenty of illumination to relax with your favorite book!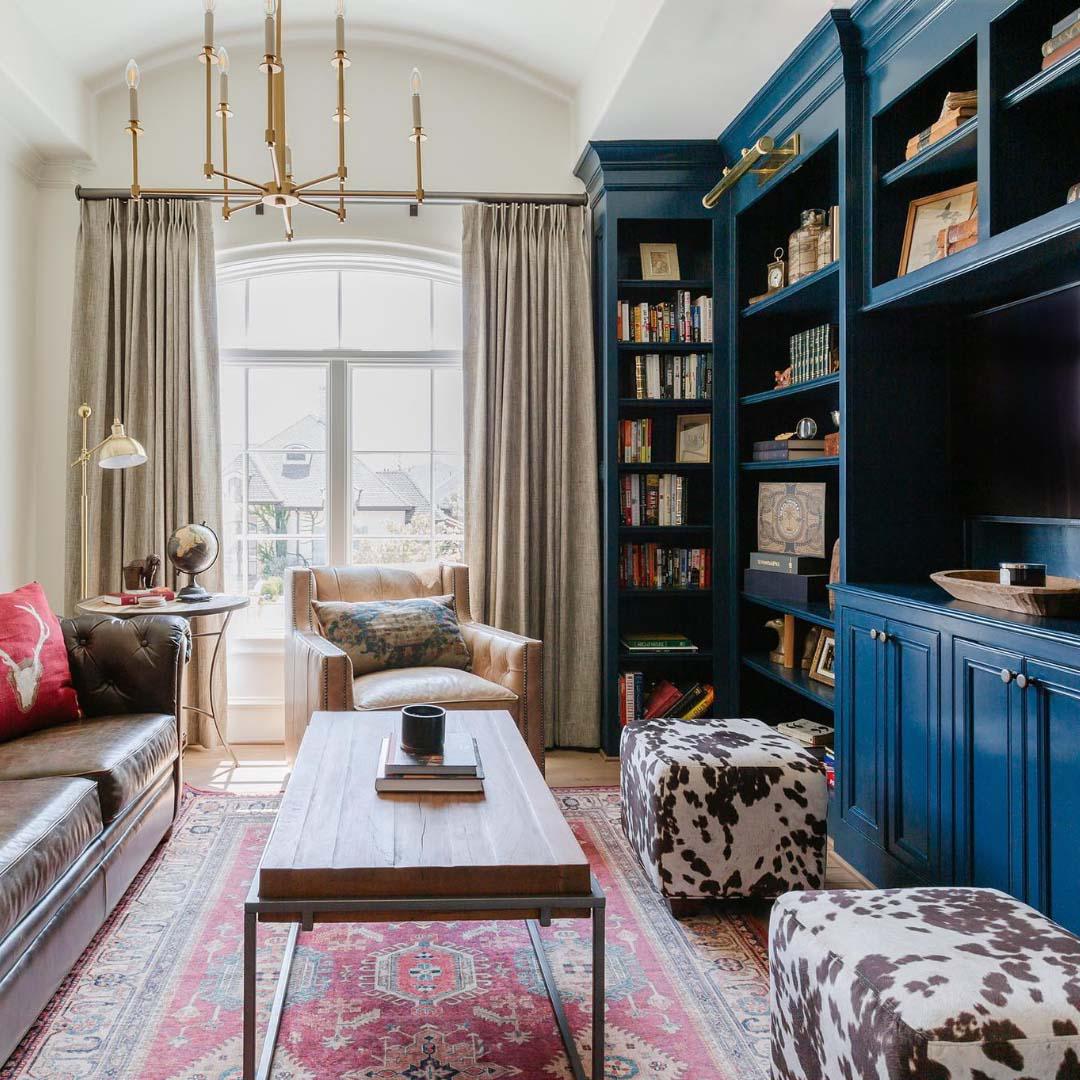 An elegant living room deserves an elegant window treatment. And nothing elevates a room better than the right set of drapes. Our wide range of drapery is available in multiple different fabrics, patterns and styles to match any design, from modern/minimalist to expressive/maximalist.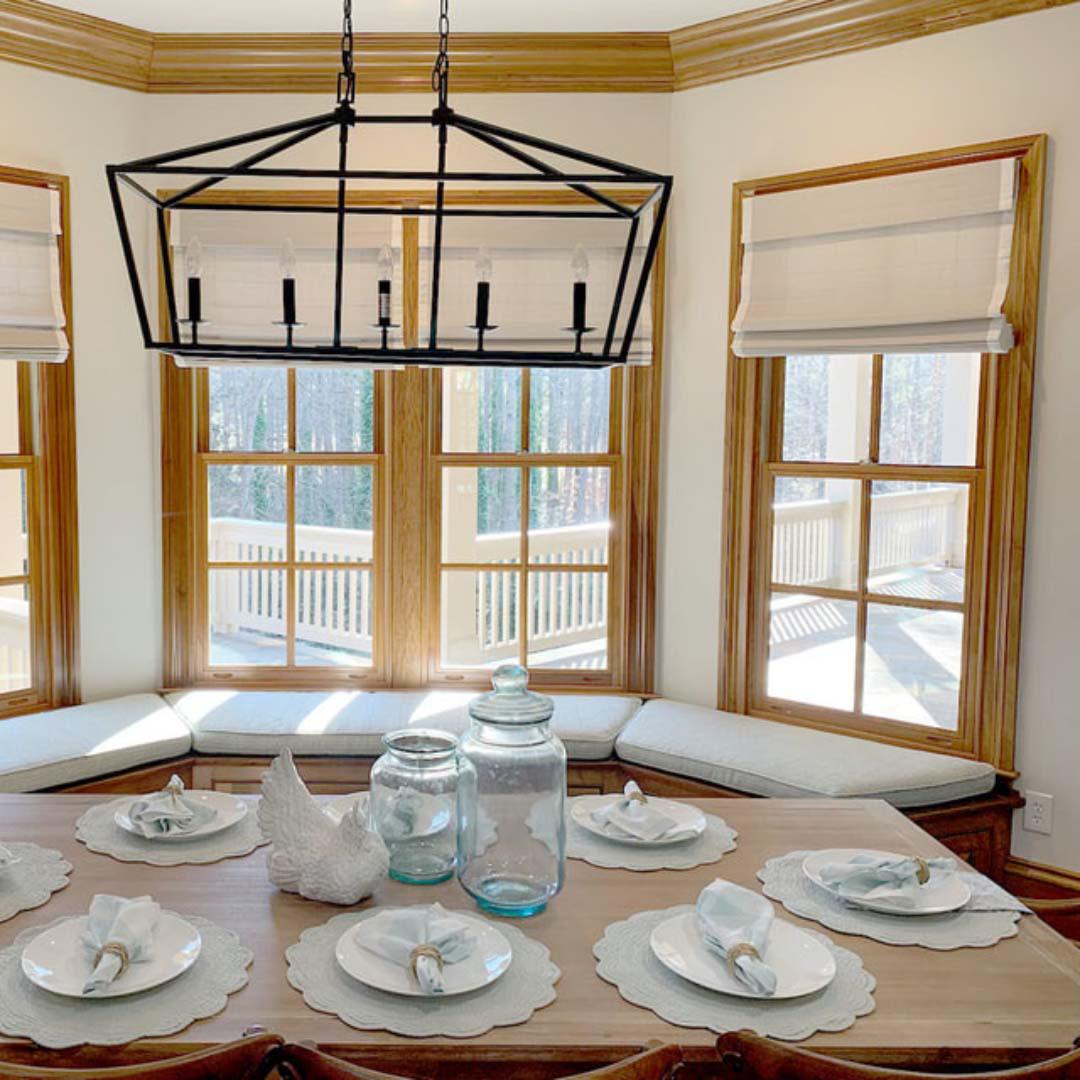 Create a softer look and feel to your dining room by adding Roman shades. This setup provides plenty of coverage across this nook allowing this customer to block out the light when they need to.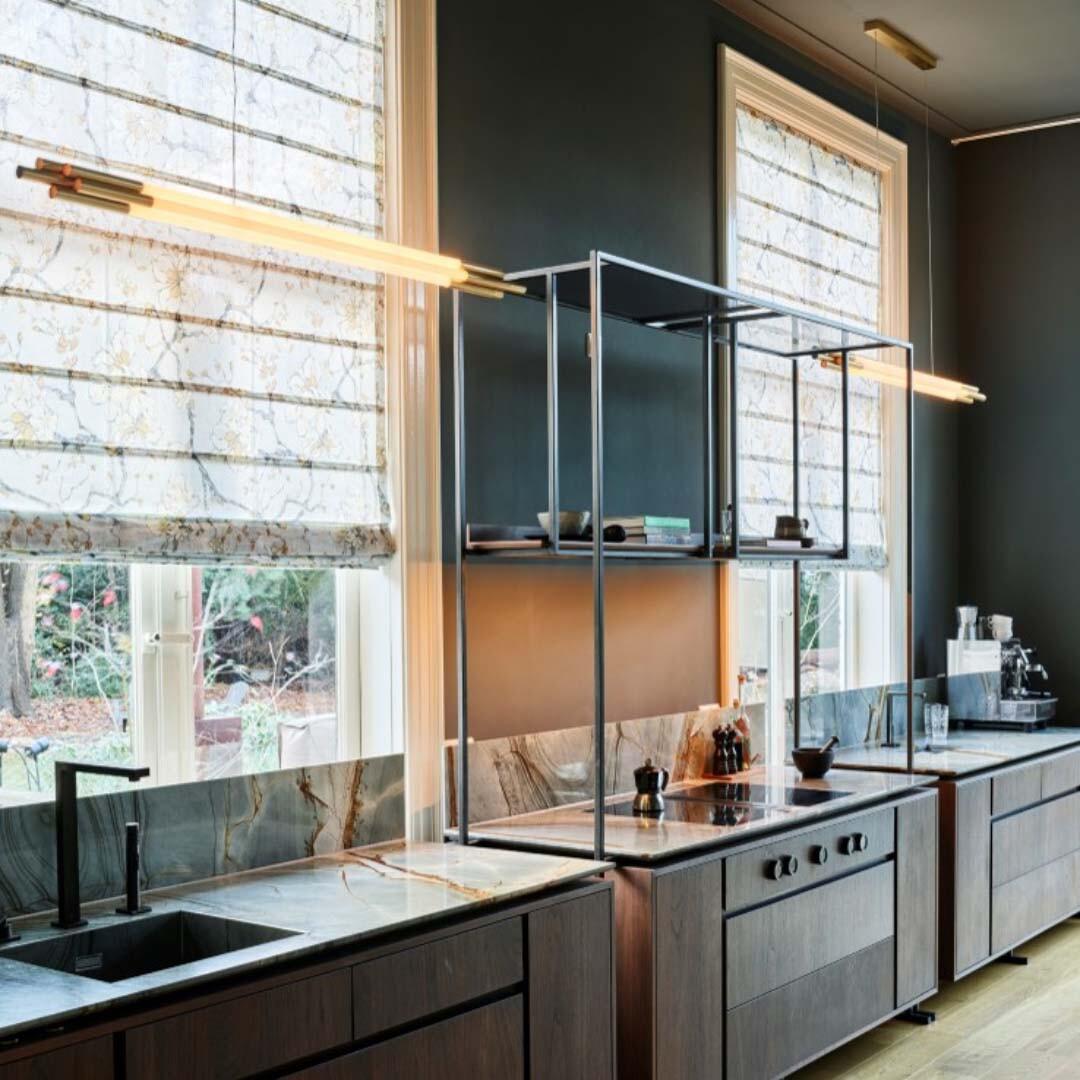 With tons of styles and fabrics, Roman shades provide plenty of options to match patterns throughout your space. Here, these shades pair beautifully with the marble countertops in this kitchen, helping achieve a more elevated and cohesive overall design.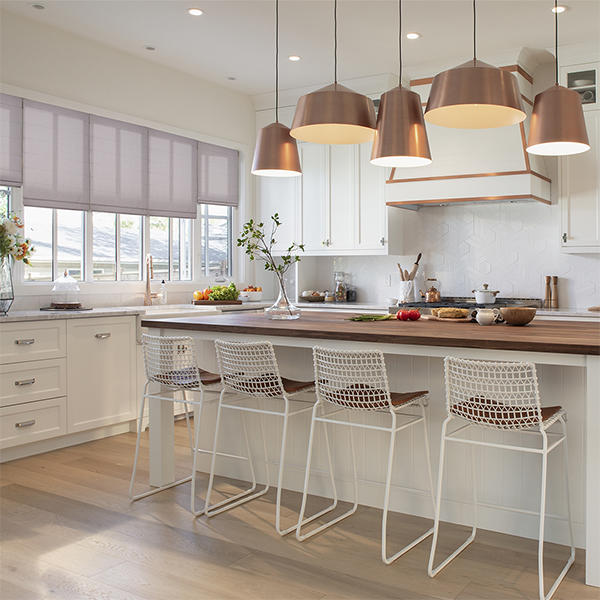 The right window treatment can do wonders for a space! These Roman shades do a fantastic job matching the bright feel of this kitchen while offering plenty of window coverage.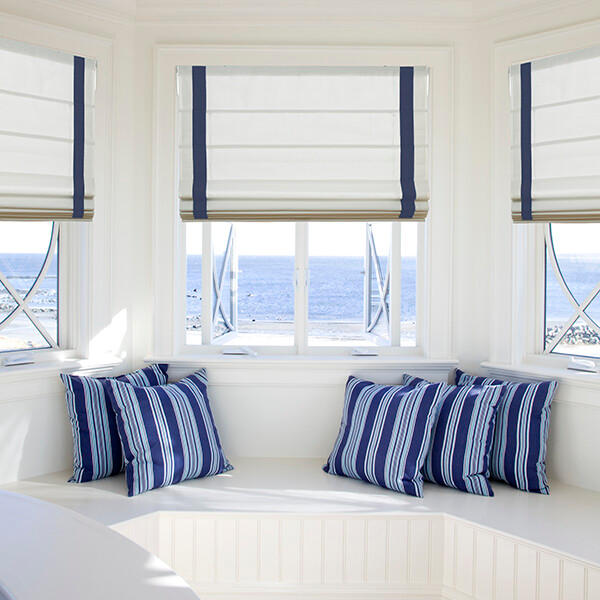 These blue, banded Roman shades provide a pop of color that perfectly matches the throw pillows (and the view) of this cozy sitting nook. With a wide array of fabrics, styles and colors to choose from, you can be sure to find the perfect window solution for your space.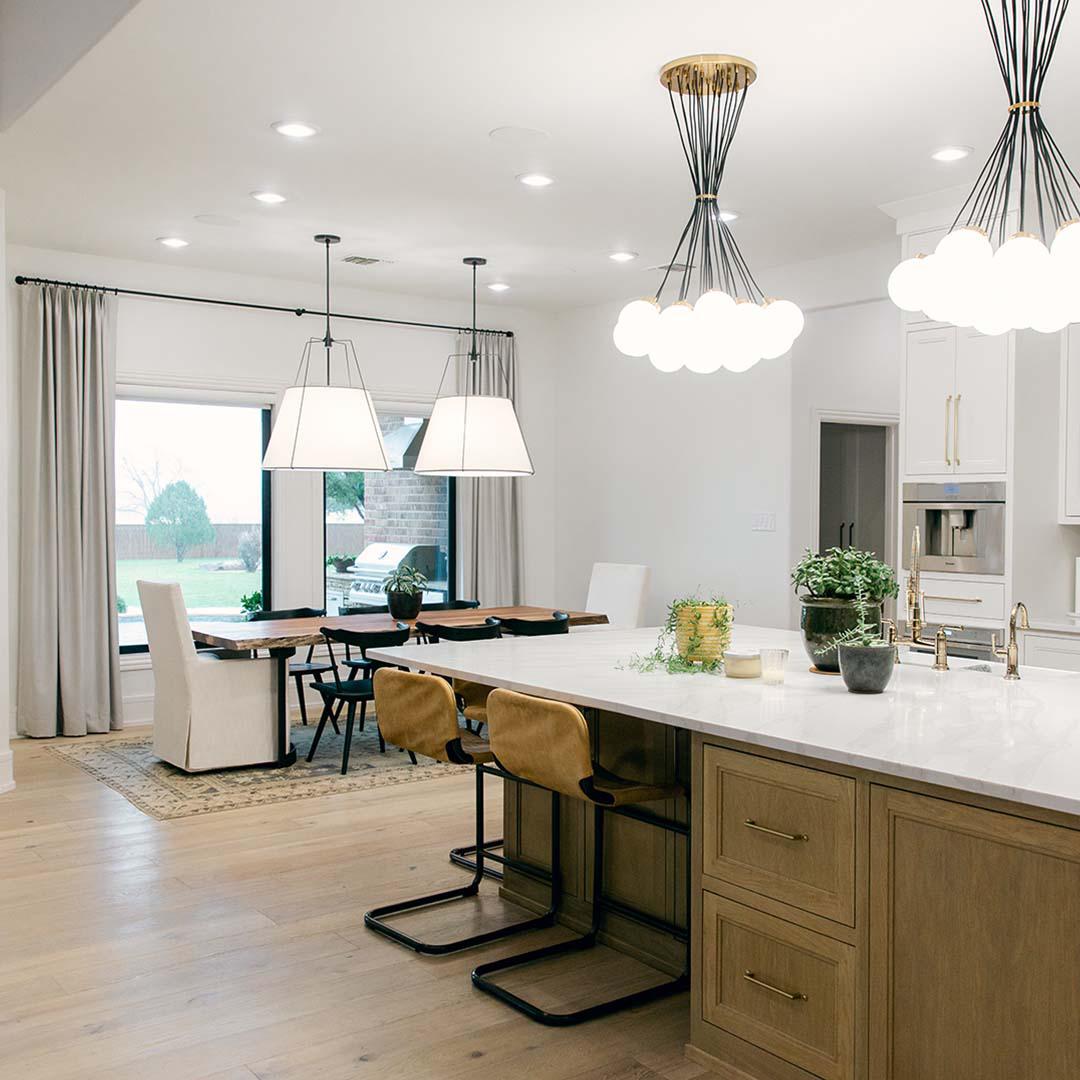 Looking for that one finishing touch that can add softness to your space? Drapery panels are an elegant way to frame large windows and sliding glass doors, giving you a full view of the outdoors.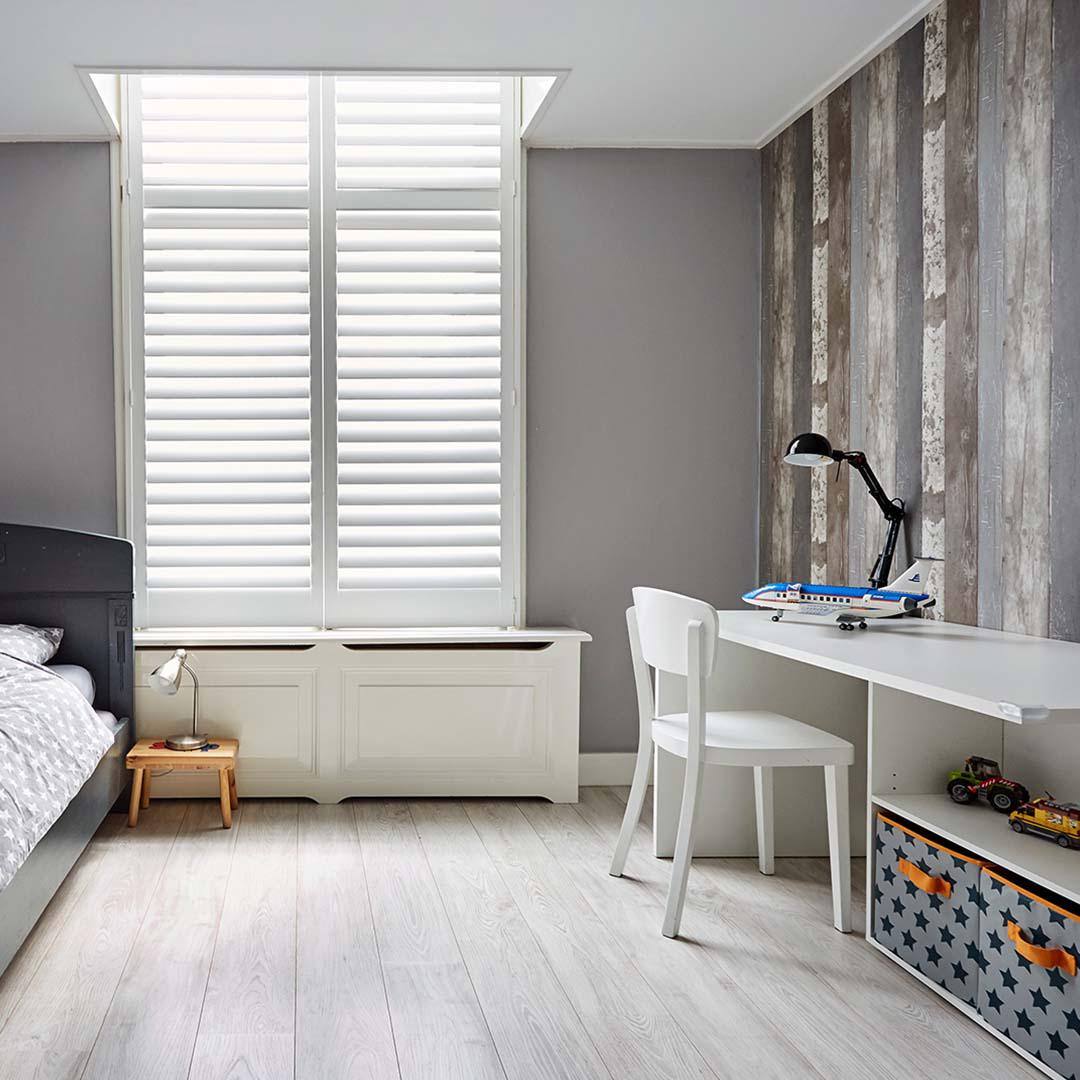 Kids' rooms can benefit from a lasting window treatment that's easy to clean - and no treatment fits these requirements better than indoor shutters. Shutters add a level of elegance to any room and are extremely durable so you can rest easy knowing they will look great for years to come. Ask the des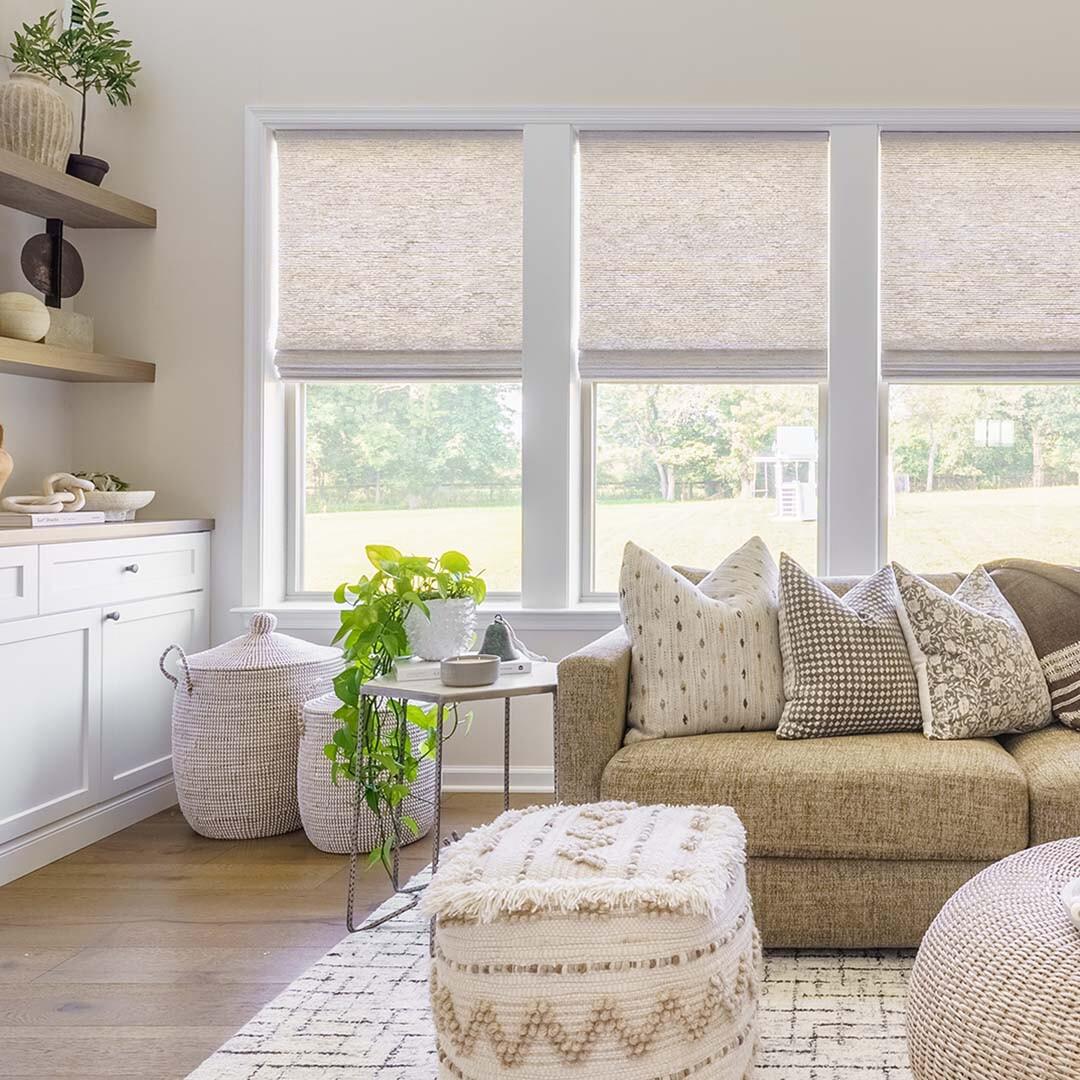 Bright, vibrant spaces like this cozy living room shown here benefit from warm natural light pouring in. We love how these woven wood shades complement the smooth earth tones and allow plenty of light to enter the space.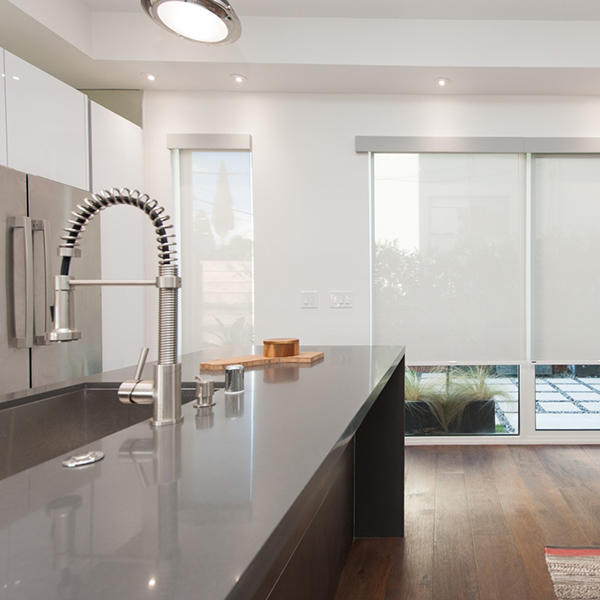 With custom roller shades, you can get maximum coverage on doors and windows - no matter what size they are. These translucent roller shades complement this kitchen's sleek look while maintaining outdoor visibility.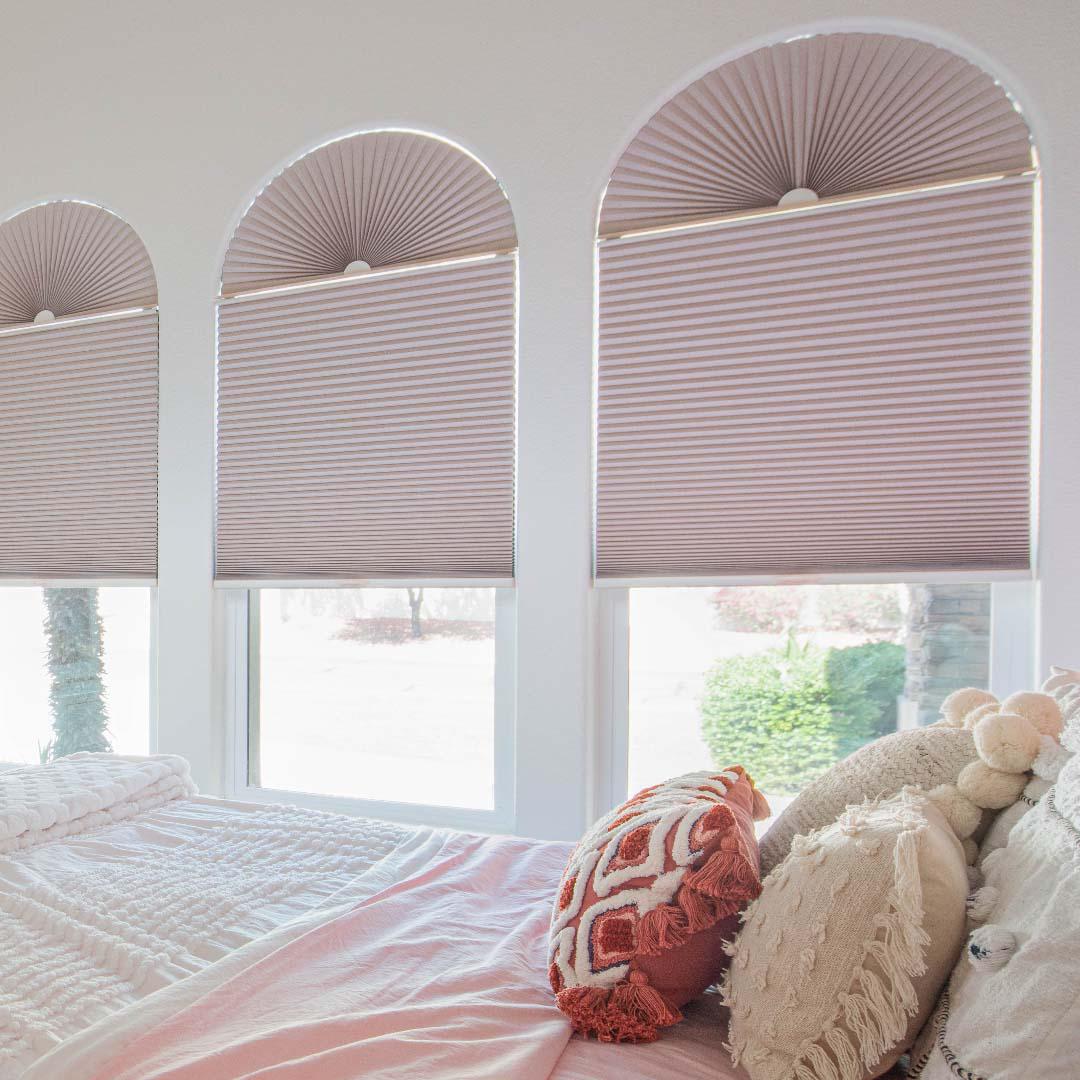 Cellular shades are so much more than just a window treatment. They're energy-efficient, lightweight, and highly customizable to fit the needs of any space. Cellular shades come in a wide range of light-filtering options - from translucent to blackout - and can be sized to fit uniquely shaped window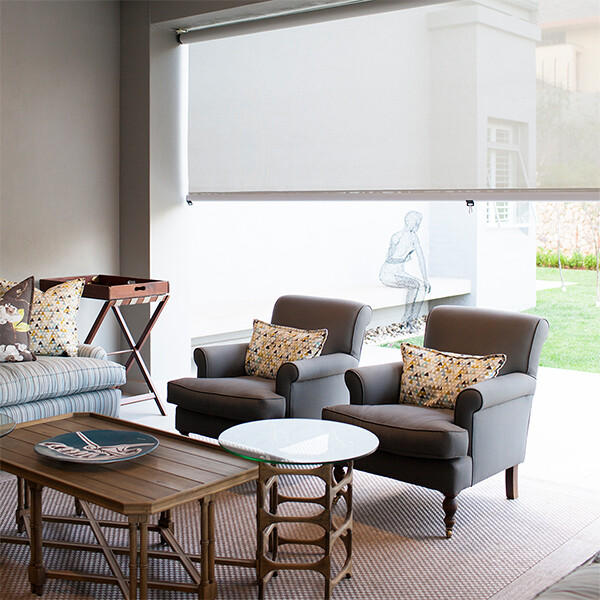 Solar shades' sleek and minimal appearance make them a great option for backyards and they can also be automated to make controlling the temperature outdoors a breeze.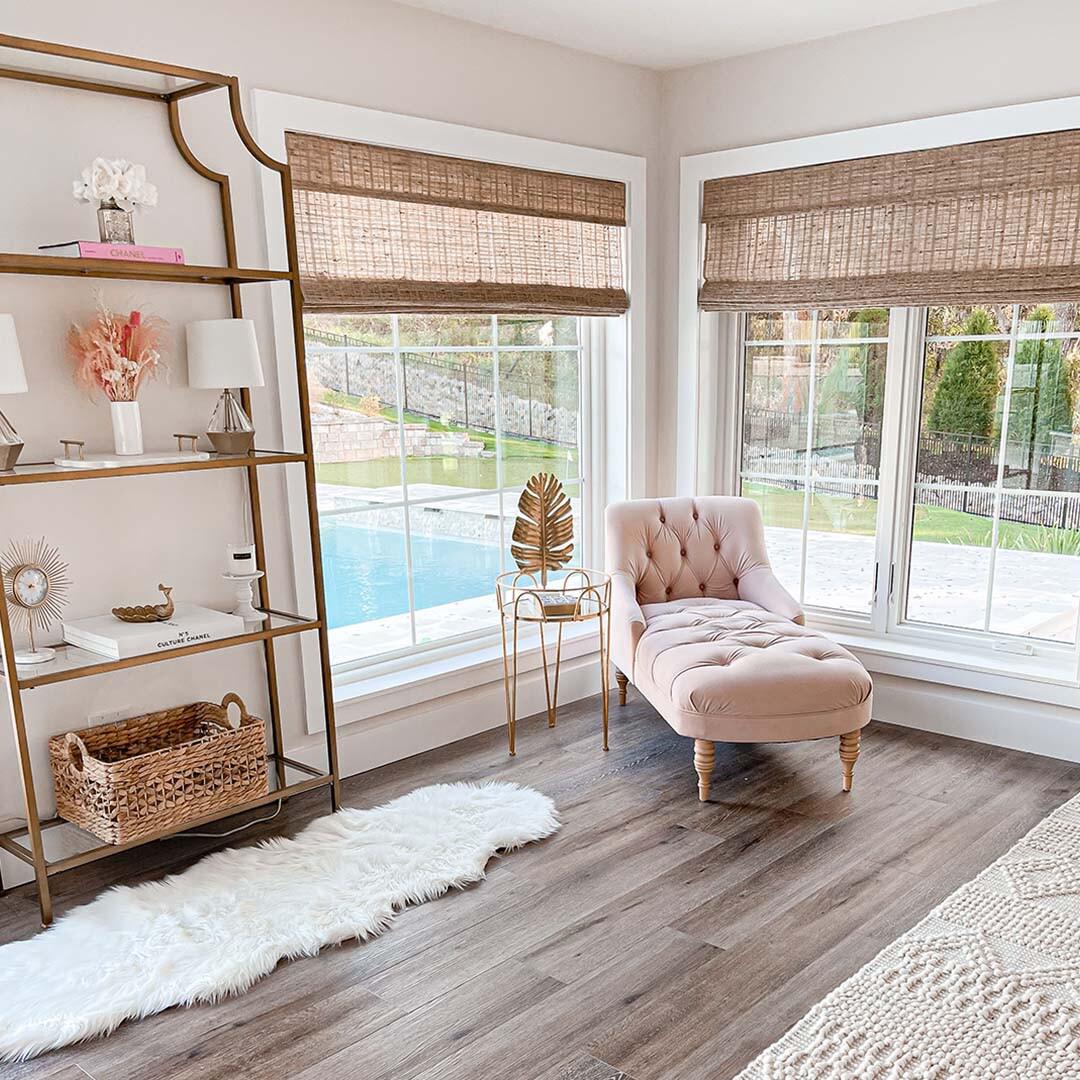 Whether elegant or rustic, any room can benefit from woven wood shades. Made with eco-friendly and recyclable materials like bamboo and jute, woven wood shades bring a touch of nature indoors. We love how @laurabeverlin added woven wood shades to this space for a natural design element.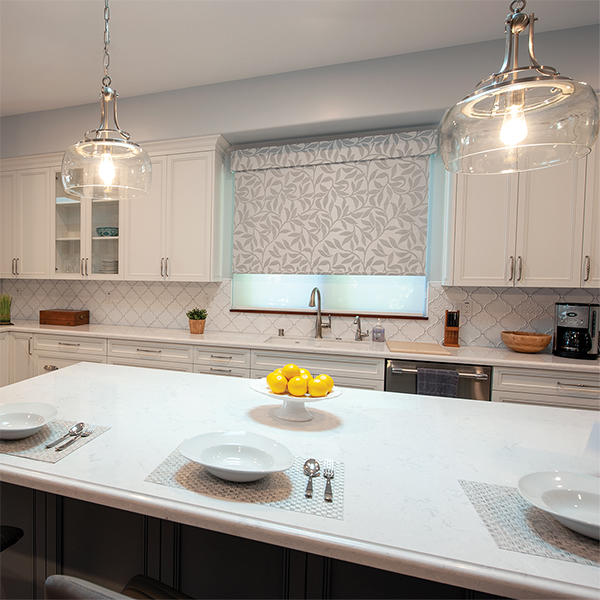 You can add pizazz and excitement to any space with the right patterns. Luckily, roller shades come in a ton of unique patterns to perfectly accommodate your style. These patterned shades provide a visual statement while blending cohesively with the color scheme of this kitchen.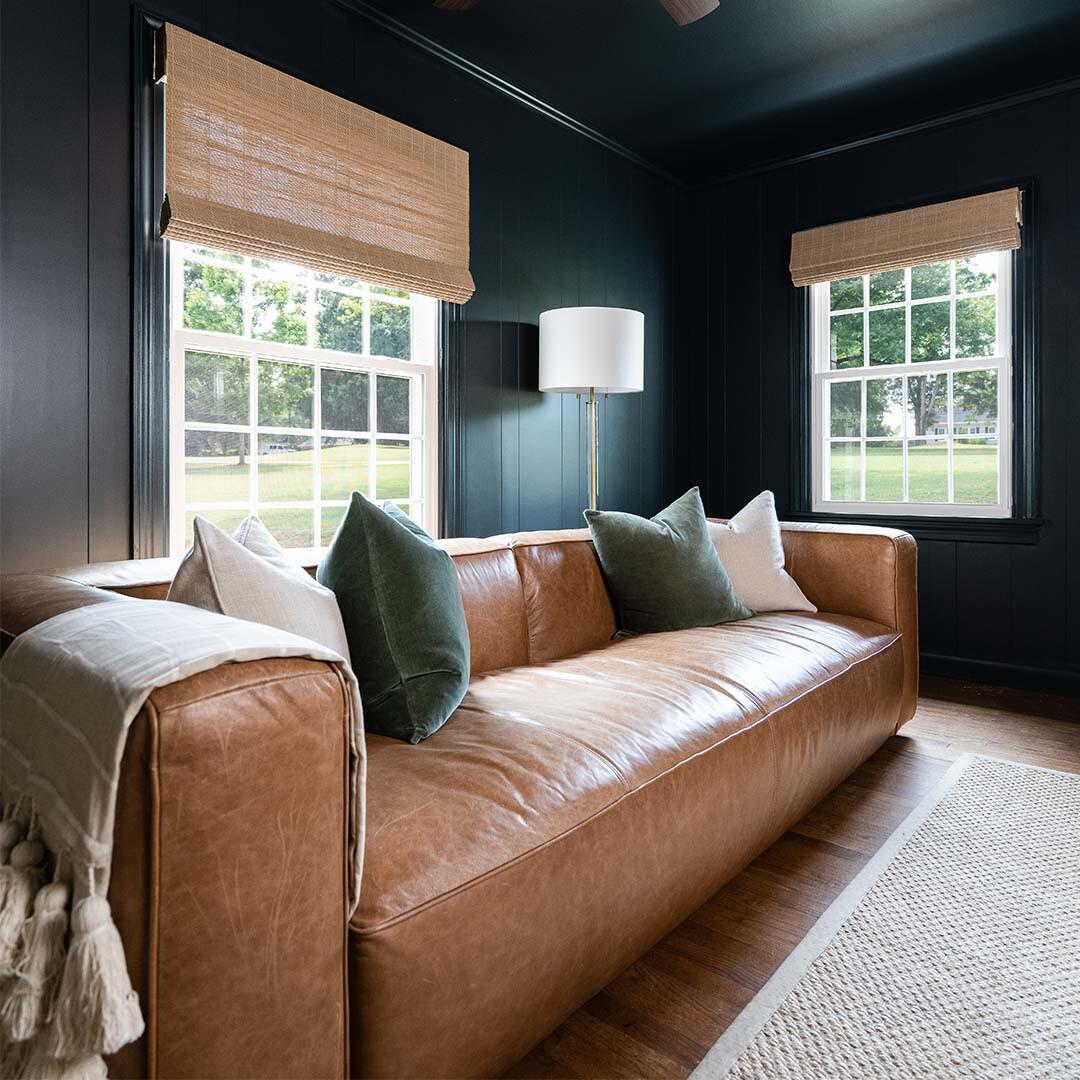 Contrast is key to design, and this sitting room from @mckennableu does contrast perfectly! The woven wood shades pair perfectly with this brown leather couch for a seamless overall look.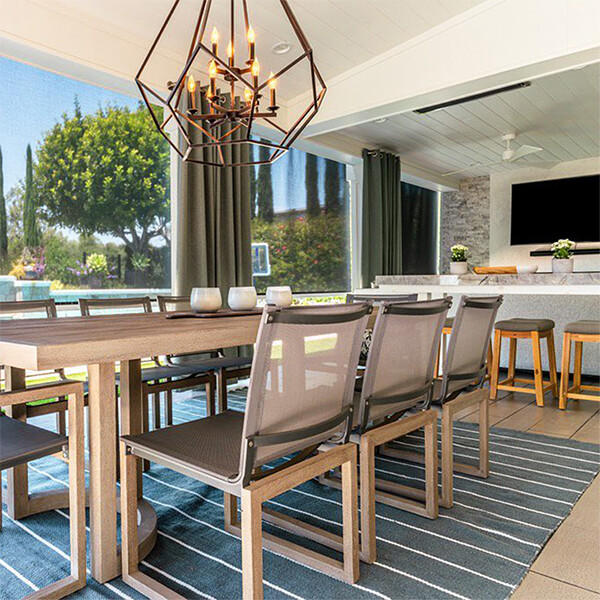 Keep your outdoor furniture looking brand new by combining outdoor window treatments that strike the right balance between style and functionality. Solar shades help to filter out harmful UV rays, while these drapes provide the right touch of elegance.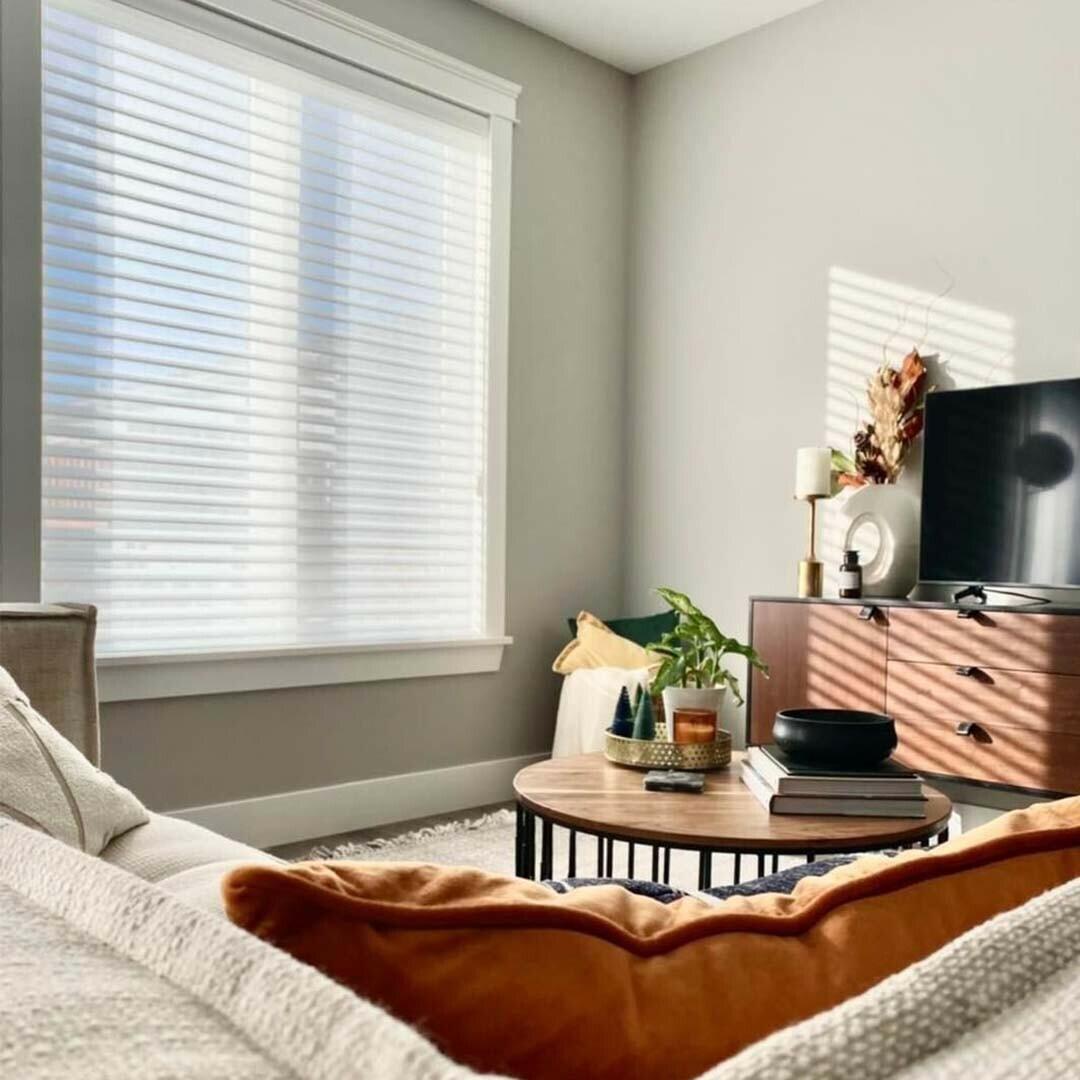 Need a bit more light-filtering and softness than traditional blinds provide? These sheer shades include fabric vanes that tilt like a blind but can roll up into a cassette. We love how they still manage to cast a sleek silhouette across this modern living room.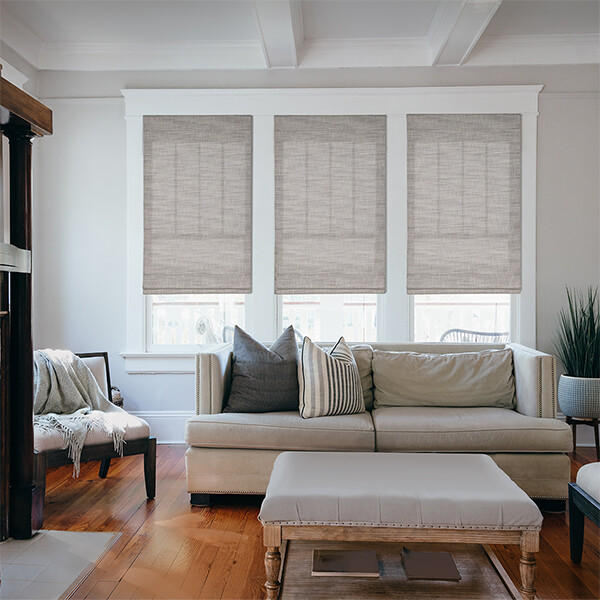 Add beauty and style to your space with textured Roman shades. Our shades come in a wide range of fabrics in an array of on-trend colors, textures and patterns.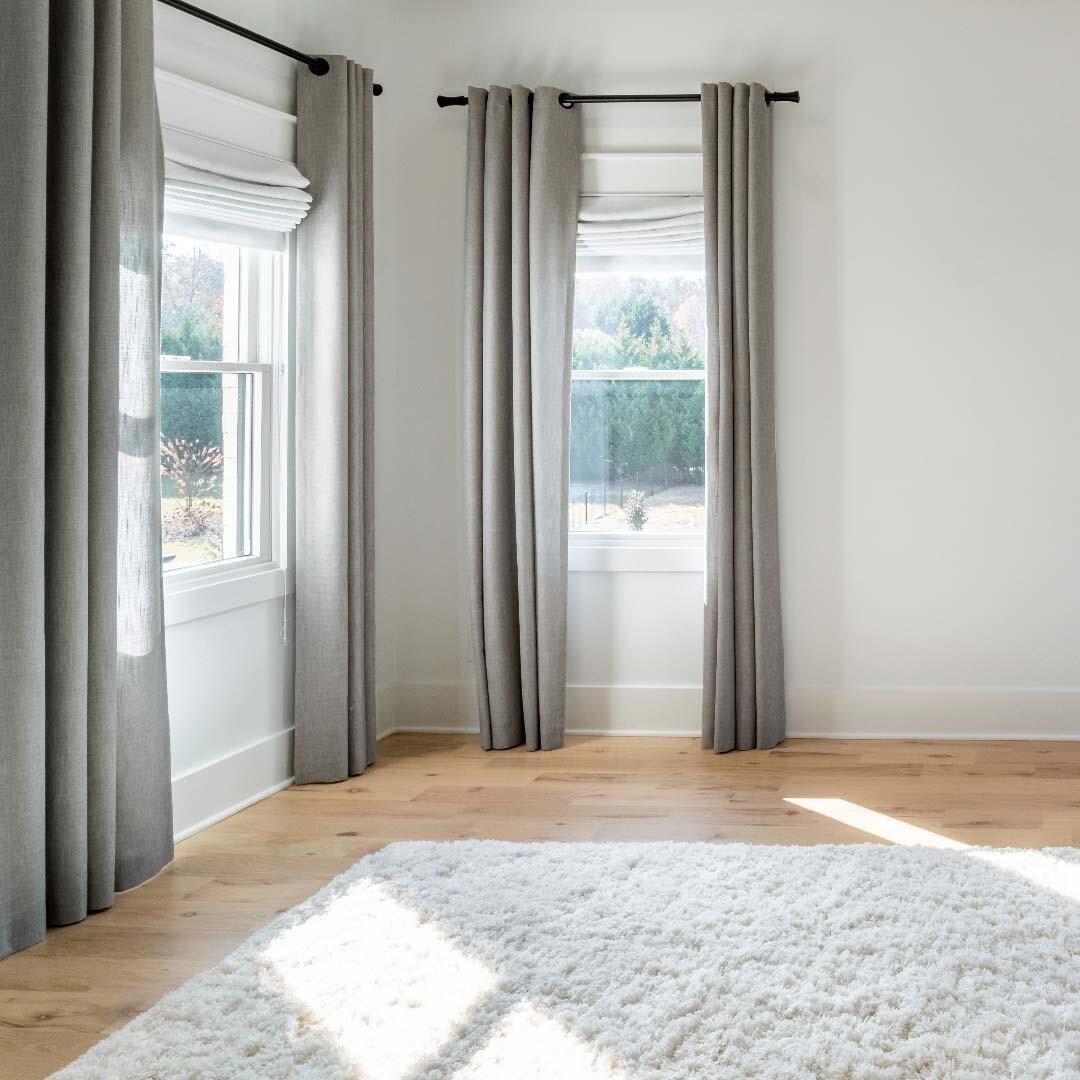 Maximize the softness of a room by mixing and matching fabric window treatments. These drapes and Roman shades are pulling double duty, perfectly accentuating the pillowy texture of this white shag rug.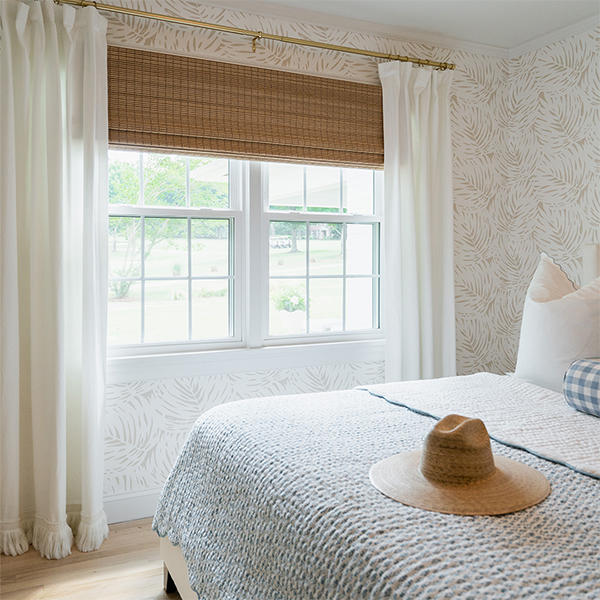 What a great way to add rustic charm to a bedroom. Woven wood shades come in a range of styles and all-natural materials like bamboo, jute and rattan reeds. Visit our website to see all of our shade options for your home.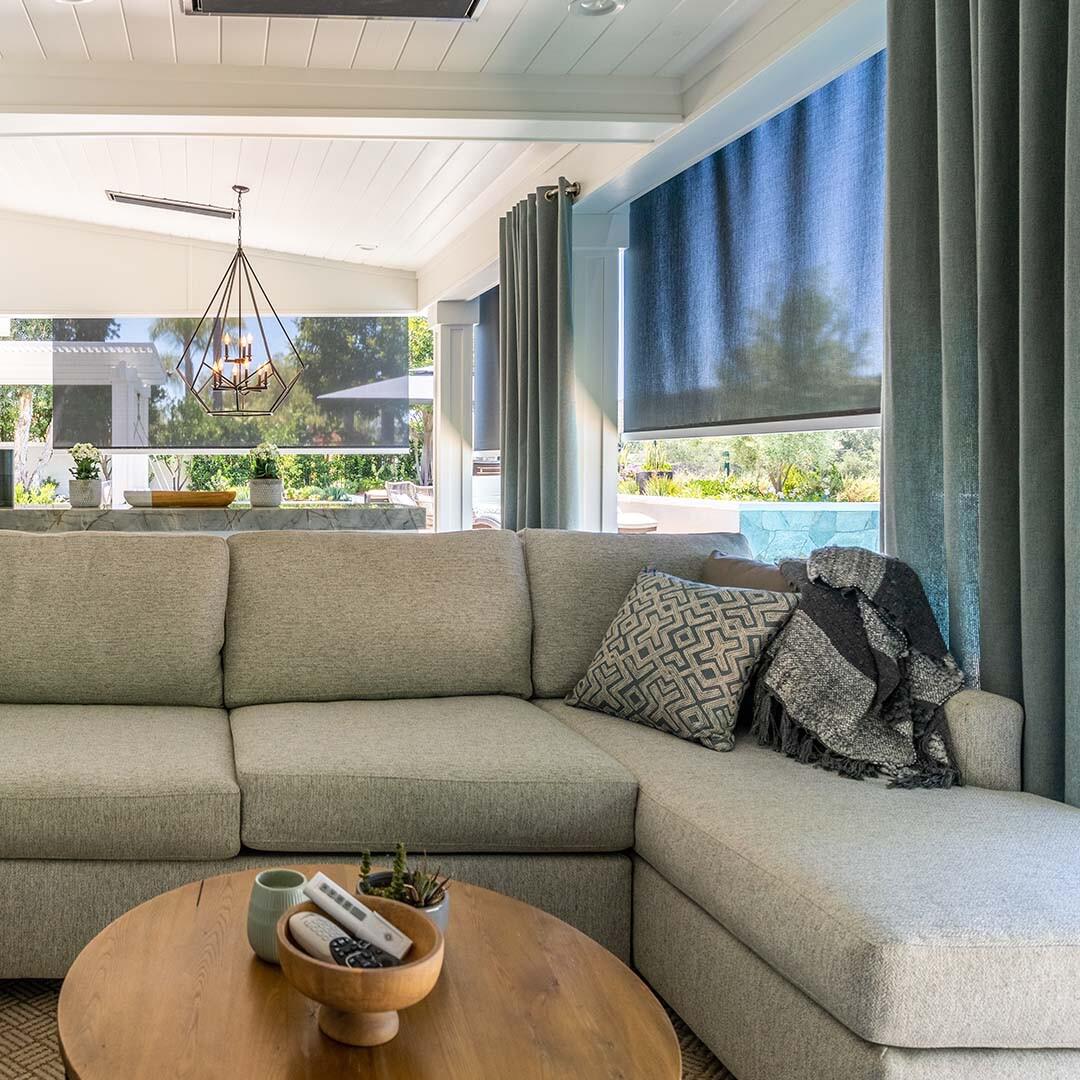 Solar shades are the ideal solution for outdoor patios, protecting your guests and furniture from damaging UV rays. Pair it with durable exterior drapery for not only adding a touch of elegance, but to provide extra privacy when needed.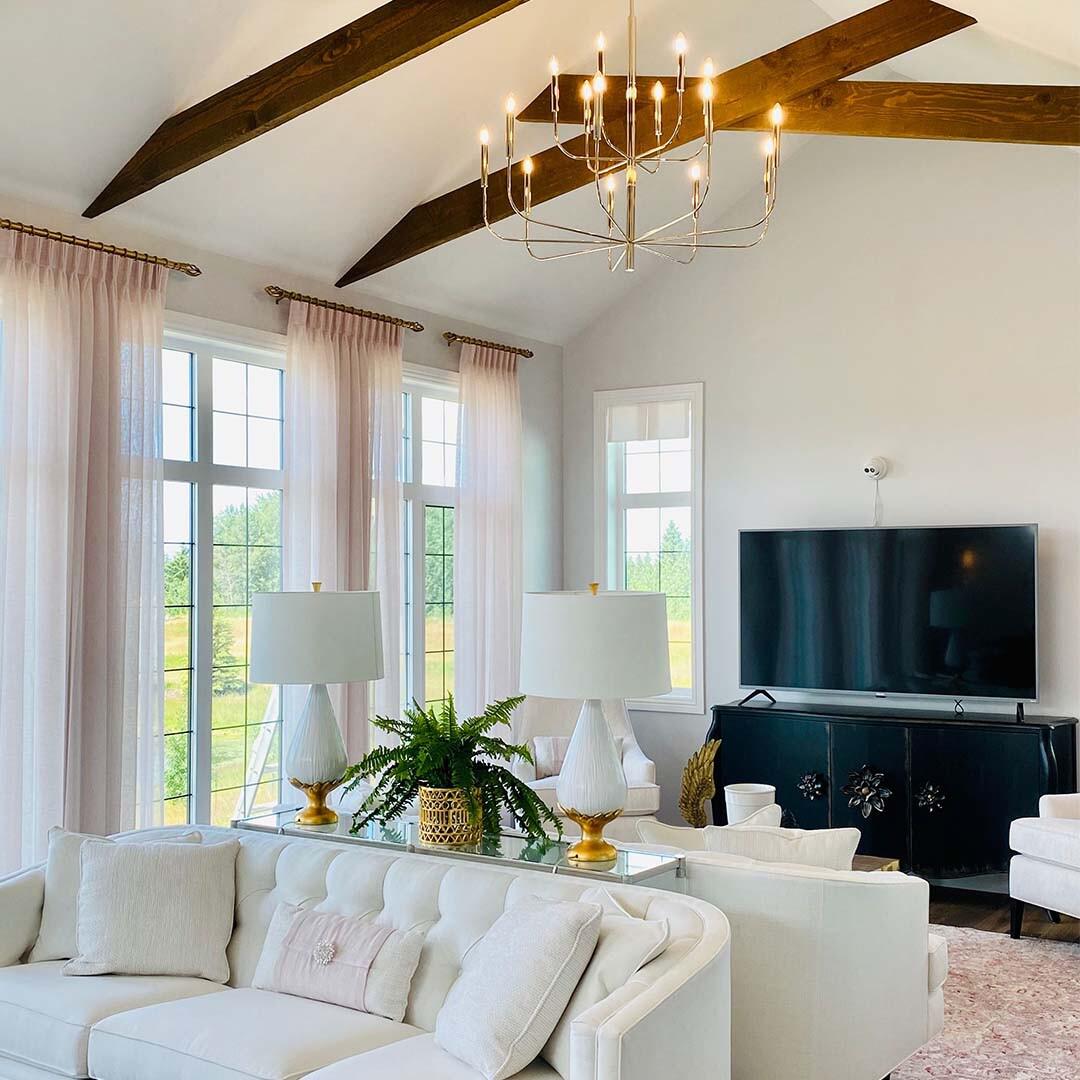 Want to make elegant, large rooms appear even bigger? Sheer drapery panels make windows appear even taller and allow plenty of sunlight to enter, keeping things bright and airy.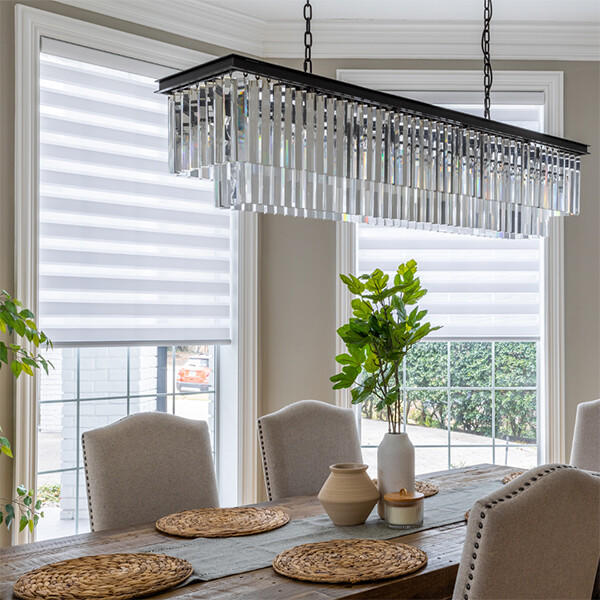 Shadings allow light to enter while reducing glare and keeping out UV rays that can damage your furniture. Choose from a wide selection of designer fabrics to find the shade that's right for you.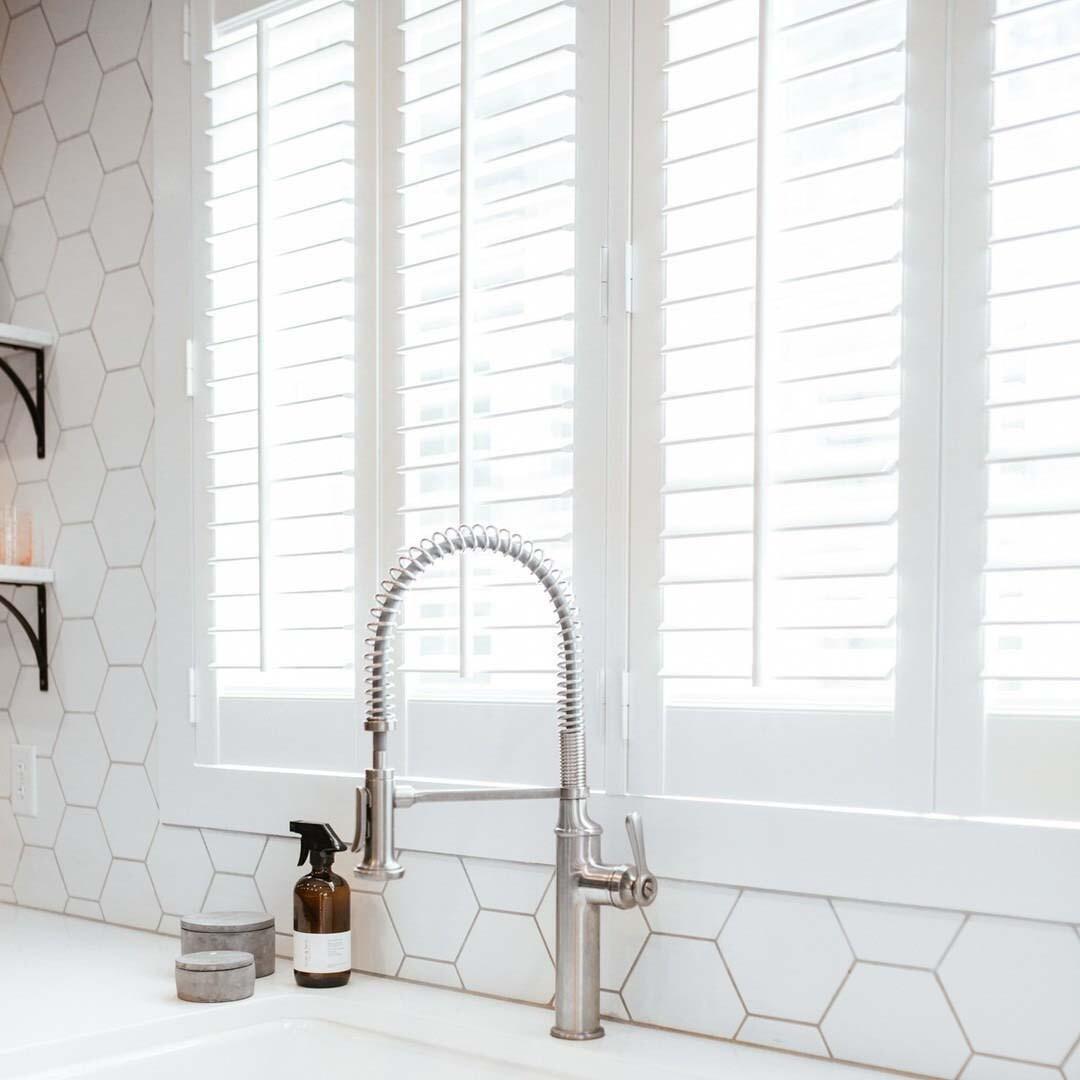 Maintain your privacy and gain total control over incoming sunlight with durable shutters. These shutters are completely open to allow light to fill this kitchen during the day. See what shutters can do for your space.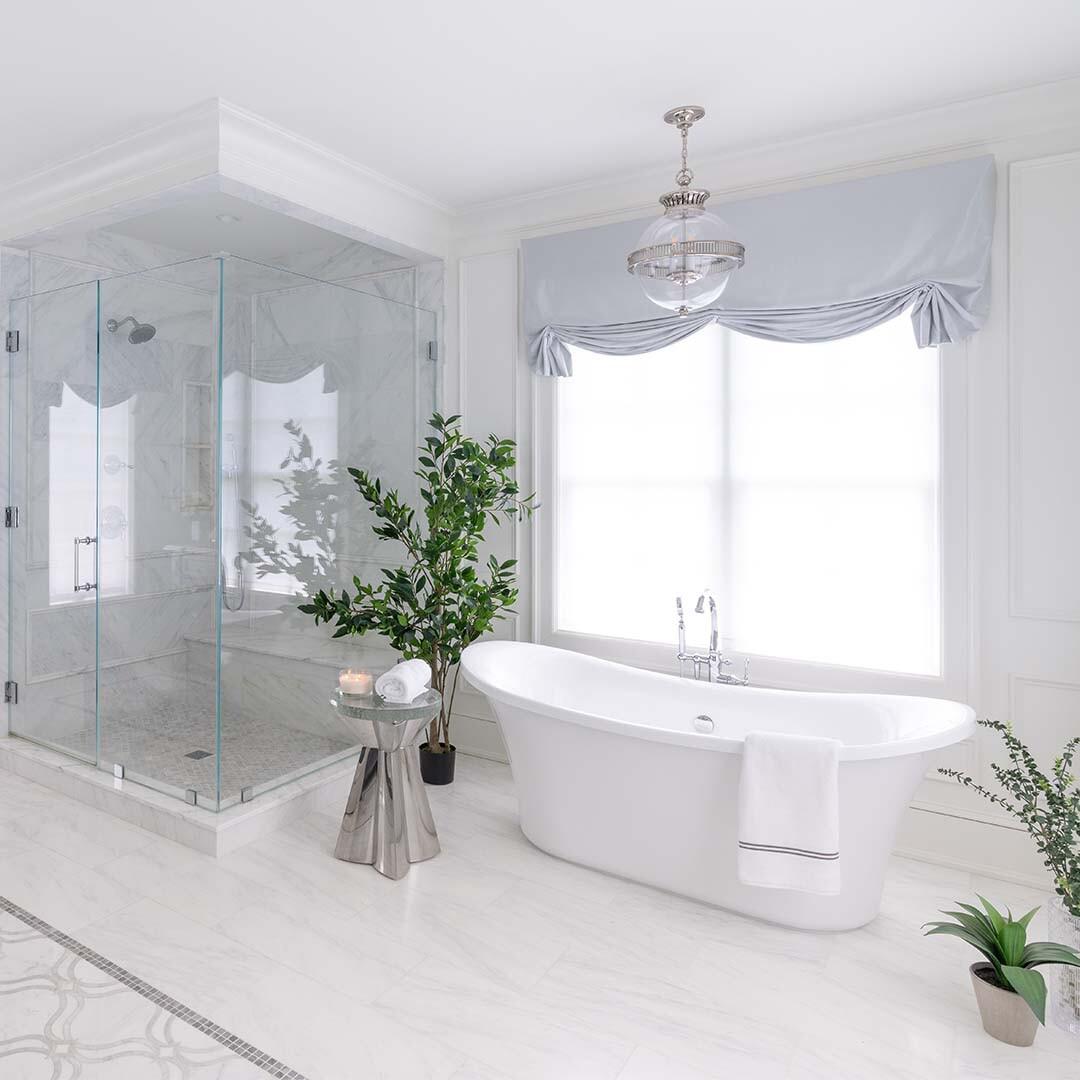 Mixing and matching window treatments create the desired aesthetic you're looking for. Here, these Roller shades provide additional light blocking and enhanced privacy to this bathroom and are paired with a valance for an extra touch of charm.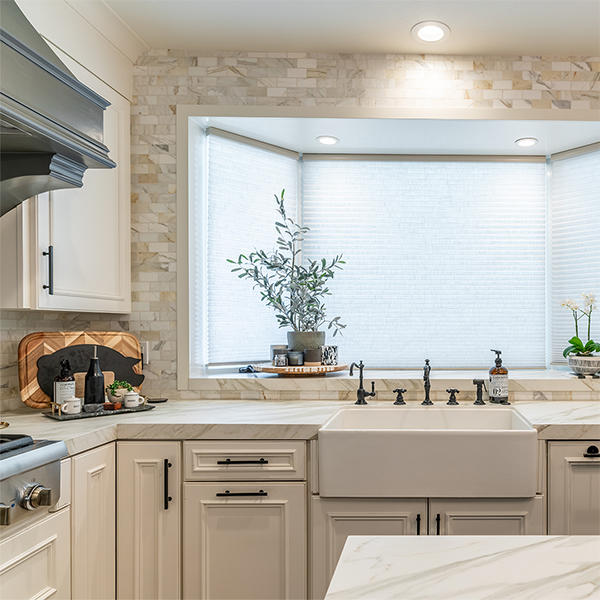 Sure, cellular shades look amazing, but they provide many more benefits as well! These highly customizable window treatments increase your home's energy efficiency and come in a wide range of light-filtering options.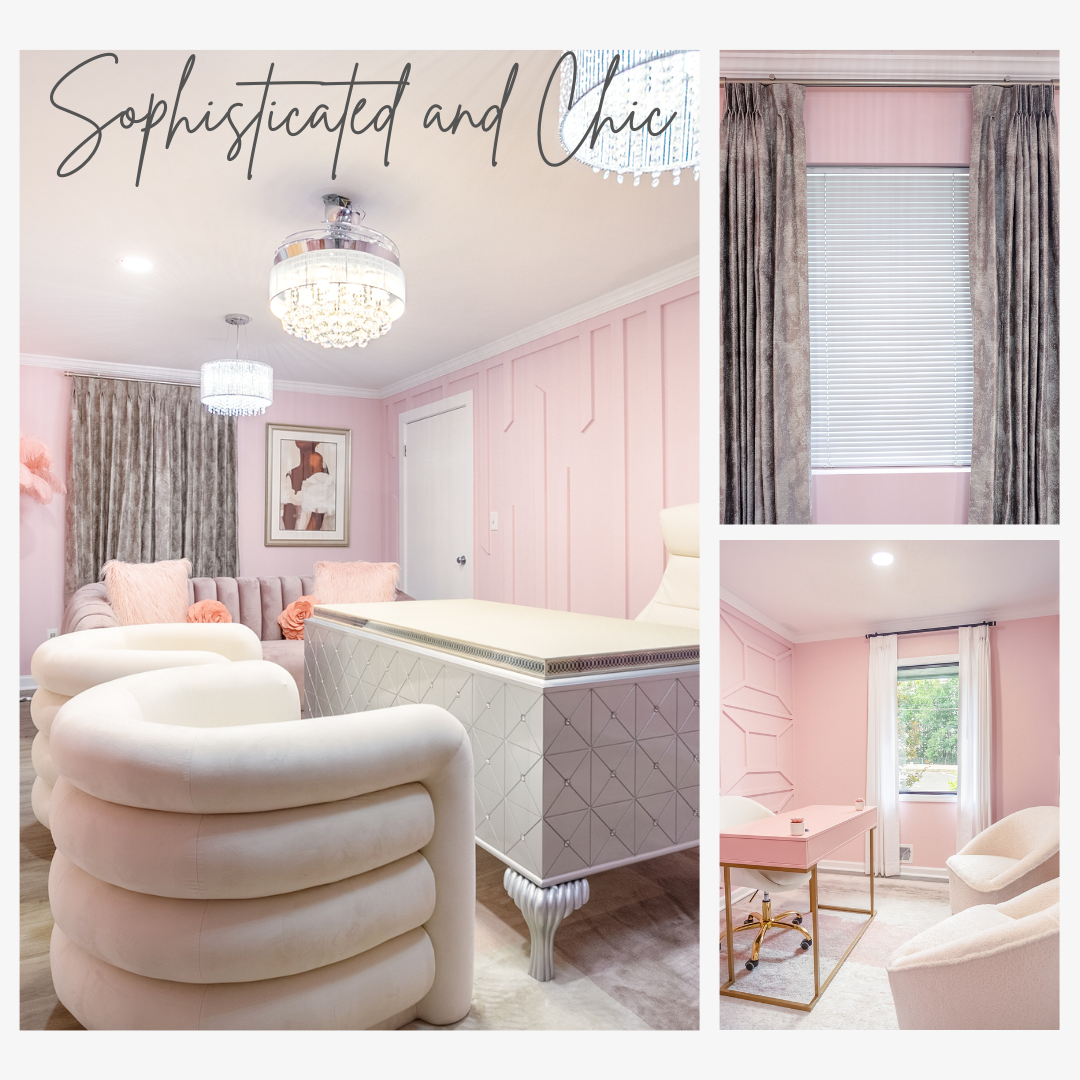 "Elegance must be the right combination of distinction, naturalness, care and simplicity. Outside this, believe me, there is no elegance. Only pretension."- Christian Dior. This business in Smyrna embraces this combination with sophisticated and chic drapery that makes any space feel timeless.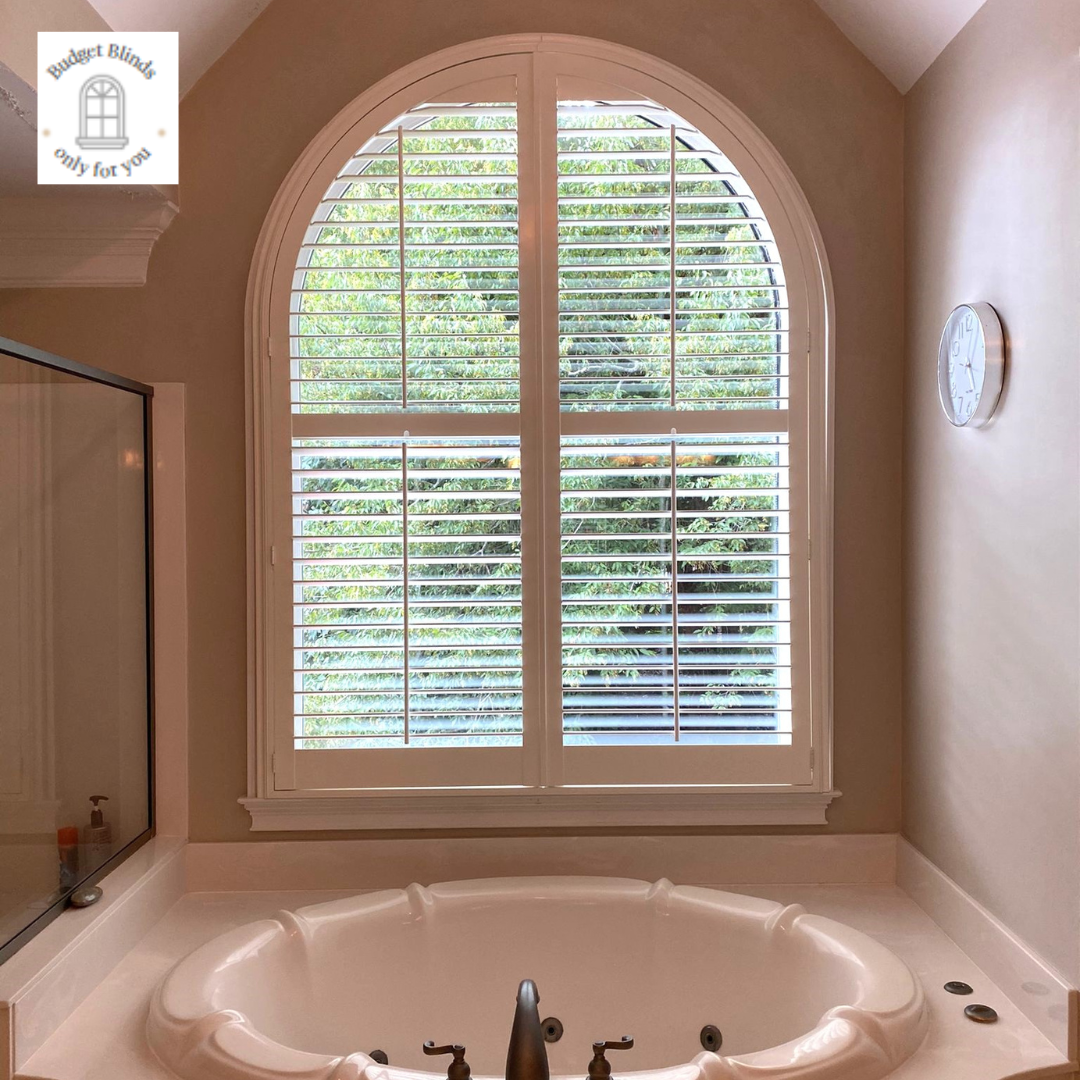 Did you know that our Composite Shutter is not only moisture resistant making it perfect for bathrooms and kitchens, but that it has a Life-time Warranty on the finish?!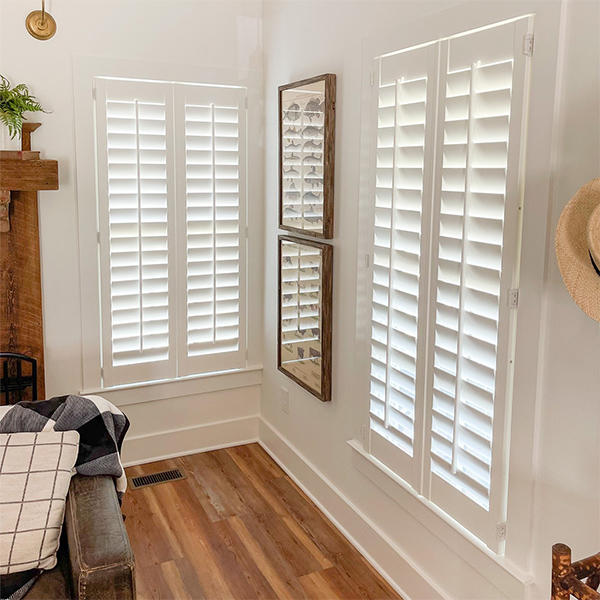 Shutters are an incredibly versatile window treatment that can be crafted to fit just about any sized window. Here, they help to accentuate the hardwood elements throughout this living room and provide unparalleled light control.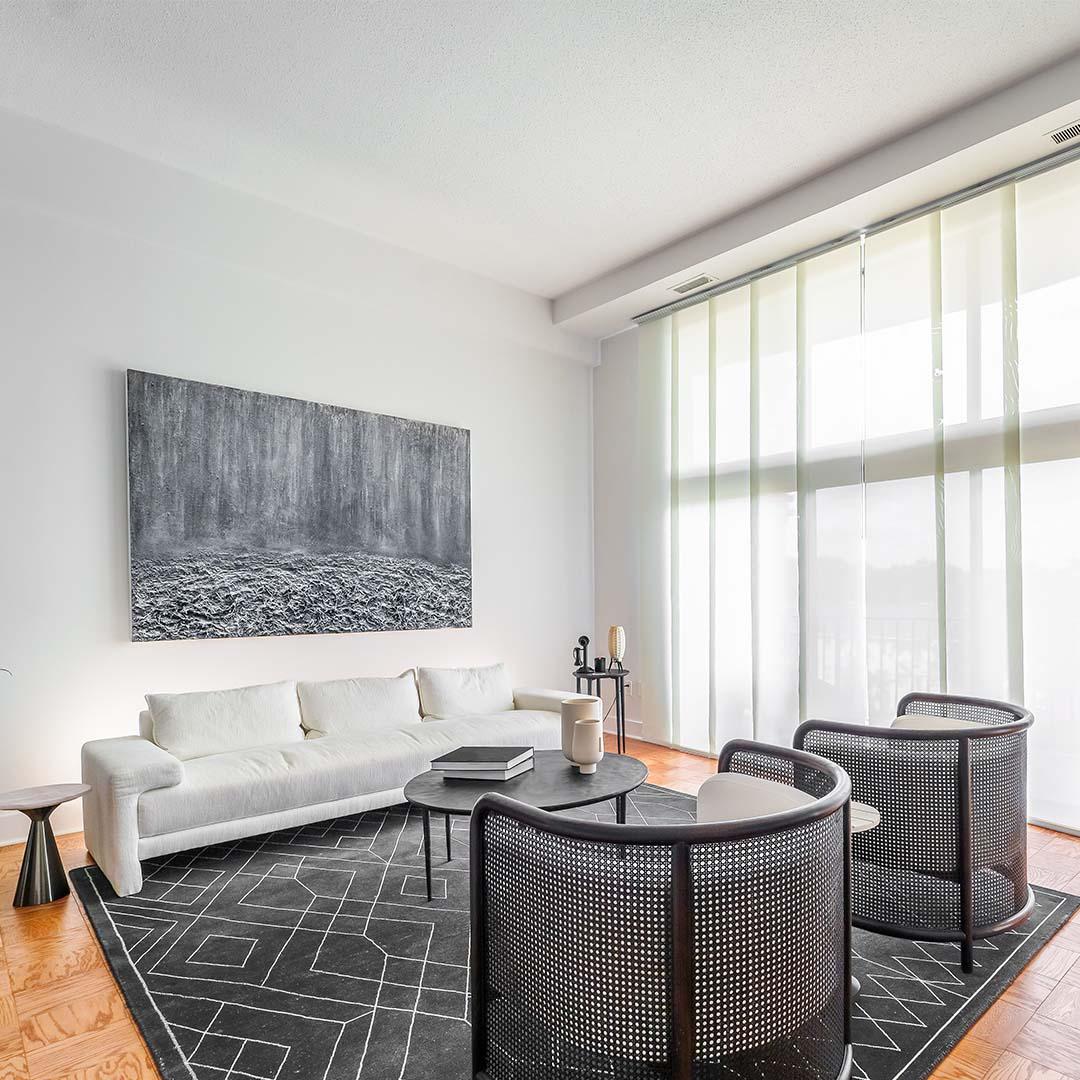 Panel track shades are the ideal choice for people looking for the same utility of drapes but aiming for a modern look. These custom panels provide full coverage but allow plenty of soft light to fill this space.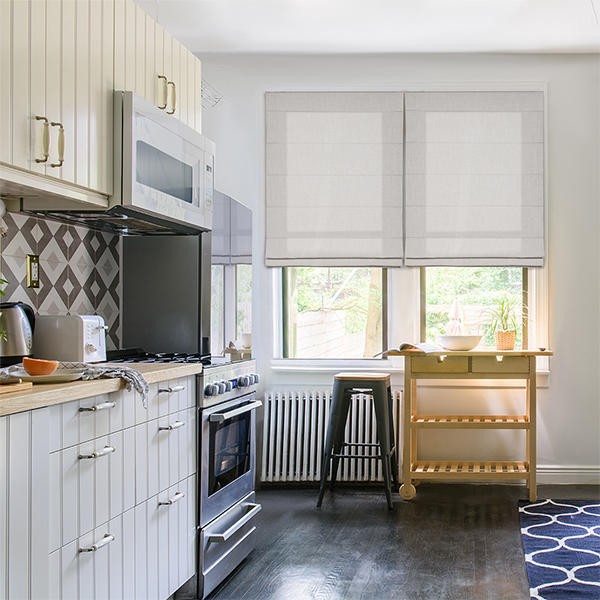 Add a touch of softness to your space with Roman shades. These neutral Roman shades perfectly accent the creamy tones in this kitchen, making for a cohesive design.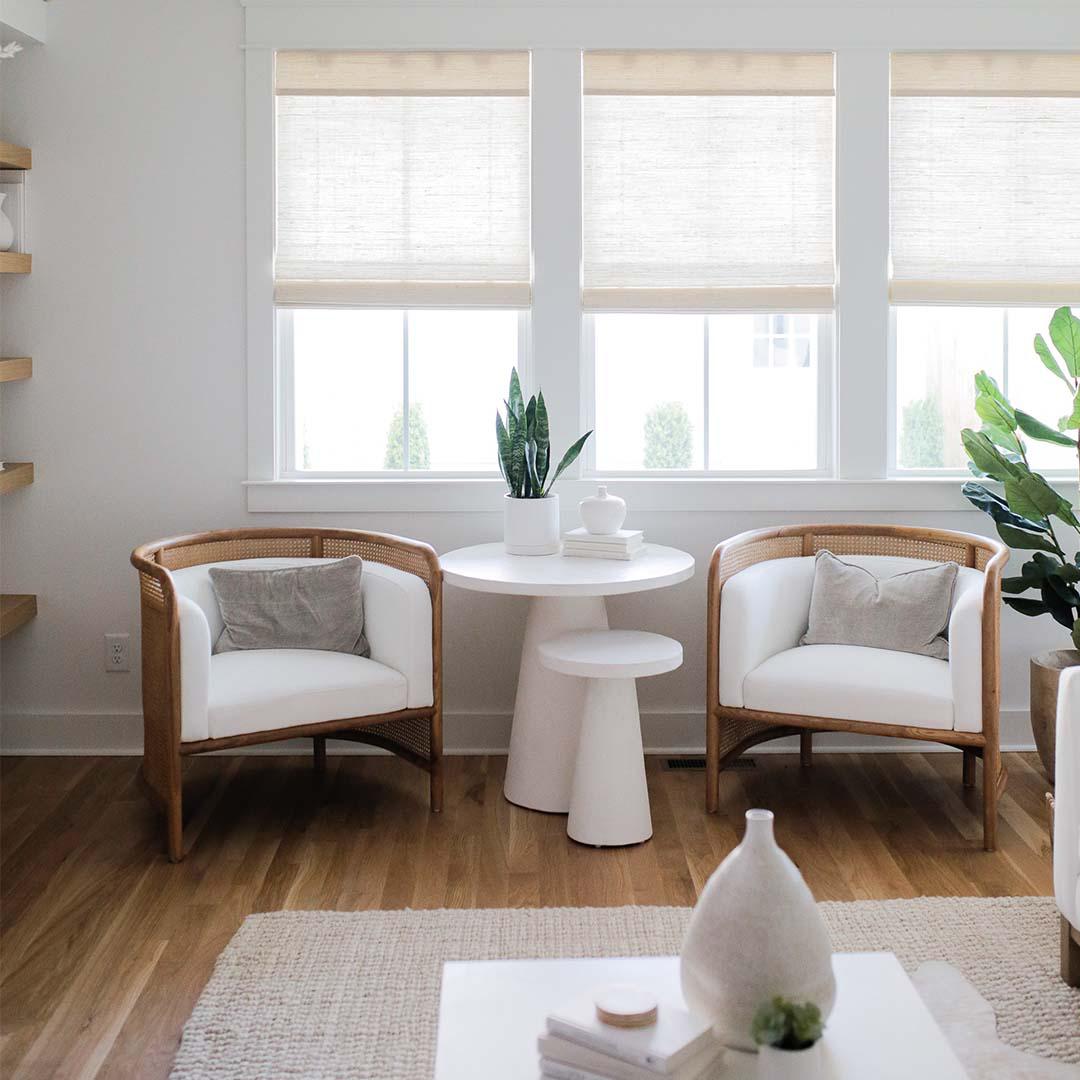 Bring the essence of nature inside your home with the right elements. House plants and wooden furniture are excellent choices, but don't forget those windows! Woven wood shades are a wonderful addition to any space looking to accentuate nature-inspired elements.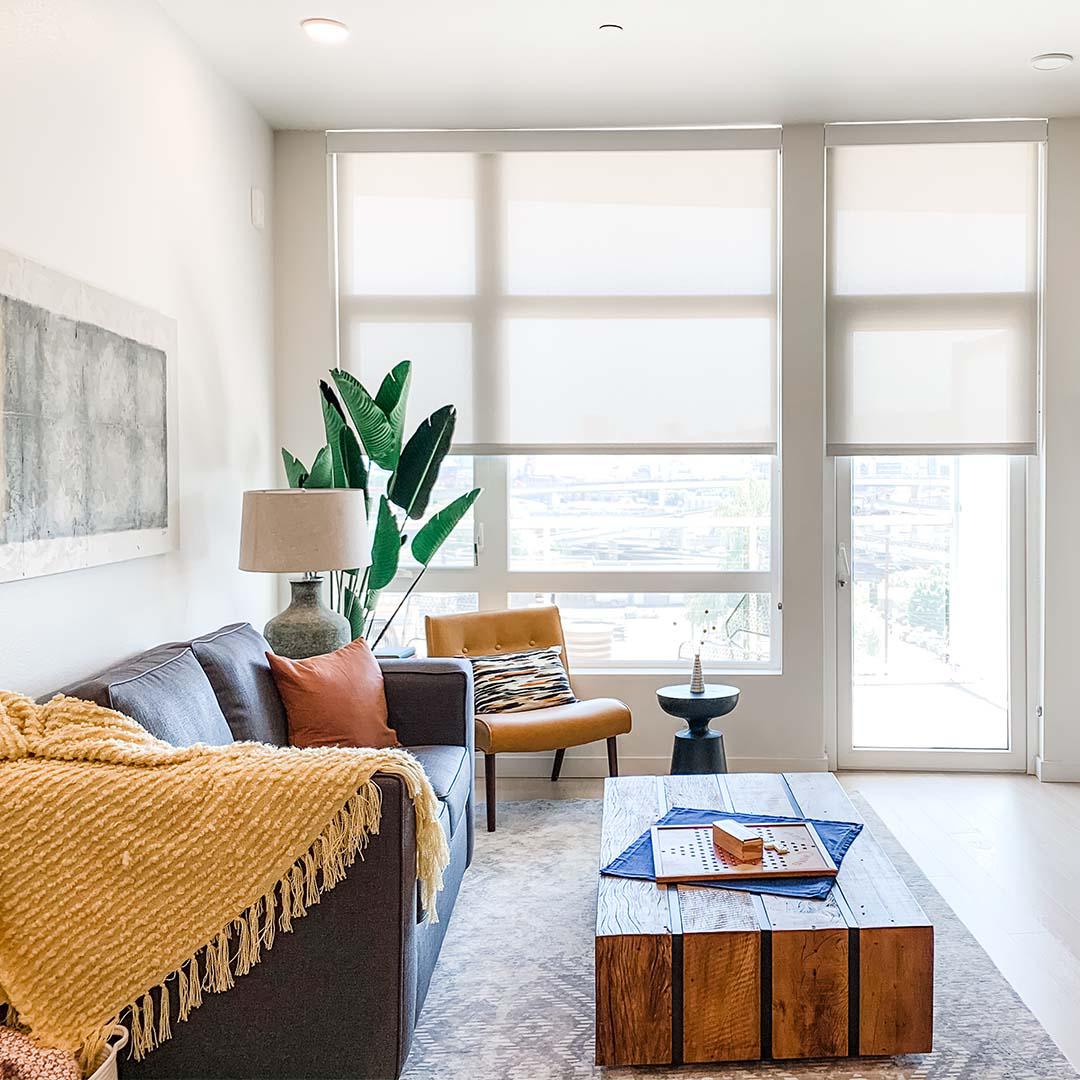 Sheer roller shades help protect furniture from harmful UV rays. They also provide a sleek and stylish look that goes perfectly with any home decor. There are plenty of opacities to choose from, so you can incorporate just the right amount of light you need for your space.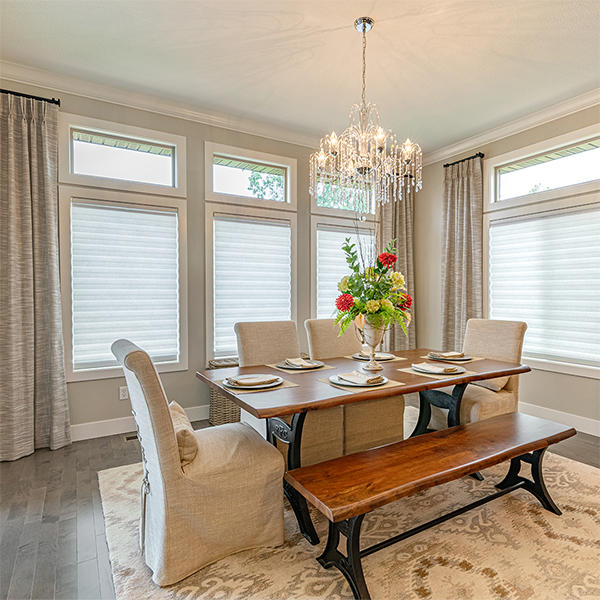 These drapery panels really bolster the elegant look of this dining room, matching the color scheme perfectly. For light-filtering, opt for shades, which allow soft light to enter and illuminate the space.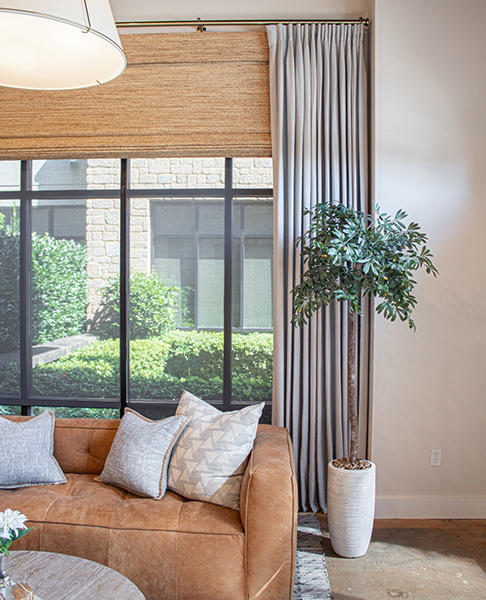 Let's show some appreciation for mixed layers with a natural color palette. Pair inverted pleat styled drapery with our woven wood shades for added functionality and a contemporary look.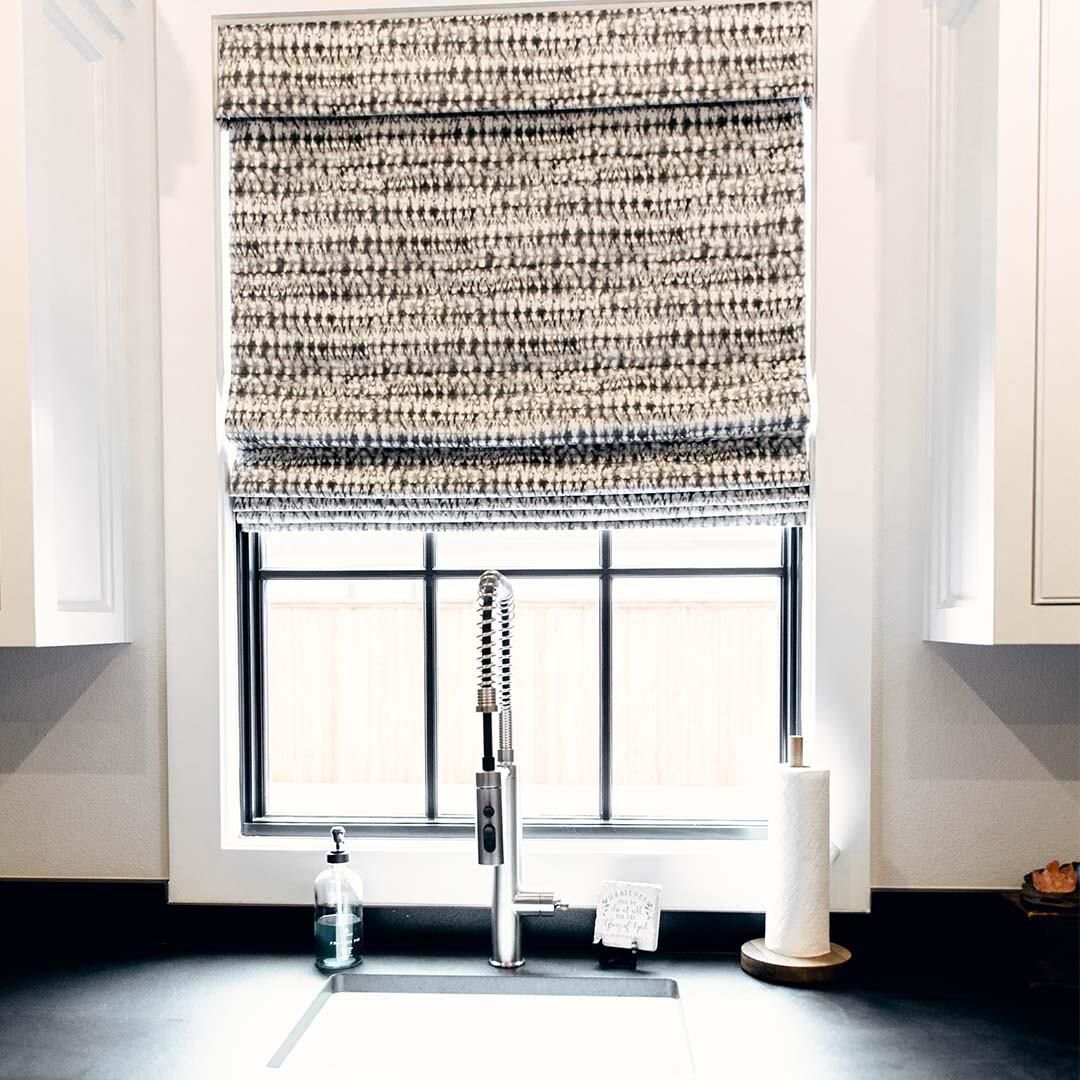 Add texture and style to any space with highly versatile Roman shades. This shade brings a thick, soft pattern that brings warmth and comfort to this kitchen. With a wide range of fabrics, colors and patterns to choose from, there's no limit to what you can design.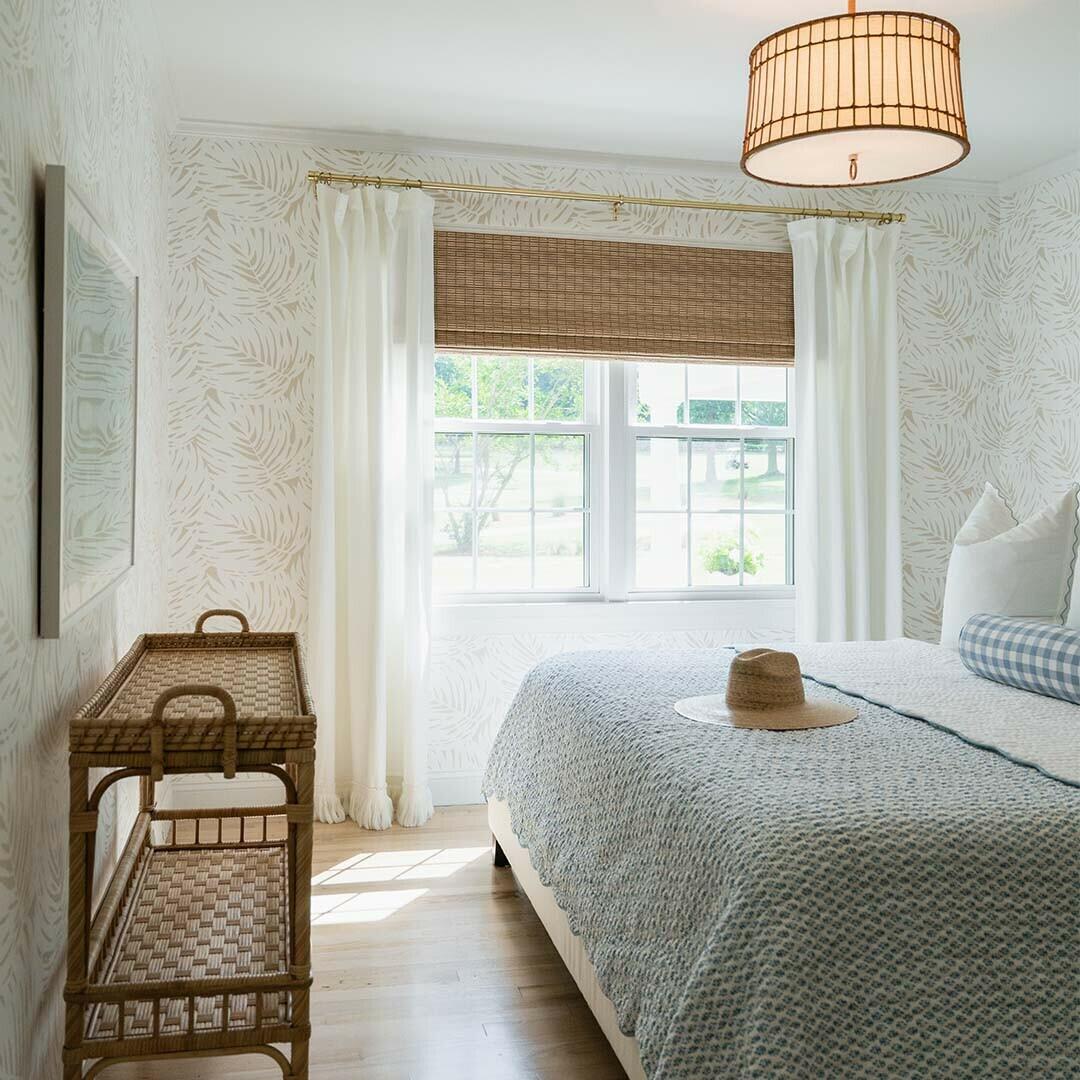 This bedroom is a perfect example of how an all-natural woven wood can complement any space! This customer paired their rattan furniture and statement wallpaper with a warm woven wood shade to create a clean and inviting look.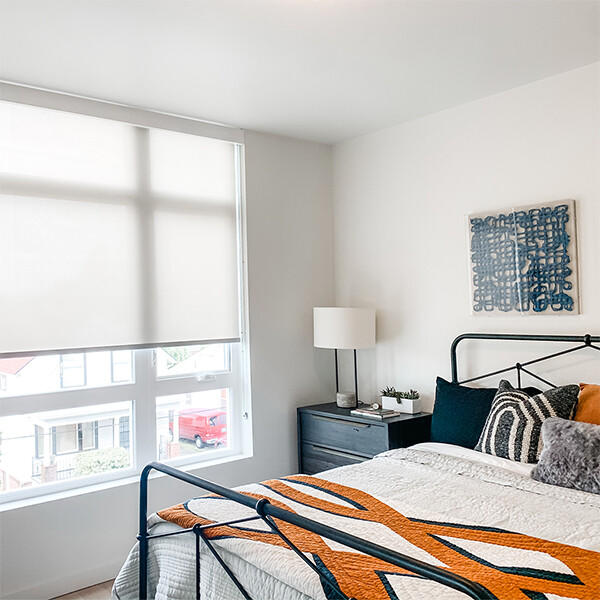 Large windows need a lot of coverage, but you don't always want to waste all that vibrant sunlight. With custom sheer roller shades, you can cover virtually any sized window while still letting soft light enter.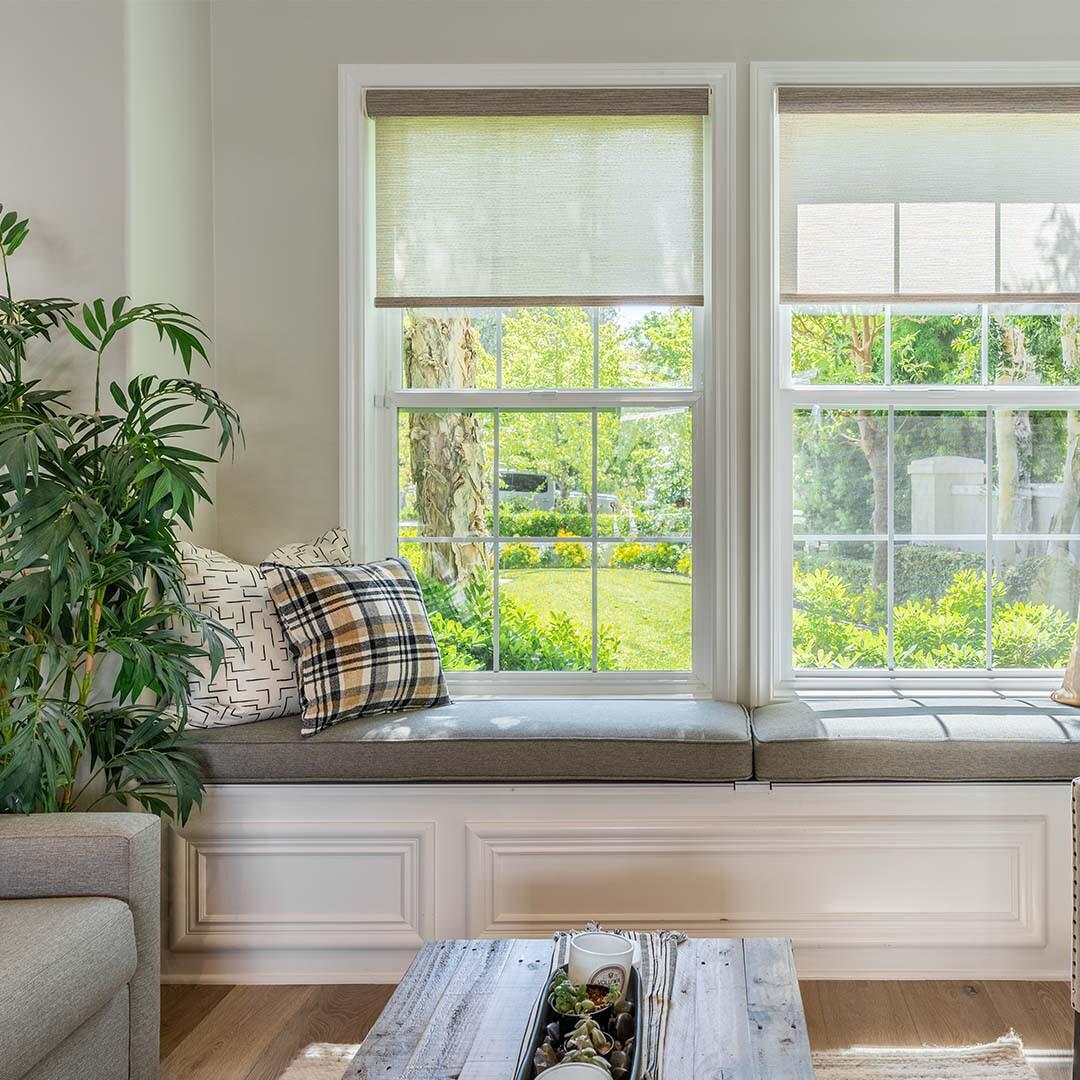 With roller shades, you can control just the right amount of light entering your space. With hundreds of decorative fabric options, your perfect shade is just a phone call away!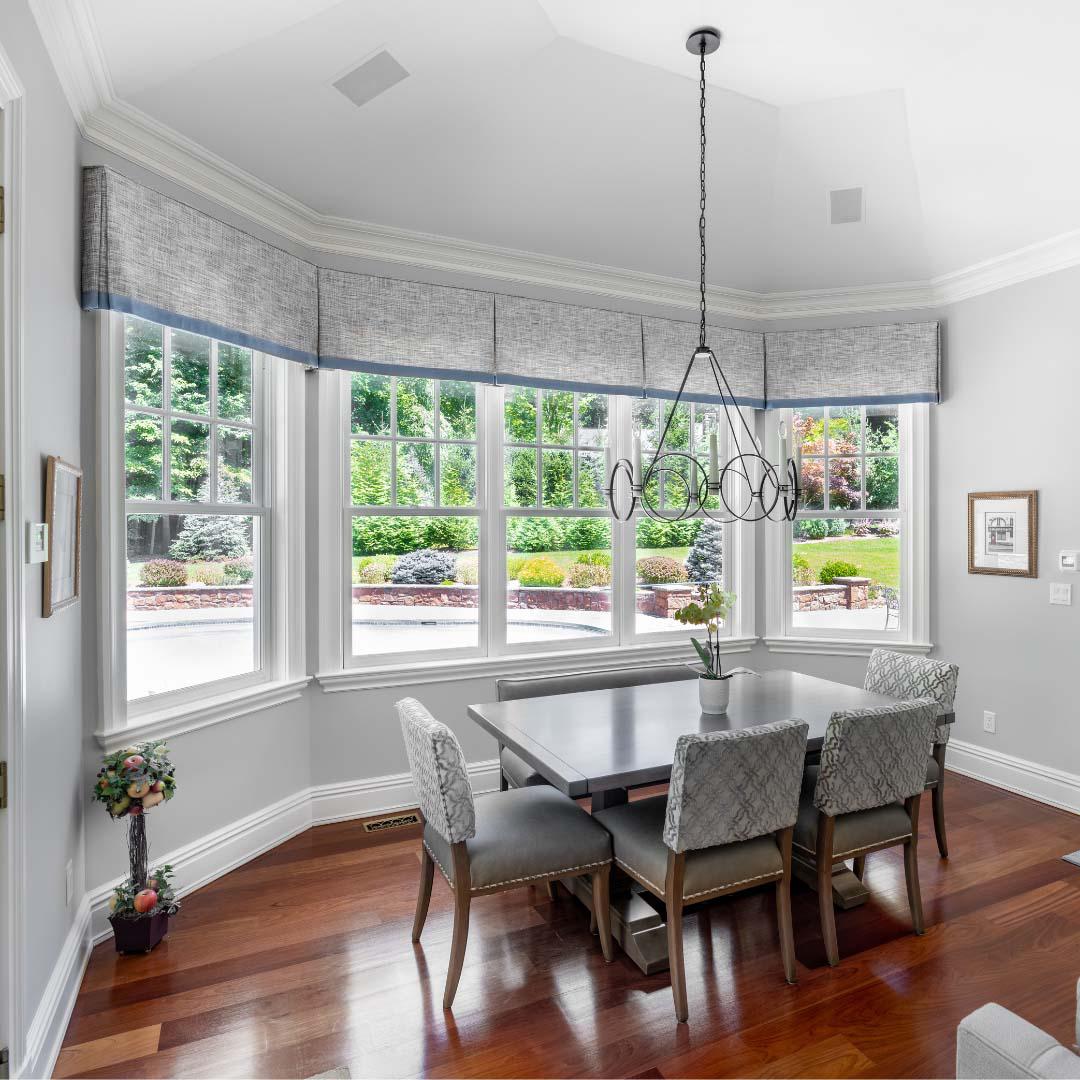 Custom valances are a great way to enhance the look of any room! Dine in style with our board-mounted valances, which come in an eye-pleasing assortment of fabrics and colors perfect for any space.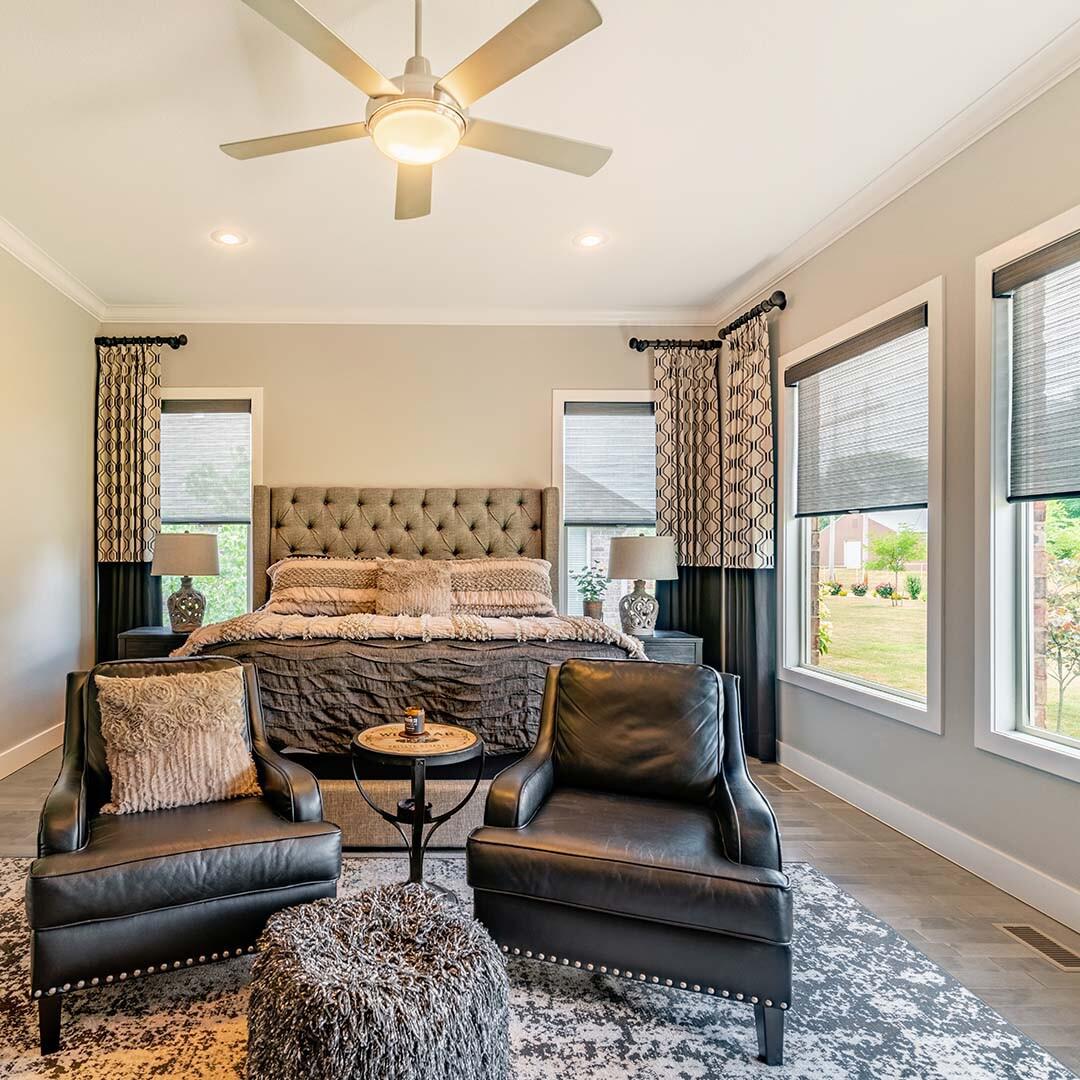 Protect your high-quality leather furniture from harmful UV rays with roller shades. Roller shades are incredibly versatile, blending perfectly into any home design. Here, these shades are combined with patterned drapery panels to match the earth tones in this stunning bedroom.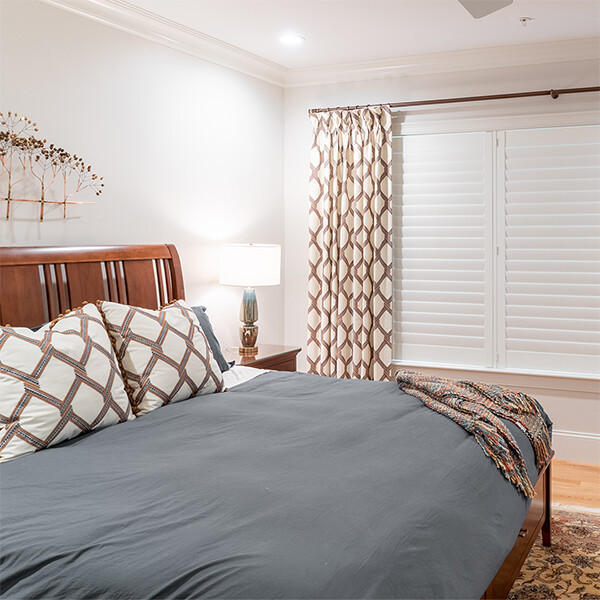 Looking for unparalleled light control and privacy all in one? Combine durable shutters with patterned drapes to enhance your most unique bedroom designs.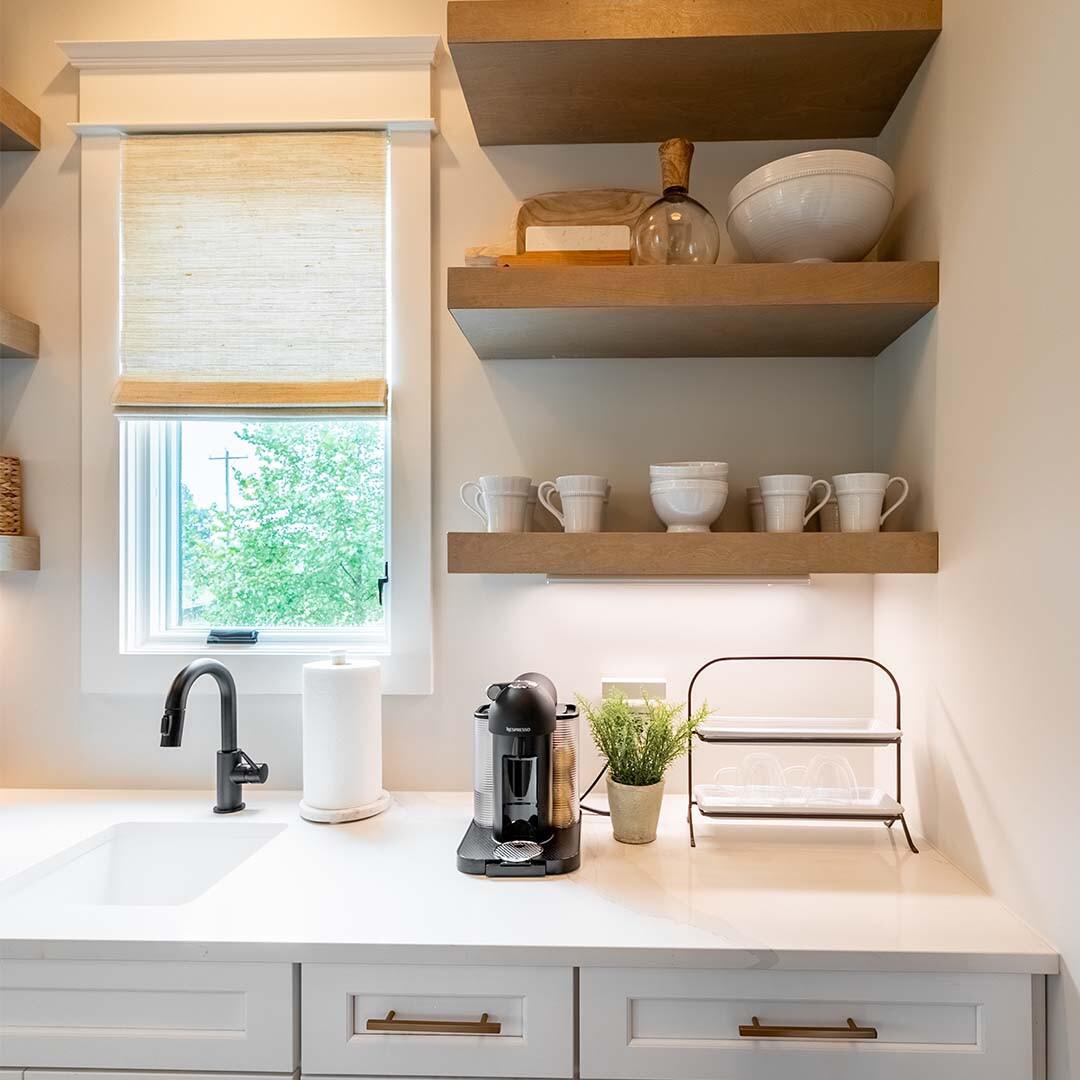 Add plenty of style and texture by installing woven wood shades in your home. For rooms that blend whites and wood grain, woven wood shades help to enhance all-natural elements, bringing a rustic touch to your space.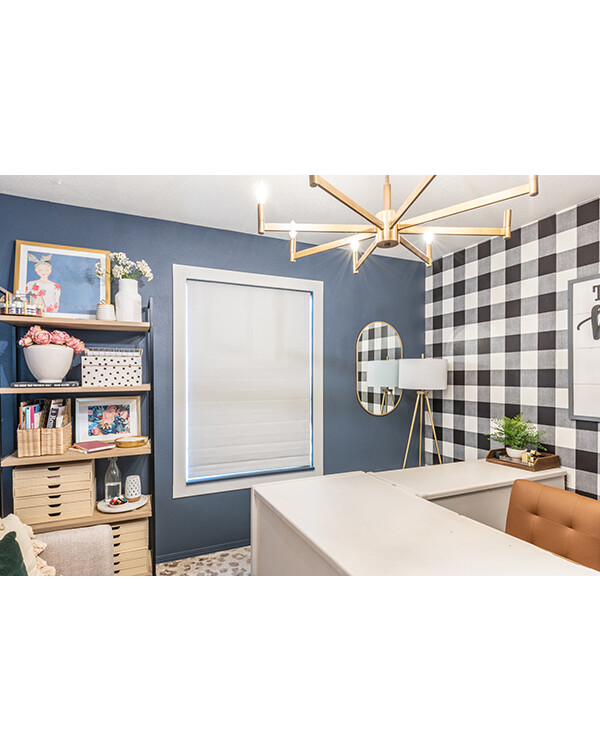 A Roman shade is a great way to highlight your unique sense of style and add a bit of soft texture, without overpowering the rest of your space. Plus, they come in various styles, fabrics and patterns to match any design.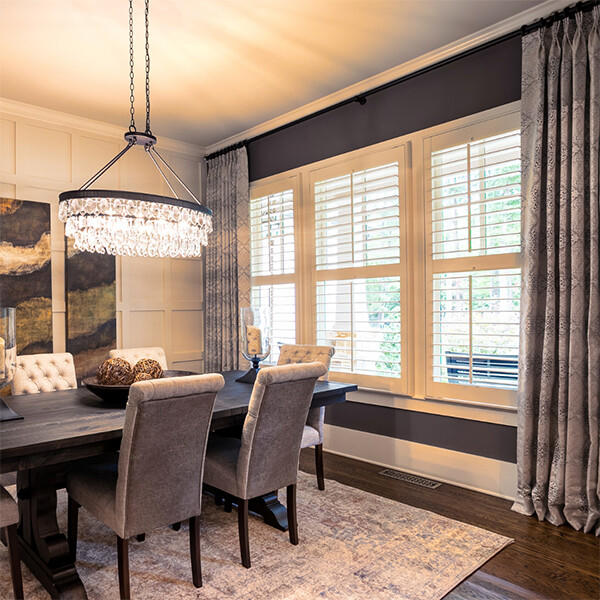 With 30 years of expertise, Budget Blinds knows how to make your house feel like a home. This exquisite dining room combines our shutters and drapes to make an impeccable and stunning look. Our shutters are durable and help provide security while our drapes add height and dimension to the space.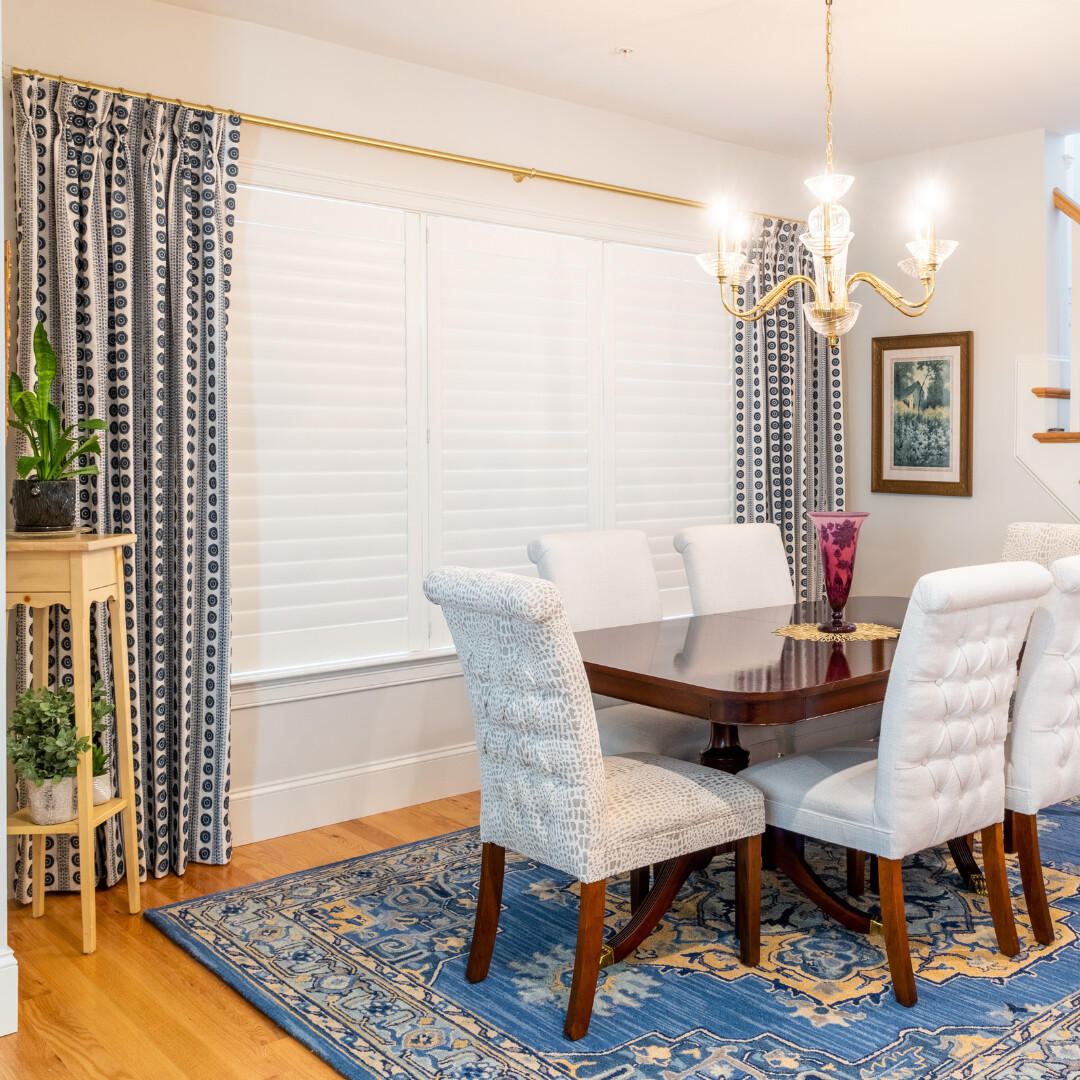 Backed by 30 years of expertise, Budget Blinds of Duluth GA knows how to add those finishing touches. Pro tip: combining shutters and drapes allows you to have full light control and complete privacy in your room.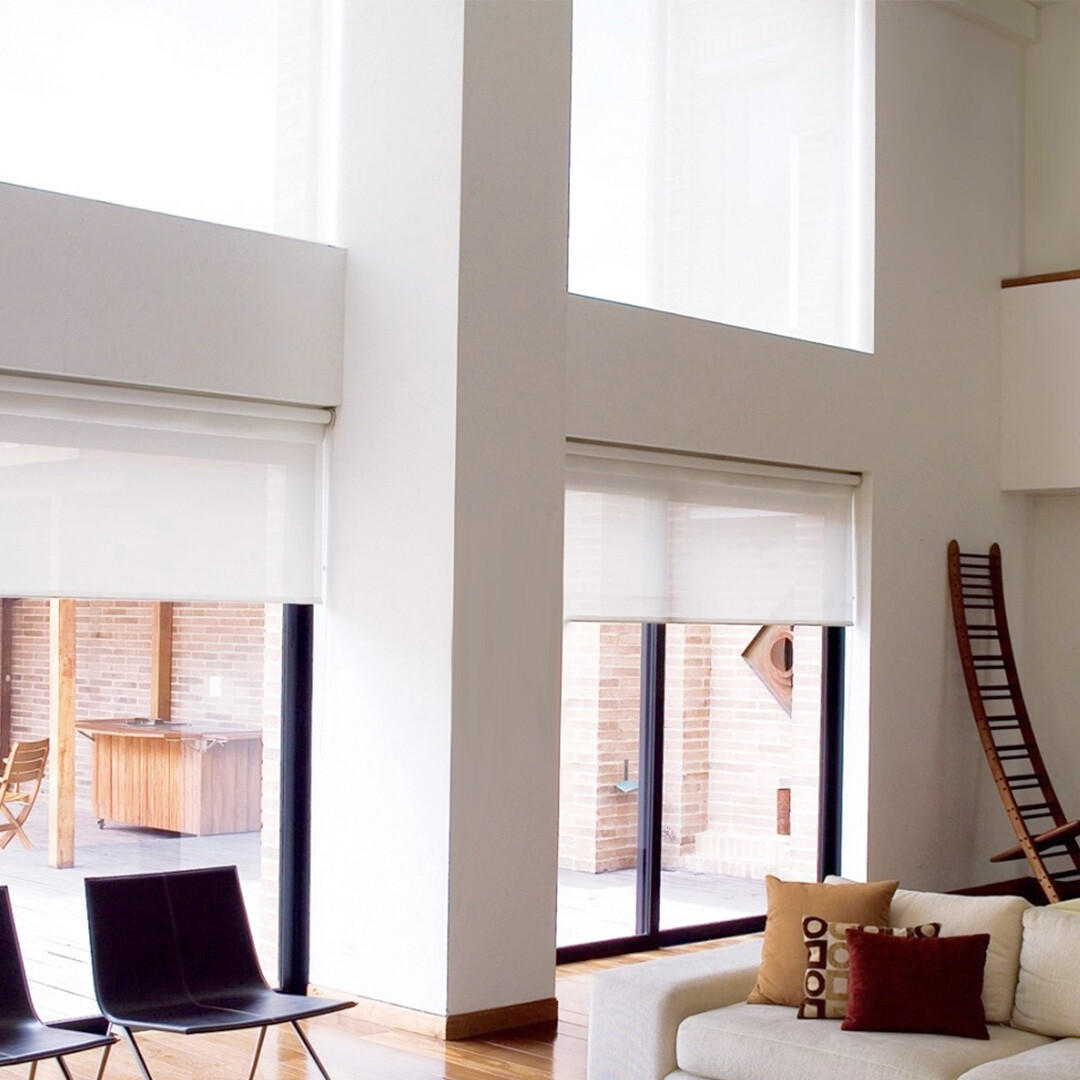 Looking for shades that won't make your space feel cluttered? Roller shades are practical and easy to maintain, making them the perfect solution for any home. When rolled up, they tightly stack, allowing your space to feel more open and airy.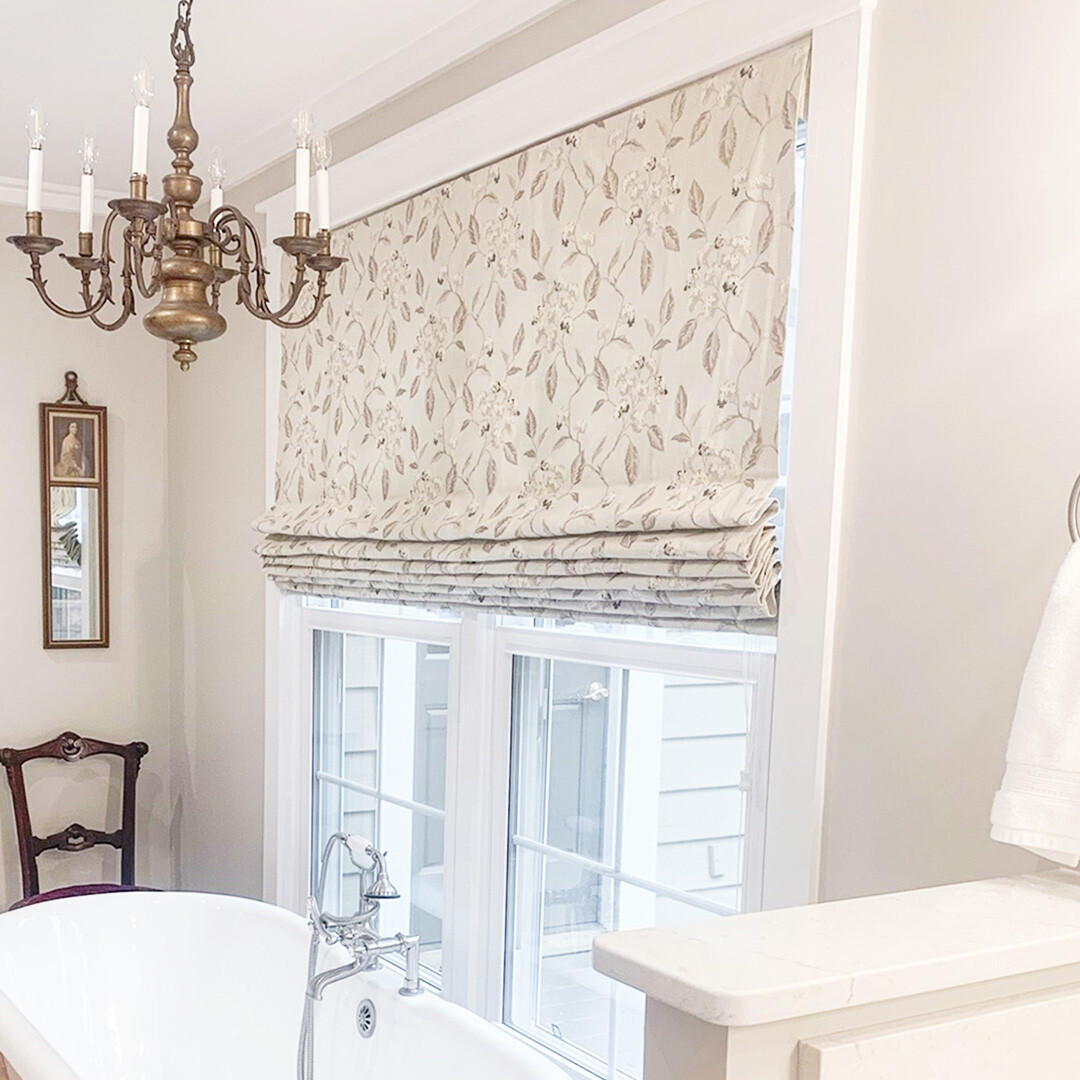 Did you know? Roman shades remain flat against the window and straight down when closed. When raised, they form soft pleats that stack up neatly at the top of the window.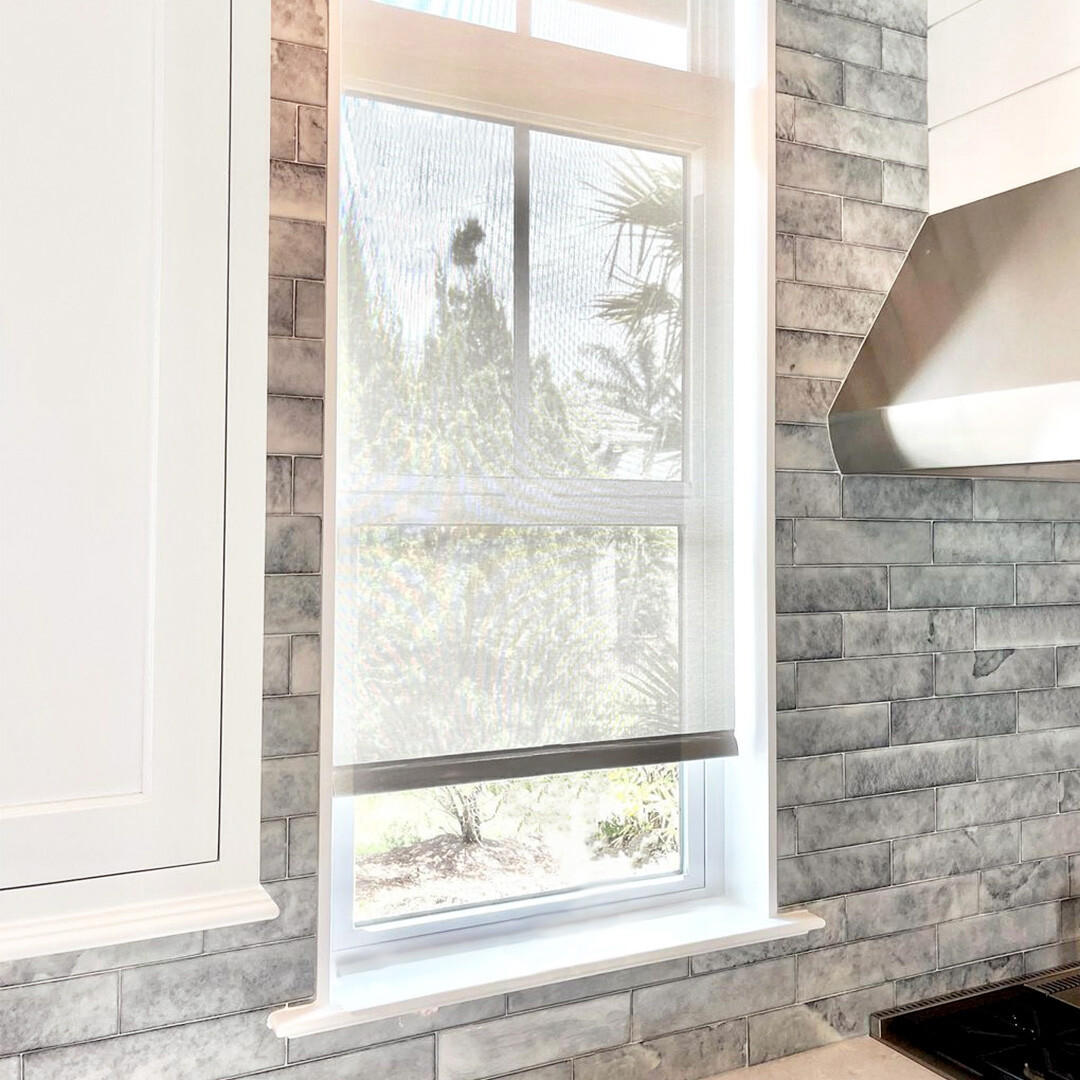 Reduce glare while keeping the view with solar shades! Solar shades add refined style while providing valuable UV protection from sunlight, protecting your flooring and furniture from fading or cracking.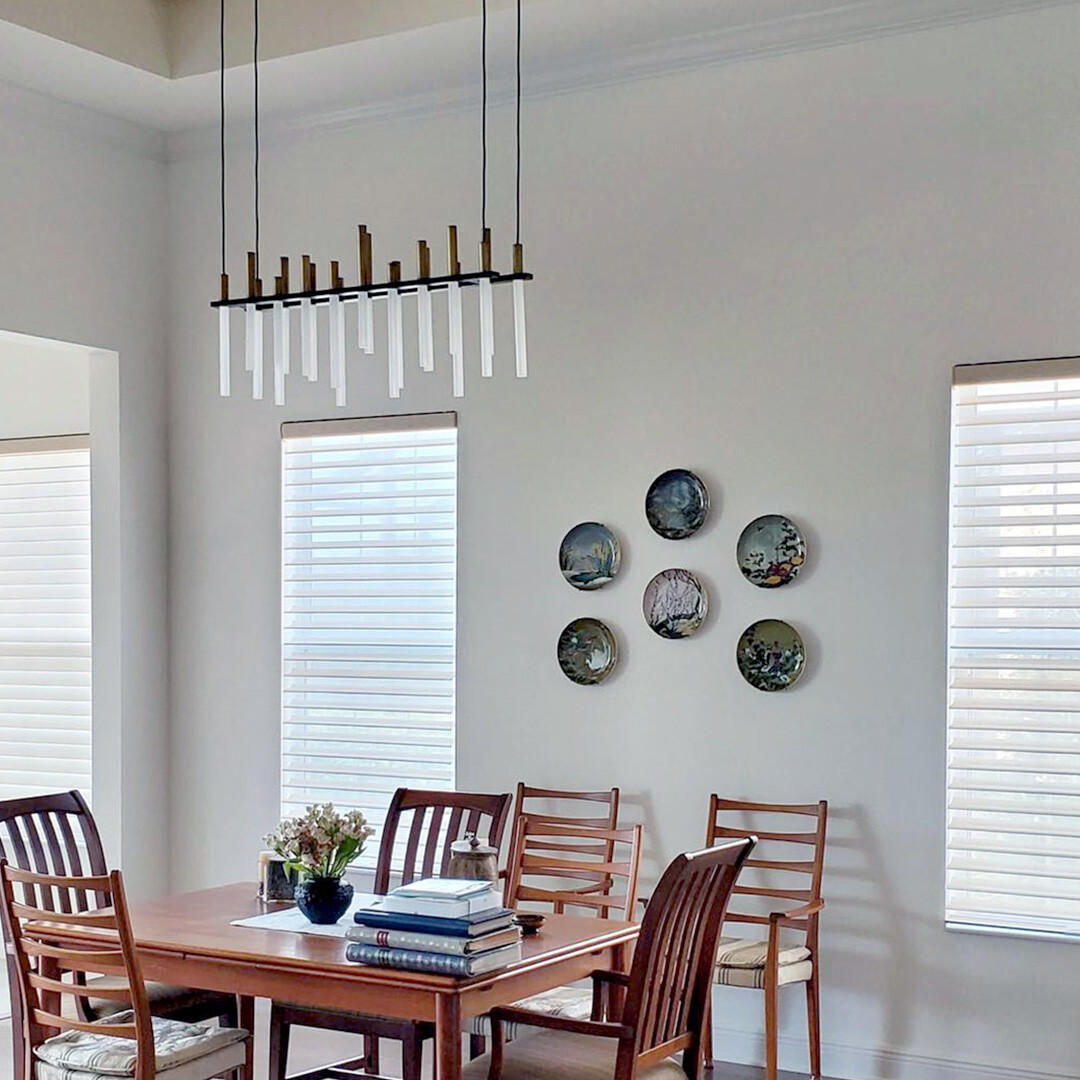 Get the classic look with all the benefits! Window shadings allow a tailored, precise fit to any window creating the perfect look for any room. Adjusting the vanes diffuses harsh sunlight and creates beautiful ambient light throughout your home. Close the vanes to soften sunlight and get more priva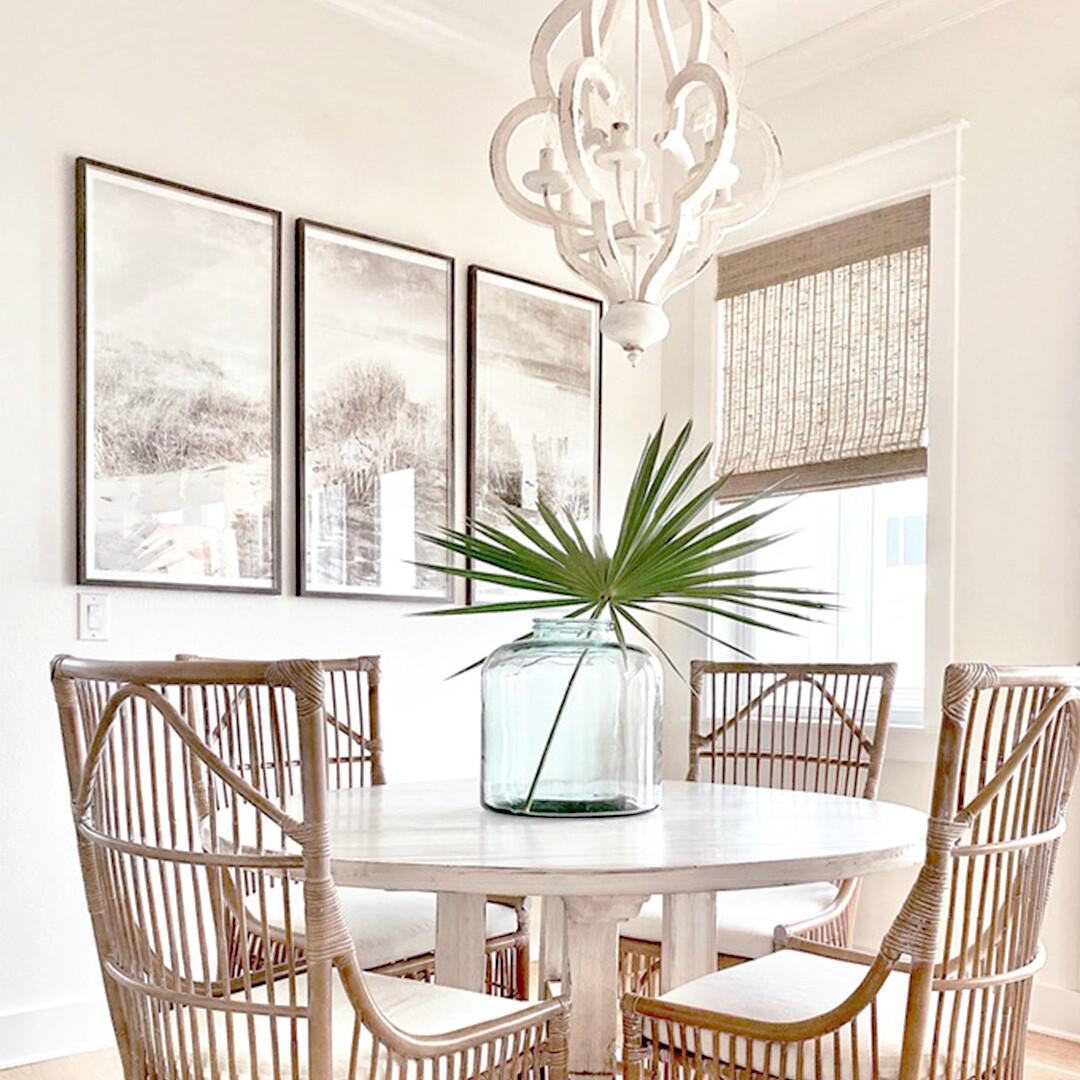 Bring a touch of nature into your home! Woven wood shades are made from natural materials like bamboo and jute to give your home a unique flow of light into your room. While also perfectly matching your unique taste!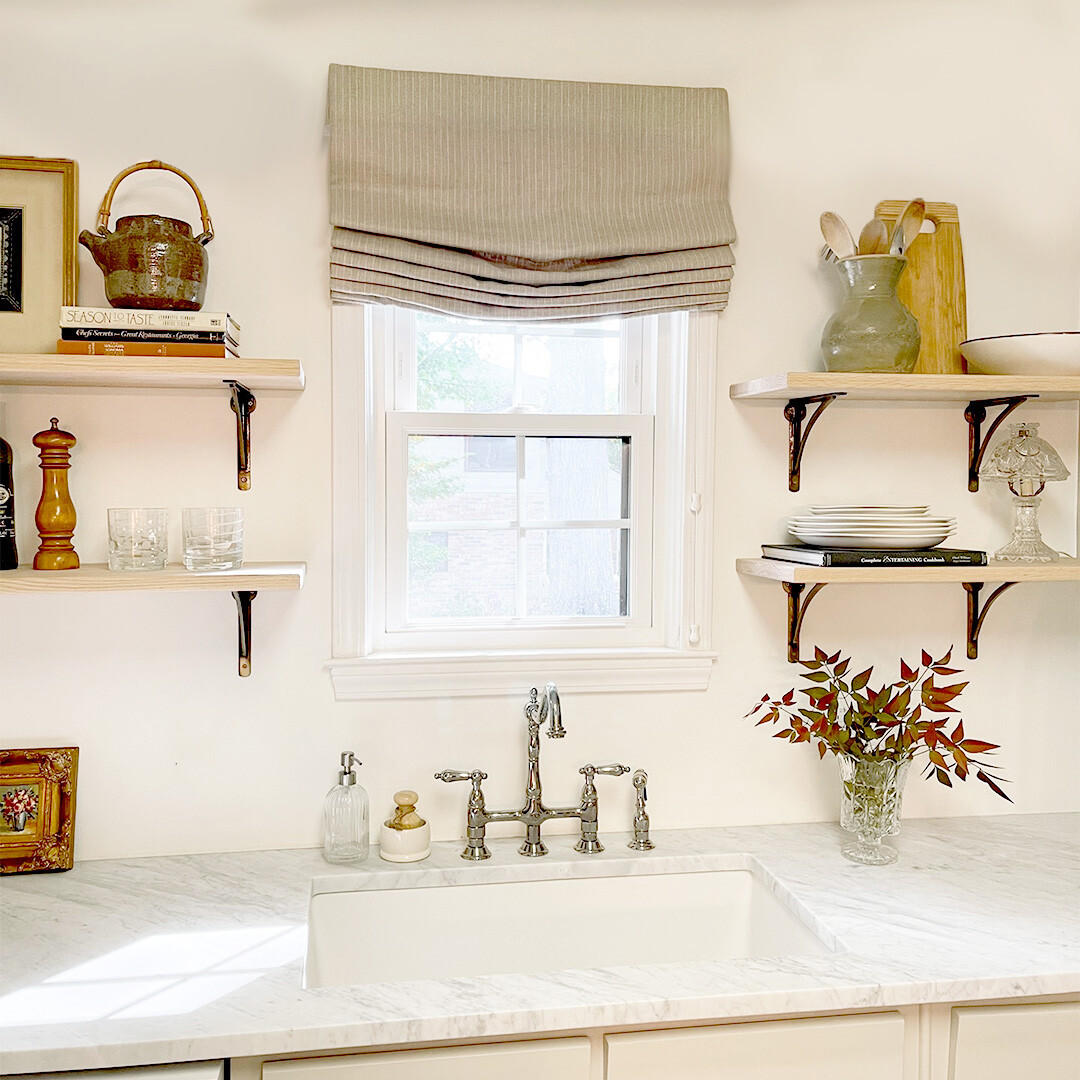 Select from a wide range of fabrics in an array of on-trend colors, textures and patterns. Plus, they can be lined for enhanced light-filtering or room-darkening features!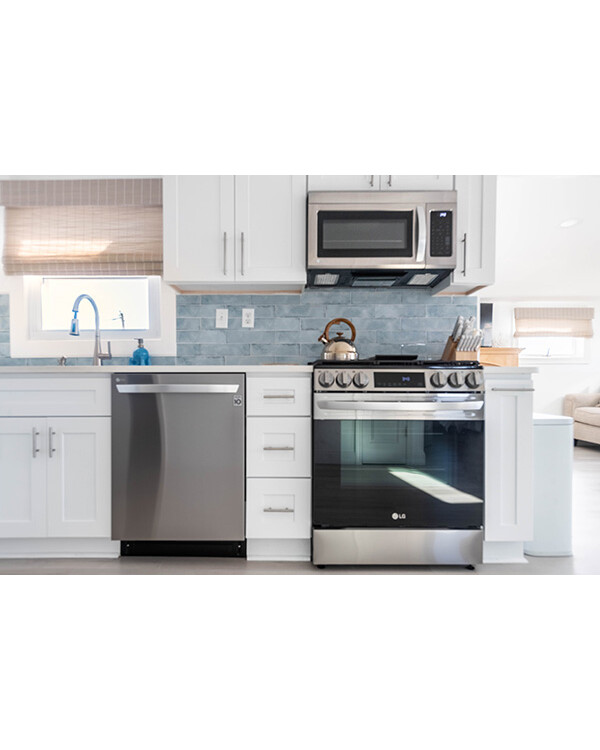 Are you in the market for a window treatment that's environmentally-friendly? Woven wood shades are made from renewable materials like bamboo and jute, making them the perfect choice for adding an organic appeal to your home.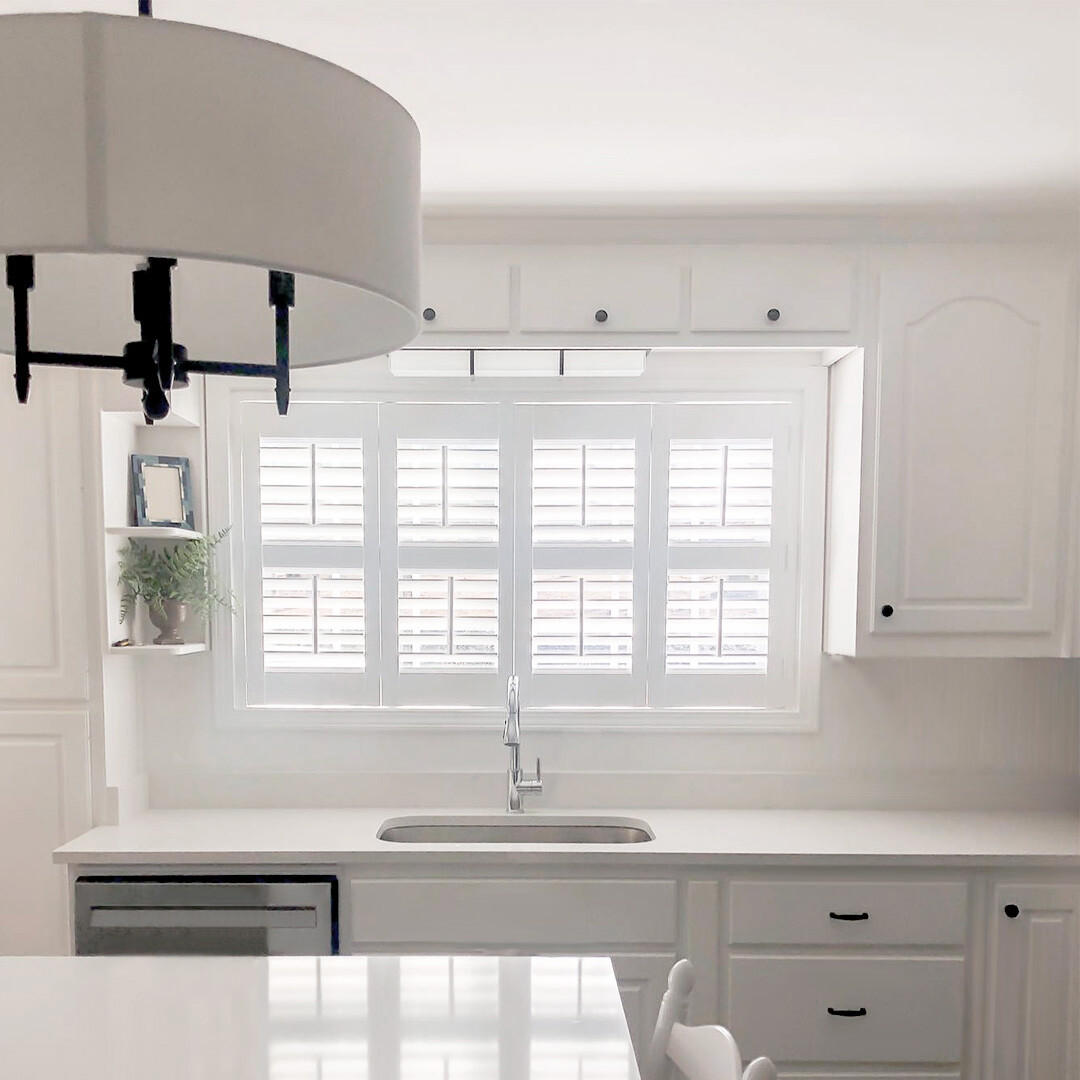 Classic, timeless, and sturdy. Just a few words to describe our shutters! These shutters are easy to operate and their cordless design makes them ideal for homes with children or pets.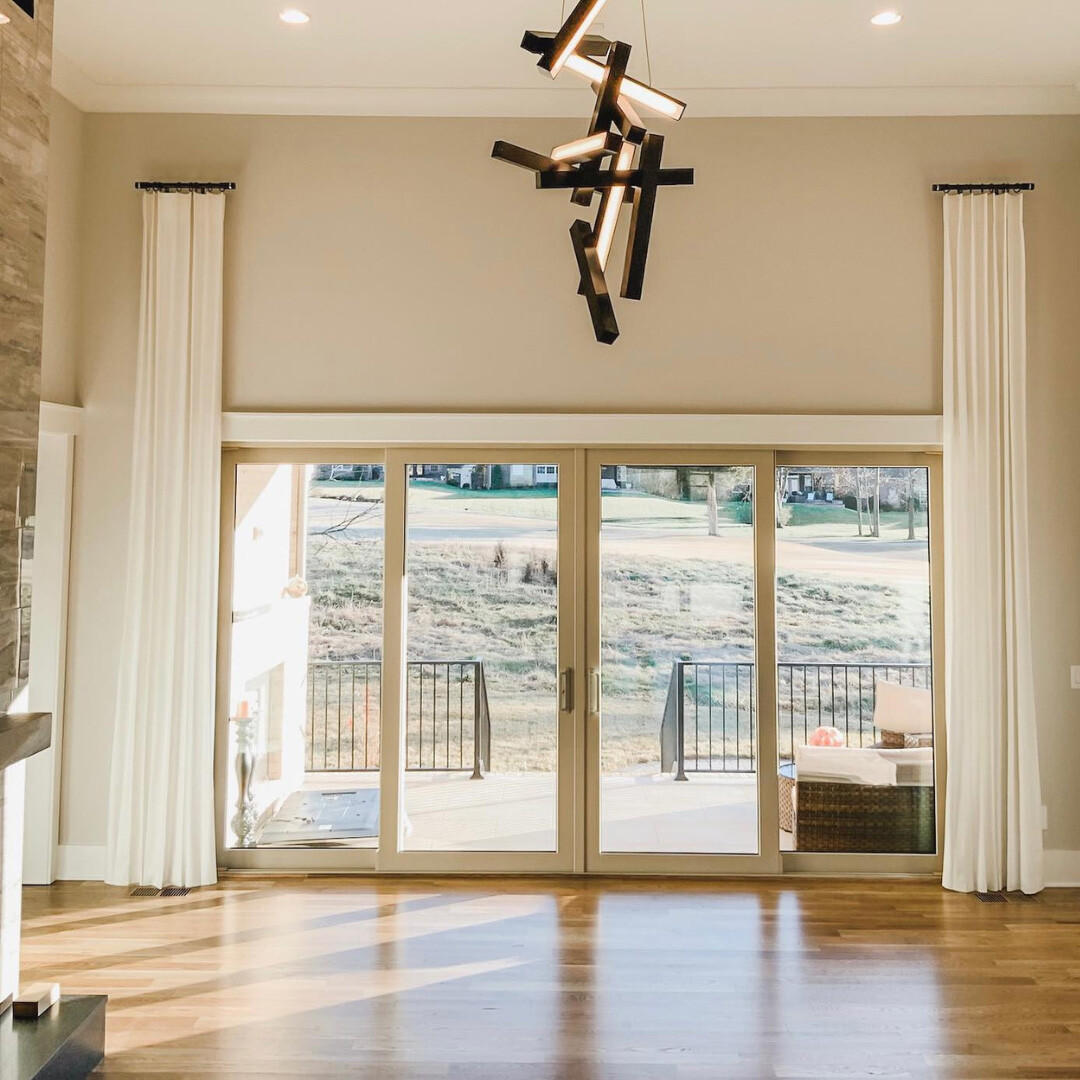 If you are looking to upgrade your home's interior design, our drapery comes in a variety of styles, colors, and functions to fit the way you live your life!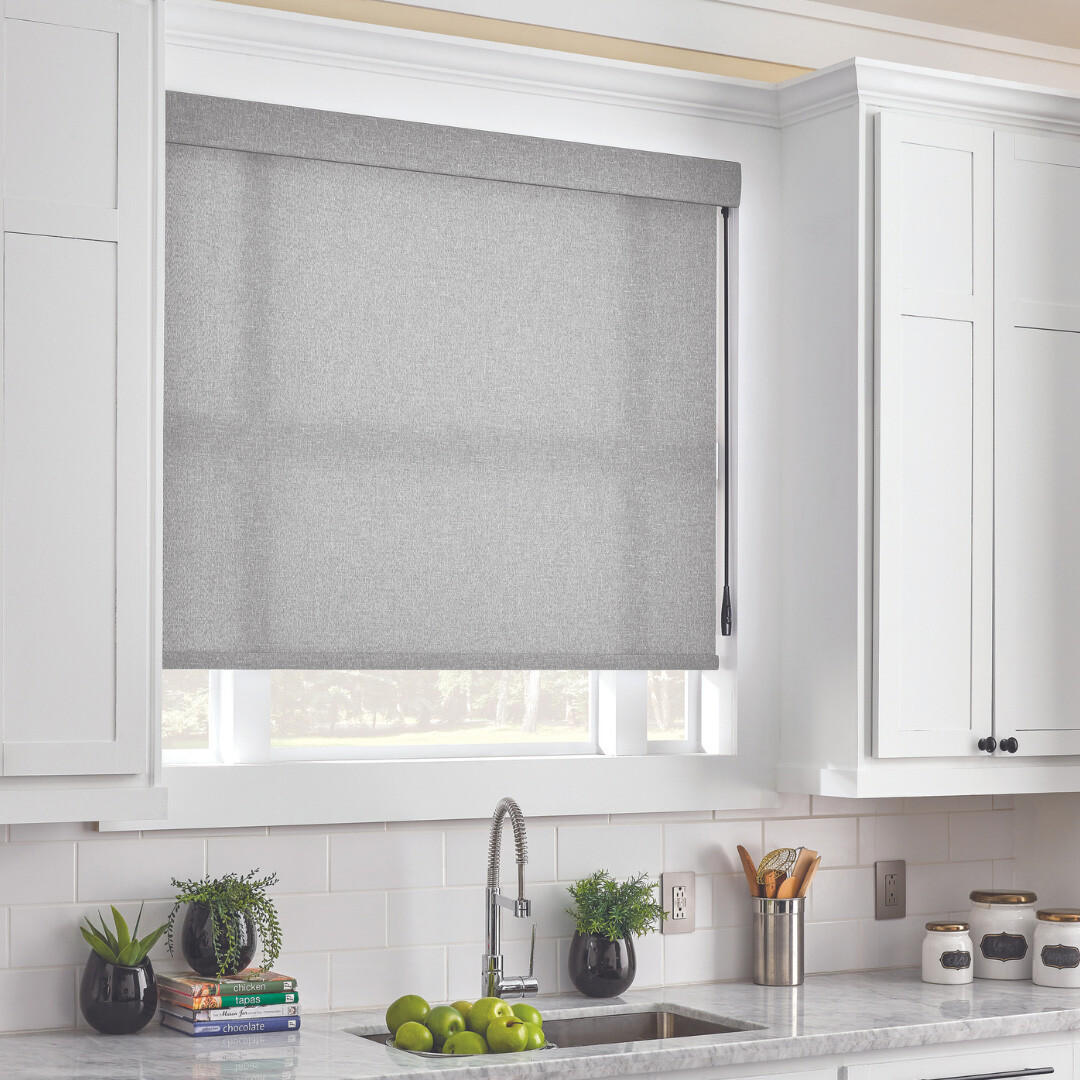 We are loving the coordination of colors in this kitchen! With a wide variety of styles and fabrics, from classic to bold, we have the perfect match for your interior decor!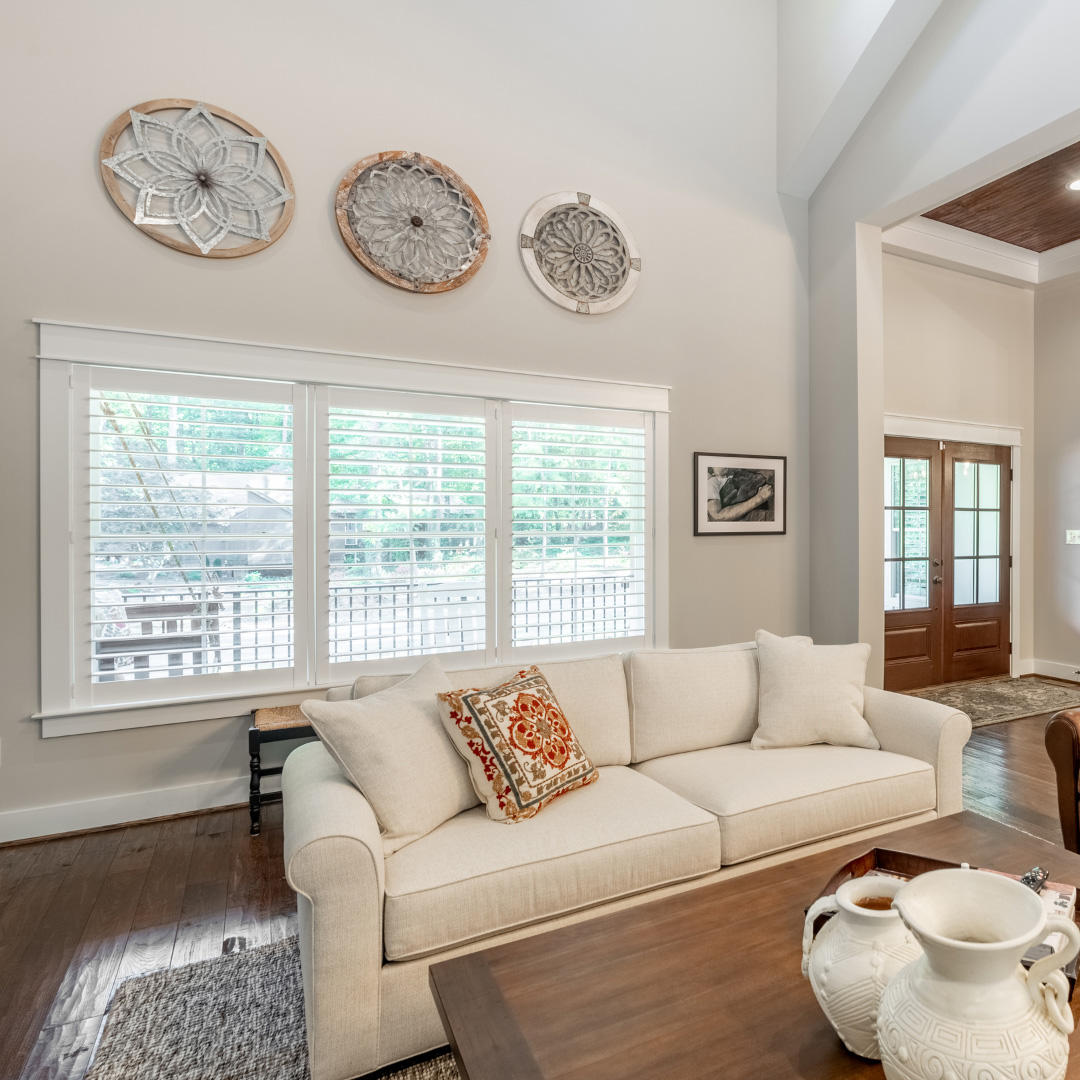 Window coverings that are easy to clean? Look no further than shutters! This sturdy product requires little maintenance and the design makes them easy to clean!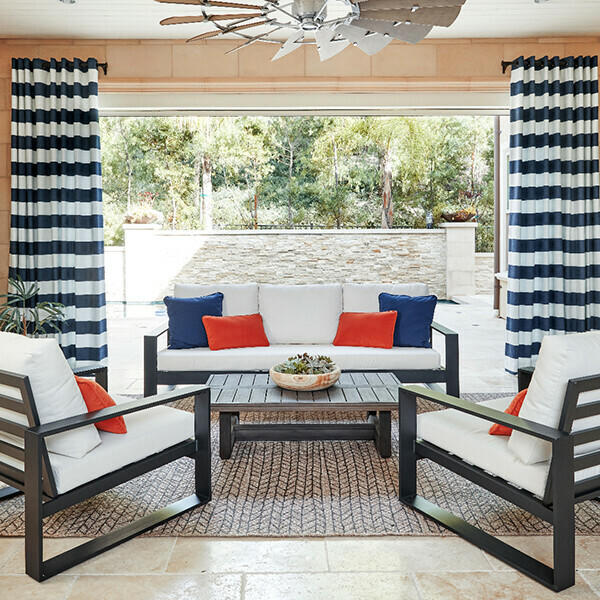 Outdoor drapery is durable enough to withstand the elements and can provide extra shade when entertaining guests.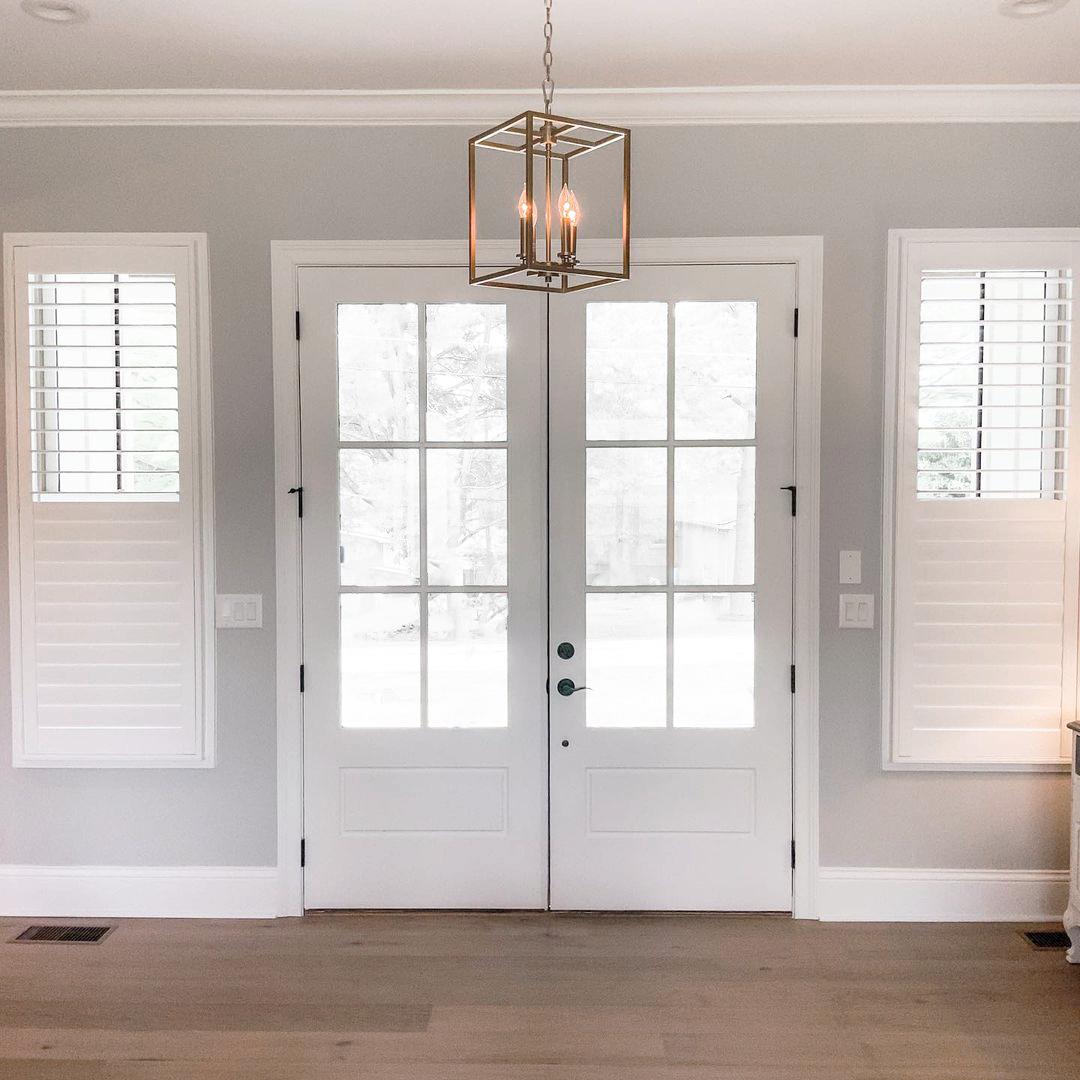 The perfect balance between privacy and light control. Shutters allow you to customize how much light you let into your space. This entryway features shutters that are closed at the bottom but open at the top to let in some natural light.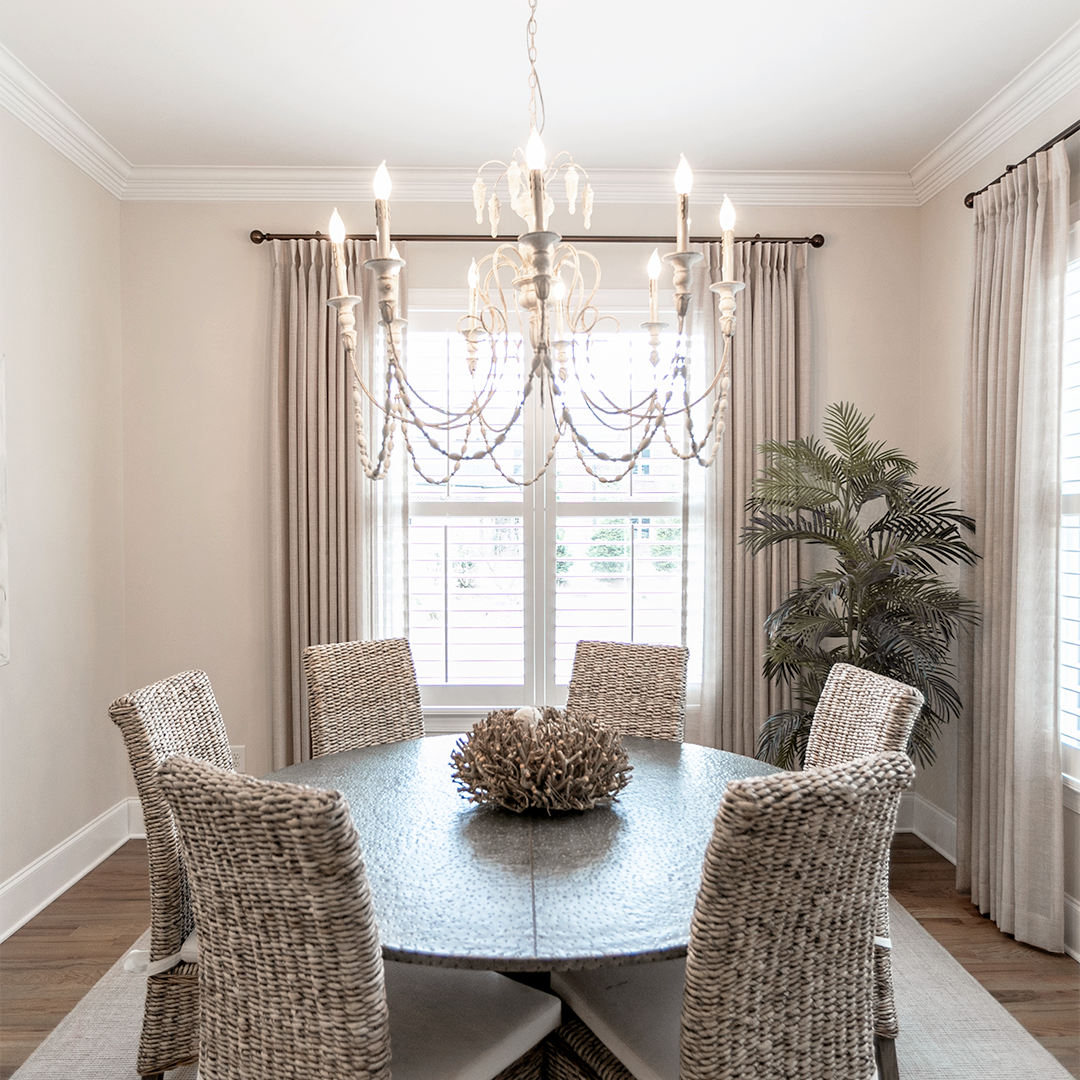 A mixture of shutters and drapery forms a cohesive look in this stunning dining room. Enjoy the functional benefits of your window coverings while maintaining your interior design style!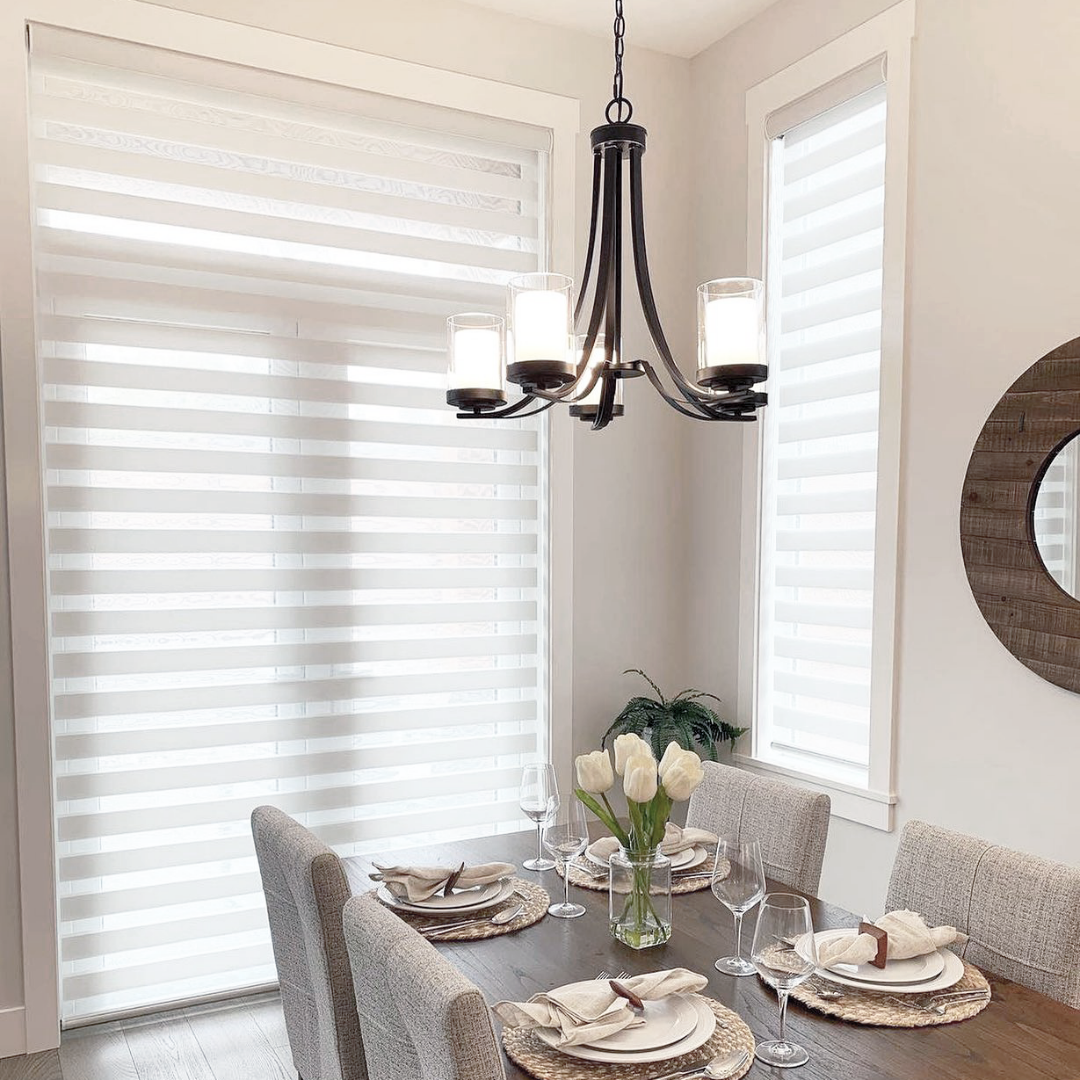 Dual sheer shades feature two layers of alternating horizontal bands, one being sheer and the other opaque. With these shades, you can align the bands for openness, adjust for filtering light, and overlap for privacy!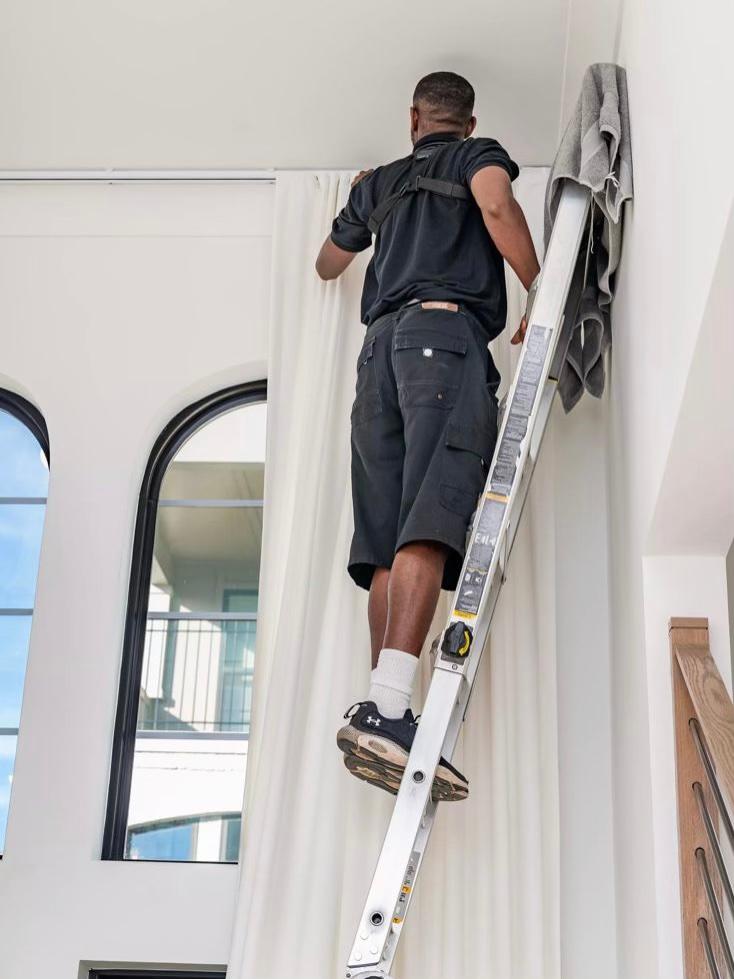 Our expert installers make covering even hard-to-reach windows look like a breeze! We're happy to take care of the details from start to finish, so all you need to do is sit back and enjoy the new feel of your home. And, we love the look of the crisp white drapes on these arched windows! We serve h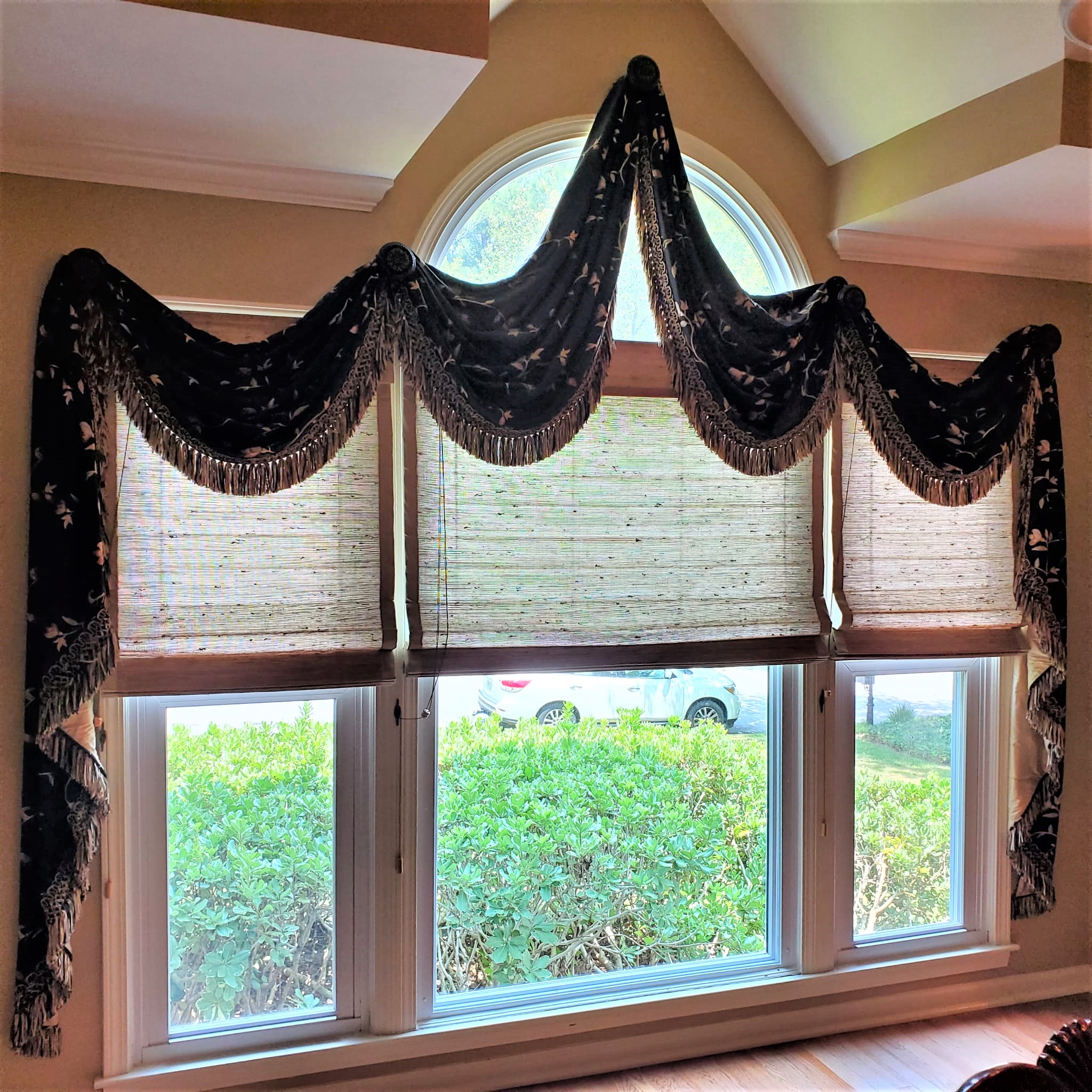 Make a bold statement and change the look in any room with a custom stagecoach valance installed by Budget Blinds in Lawrenceville.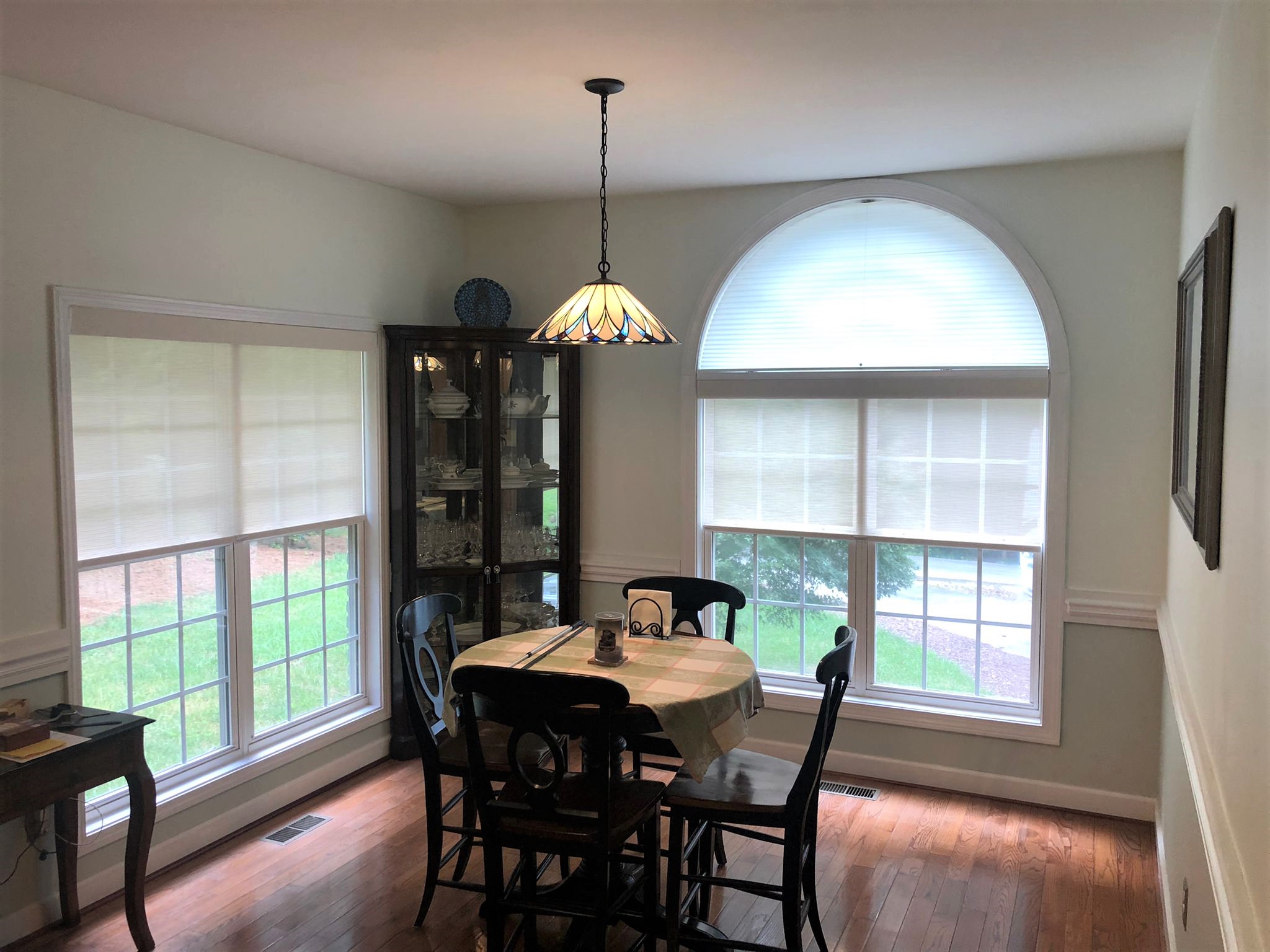 Another professional install by Budget Blinds of Duluth. Timeless cordless roller shades in a local Snellville home.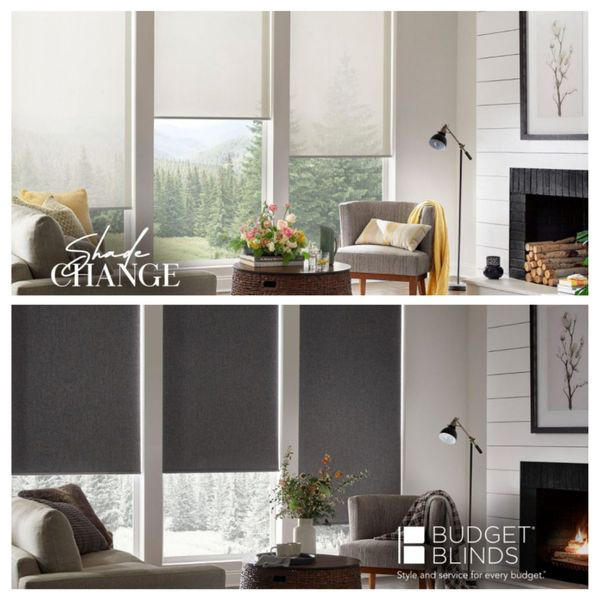 Go from this to that in 3 simple steps. Change the look of any room in minutes with the innovative new Shade Change, offered exclusively by Budget Blinds. It's easier than ever to switch up your roller shades. Just pop, swap, and roll your way into a whole new look.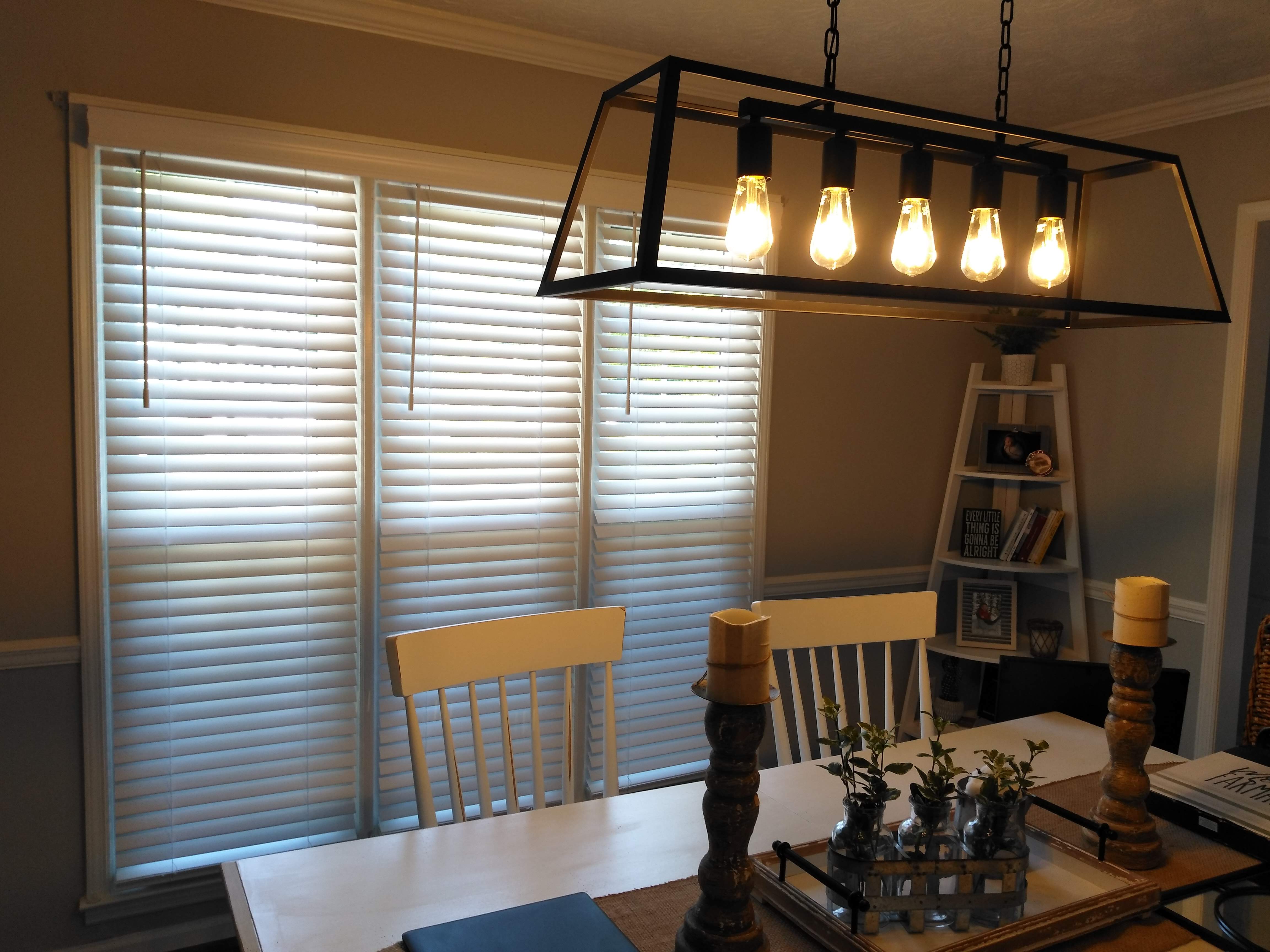 We have thousands of high-quality fabrics available in a variety of styles. There are many options and styles available with custom window treatments and it can all be overwhelming to choose. Our Design Consultants take away the complexity and make it simple. You will even have fun with the process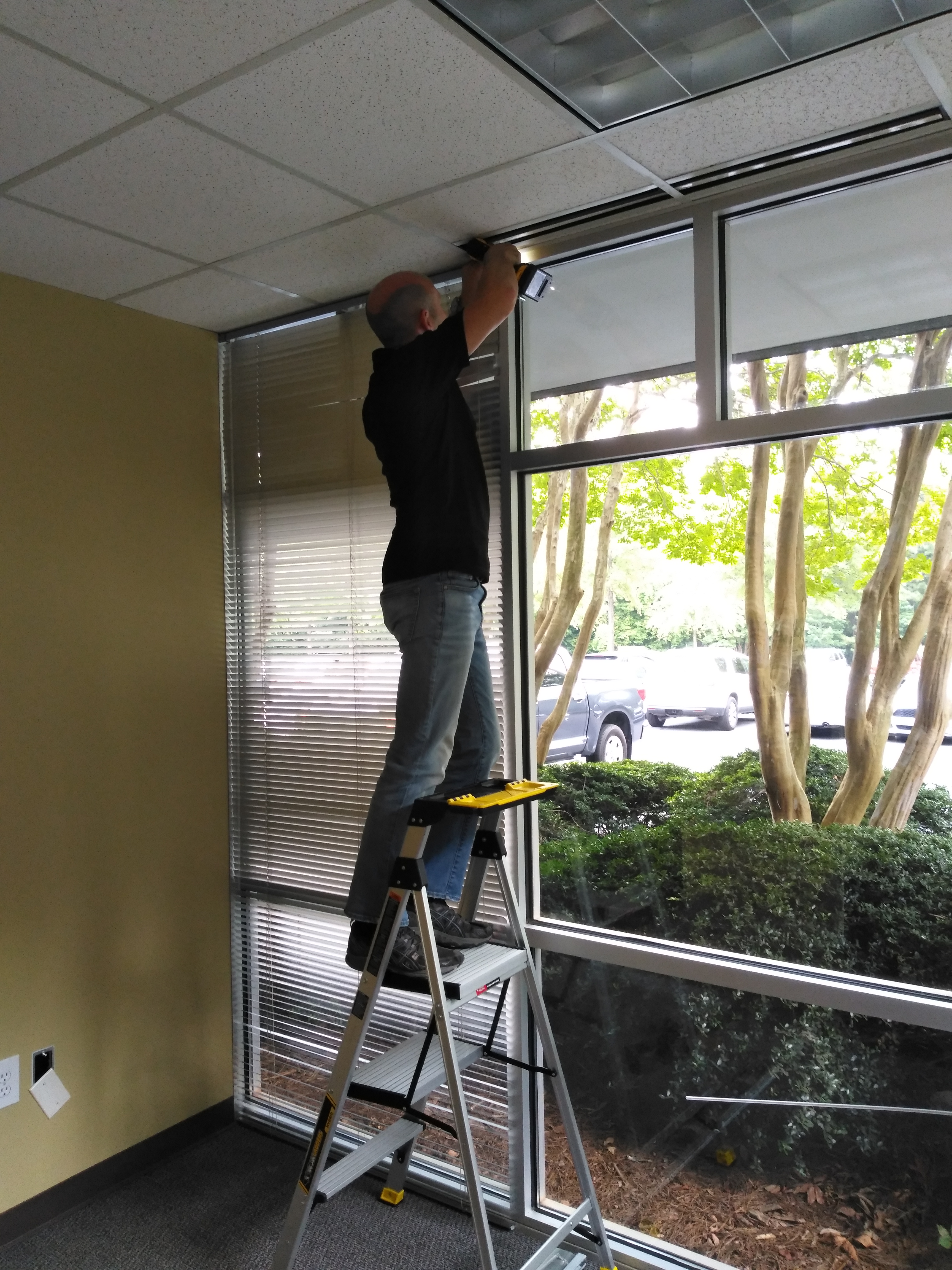 Our professional installers do all the hard work putting your beautiful new window treatments into place. While the DIY approach may save you money on the short-term, wouldn't you like the security of knowing it has all been done right? Right measurements and an expert installation - peace of mind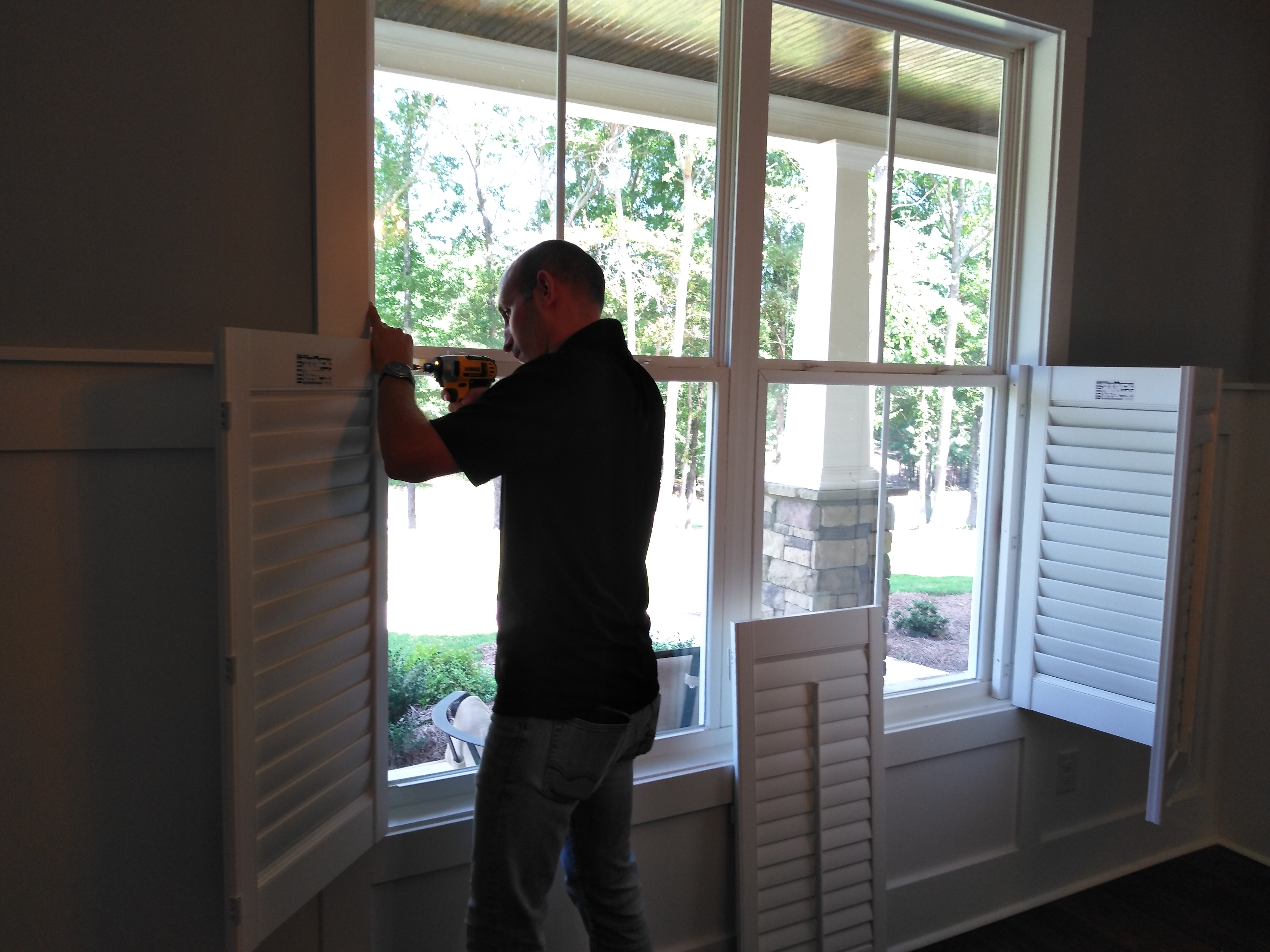 Our professional installers do all the hard work putting your beautiful new window treatments into place. While the DIY approach may save you money on the short-term, wouldn't you like the security of knowing it has all been done right? Right measurements and an expert installation - peace of mind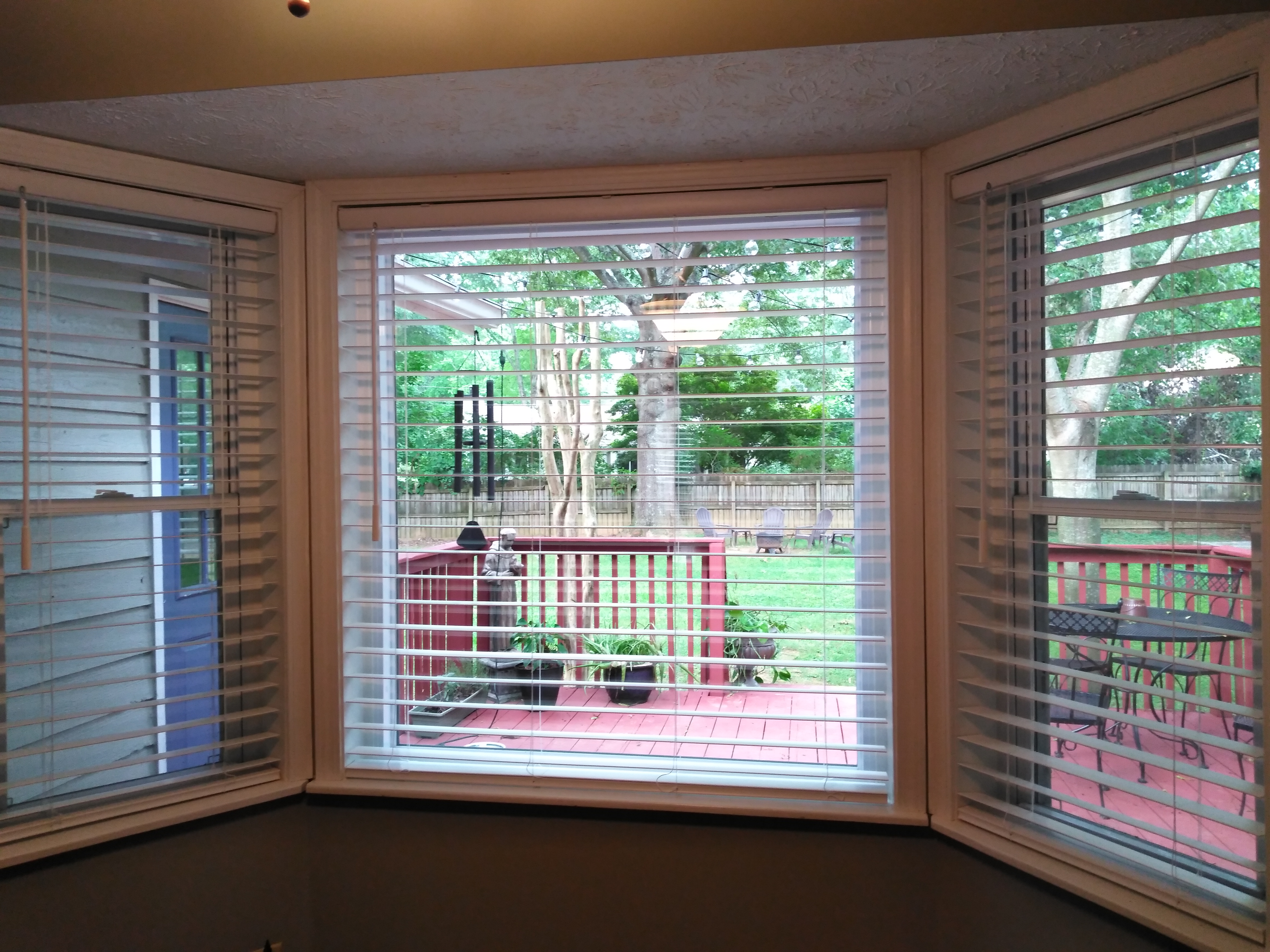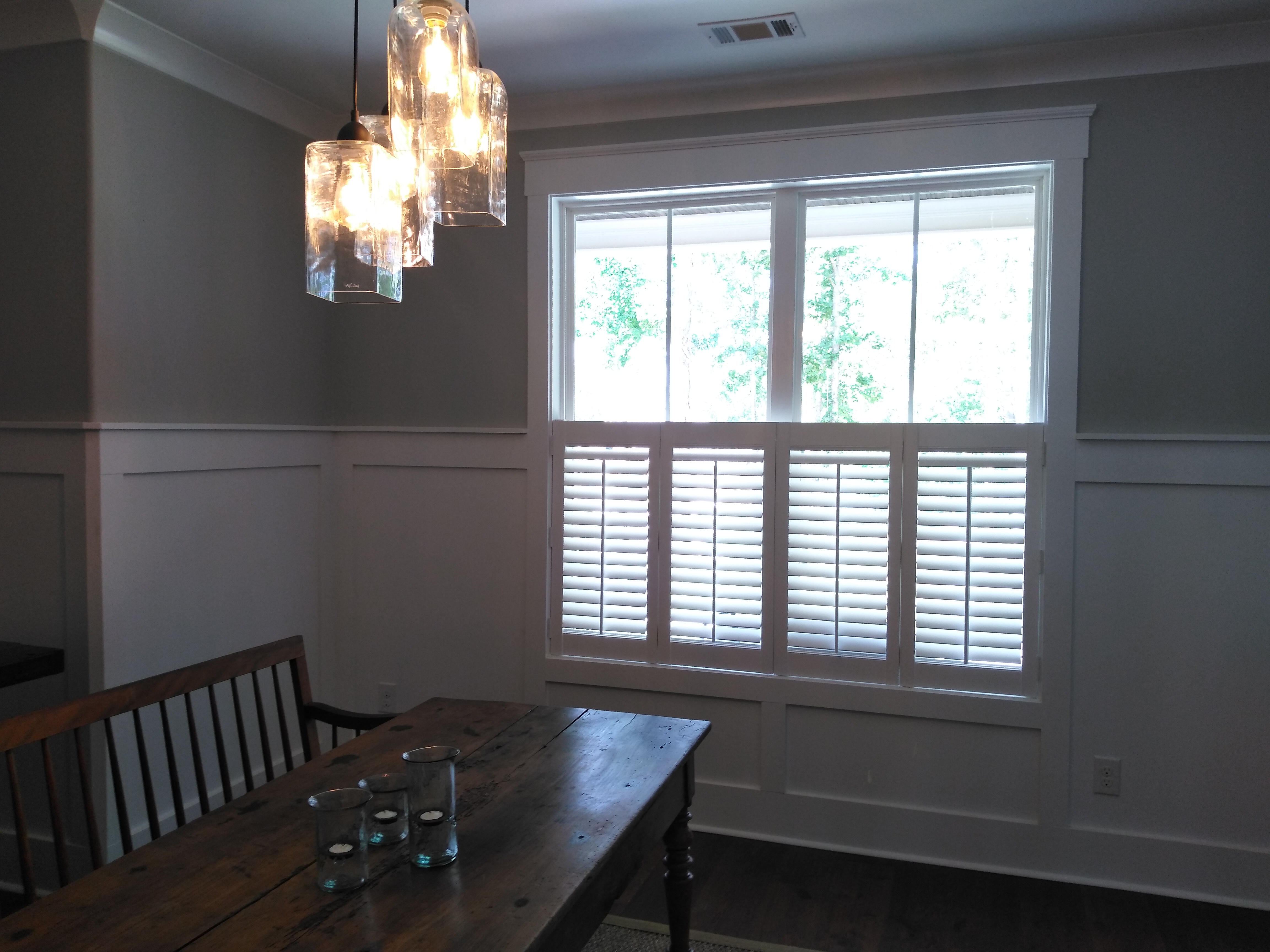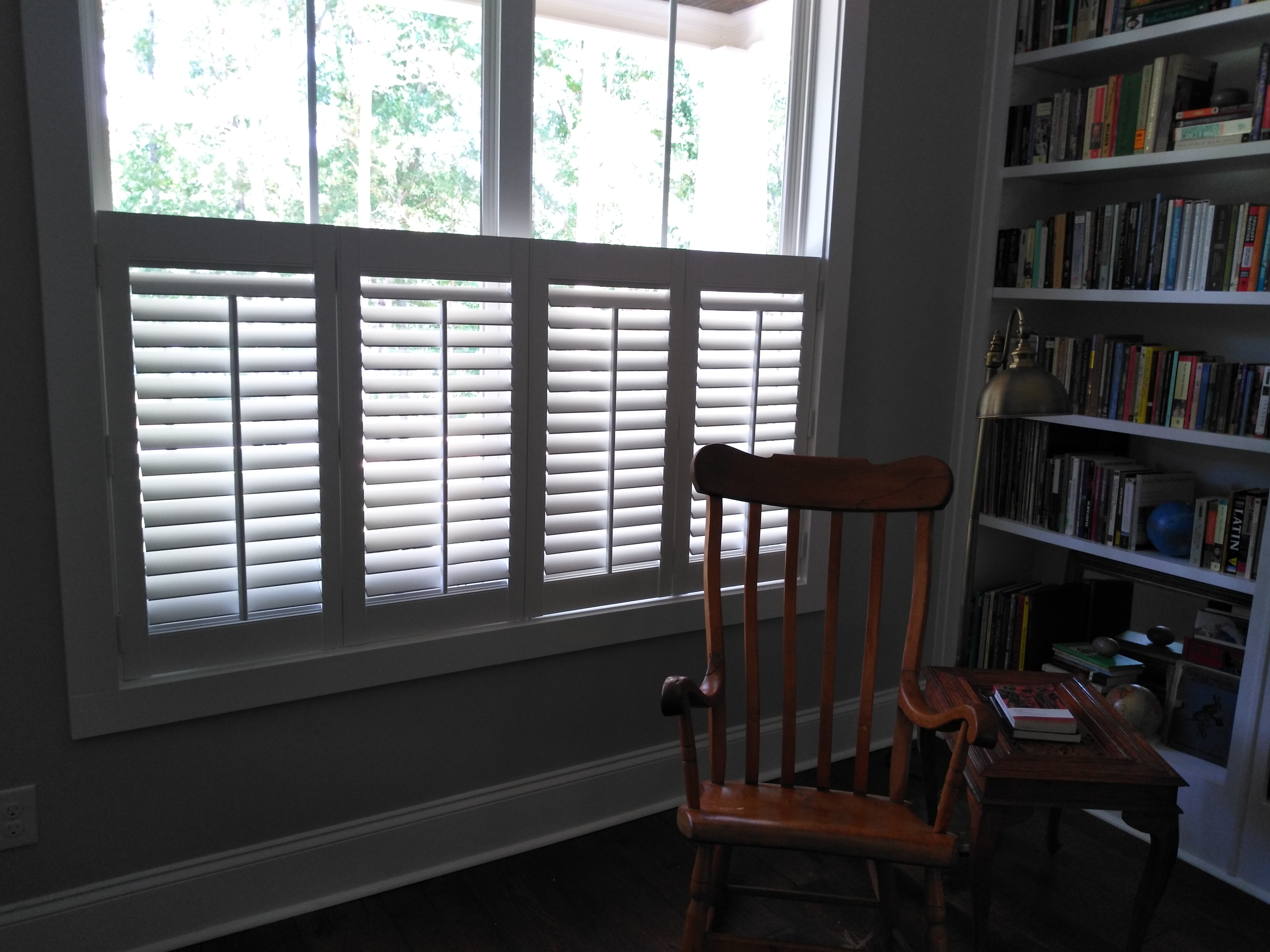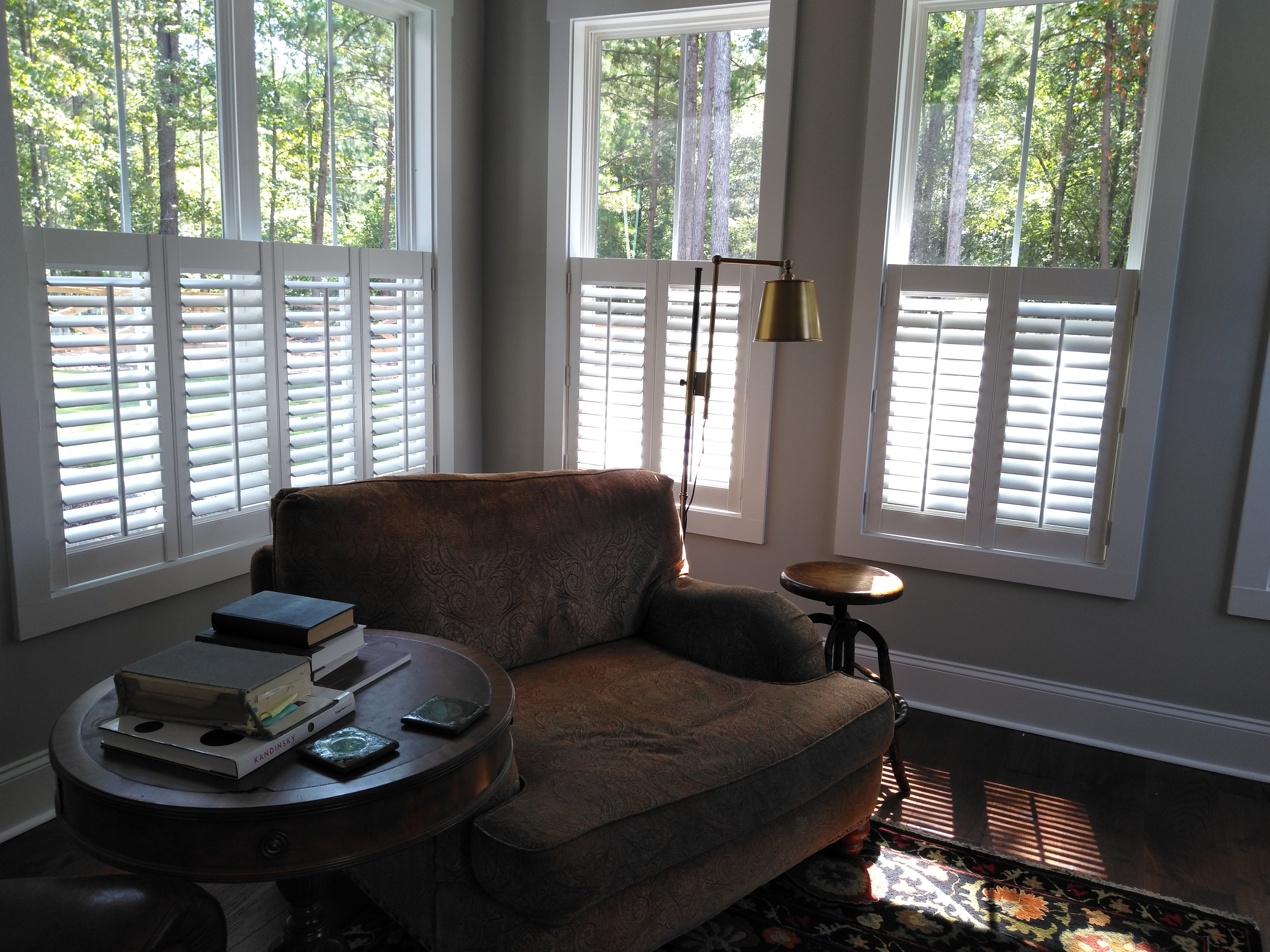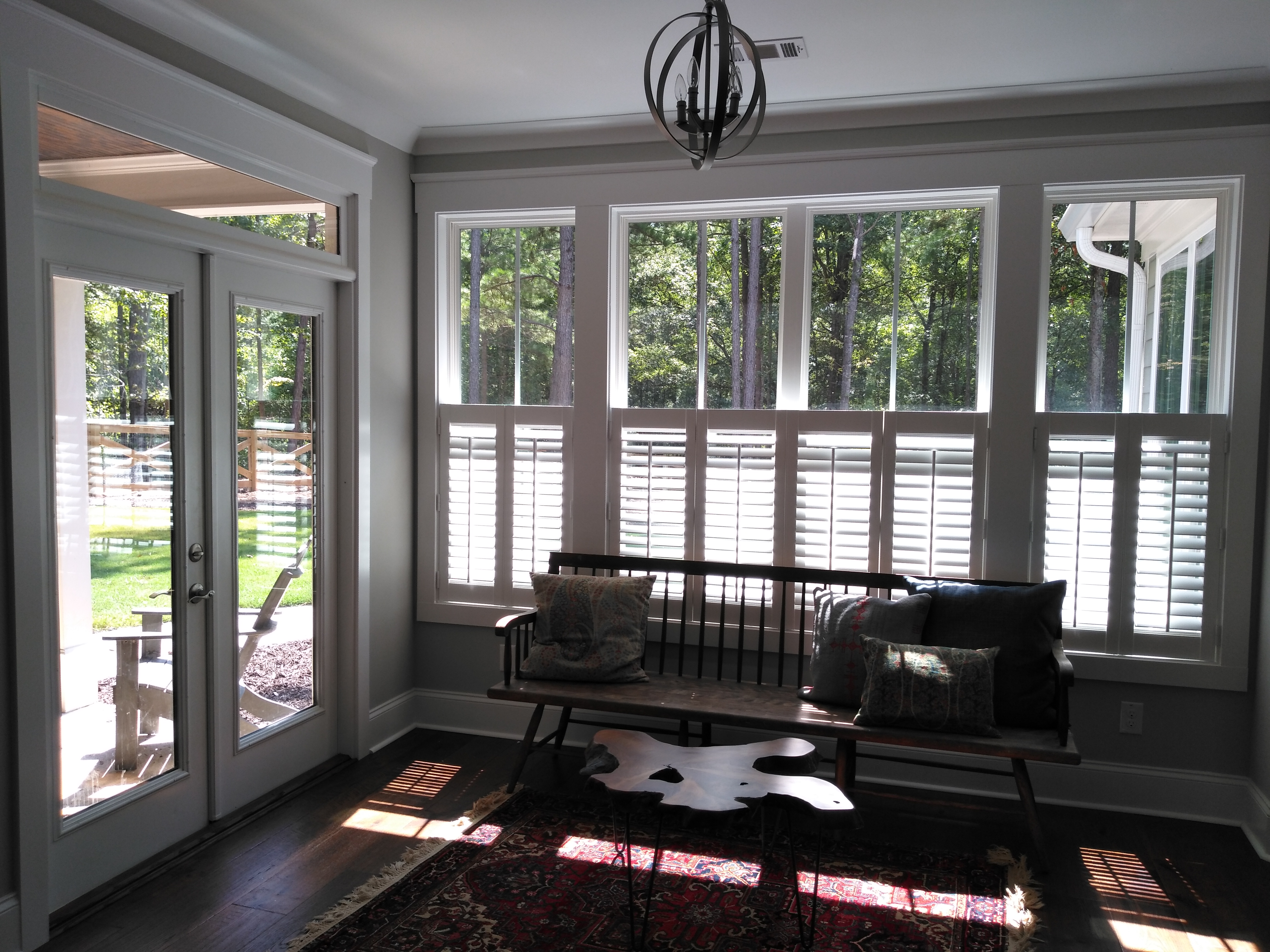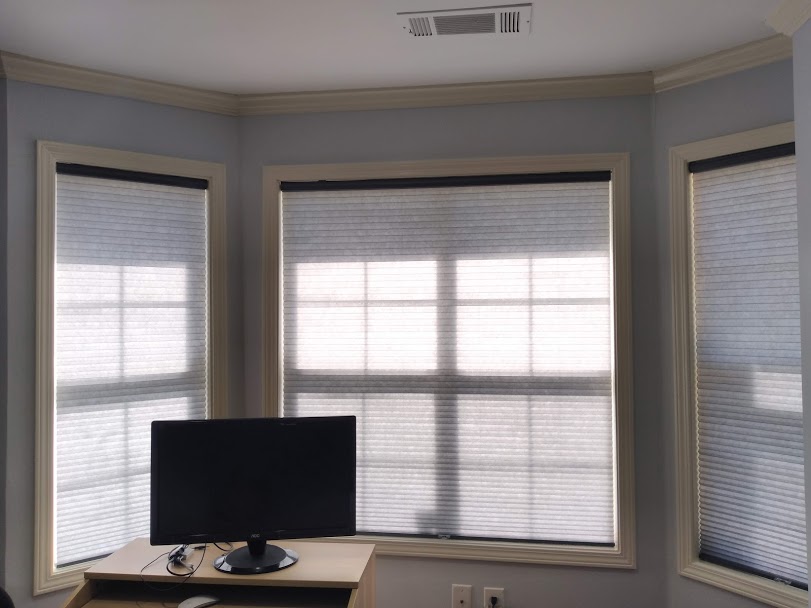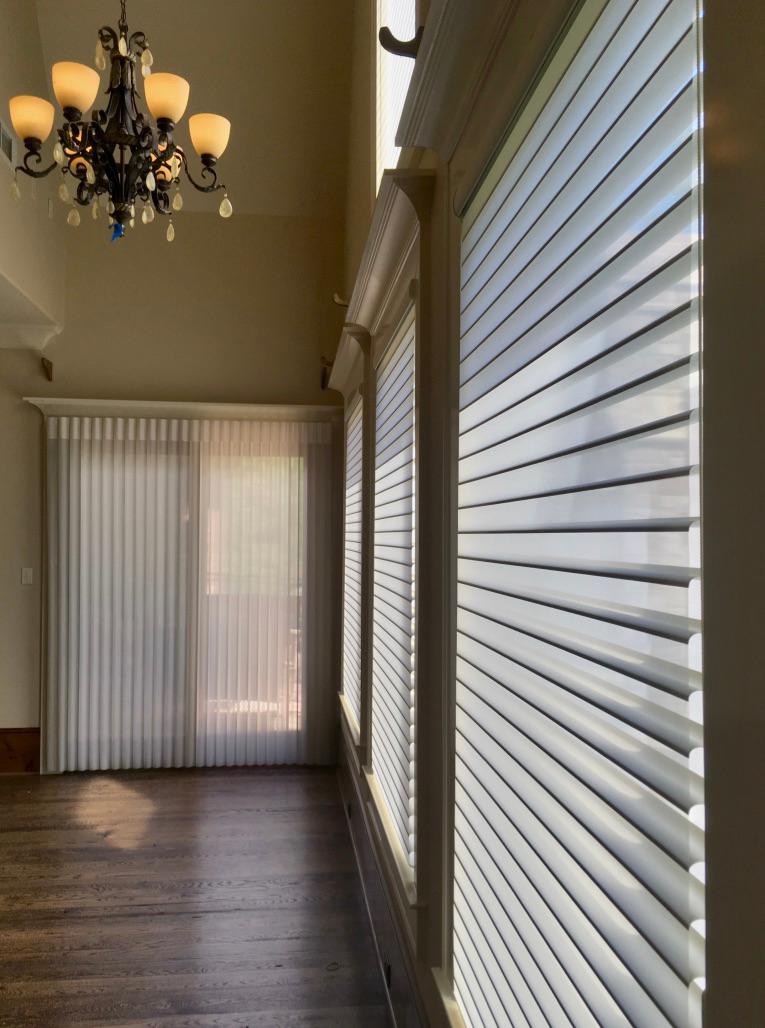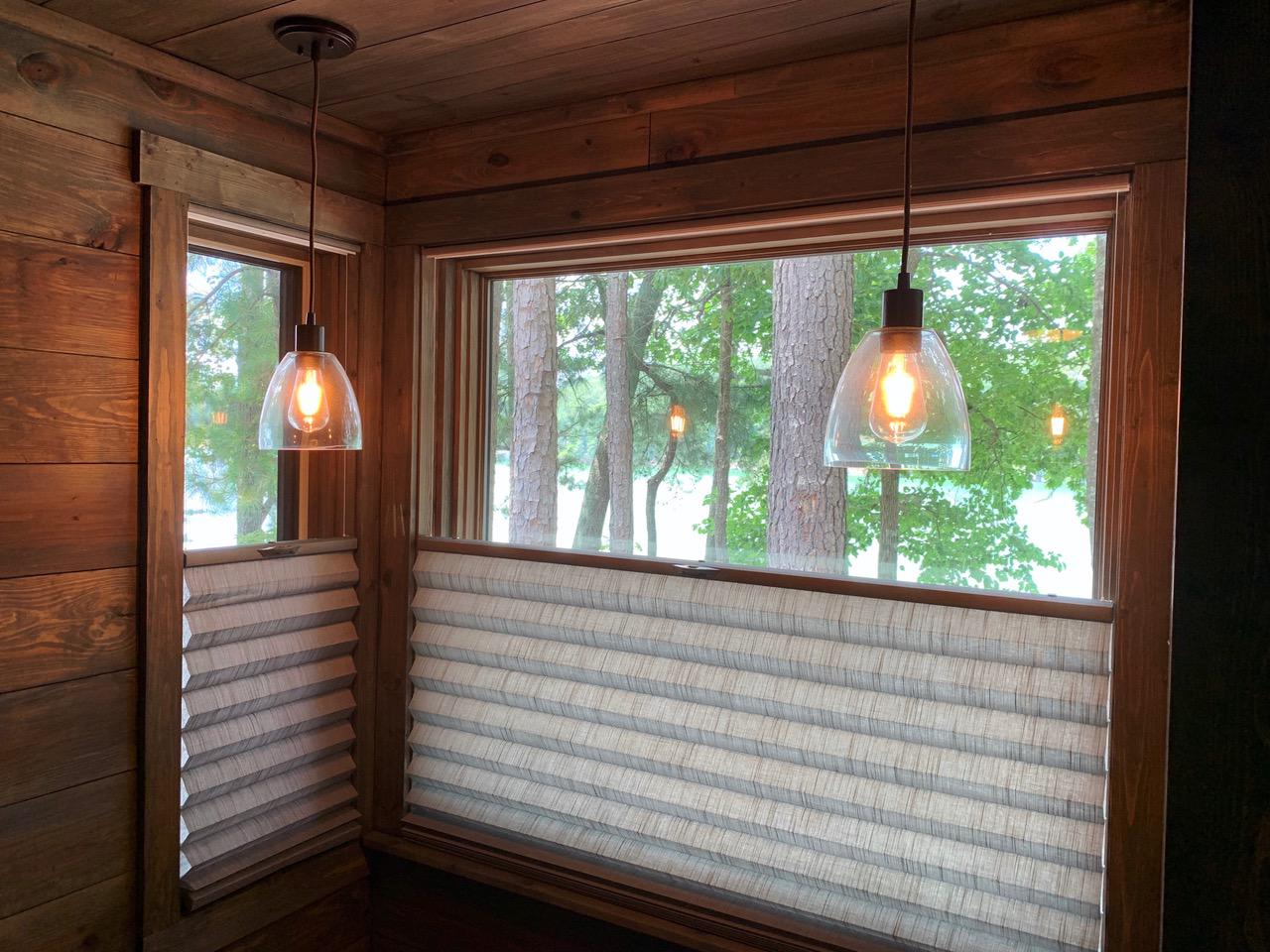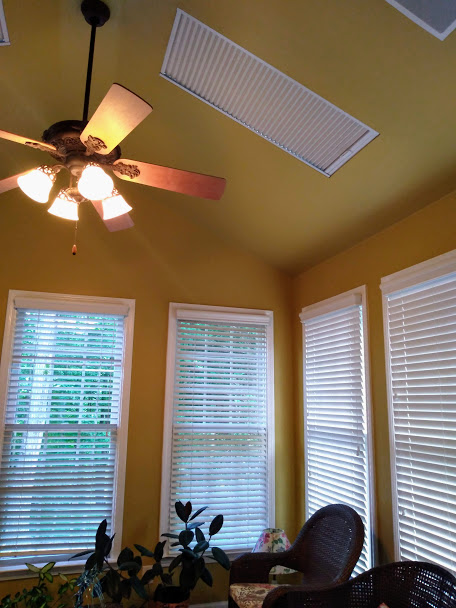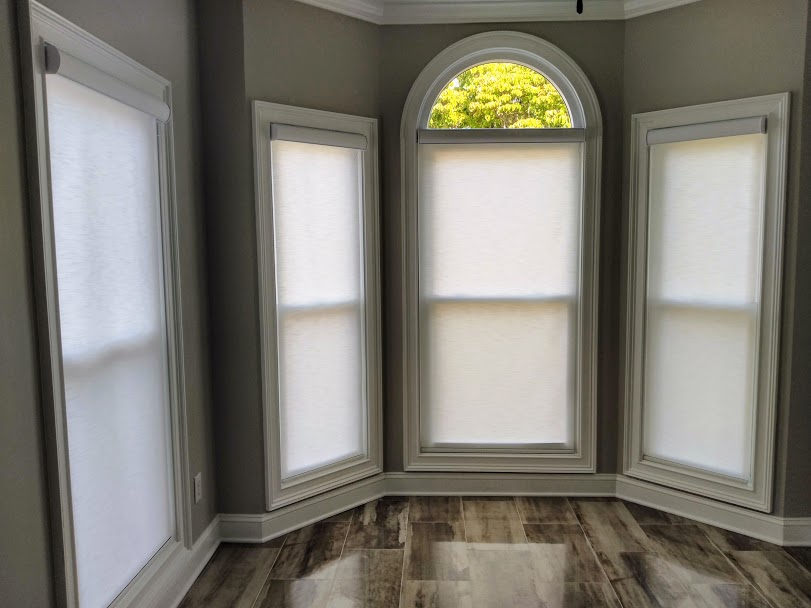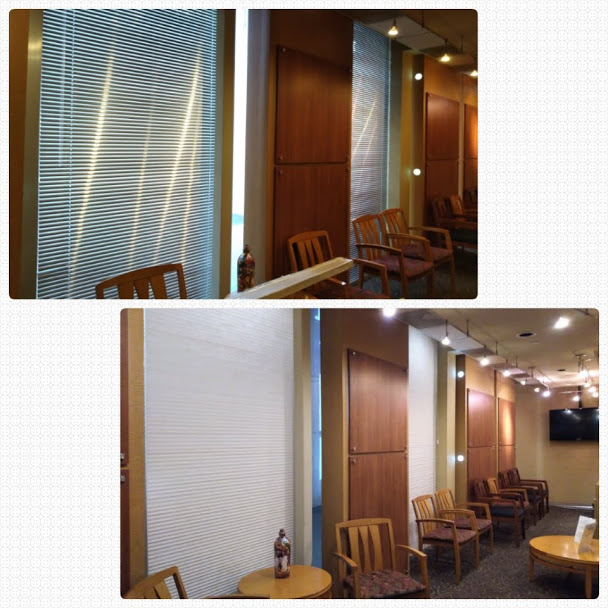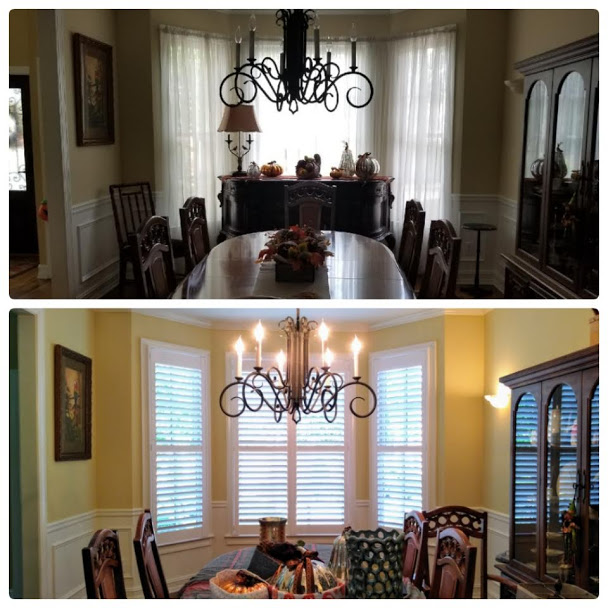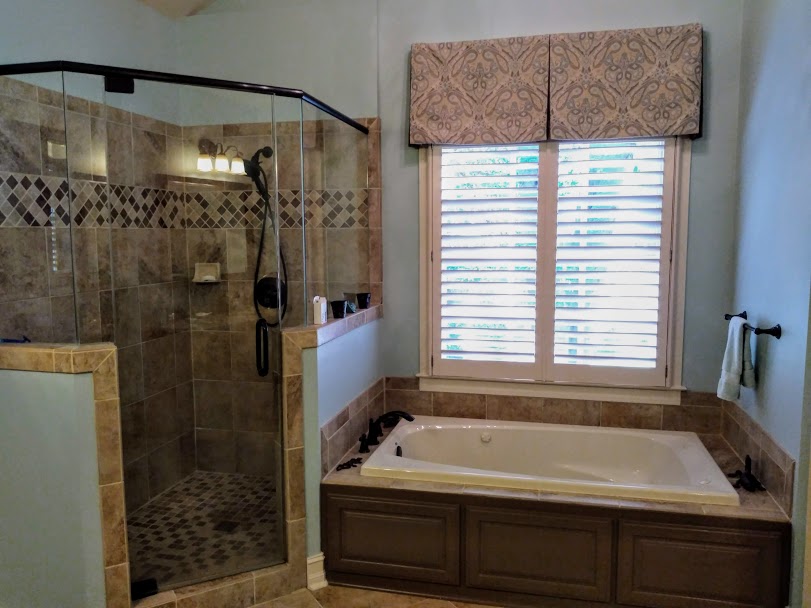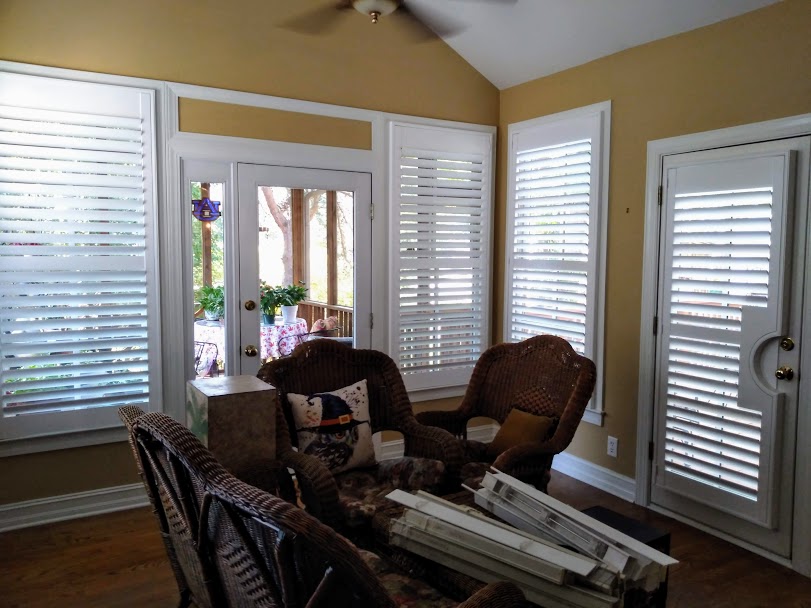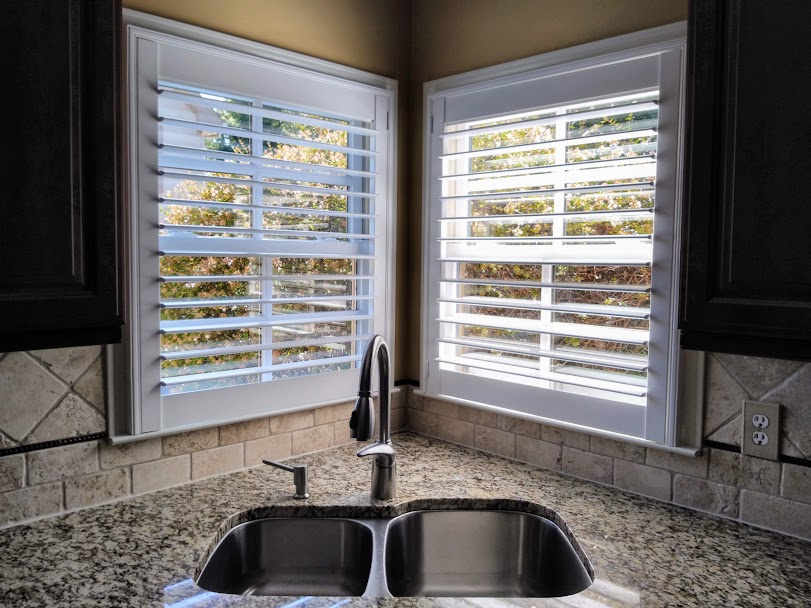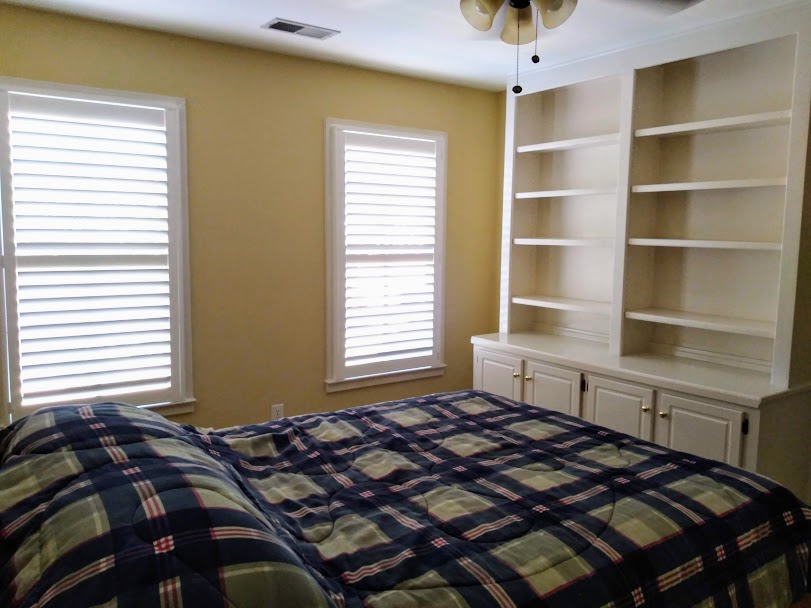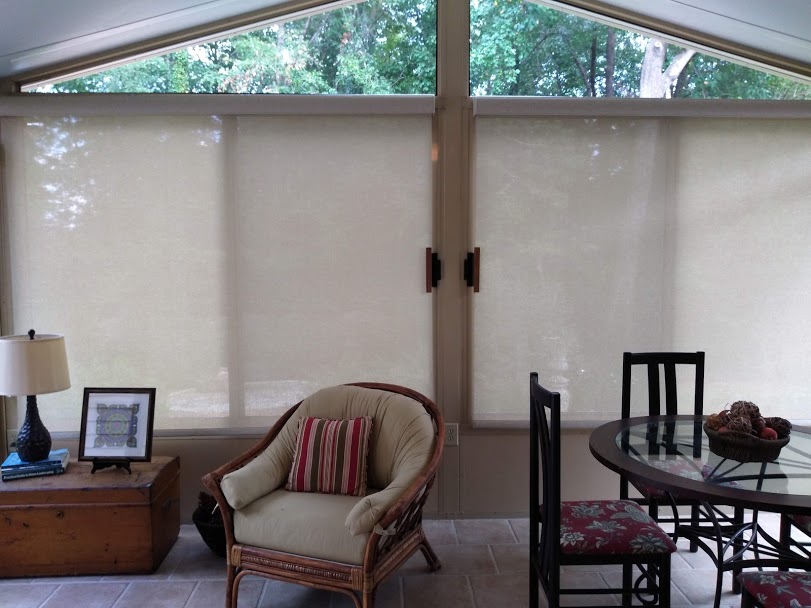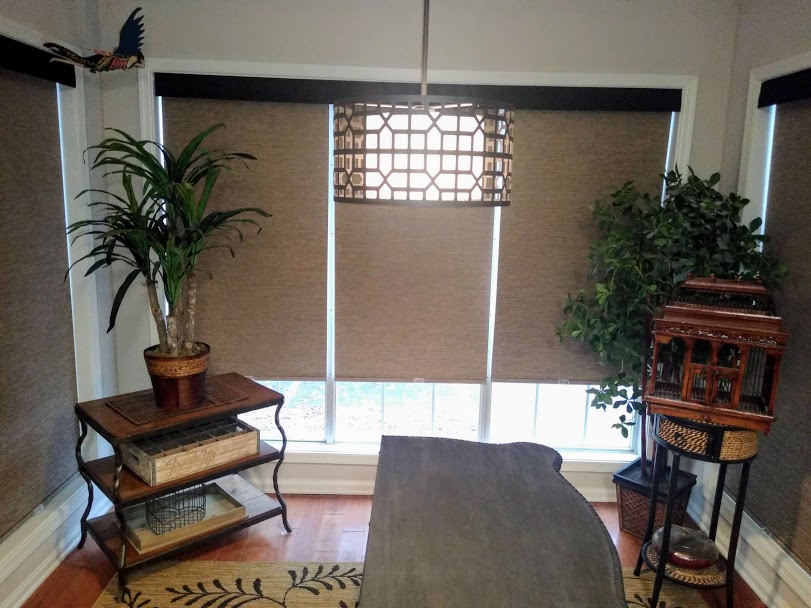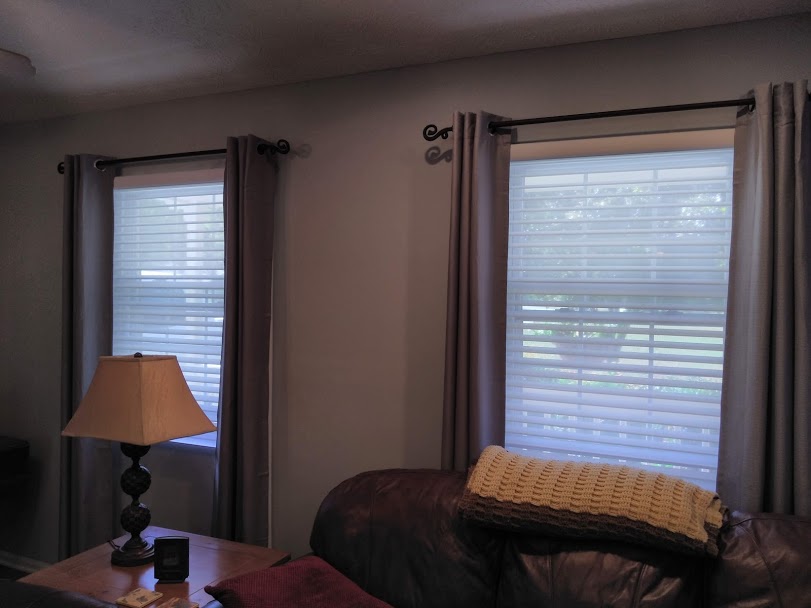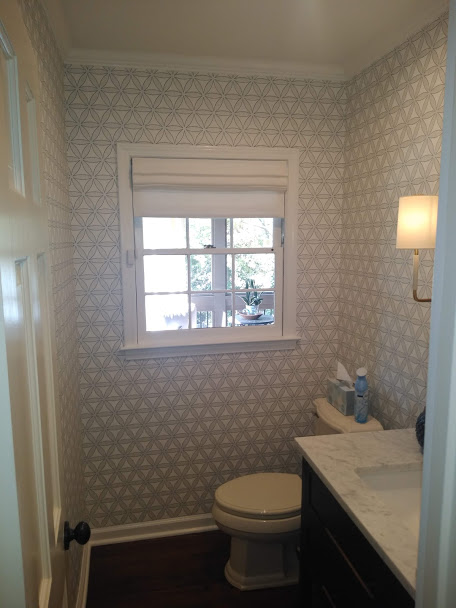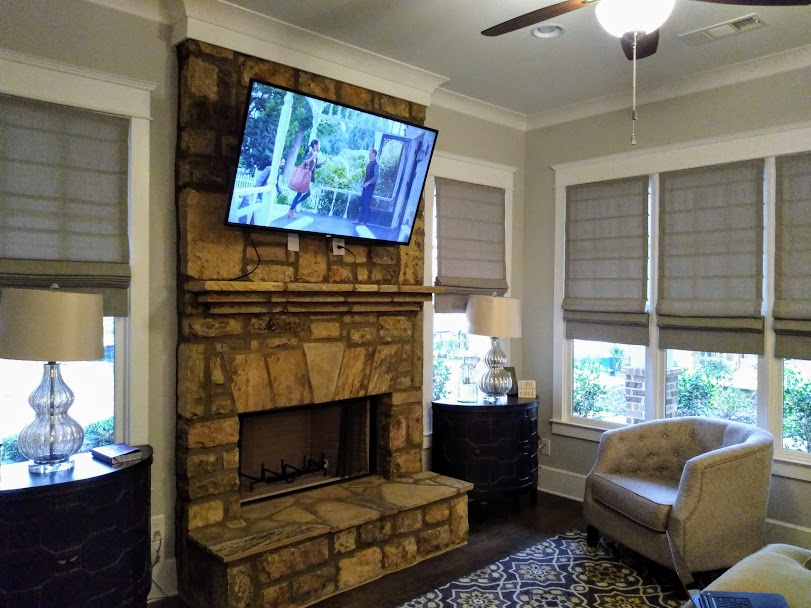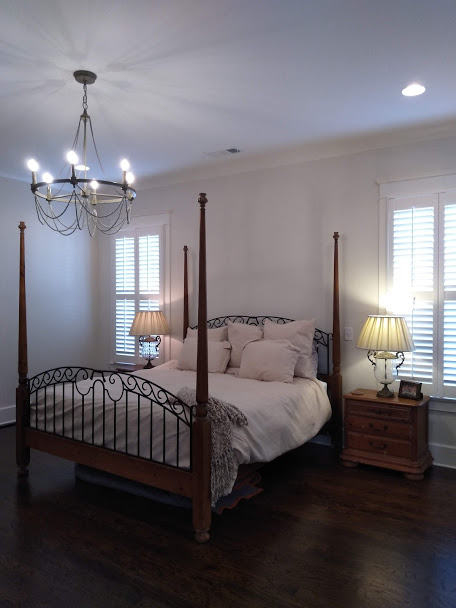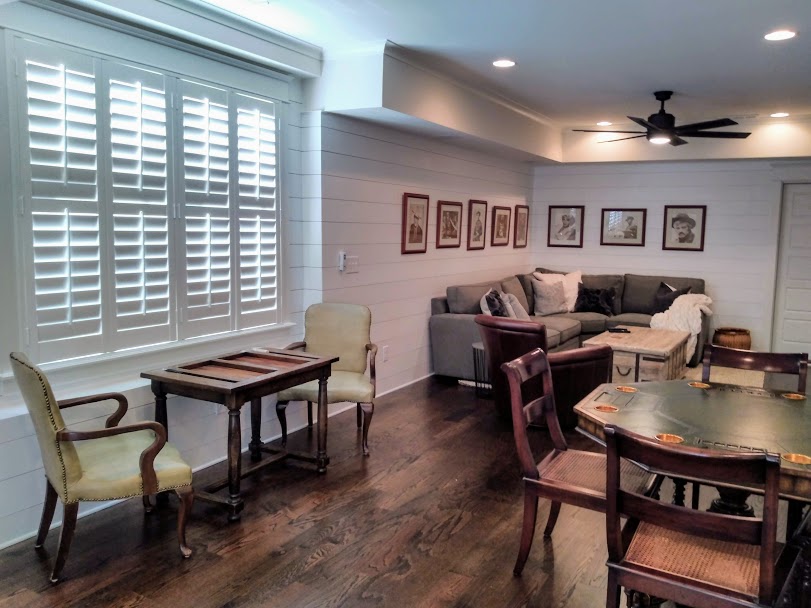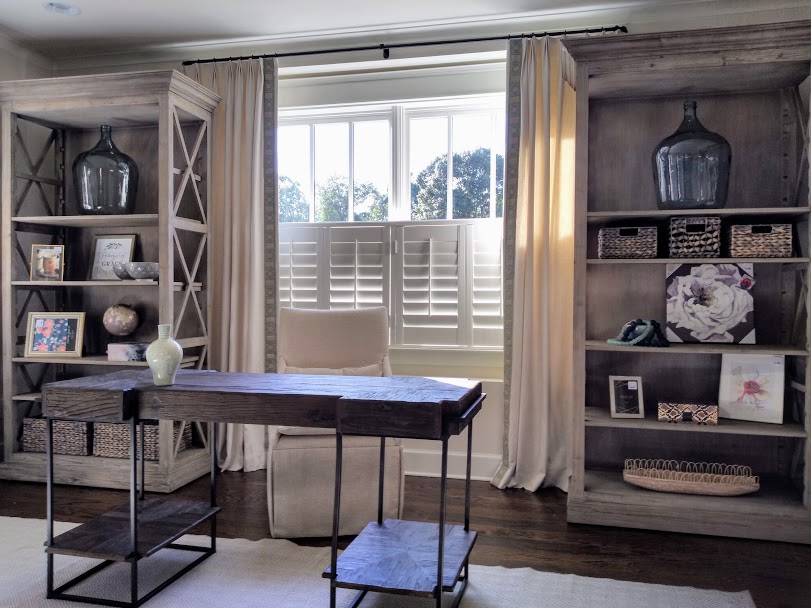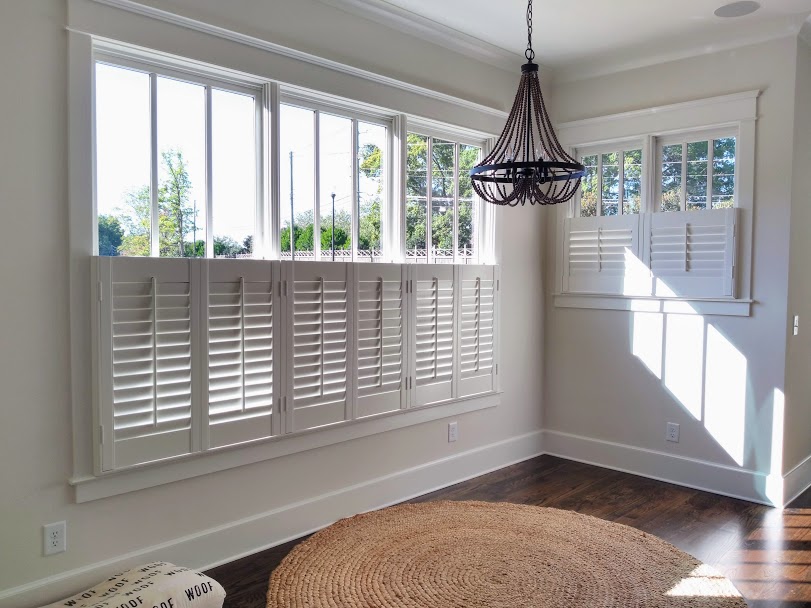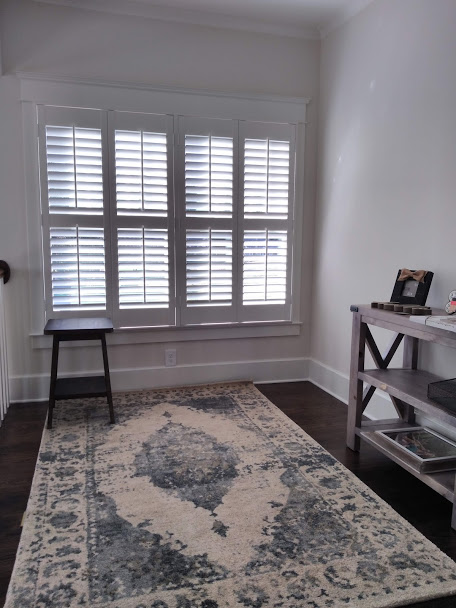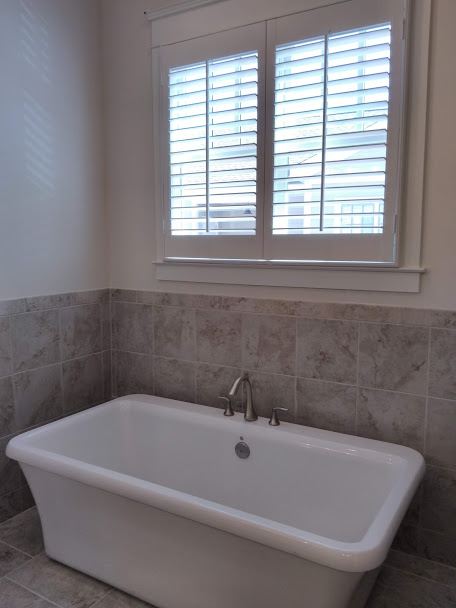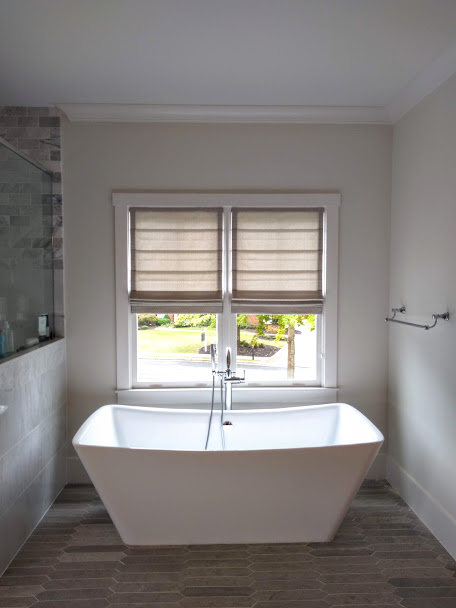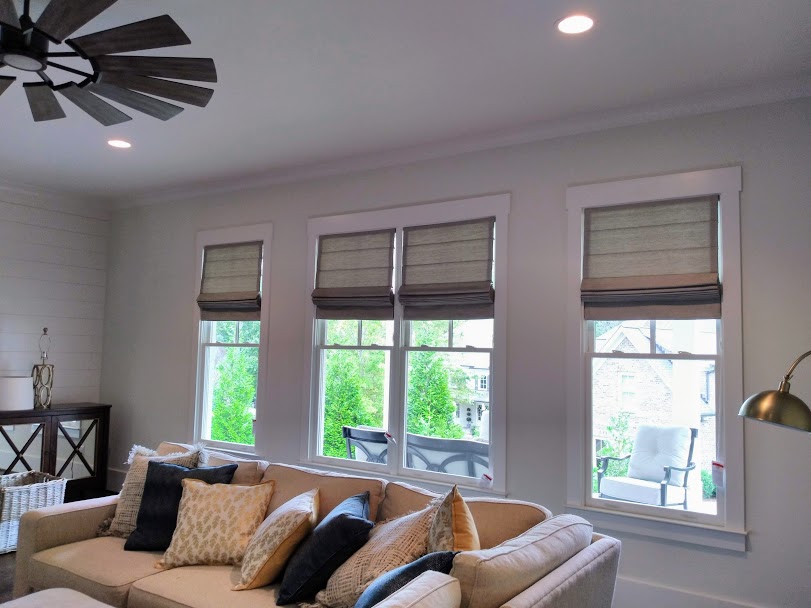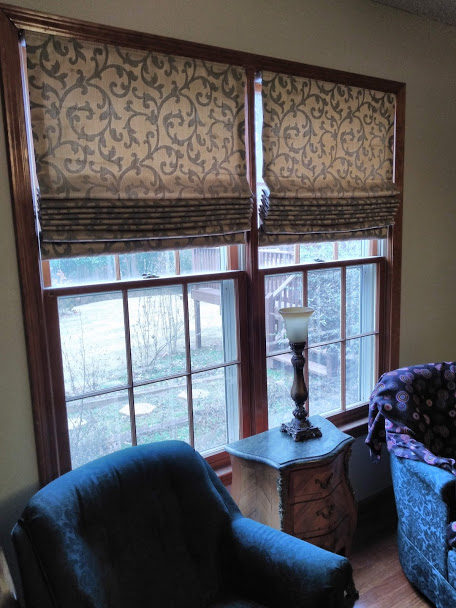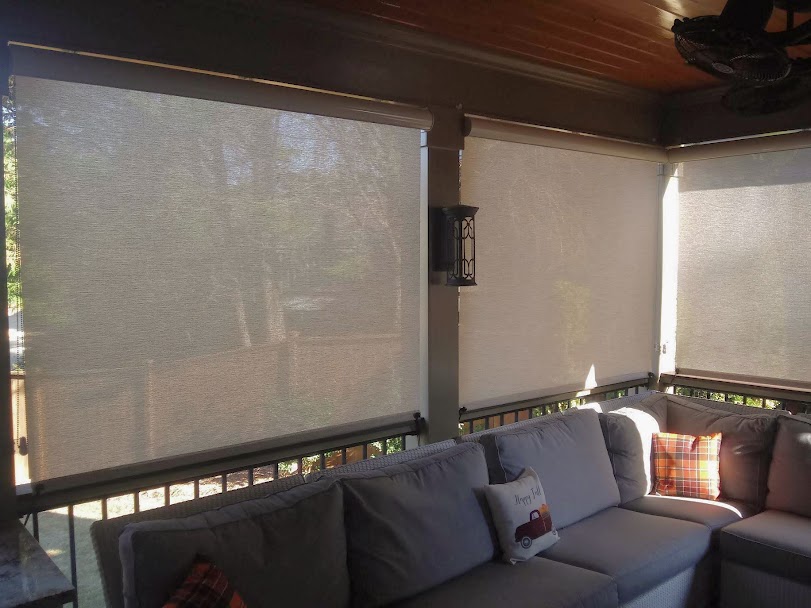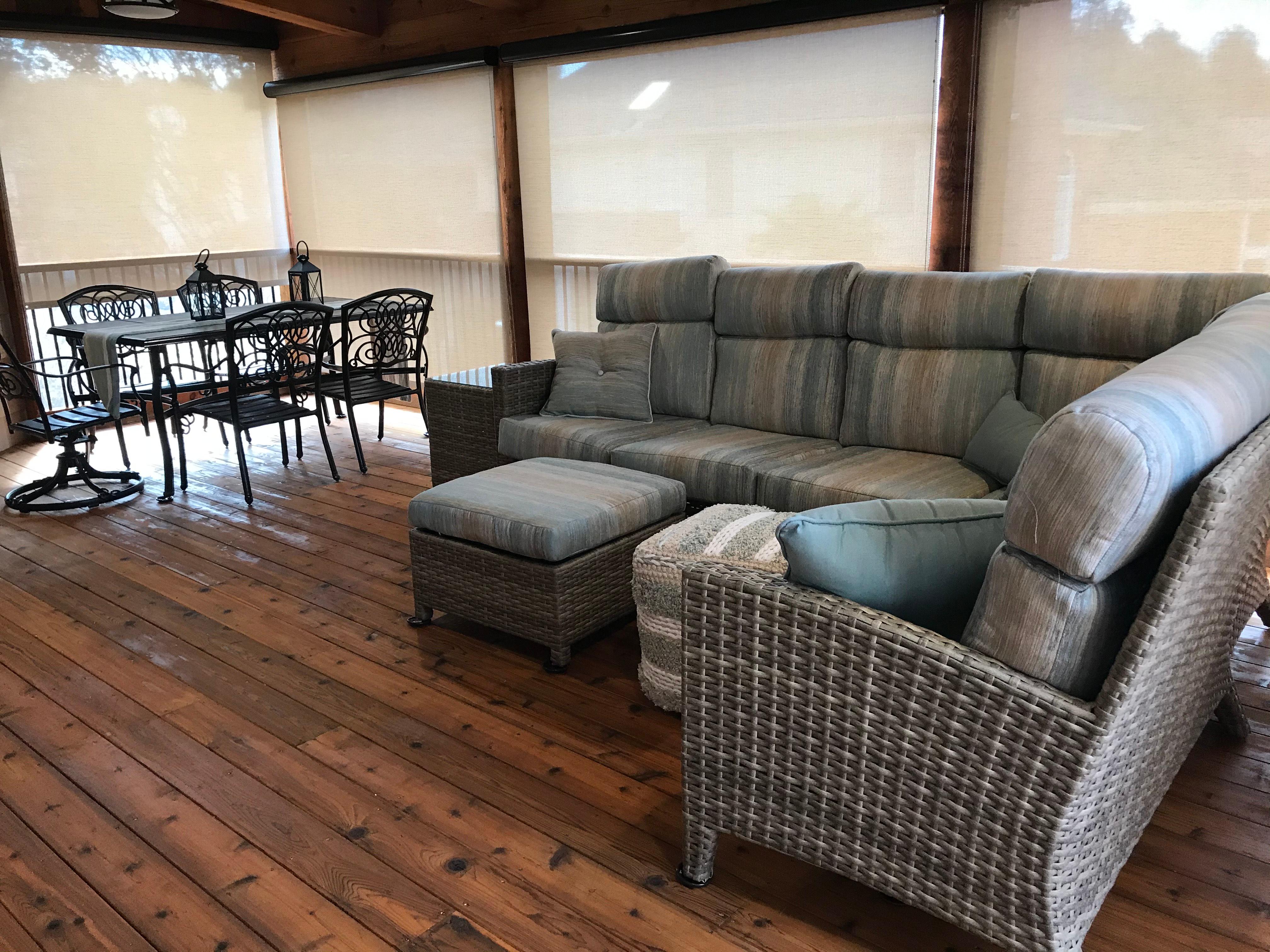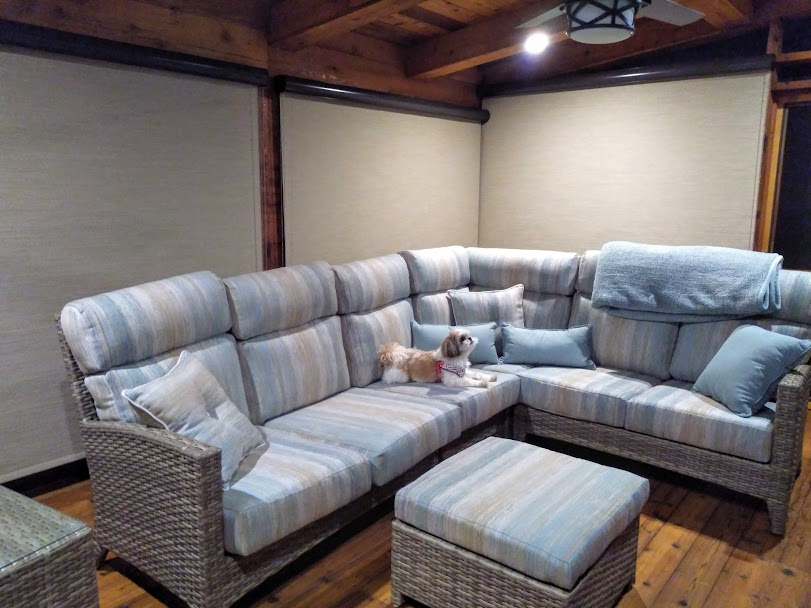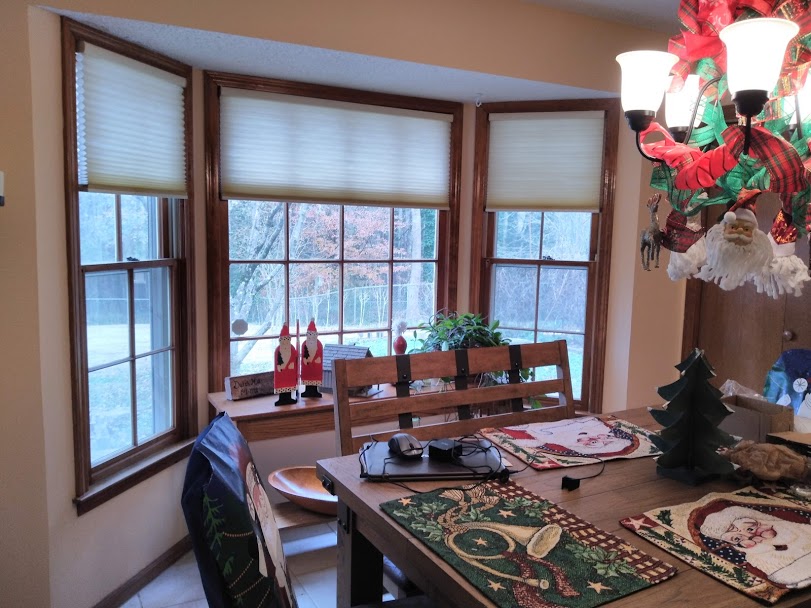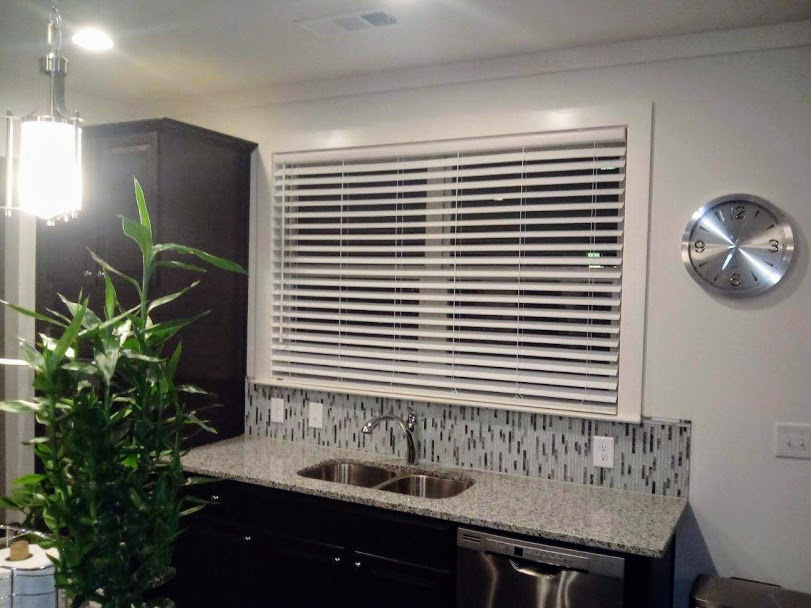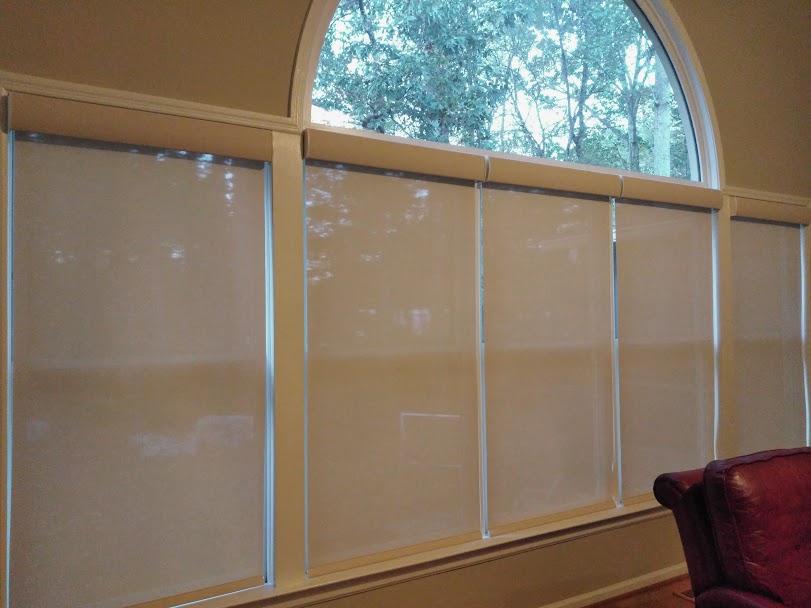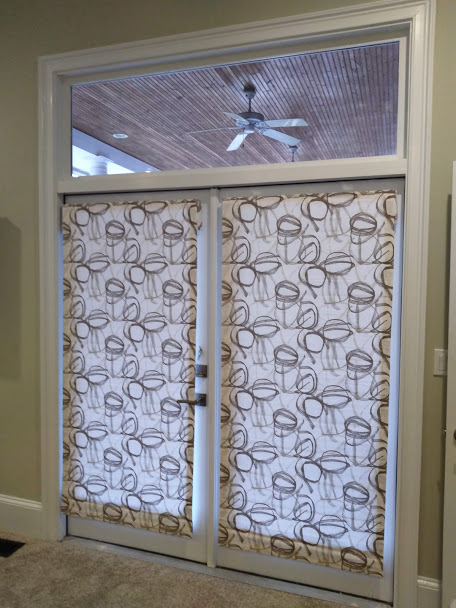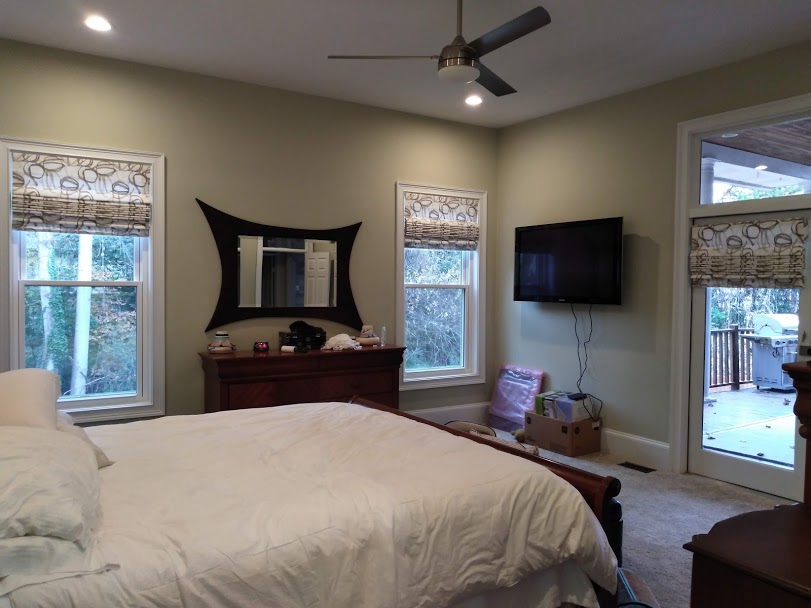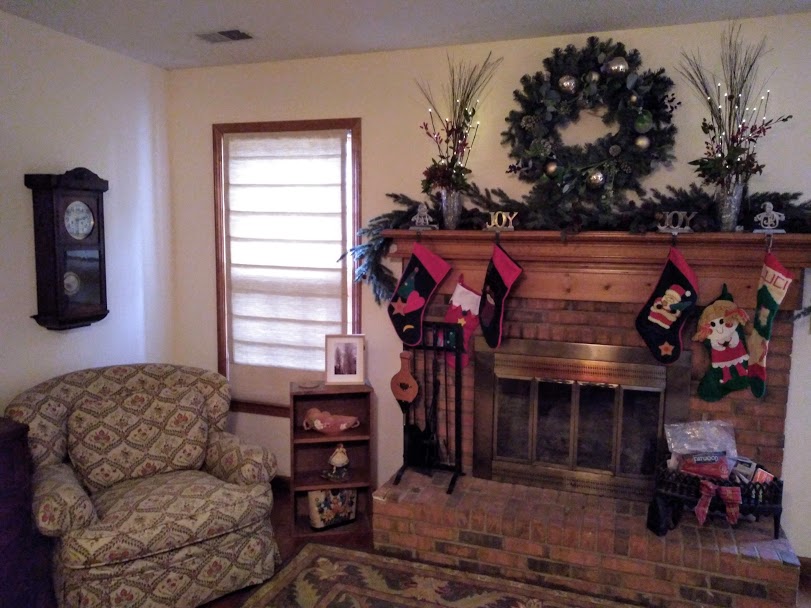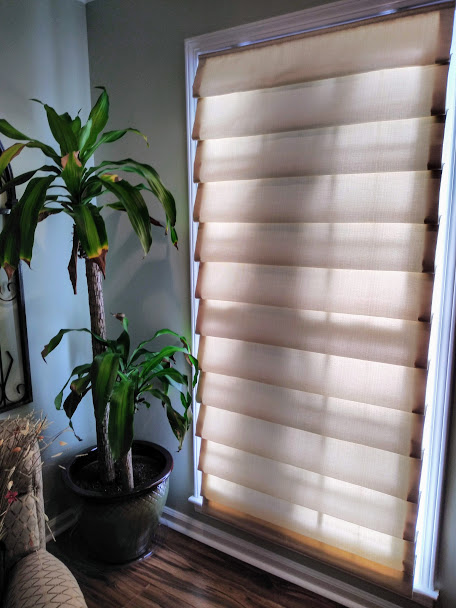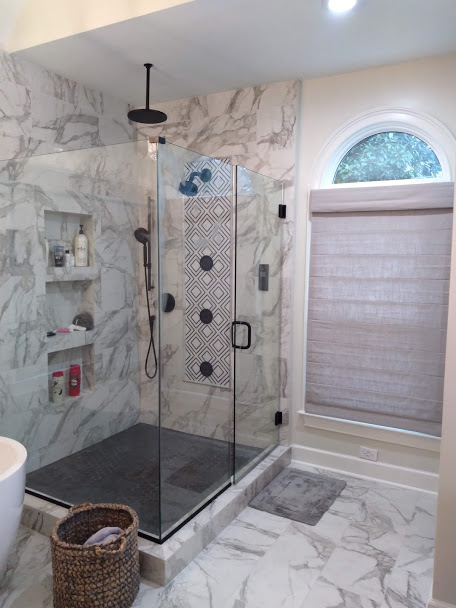 This beautiful custom bathroom gives us the chills! There are all shades of grey from the bathroom tile to the marble floor. Roman Shades that are grey flecked with silver are the perfect element for privacy while bringing a layer of glam! Looking to add a special design element to your project?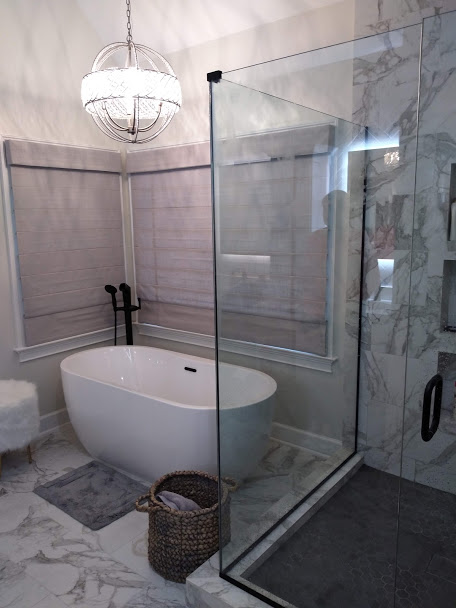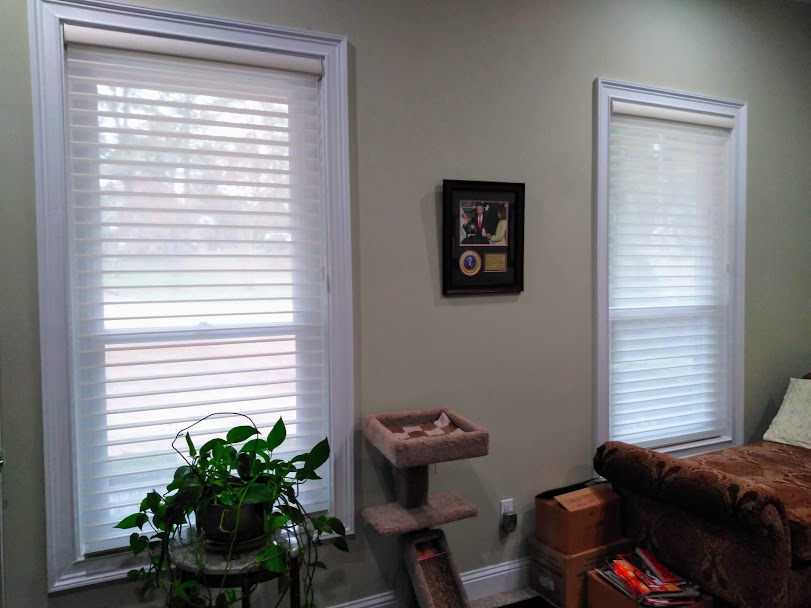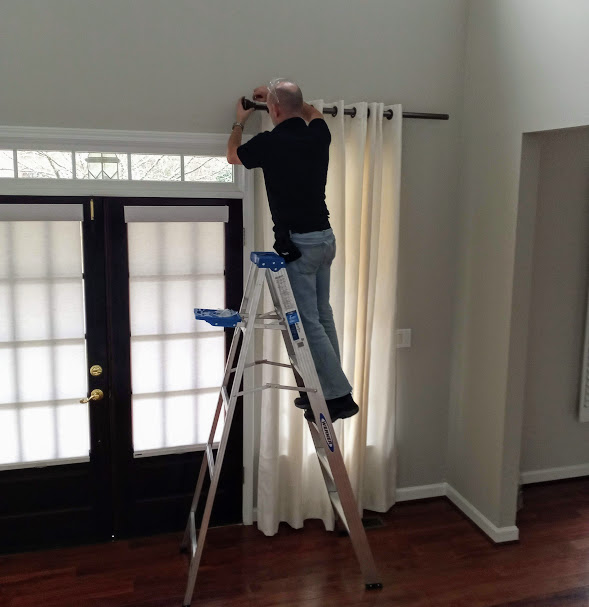 Our professional installers do all the hard work putting your beautiful new window treatments into place. While the DIY approach may save you money on the short-term, wouldn't you like the security of knowing it has all been done right? Right measurements and an expert installation - peace of mind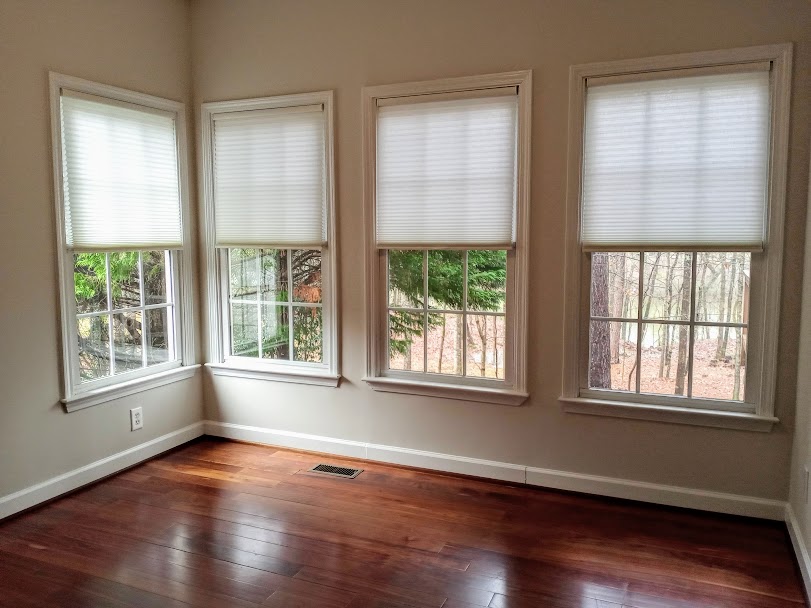 Cellular shades are one of the most universal window treatments. They add a soft touch to the room and have a multitude of benefits. They give privacy when you want it, and disappear almost completely when not wanted. This is important to many of our customers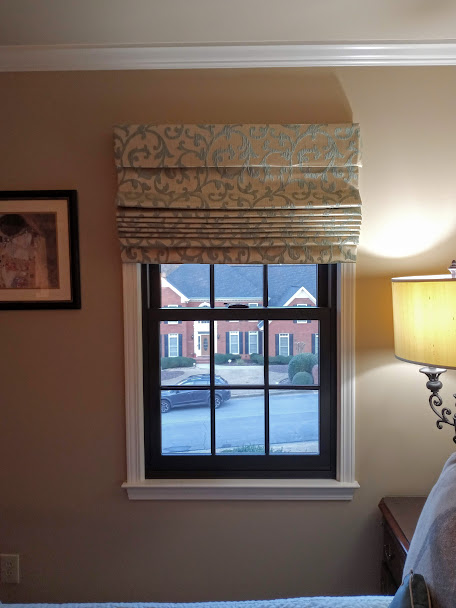 Tired of boring blinds? Add some style to your windows with Roman Shades like our customer did for her guest bedrooms. Pro Tip: With the right design elements they can be great for room darkening! We have thousands of high-quality fabrics available in a variety of styles.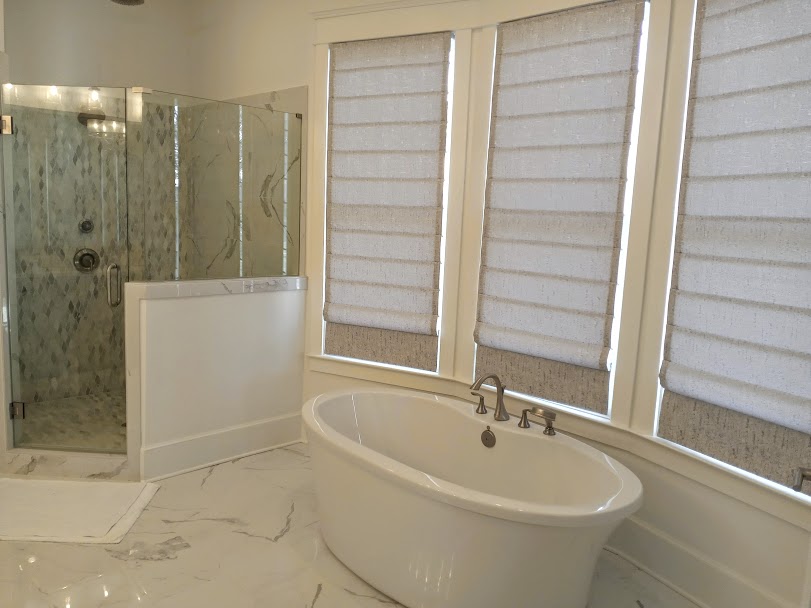 This beautiful custom bathroom gives us the chills! There are all shades of grey from the bathroom tile to the marble floor. Roman Shades that are grey flecked with silver are the perfect element for privacy while bringing a layer of glam!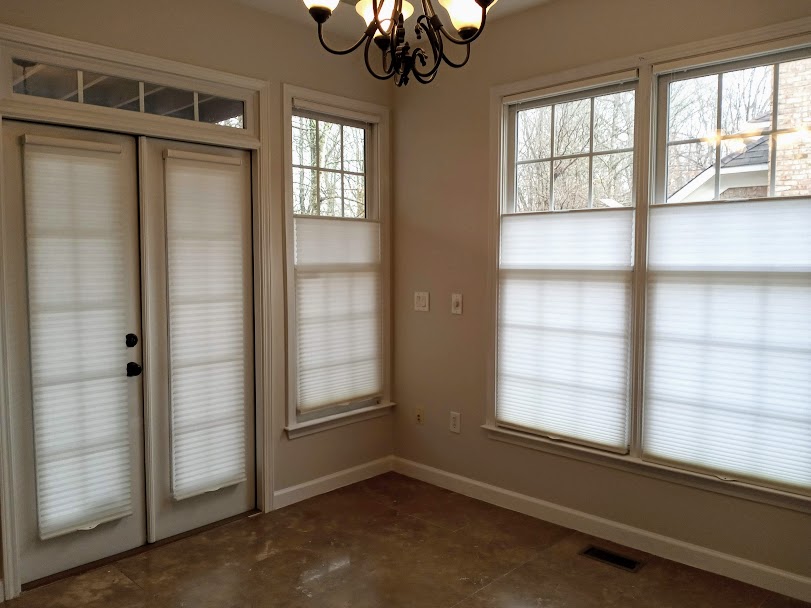 Top down cellular (honeycomb) shades are the perfect solution for maximum light and privacy control. You can adjust the amount of window that is covered by the shade from either the top or the bottom. Great for when you want to let in more natural light but still maintain privacy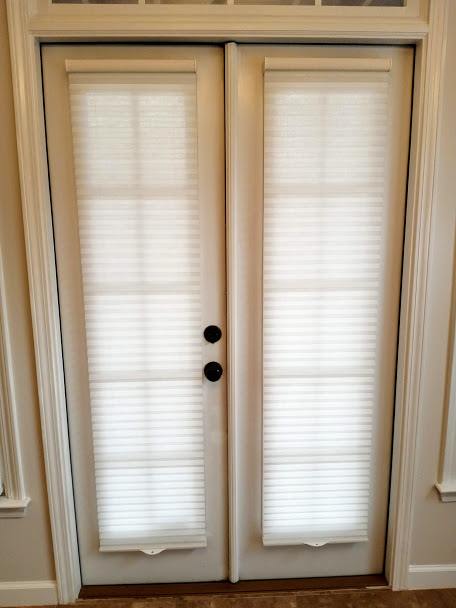 Don't you just hate having blinds on your door? They are a necessity for privacy but they make noise when you swing open the door. Luckily there is another solution! Cellular shades have a tight fit to the door for ultimate privacy and are secured at both the top and bottom of the shade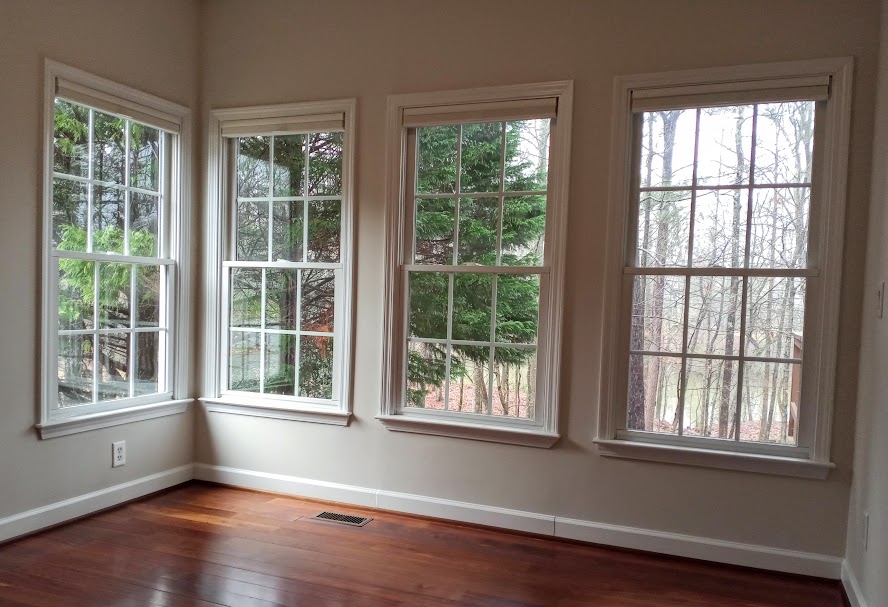 Are you concerned about maintaining a beautiful clear view out your windows? Cellular (Honeycomb) shades are a great solution as they have a very small "stack" in the top of your window, allowing for the maximum view through your window. In this case, the back of the home looks down onto a river.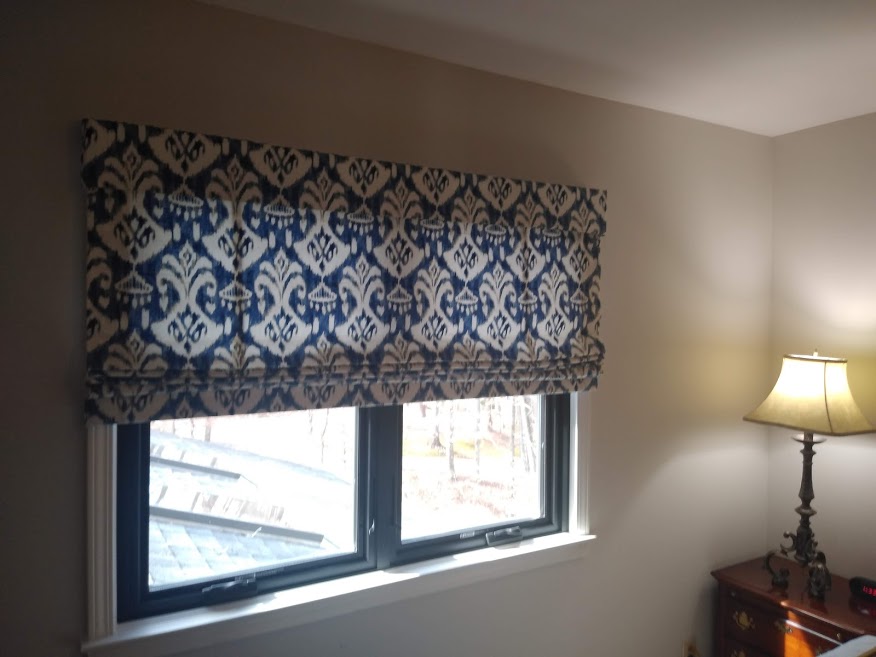 This Roman Shade looks even more beautiful with light filtering in. We are able to cover even large windows with a single shade. In this case, as we mounted onto the window frame, the fabric comes off the back of the headrail so as to provide maximum light blockage for a restful sleep.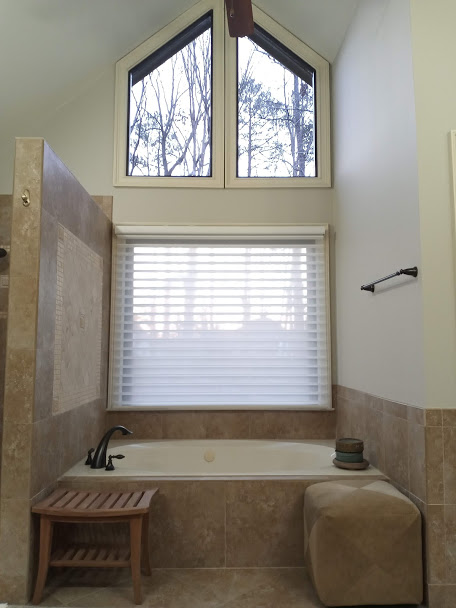 Window Shadings are an elegant look for your window. They allow you to control the level of privacy and exterior view, with a soft look. Here in this bathroom, privacy was a concern but also maintaining the view to their spacious backyard. We were able to provide the perfect window treatment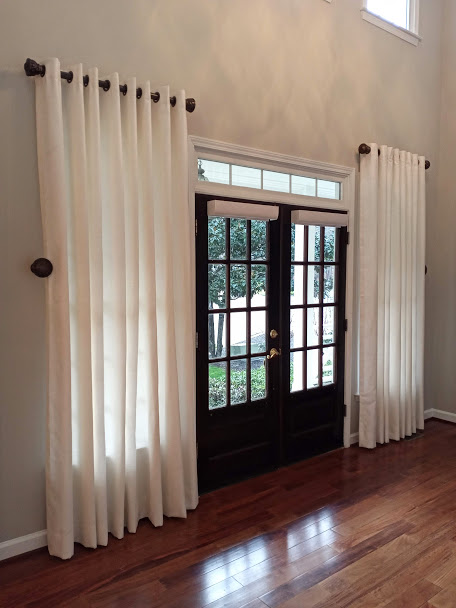 Our Design Consultant works with each customer to create their ideal space. In this case our customers wanted to add a statement to their entryway with drapery panels and it was also important to allow light to enter the space. The solution was light filtering drapery panels that can be pulled aside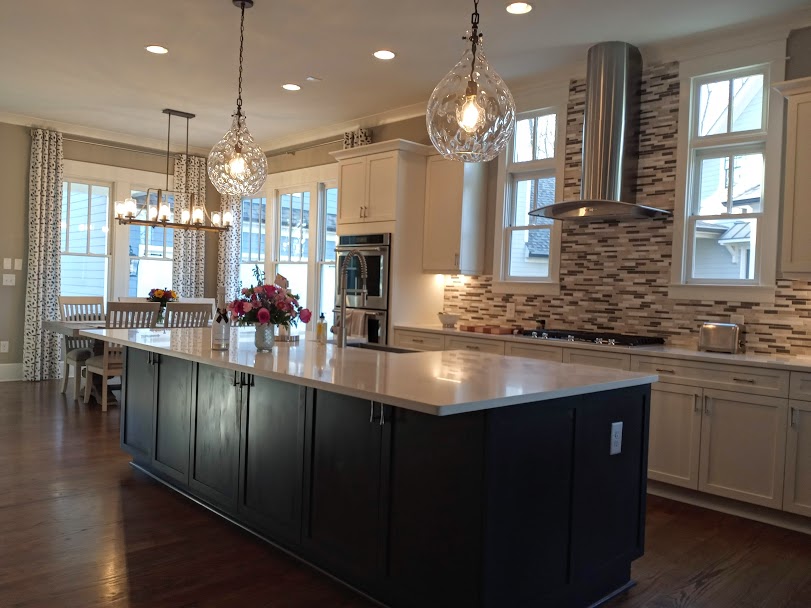 Check out the newly finished kitchen of our client. She has a great mix of modern and rustic elements melded together to create a beautiful and open space, perfect for serving up delicious meals and entertaining. What do you think of that sleek range hood? And those light fixtures!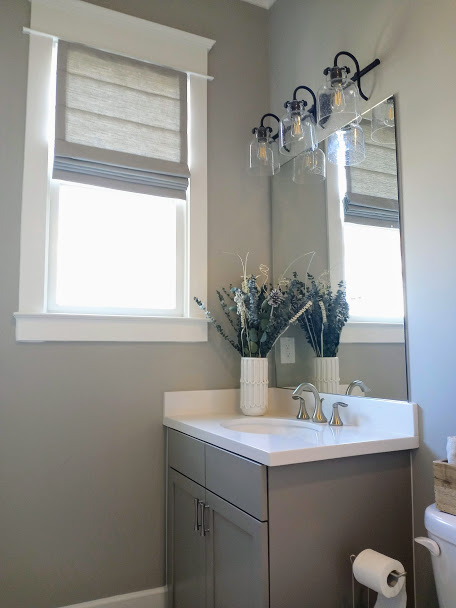 We can help make a statement in any room with our fabric Roman Shades. This elegant window covering brings in the light as well as design to this small bathroom.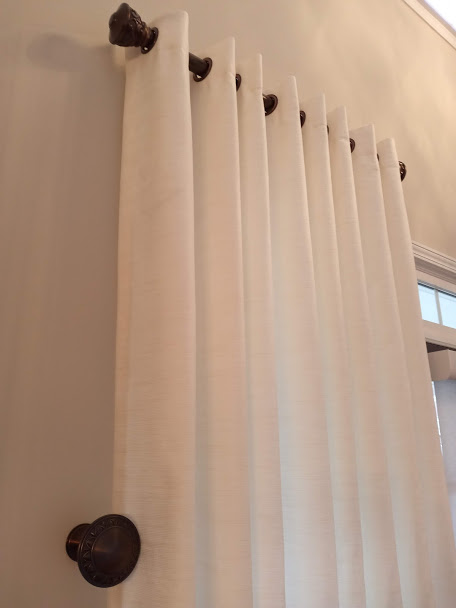 It's all about the finishing touch! With decorative hardware we can make your drapery stand out from the wall. Here bronze hardware was chosen to match an existing chandelier and to contrast with the white linen drapery. Let our Design Consultant help you pull together something that really pops!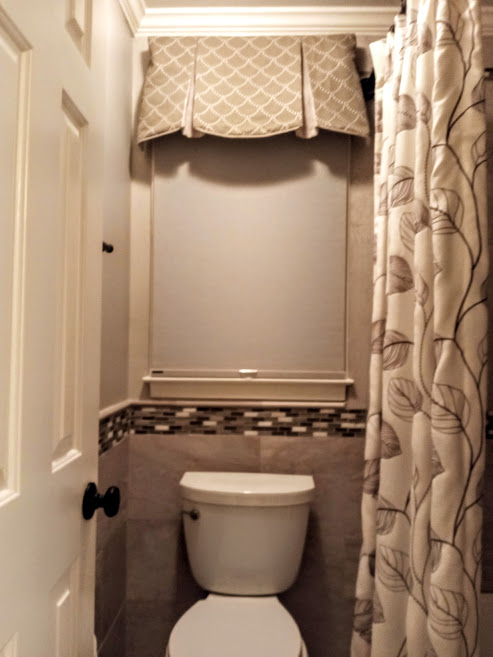 50 shades of grey all in one bathroom! This custom window treatment was designed to pull together the different tones of grey from the tile and stone in this bathroom. We were able to highlight different shades and really pull the space together.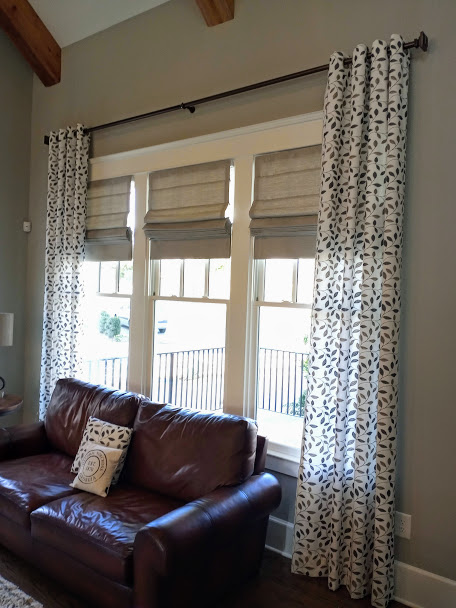 We loved this project! Our customer was looking for beautiful window treatments that would let in a lot of light and also dress up her space. We absolutely love the cozy, rustic feel of the leather sofa with the soft patterns of her roman shades and drapery - and that custom pillow! made to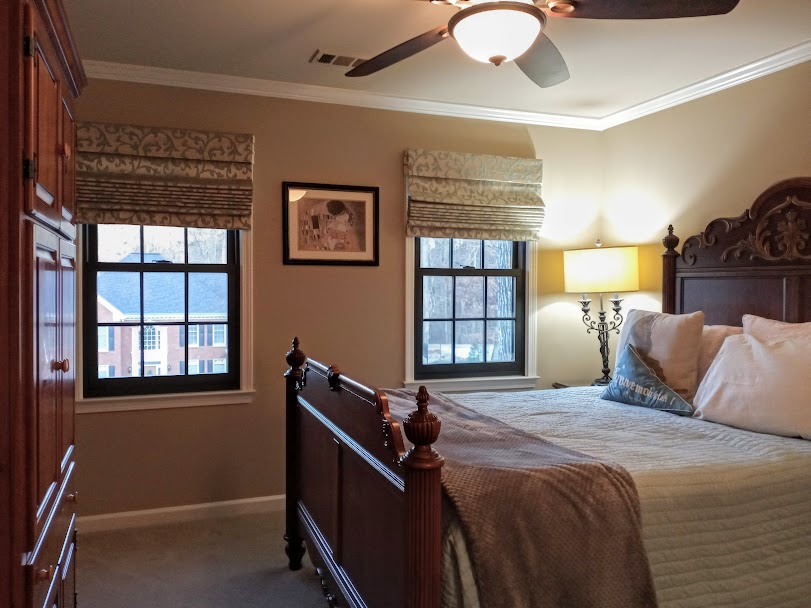 We design our window treatments to go with your style, whether modern, traditional, eclectic or otherwise. For this room we went with a traditional color and pattern in the Roman Shade to complement the beautiful traditional wood bed set.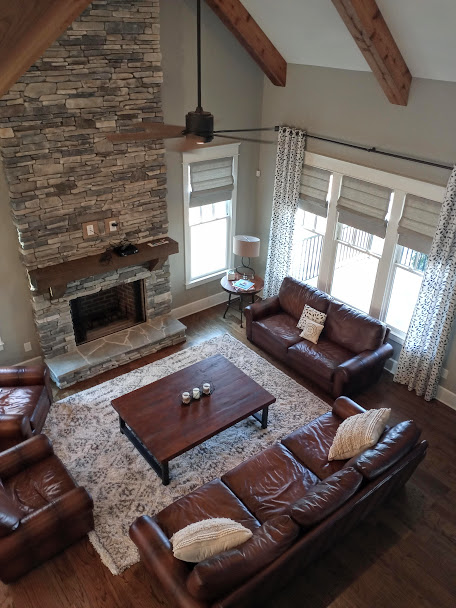 We entered into this project with our customer well before construction was completed on her new home. The fabric choices for her Roman Shades and Drapery Side Panels were made through consultation of her style and having only the wall color and her majestic fireplace to compare to.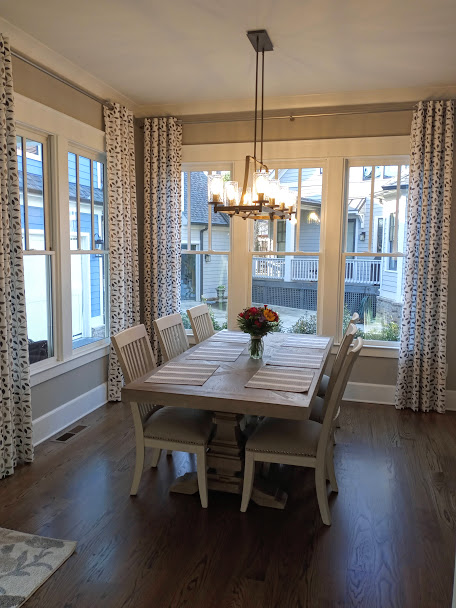 Our Design Consultant worked with this client to establish their style as well as their needs for the space. Having open windows was very important however the room was a bit stark without any window treatments. This drapery was designed and installed for our customer to create a soft and cozy feel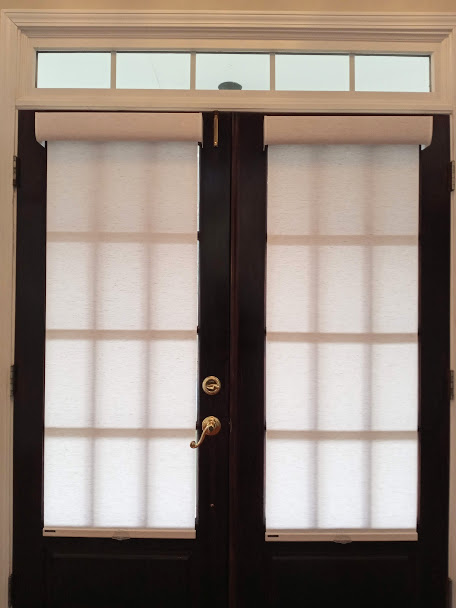 Another great way to cover your door without the annoying noise of faux wood blinds knocking together every time you open or close it. Held down at the bottom with small magnets, they won't cause you a headache of noise and will stay in place when the door is opened. Keep your privacy in style!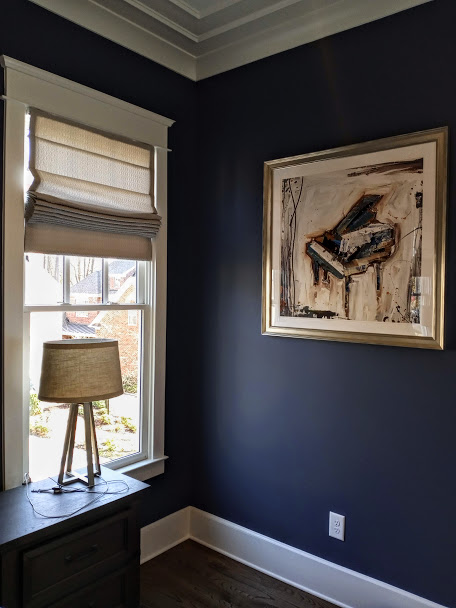 What do you think of the deep blue the walls of this bedroom are painted? This color makes the white trim and lighter design pieces stand out. Like our custom Roman Shade installed in the window!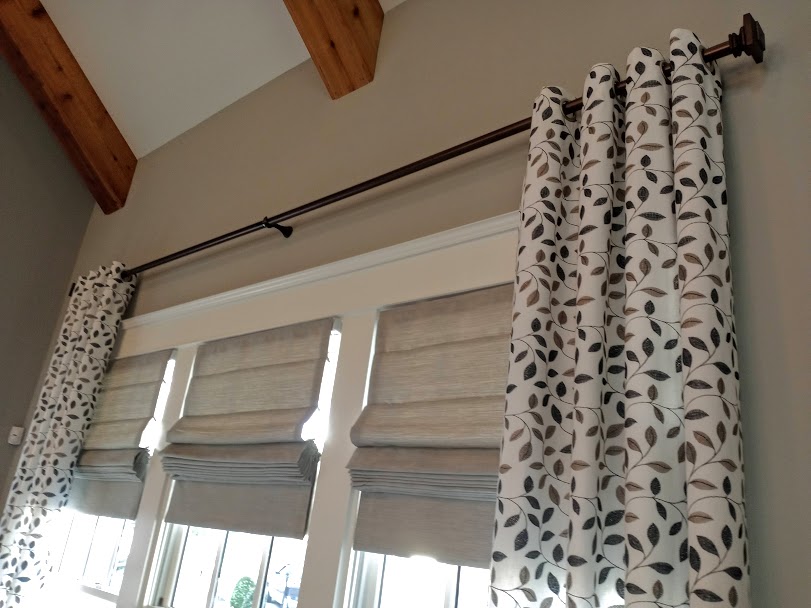 There are so many decisions when it comes to doing custom drapery that it can be overwhelming. It doesn't have to be confusing with our Design Consultants guiding you along the design process. Here we picked out beautiful hardware to match with other metal fixtures in the space, creating a bold look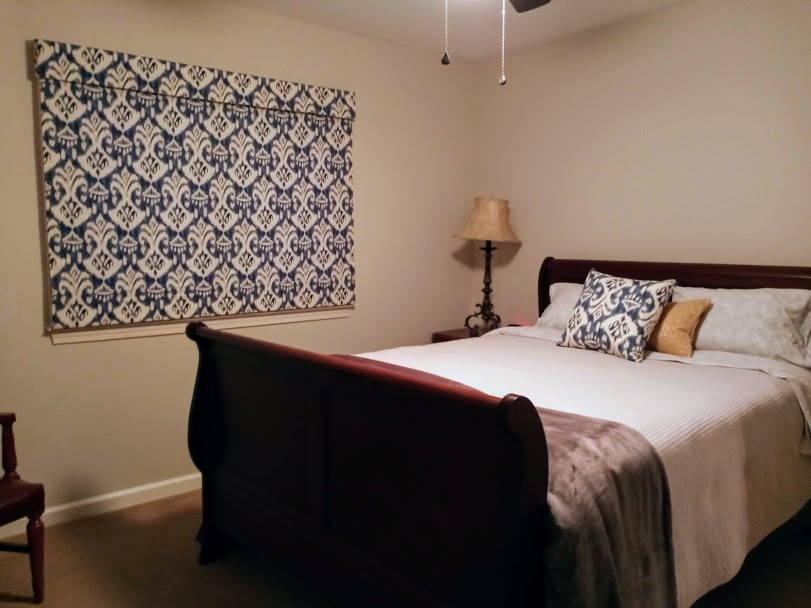 What do you think of this bold pattern our customer chose for her guest bedroom? She wanted some design inspiration and picked this colored pattern to set off the room. We helped her in continuing the rest of the design process by gifting her a custom pillow in matching fabric to the Roman Shade.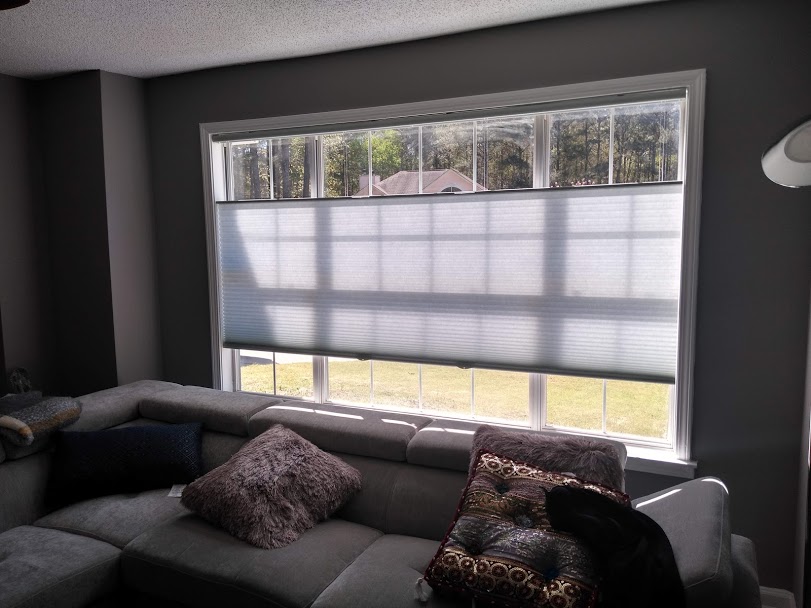 Enlightened Style's Top-Down/Bottom-Up Cellular Shades operate from the top down and the bottom up for flexible light control and privacy. You can block out the bottom part of your window for privacy while opening the top to bring in natural light. Or raise the shade all the way up to get light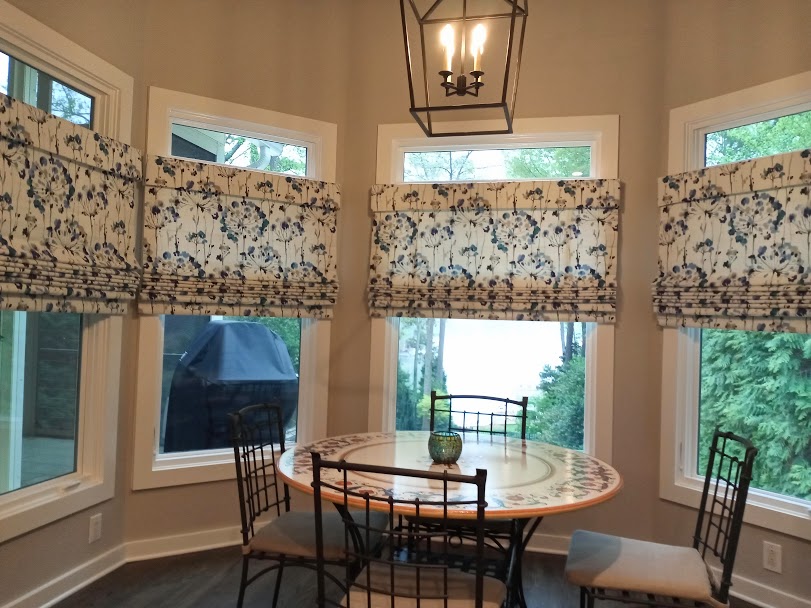 We installed these beautiful cordless Roman Shades in this breakfast nook to bring some life and brightness to the space. The advantage of the cordless shades is they are easy to operate up so that the view to the lake can be fully appreciated or down so as to create a cozy and private space.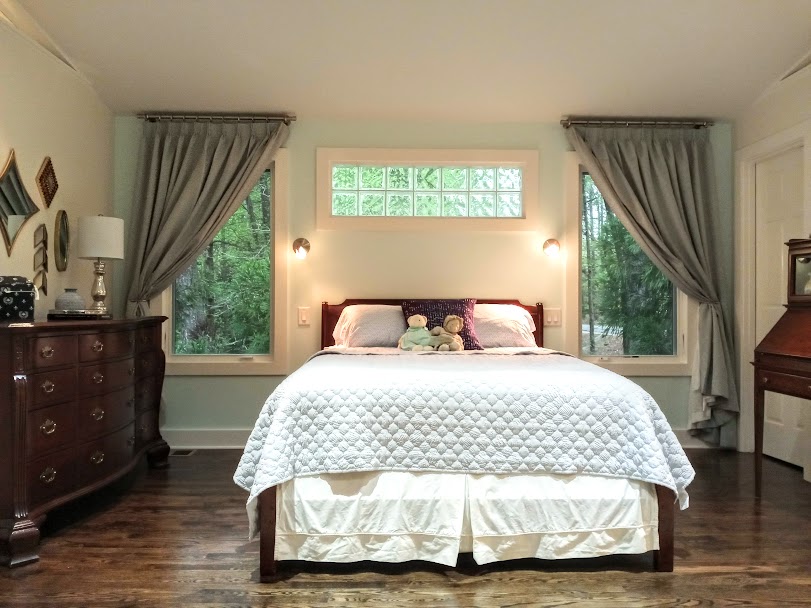 Double wide drapery panels were used to create an elegant look for this bedroom. Hold-backs allow the drapery to be pulled back from the window to let in natural light. When closed they completely cover the window and block out light for a restful sleep.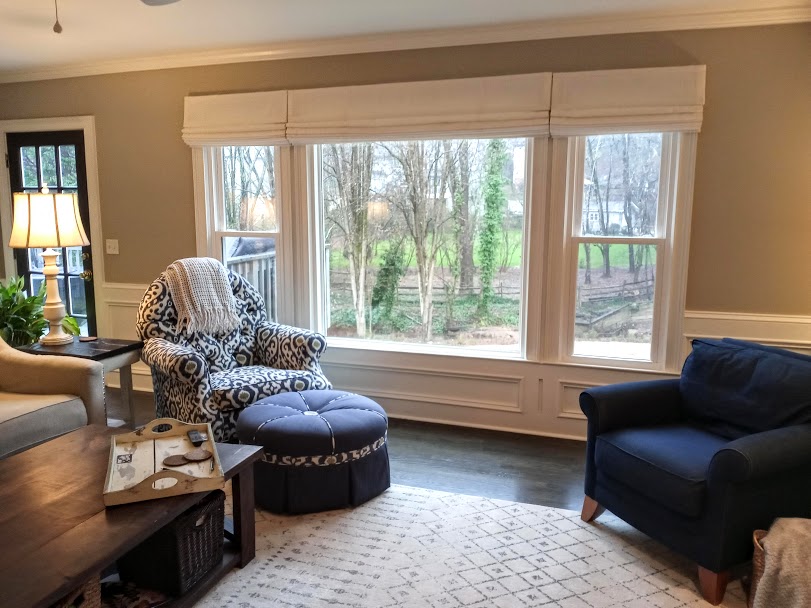 We are loving the beautiful view into the trees from this window. In this case our customer very much wanted to keep their view, so we installed Vadain Roman Shades above the window itself so that when they are fully raised you can appreciate the full view outside the window.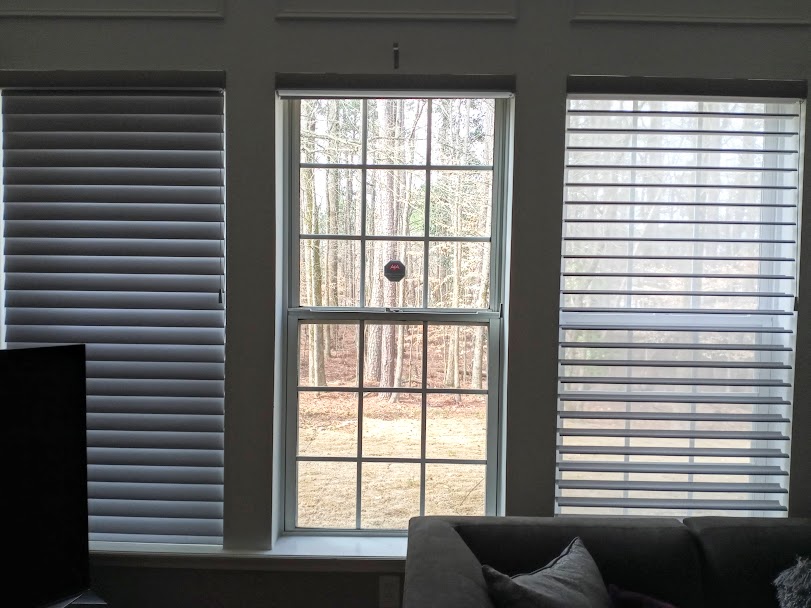 Window Shadings by Enlightened Style are a beautiful window treatment to bring softness and elegance to your window. They are the only window treatment that merges the tilt function of traditional blinds with the beauty of soft treatments. You can control the degree of visibility and light at home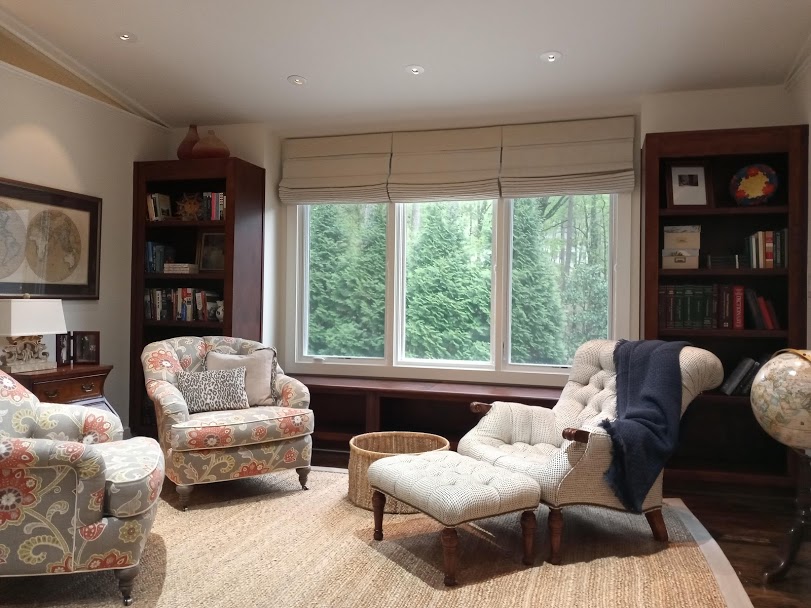 Here we installed Phase II Roman Shades with room darkening liner for this sitting area of a guest bedroom. Our Design Consultant directed that the shades be taken all the way to the ceiling so as to match drapery on the other side of the room as well as to create the illusion that the windows are t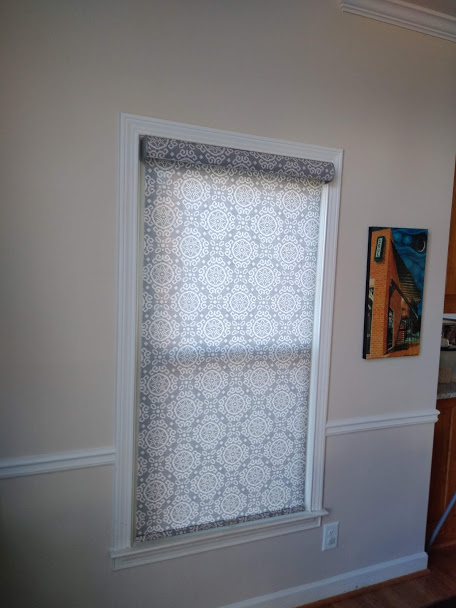 Looking to add a fun pattern to your home but don't want the price tag or look of drapery? Roller Shades are a great modern window treatment that have fabric in a variety of styles and designs.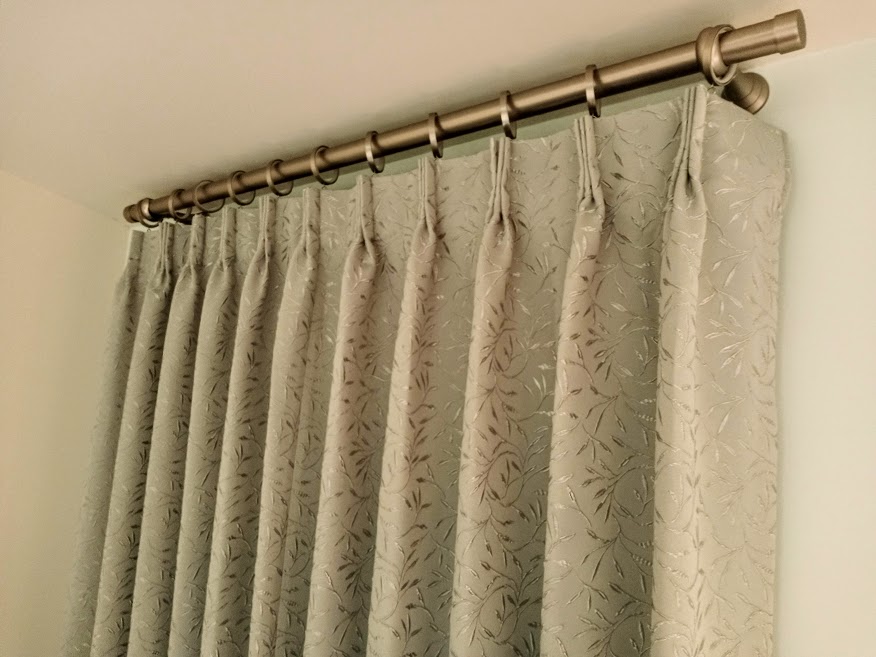 This is a spotlight on our decorative hardware from Rowley. Beautiful and clean lines add sophistication to the drapery. We wanted to keep the spotlight on the drapery panels so very simple end caps were chosen with decorative rings for the drapery to fall from. These come in a variety of finishes t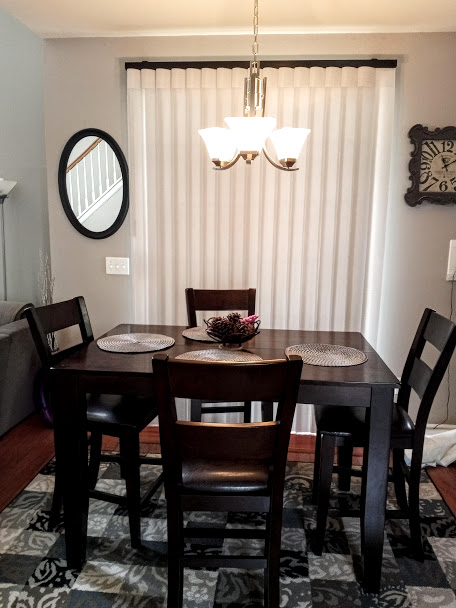 SmartDrape by Norman Window Fashions are a soft and elegant alternative to old vertical blinds. In this case we made a huge difference in our customer's home by replacing out the old falling apart vertical blinds. SmartDrape is not only a prettier look, but they are also far more functional.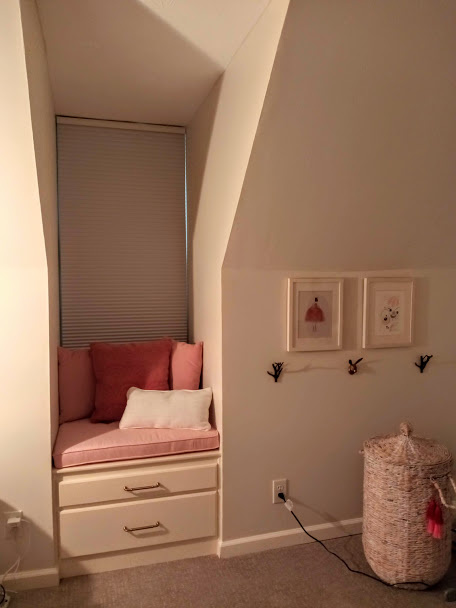 We helped make this lovely nursery fully ready for the newborn with a Lutron automated cellular shade to block out the majority of light for a peaceful sleep. Mom is happy with the ease it operates to create the optimum environment for her baby. Dad is happy with the cool motorization!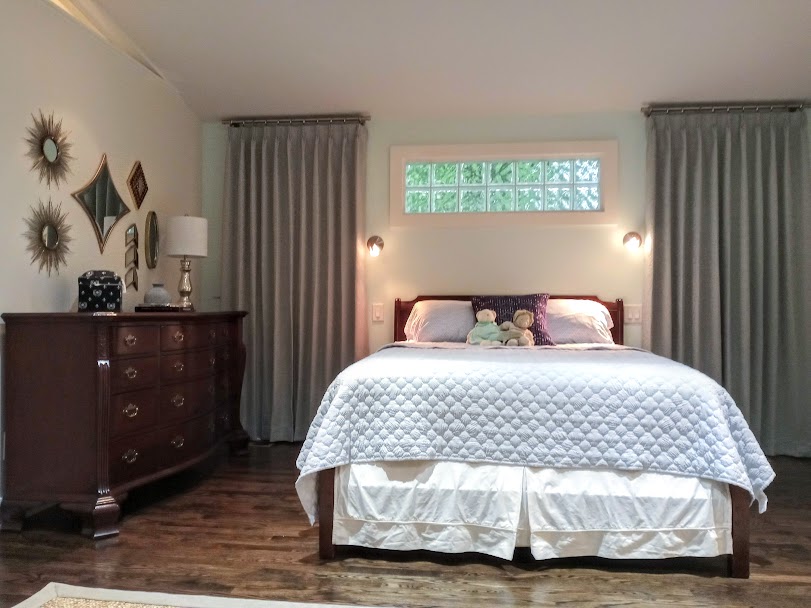 We are loving the collection of mirrors over the dresser in this bedroom. With our matching floor to ceiling drapery framing the bed this guest room is raised to a new level of glamorous! By raising the drapes all the way to the ceiling we bring additional height and dramatic effect to the room.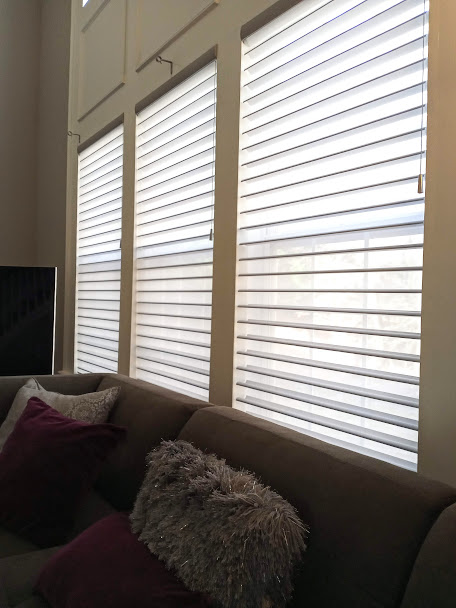 Window Shadings by Enlightened Style are a beautiful window treatment to bring softness and elegance to your window. They are the only window treatment that merges the tilt function of traditional blinds with the beauty of soft treatments. You can control the degree of visibility and light into your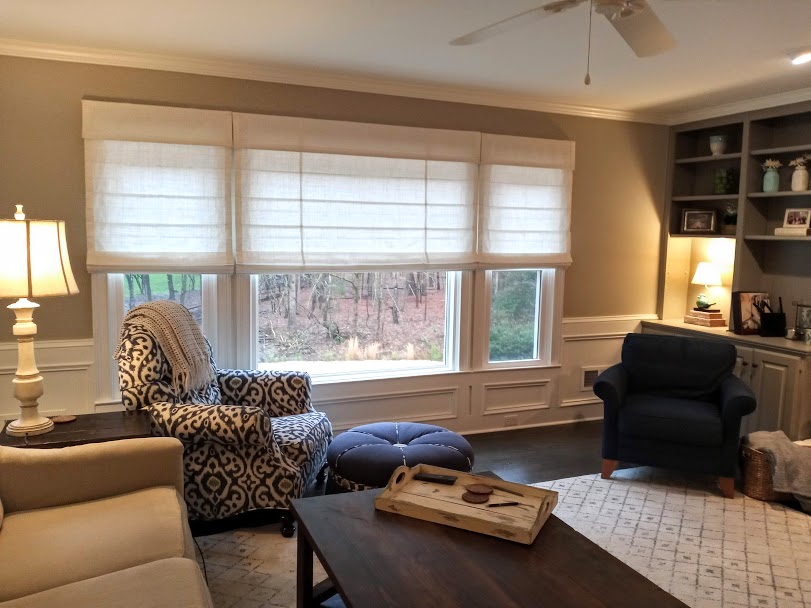 Doesn't this living room make you want to curl up with a good book? The interior designer who worked with us on this project has created a comfortable, cozy space for the family to enjoy. We were happy to have our Roman Shades be included in this project.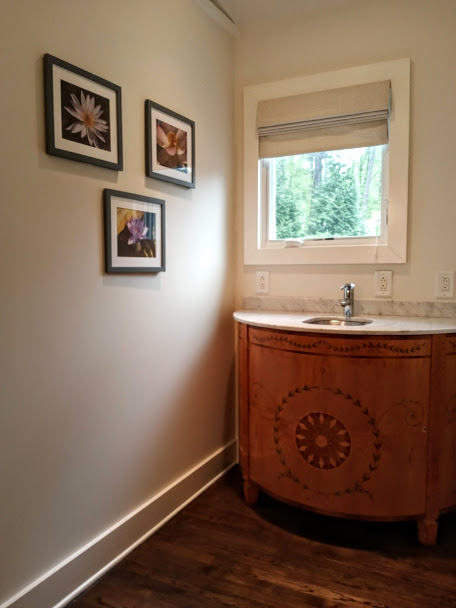 You can dress up even the smallest of spaces with a nice window treatment. In this case we installed a sweet Roman Shade that provides decoration for that cute hall window.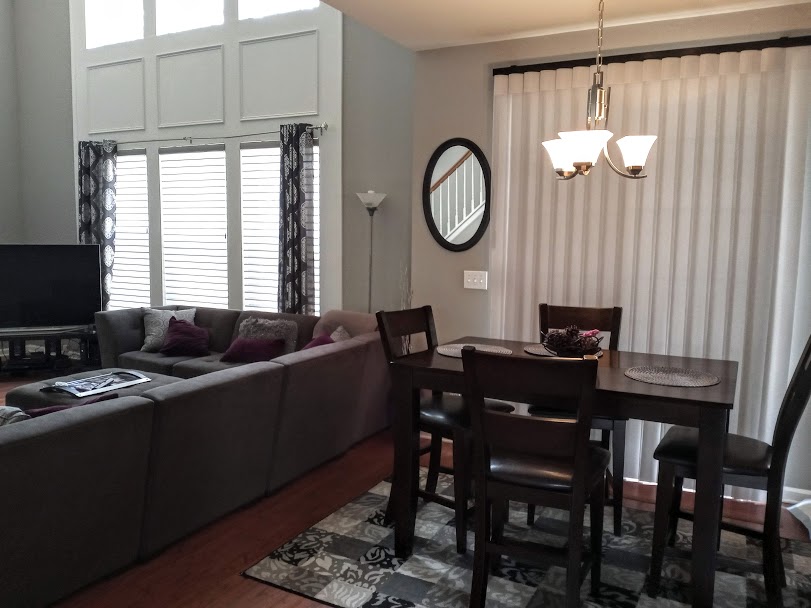 This lovely home just experienced a refreshment of window treatments, getting rid of the old aluminum and vertical blinds that were formerly in place. Now the window shadings and SmartDrapes bring a soft and elegant look to the space while maintaining full privacy.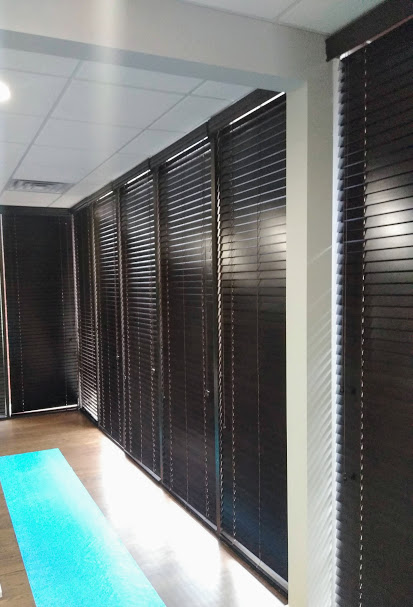 AuthenticHardwood_WoodBFor this special customer we went with dark stained real wood blinds. Authentic Hardwood is a high-end provider for custom hardwood flooring. We were very happy to provide something beautiful to complement their new office space! We highly recommend them to give you great ser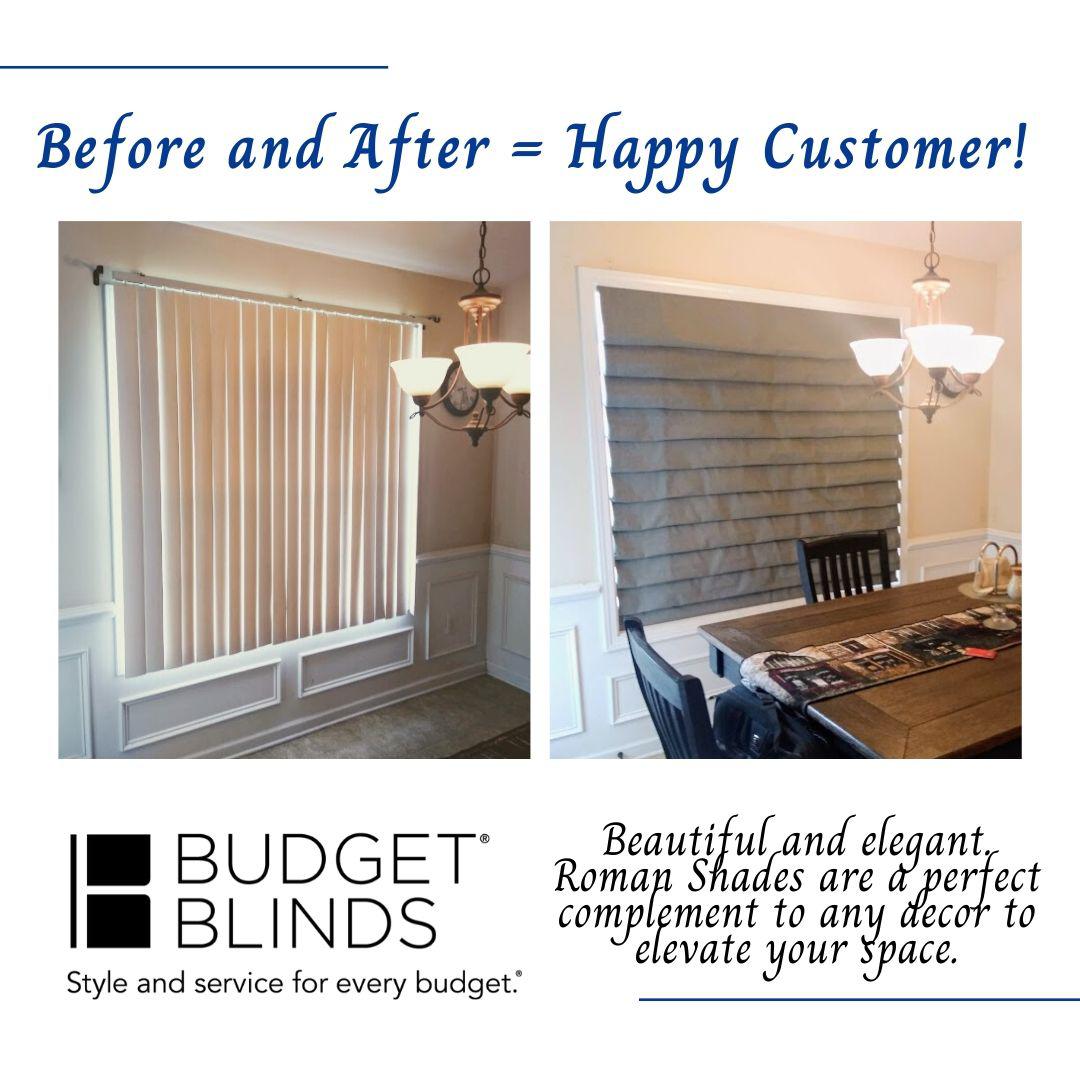 Before and After: a happy customer. Are you ready to replace out some out-of-style window treatments? This customer of ours was certainly ready to get rid of her old vertical blinds and replace them with this lovely Roman Shade. It adds a luxurious feel to the space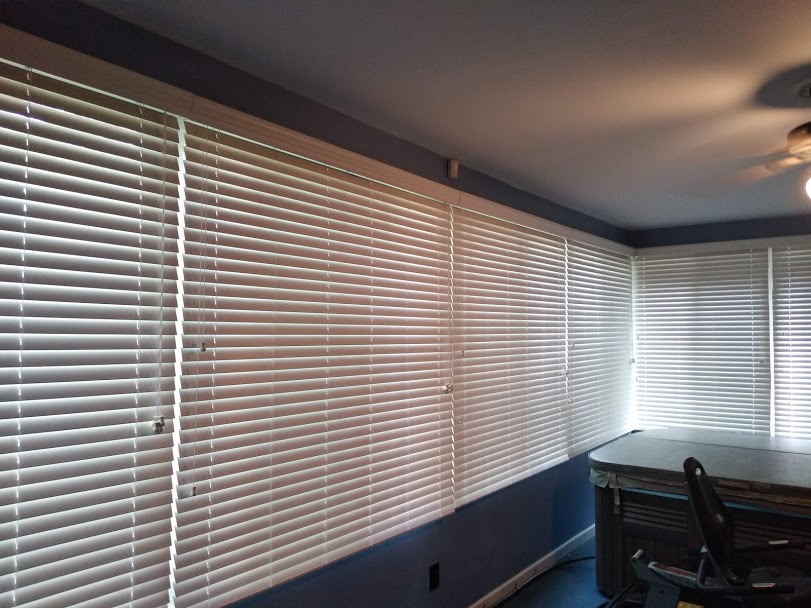 Blinds for Sunporch: Got awkward shapes and hard to cover windows? At Budget Blinds we have got you covered! This customer of ours had two full walls of windows to cover with little to no mounting space. Thanks to our professional installer we were able to provide them with privacy and they love t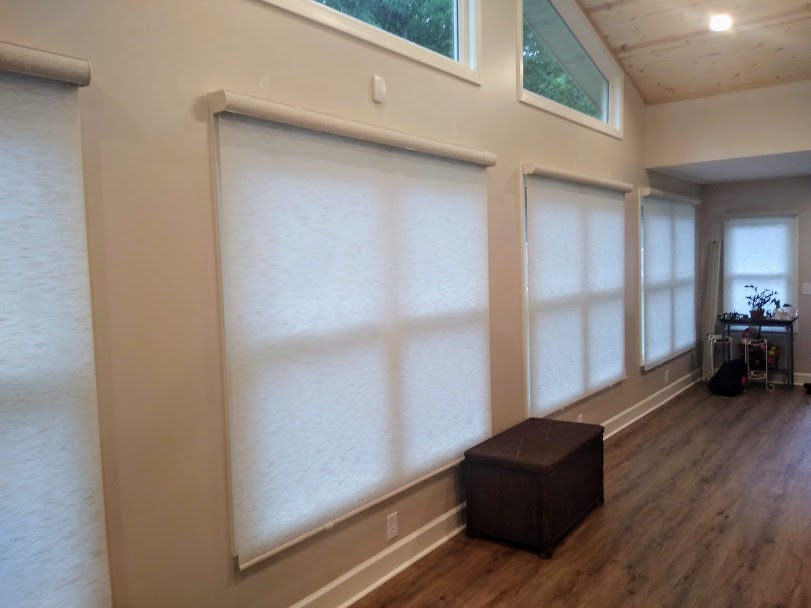 Roller Sunporch: This customer had just built on a sunroom to her home. Our Design Consultant helped her to pick out beautiful roller shades so she can filter out the sun when she wants, or they roll up fully out of the window when not needed. The texture and design in these shades is absolutely gor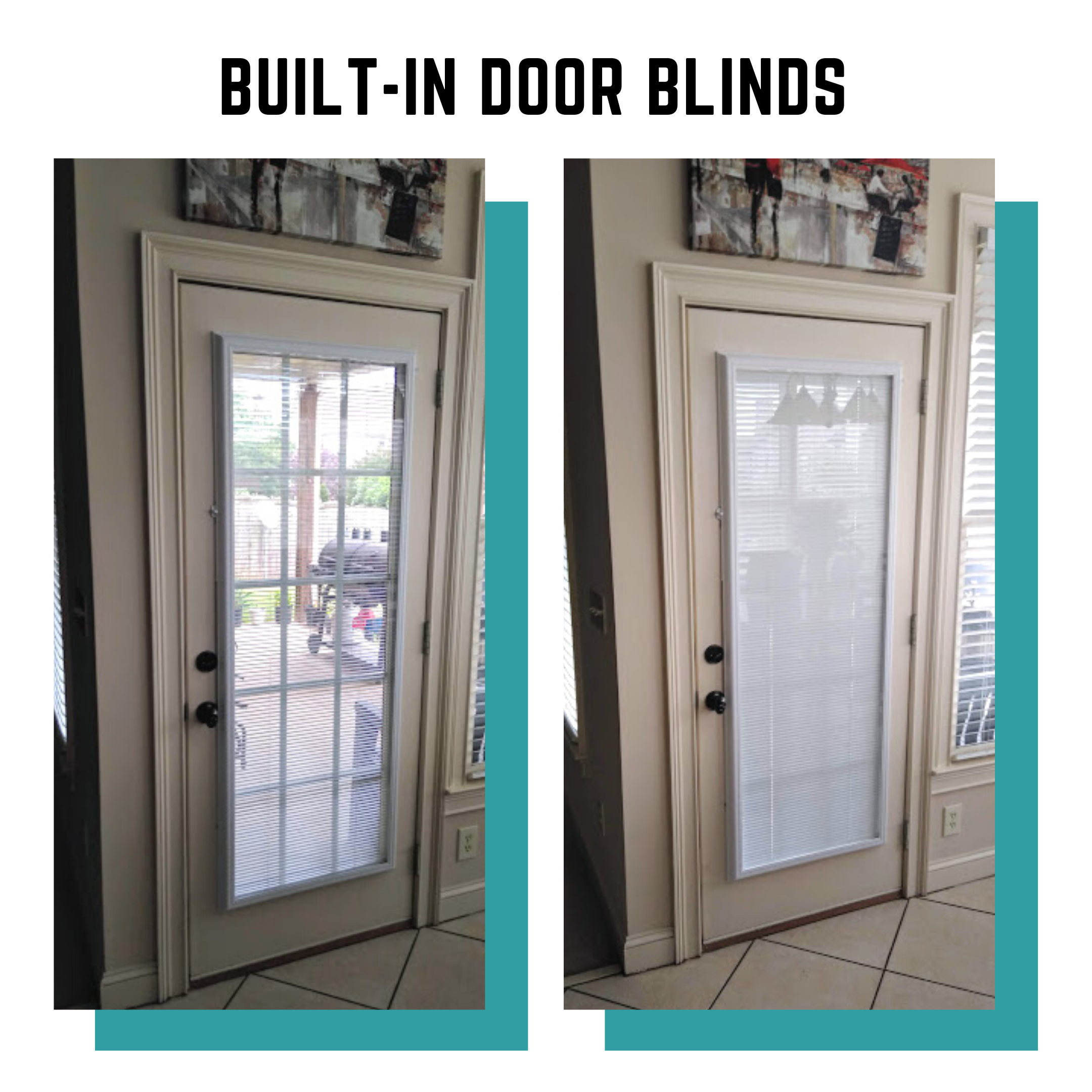 Builtin door blinds: Whatever our customers need, we provide. This customer wanted something that would have a small projection from the door and not move whenever the door opened. They also wanted to maintain ability to tilt open or closed. The solution is these cased in blinds
Cellular Shades Blue: What's the best window covering to help you beat the heat this summer? Cellular shades (also known as honeycomb shades) are designed to keep the heat out while letting light in. This customer wanted to enjoy her sunroom but one side received a brutal amount of sun during the a
Opening Times
Mon-Fri 9am-5pm, Sat 9am-3pm, Sun Closed (By appointment)
Payment Methods Accepted
American Express, Cash, Check, Discover, Financing, MasterCard, Visa
Editing or updating this listing
Update your details here
if you are unaware of any log-in information for this listing.
Disclaimer
Opinions expressed within reviews are those of the individual author and are not the views or opinions of Lowi Ltd, My Local Services or any of its employees.
If you have an issue with any review comments then please fill in the
review issue form
and include as much detail as possible.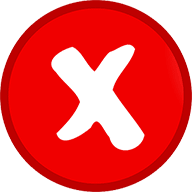 Incorrect data:
If you want to report incorrect information on this web page, then please
contact us
and outline the issue. We aim to resolve most problems within one business day.